Get the Vintage Look with Antique Doors for Pantry
Tired of the same old pantry door? Looking for a unique way to upgrade your kitchen and add character to your space? Look no further! Antique doors for pantry are the perfect way to inject a touch of vintage charm into your home while making a functional and stylish statement. In this blog post, we'll guide you through incorporating an antique door into your pantry design, sourcing the perfect door for your taste, exploring popular styles, customizing your doors, and caring for them. So let's dive in and give your kitchen pantry the makeover it deserves!
Short Summary
Incorporating Antique Doors into Your Pantry Design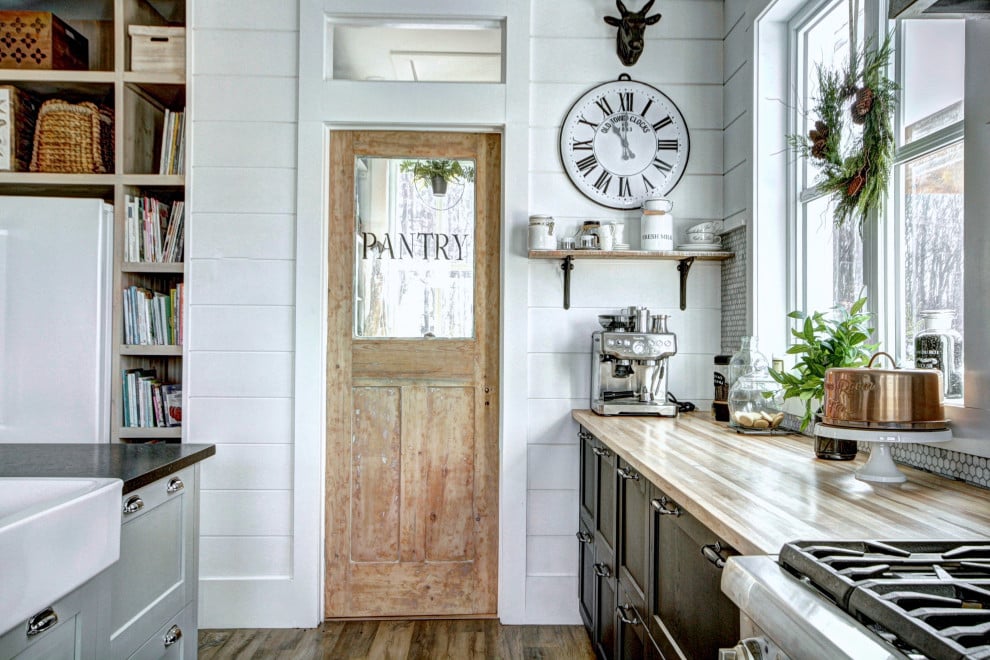 Transforming your pantry with an antique door is not only an excellent way to elevate your kitchen's aesthetic, but also a fantastic way to repurpose old doors and give them new life. Antique pantry doors can seamlessly complement your dining room, adding a touch of vintage elegance and making your pantry a focal point of your home.
Installing an antique pantry door is a relatively simple process. All you need is a computer.
Repurposing Old Doors
Old doors are often left collecting dust in antique shops or salvage yards, waiting for someone to give them a new purpose. Why not turn one into a stunning antique pantry door? Here's how:
Sand the door to remove any existing paint or varnish.
Paint the door in a color that matches your kitchen door.
Add some hardware, such as a handle or knob, to make it functional.
Hang the door on hinges to create a swinging pantry door.
With these simple steps, you can transform an old door into a beautiful and functional addition to your kitchen pantry.
Another fantastic way to repurpose old doors is by using them as pantry shelves or cabinets, creating a cohesive and unique design that will make your pantry truly one-of-a-kind.
Matching Aesthetics
Once you've found the perfect antique door for your pantry it's essential to ensure it blends seamlessly with your existing kitchen design. One way to achieve this is by looking for inspiration in design magazines, online blogs, or social media to find creative ways to incorporate this style of door into your space.
Consider using wall color, wide painted trim, antique/distressed signs, and decorations to tie in the aesthetics of the antique door with your pantry design. By paying attention to these details, you'll create a cohesive and visually appealing space that showcases your antique pantry door as a charming centerpiece.
Sourcing Antique Doors for Your Pantry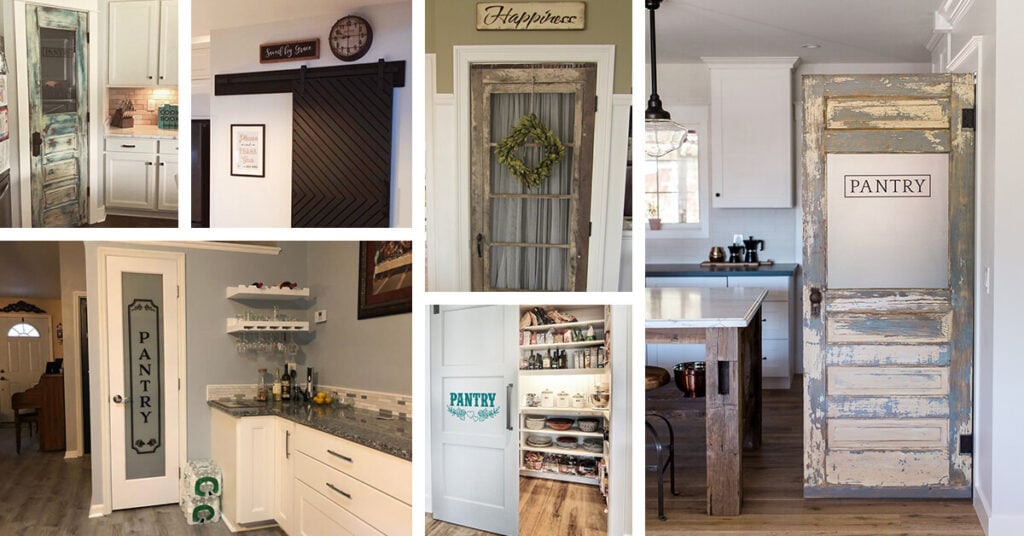 Now that we've explored the benefits of incorporating antique doors into your home, let's discuss how to find the perfect pantry door for your space.
There are various sources for antique doors, including online marketplaces and local antique shops or salvage yards.
Online Marketplaces
Shopping for antique pantry doors online is a convenient and cost-effective way to find the perfect addition to your pantry. Online marketplaces such as eBay and Wayfair offer a wide variety of antique pantry doors, including French, Spanish, and Chinese styles.
One significant advantage of shopping online is the ability to compare prices, reviews, and options from different sellers, ensuring you get the best bang for your buck. So, if you're searching for a unique antique door that suits your taste and budget, online marketplaces are a fantastic place to start.
Antique Shops and Salvage Yards
If you prefer a more hands-on approach, local antique shops and salvage yards can be treasure troves for one-of-a-kind pieces. These stores specialize in vintage and antique items, including furniture, décor, and, of course, doors.
Visiting antique shops and salvage yards allows you to inspect the doors in person, ensuring you find the perfect pantry door. Keep an eye out for unique features, such as iron hardware or accents, that will enhance the vintage look of your kitchen.
Popular Styles of Antique Pantry Doors
Antique pantry doors come in various styles, each offering a unique look and feel that can enhance your kitchen design. Some popular styles include French, Spanish, and Chinese doors, each with their distinctive characteristics and flair.
French Doors
French antique doors are known for their timeless sophistication, making them an elegant addition to any pantry. Typically made of wood, French doors have two panels that swing out from the middle, creating a graceful entrance to your kitchen pantry.
The classic design of French doors allows for ample natural light to enter your pantry, brightening the space and making it feel more open and airy. If you're looking to add a touch of refinement to your pantry, French antique doors are an excellent choice.
Spanish Doors
Spanish antique doors bring rustic warmth to your pantry with their ornate woodwork and wrought iron designs. These doors usually have two panels that also open out from the middle, creating an opulent entrance to your pantry. To learn more about these beautiful doors, as well as wicker alternatives, visit our page dedicated to antique doors.
An 18th-century Spanish door with an eight-panel wood design and a diamond motif, for example, would make a stunning focal point in any kitchen. The rich history and craftsmanship of Spanish antique doors can transform your pantry into a cozy and inviting space.
Chinese Doors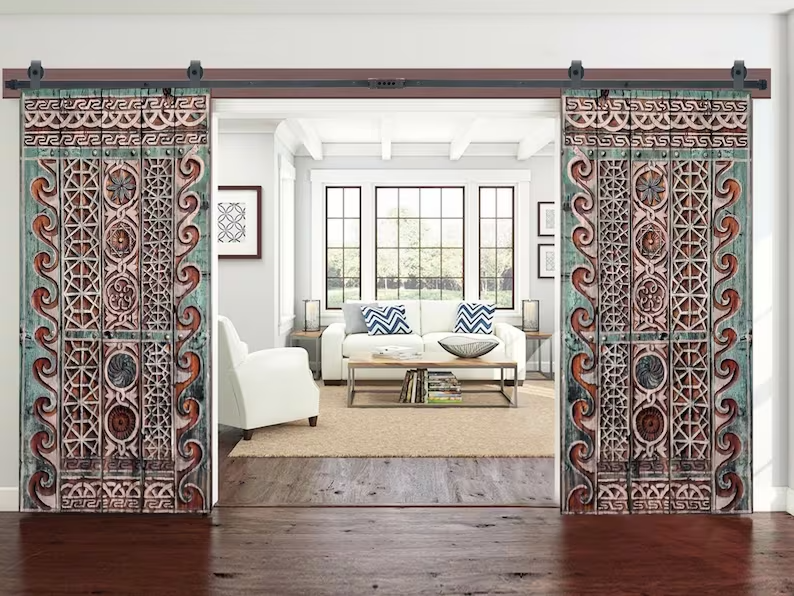 Chinese antique doors are known for their intricate designs, unique symbolism, and exceptional craftsmanship. Typically made of wood, these doors feature two panels that open out from the middle, adding an exotic flair to your pantry.
Incorporating a Chinese door into your pantry design can create a striking visual focus while showcasing the detailed artistry of these timeless pieces. From carved wooden doors to doors with glass panels and sliding door hardware, Chinese antique doors offer a range of options to make your pantry truly stand out.
Customizing Antique Doors for Your Pantry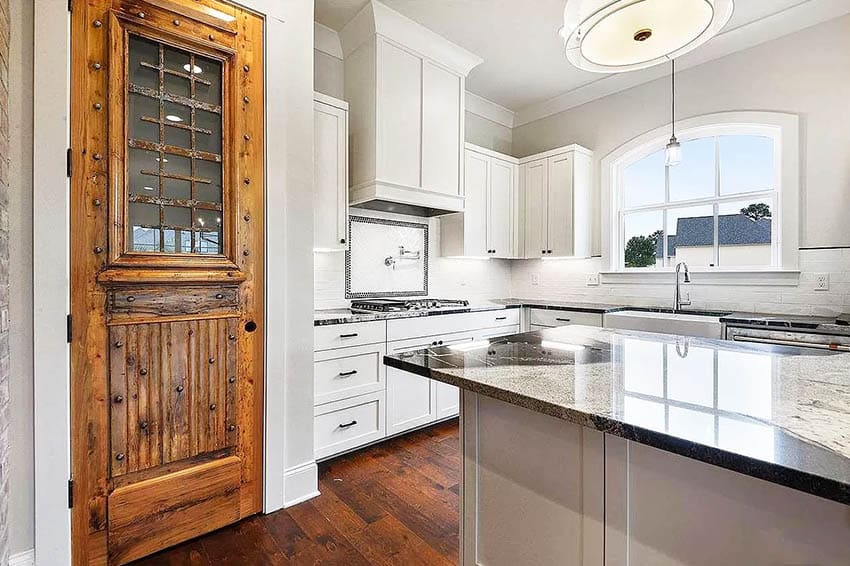 Once you've found the perfect antique door for your pantry, consider customizing it to fit your space and style. Here are some ideas:
Paint it to match your kitchen decor
Sand it down for a distressed look
Add glass panels for a touch of elegance
Install sliding door hardware for a modern twist
These are just a few ways to make your antique door a one-of-a-kind addition to your kitchen.
You can paint the pantry door to match the rest of your kitchen, or you can sand it down and create a unique chalkboard surface for a functional and stylish touch.
Adding Glass Panels
Adding glass panels to your door not only enhances its visual appeal but also adds functionality. Glass panels can be custom-made or pre-made to fit your door, creating a unique and eye-catching design.
To install glass panels, you'll need to cut out the panels and insert the glass, securing it with a high-strength adhesive designed for this purpose. Regular cleaning and sealing will keep your glass panels looking their best and protect them from moisture and dirt.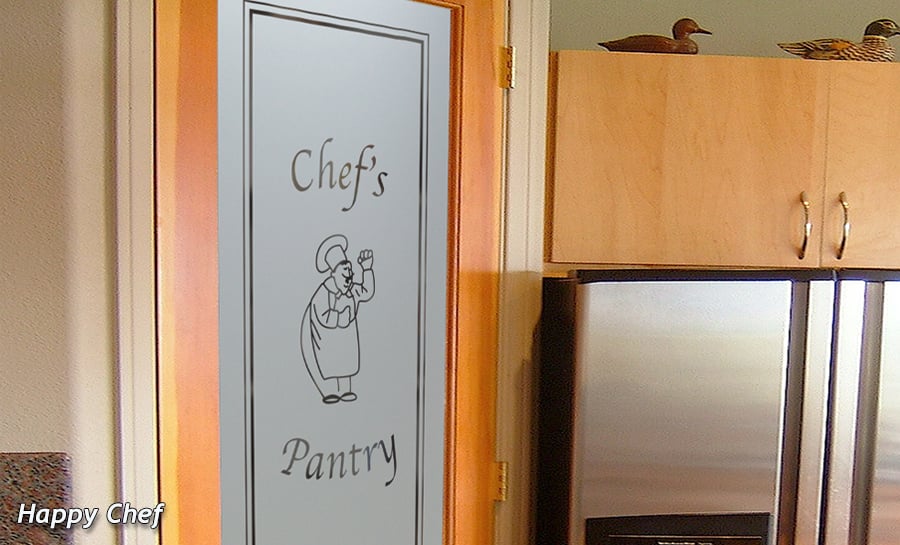 Installing Sliding Door Hardware
Another way to customize your antique door is by installing sliding door hardware. This space-saving solution adds a modern touch to your vintage door while maintaining its charm and character. To install sliding door hardware, measure the height of the door and add the necessary length for the hardware.
Once the hardware is in place, attach it to the track and adjust the tension. This simple customization can transform your antique door into a stylish and functional pantry entrance.
Caring for Your Antique Pantry Doors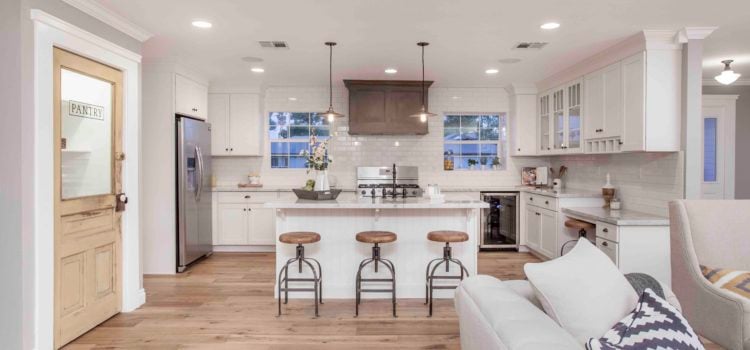 Proper care and maintenance are essential to preserving the beauty and value of your pantry door. From cleaning and polishing to preserving the integrity of the door, there are several ways to ensure your door remains in top condition for years to come.
Regular cleaning and dusting is important to keep the door looking its best. Use a soft cloth.
Cleaning and Maintenance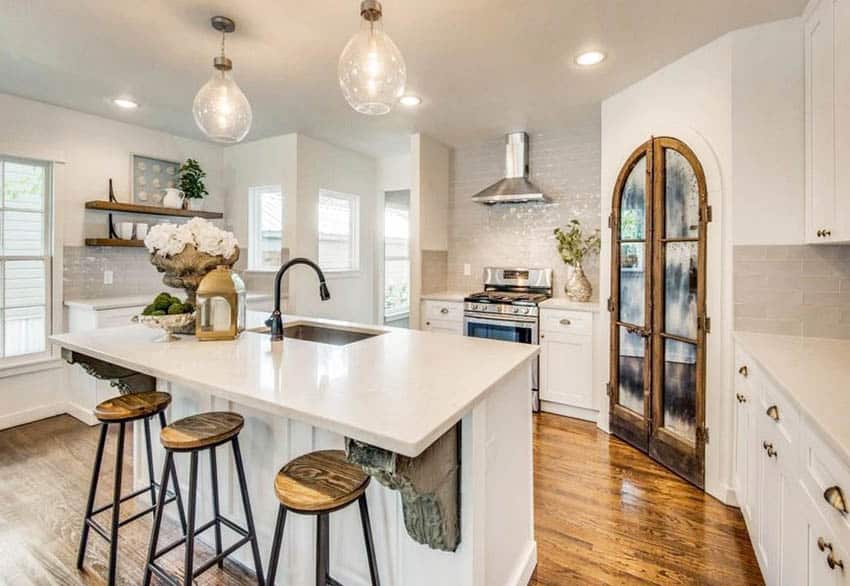 Keeping your antique pantry door clean and well-maintained is crucial for maintaining their appearance and functionality. For light dirt and grime, use mild soap and hot water, while tougher stains may require mineral spirits or paint thinner.
Regularly polishing stained doors with furniture wax will keep them looking their best.
Preservation Techniques
In addition to regular cleaning and maintenance, preserving the integrity of your antique door is essential. Techniques such as:
Using a lead testing kit to check for lead in paint or varnish
Removing old hardware
Sanding
Re-oiling stained areas
These techniques can help protect your door and maintain its value.
Inspirational Antique Pantry Door Ideas
Now that you've learned all about antique pantry doors, it's time to get inspired! Explore unique or custom designs, handmade pieces, and vintage or distressed finishes to find the perfect door for your pantry.
From French to Chinese doors, there's no limit to the creativity and beauty that antique doors can bring to your kitchen design.
Summary
In summary, incorporating antique pantry doors into your kitchen aesthetic is a fantastic way to elevate the overall vibe of your space. From sourcing the perfect door to customizing it to fit your style, there's no limit to the originality and refinement that an antique door can bring! So why not embark on this exciting journey and give your kitchen pantry the vintage makeover it deserves?
Frequently Asked Questions
What kind of door is best for pantry?
Barn doors are the best for pantry, as they add a down-to-earth style and can be easily moved out of the way.
They are also great for creating a rustic look in any room, and can be used to separate two spaces without the need for a wall.
Barn doors are also a great way to add a unique touch to any home.
What is a standard pantry door?
Standard pantry door sizes typically range from 24-36 inches wide and 80 inches tall.
Single pantry doors typically measure 24 inches wide.
Should pantry doors be different?
Having similar cabinets and pantry doors can be cost-efficient, but homeowners wanting a custom look may opt for different pantry door styles.
How do you antique a door?
Chip or scratch the wood, sand the door, stain with a dark wood stain, and treat the door with steel wool and vinegar to antique your door.
What are some popular styles of antique pantry doors?
French, Spanish, and Chinese doors are popular choices for antique pantry doors.
About Sans Soucie Art Glass
Family owned and operated since 1976, Sans Soucie sets the industry standard for the highest quality design and execution of sandblast frosted, carved and hand painted glass both nation and worldwide. Choose from our vast collection of designs across every decor, or let us create a brand new one-of-a-kind designs per your specifications. Our frosted glass designs turn ordinary glass into art pieces that add a luxury element to your home, while creating the privacy you need. Truly art with a function, our etched glass designs diffuse light and reduce glare, while enhancing the look of your home with a unique, eye catching custom element. Not clip art or machine manufactured, each design is a uniquely handcrafted original work of art, custom designed for our distinguished clientele of homeowners and commercial developers.
Free shipping to most states, shipping both national and worldwide, all our glass is handmade and expertly packed in-house by our team of glass artisans and shipped from Palm Desert, California. Shop our most popular products like slab and prehung front doors, interior doors, pantry doors, glass front doors, glass interior doors, sliding glass barn doors, windows, shower doors, shower panels and shower enclosures, decorative mirrors, signs and glass tables.
Copyright © 2023, Sans Soucie Art Glass. All rights reserved.