A Must Read Guide To Sliding Barn Doors
If you are a fan of sliding barn doors, you're not alone. In fact, these stylish design elements have become a must-have item for many new home buyers across the country! According to a report from Today, homes which featured sliding barn doors in their listing description sold for over 13% more than asked and 57% faster than other properties.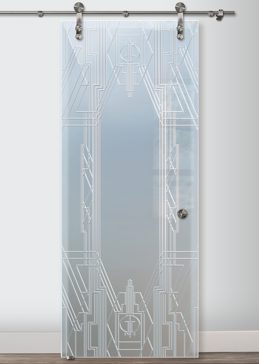 Part of the appeal of sliding glass barn doors is their versatility. Whether you are trying to modernize a living space or compartmentalize a larger room, sliding barn doors can get the job done and look visually stunning at the same time. Thanks to the ease of installation and flexible design, sliding barn doors may be the perfect add-on to your own home decoration project. With that in mind, here are a few reasons why a sliding barn door with glass could be the next artistic touch for your home that you can't live without.
Sliding Doors With Stunning Visual Appeal
A Frosted Glass barn door is more than just a conventional partition – it's a statement piece that is guaranteed to spark interest. While traditional doors can quickly transform an otherwise open and airy room into something more confined and isolated, sliding glass doors create a similar sensation of privacy and seclusion while preserving the overall cohesiveness of the interior. 
In the public areas of your home – places such as the living room, media room or kitchen – a sliding barn door may be your perfect choice for adding structure to an otherwise open floor plan.
Sliding Glass Doors Maximize Interior Space
Compared to traditional interior doors, sliding glass barn doors are a significant space saver. This is due to the fact that sliding doors do not swing open, which often takes up several square feet of your property.
For homeowners working with smaller interior plans, a sliding door helps maintain a sense of privacy without feeling bulky or obtrusive. Since no door swing is required, glass sliding barn doors are an outstanding option for homeowners who feel that interior space is already at a premium. In fact, homeowners can quickly determine the exact door and track size they will need for a sliding barn door using our own sizing guide.
Sliding Doors That Balance Light and Privacy
At Sans Soucie, we pride ourselves on helping our clients harness the beauty of natural ambient light in their homes while still maintaining a sense of intimacy and privacy. Sliding frosted glass barn doors not only act as a functional art piece inside of your home, but they also help illuminate your environment in ways that traditional doors cannot. Even with your sliding doors, you'll still find yourself marveling at how protected and private your living spaces and bedrooms feel.
Depending on your specific aesthetic and size preferences, we can match you with the perfect sliding glass barn door that revitalizes your home and restores a sense of beauty and wonder to your property. You can explore all of our design options here.