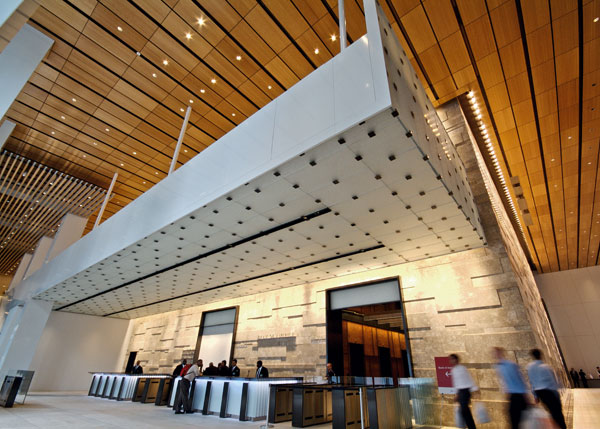 One Bryant Park New York City
Iconic architecture and bold technologies were the brainchild of global building firm DURST Organization and its architects, COOK+FOX, when creating the BANK OF AMERICA TOWER at ONE BRYANT PARK.
And at Sans Soucie, with our reputation of creating high-end custom works in glass for luxury estates and a variety of commercial projects, the opportunity to answer when New York came calling was a welcome challenge.
Our largest project to date, David Schuldiner, Inc., commissioned us to create glass in three locations: suspended over the main desk, as an accent in the elevator lobby, and as the ceiling in the secondary lobby. The design was applied to Starphire® clear glass, with one surface sandcarved approximately 1/16" deep with a detailed, complex texture, simulating a "tree bark effect." The background area of the glass was acid etched. In total, there are 359 pieces of glass, adding up to 4065 square feet of carved glass.
We are proud to state that in a global market where custom works of glass fall in the hands of few, we at Sans Soucie are honored to have been part of a project as monumental as the Bank of America Tower.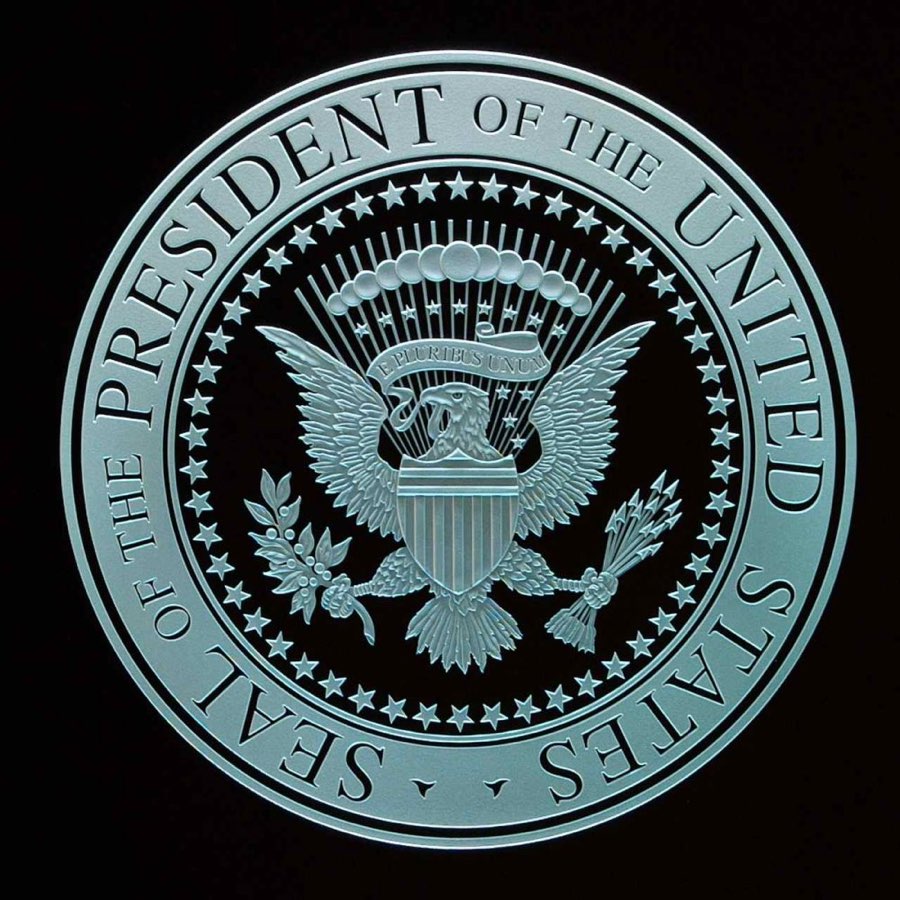 The USS George H.W. Bush
At Sans Soucie Art Glass Studios, Inc, we were selected to create a carved glass representation of the presidential seal for the new aircraft carrier, The USS George H.W. Bush (CVN 77). The seal is hand-carved in three dimensions on a 1/2" thick 28" wide x 46" tall piece of Starphire® clear glass. This impressive design is finished with the signature of 41st president, George H.W. Bush just beneath it and illuminated by LED edge lighting to give it an authoritative presence. The piece is now on display in the entrance of the Tribute Room, where photographs and biographical information about George H.W. Bush are arrayed to honor the namesake of the ship.
Named after the nation's 41st president, The USS George H.W. Bush (CVN 77) is the 10th and final Nimitz-class aircraft carrier. This revolutionary ship with its numerous improvements and modernizations will pave the way to a new class of carriers. We are honored to be a part of this significant piece of our nation's Naval fleet.
To find out more about Sans Soucie and our many types of custom carved and etched glass, visit www.sanssoucie.com.
To learn more about The USS George H.W. Bush, please visit http://www.sb.northropgrumman.com/products/cvn77/index.html.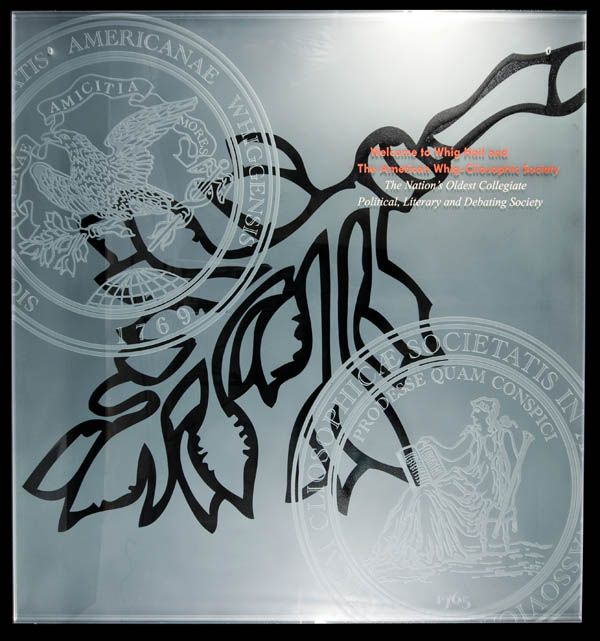 Princeton University
Sans Soucie Art Glass creates new entry glass panel for Whig Hall at Princeton University
Sans Soucie Art Glass Studios, Inc. was commissioned to create an Art Glass Panel for installation inside the entry of recently renovated Whig Hall at Princeton University.
Whig Hall is the home of the nation's oldest collegiate political and debating society — the American Whig-Cliosophic Society – and recently underwent a major overhaul to modernize the building, which had not been renovated in nearly 40 years. A classical Greek ionic structure built in 1893, Whig Hall along with Clio Hall, were designed by A. Page Brown as a pair of identical debate clubs. The Office of Design and Construction at Princeton University hired architecture firm Farewell Mills Gatsch of Princeton to oversee the renovation project.
The glass panel is approx. 96″ x 96″, 3/4″ thick Starphire® Clear Laminated Glass weighing approx. 600 lbs. The back surface is 3-dimensionally sculpture carved with two 52" diameter "Whig & Clio" seals that are off-set in opposing corners, and run off the edges of the glass. The overall surface is solid sandblast frosted, leaving, in clear glass, a large leaf branch image set diagonally across the entire surface. The leaf branch is a design element from the Whig seal, held in the eagle's claw. The upper right hand corner of the front surface features sculpture carved and painted text that reads:
"Welcome to Whig Hall and the American-Whig Cliosophic Society
The Nation's Oldest Collegiate Political, Literary and Debating Society."
A ceremony marking the renovations was held November 14th, 2009.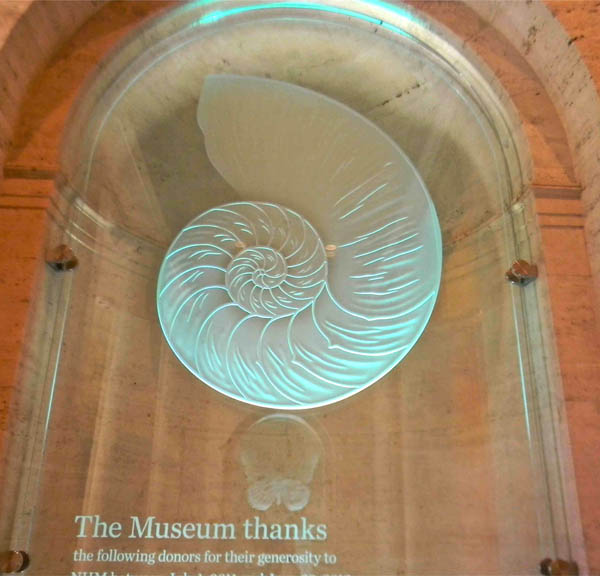 Natural History Museum Los Angeles
In May 2012 Sans Soucie Art Glass was commissioned by TFN Architectural Signage of Santa Ana to create glass donor plaques for display in the main entry of the museum.* The glass is sandblast deep carved with donor names, each one featuring a different design: a Tyrannosaurus Rex, Parrot, Nautilus and a Butterfly. The carved textures glow brilliantly thru the use of edge lighting at the bottom. Opened in 1913 the museum's distinctive main building, with fitted marble walls and domed and colonnaded rotunda, is on the National Register of Historic Places.
nhm.org
900 Exposition Blvd
Los Angeles, California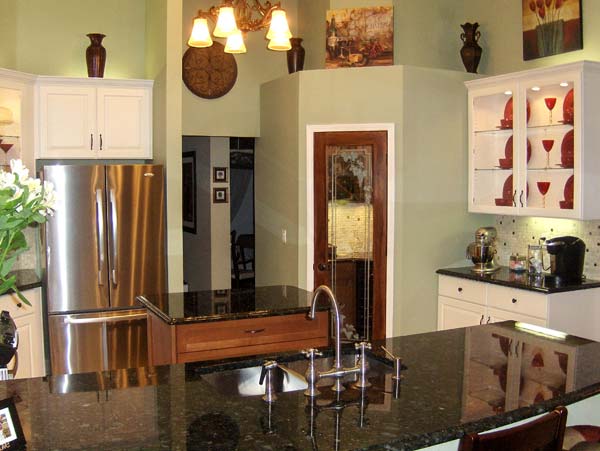 HGTV Battle On The Block
In January 2010, Sans Soucie Art Glass was contacted by HGTV Producer Jessica Cozzetta, who was looking for glass for a Wine Room Door, to be a part of a remodel in the kitchen of KEVIN & TRACEE HOLZENDORF of JACKSONVILLE, FLORIDA, who were a part of the HGTV's BATTLE ON THE BLOCK, that premiered April 10, 2010.
Our Vineyard Grapes "Cascade", 3D Carved Wine Door was selected and soon shipped to Jacksonville, FL for filming!
'Battle on the Block' is a one-hour primetime series that premiered in April 2010. Hosted by HGTV's Genevieve Gorder, it is a unique home makeover show where neighboring families compete against one another in an effort to redesign one room in their house within a designated budget – each family will be redecorating the same room. They will each have a team of on-camera experts present to help them carry out their designs. The best design makeover will be decided by a panel of judges, and the winning family receives a cash prize.
We communicated with the Holzendorf's in March, prior to the show airing and asked them… "How do you like your Glass, and How'd you get on Battle n the Block?"