Who We Are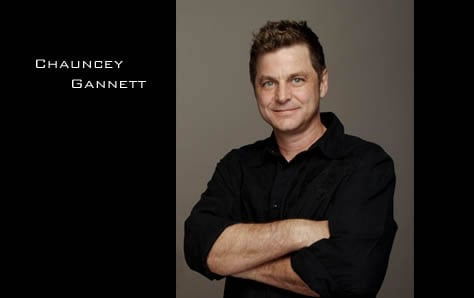 no words trying to create blank space
Master craftsmen of the finest quality Sandblast Etched, 3D Carved & Stained Art Glass, we turn ordinary glass products into exquisite "Works of Art Captured in Glass" in unlimited design styles, on glass products such as frameless all glass doors and entry systems, door glass inserts, tub, entry and interior window glass, frameless shower enclosures, free standing dividers, booth and area partitions, custom glass signage, glass wall art pieces, tables, floating bar tops, vanity tops, curtain walls, ceiling glass, sculptures, mirrors and more. On windows and doors where privacy can be a factor, designs are individually custom executed to provide the privacy level needed, without sacrificing sunlight. From abstract to contemporary, landscapes to custom logos, Sans Soucie Art Glass creates unlimited textures, patterns and effects. Color can also be added to any 3-dimensionally carved glass. Selling both retail and wholesale to the trade.
blank space
blank space
EXPERIENCED & TIME TESTED.
Founded in 1976, Sans Soucie Art Glass offers a level of QUALITY, SKILL, PRECISION AND EXPERTISE that can only be gained thru EXPERIENCE.
Sans Soucie's principal artist and designer is owner Chauncey W. Gannett.
Chauncey began learning the trade and craft of art glass while growing up, working in the family business. With plans of becoming an architect or engineer, in 1985 Chauncey changed course, taking his natural skill and creative abilities in art, design and engineering and applied it within the field of art glass.
Today, together with his wife LeeAnn, Chauncey and his team of highly skilled artisans and glaziers, have earned a well established name and reputation for Sans Soucie. Known among thousands of homeowners, designers, builders and developers for creating the highest quality etched, carved and leaded art glass available in the industry, Sans Soucie is also known for its broad-range design versatility and outstanding level of customer service and satisfaction.
C17 Glaziers Contractors License 760697
What We Do
"WORKS OF ART CAPTURED IN GLASS"
Etched, Carved & Leaded Art Glass
Sans Soucie Art Glass Studios sets an industry standard Etched, Carved and Leaded architectural art glass. From conception to design, and execution to installation, Sans Soucie is known for creating the highest quality executions in a diverse range of design styles.
ANY STYLE TO SUIT ANY DECOR.
From Simple to Extravagant
The sky's the limit in design possibilities. Ranging from abstract and geometric, to foliage, floral and detailed landscape scenes, choose from our vast array of design archives or let us create a one-of-a-kind design for your specific project. Visit our online Gallery to view our hundreds of design options.
ART WITH A FUNCTION:
PRIVACY. More or less.
A great advantage with Sans Soucie Art Glass, is that any design can be executed to provide any Level of Privacy. Sans Soucie Art Glass is the perfect solution for achieving the desired amount of privacy in your entry or bath, or wherever it's needed, without sacrificing sunlight.
Etching or carving the glass will create obscurity and privacy. It will diffuse the light and reduce the amount of glare coming in. It can provide a little privacy or a lot, depending on what you need.
How We Do It: From Concept to Completion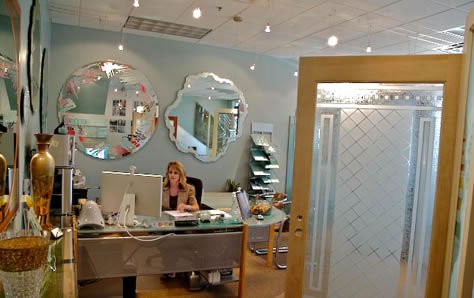 Sans Soucie Art Glass pieces are custom designed and hand crafted one by one.
Etched and/or carved designs are created by hand SANDBLASTING, and leaded/stained glass is hand cut and fabricated.
Design and fabrication truly is "a process" and here's basically how it works:
GLASS SIZE IS PROVIDED
Our Art Glass is PRICED BY THE SQUARE FOOT, so to give you an estimate, we will need the basic GLASS SIZES.
Glass sizes can be ESTIMATED for your QUOTE. Measure the width and height of the glass or opening. We will do a critical field measure before actually ORDERING any glass, but approximate sizes are all we need for your estimate.
DESIGN IS DETERMINED
Designs are a collaborative effort, combining our creativity, skill and expertise with your tastes, preferences and imagination. There is virtually no limit to the design possibilities. Most often, clients come to us with a basic design style in mind. They take a look at our vast array of design archives within that style and although the design may begin there, changes are made to suit your tastes and meet your specifications, creating a custom design for your individual piece. For some projects, we "start from scratch", and create a one-of-a-kind, original design. Still a collaborative effort, thru discussions with you, we will base the design on your decor, and the architecture of your home or establishment. There are also times when a client will already have a specific design or vision in mind. We take that vision and make it a reality, first rendering it on paper, then capturing it within the glass.
QUOTE IS PROVIDED TO YOU
Once we have glass sizes and the BASIC DESIGN CONCEPT or STYLE has been determined, we will provide you with you a Quote. The quote can be faxed and/or emailed to you. Prices will vary depending upon these main factors:
Glass Finish
Sandblast Effect
Design Complexity
ORDER IS PLACED
To place your order requires either full payment or a 50% deposit, depending on your product and glass effect.
SCALE DRAWING COMPLETED FOR YOUR APPROVAL
If your design is new, you'll receive a scale drawing for approval within 7-10 business days from the date of order.
If the design is to feature Color, it will be applied after carving, using special glass paints via air-brushing.
DELIVERY AND INSTALLATION
We are a full service operation! Sans Soucie Art Glass is a licensed, bonded and insured C17 Glazing Contractor (CA License 760697). We will personally deliver and install your Art Glass piece within a 100 mile radius from our location in Palm Desert, California. For installations &/or deliveries outside that range, pieces are expertly packaged and shipped to you, for installation by others.
Where We Do It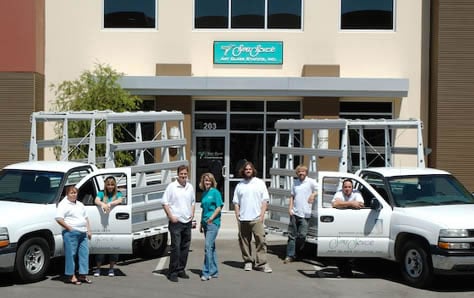 Our showroom and studio are in one location in Palm Desert, California.
Click here for Map & Directions
Why We Do It
Why? For you to enjoy, of course!
We do our work for our clients to enjoy, but we also love our work! Seeing and hearing how much our clients enjoy our work is the best part of our job and what we strive for. (Be sure to check out our clients TESTIMONIALS). And okay, yes, another reason why we do it is to make a living… but to love what you do AND make a living doing it? We consider ourselves very blessed and believe it's one of the greatest secrets to our success.
The real secret to our success is our clients. We have an incredible clientele and are very proud to say that they have year after year, continued to be our best from of advertising. We love our clients and they're the reason why we make it our mission to continually strive for better service, higher levels of diversity, creativity and customer satisfaction.