Choosing the Right Size Door for Your Interior or Exterior Prehung Door: A Step-by-Step Guide
When it comes to choosing the right size door for your interior or exterior prehung door or book door, there are things to know and take into consideration. Whether you're replacing an existing door, or installing a new interior door or exterior door, size matters, and it's essential to take the right steps. Not sure where to begin? Here's a comprehensive guide to ensure a perfect fit.
---
1. Why Measure?
Before diving into the measuring process, understand the 'why' behind it. An ill-fitting door can lead to the door not opening and closing properly and not having the tight fit you want. Getting the right measurements ensures your door is properly functional, energy-efficient, and aesthetically pleasing.
---
2. Measuring an Existing Door:
If you're replacing a door, this is your starting point:
Width: Horizontally measure the door from edge to edge, ideally across the middle.
Height: Vertically measure from the top to the bottom edge.
Thickness: While most interior doors have a standard thickness of 1 3/8 inches, it doesn't hurt to confirm.
---
3. Working with a Rough Opening:
In cases where a door doesn't exist yet:
Width: Take three horizontal measurements – top, middle, and bottom. Use the largest value and add roughly 2 inches for the frame and shimming.
Height: Vertically measure from the floor (or subfloor) up to the bottom of the header. Do this on the left, middle, and right, using the largest value. Remember to add about 2.5 inches for potential flooring and the frame.
Thickness: This is the jamb width. Measure wall thickness from the back of the interior trim to the back of the exterior trim.
---
4. Familiarizing with Standard Door Sizes:
While custom doors are an option, there are standard door sizes:
Common widths for interior doors are: 24, 28, 30, 32 and 36 inches
Common widths for exterior doors are: 30, 32 and 36 inches
Standard height for both interior and exterior: 80 inches (a.k.a. 6/8)
Taller door: 96 inches (a.k.a. 8/0)
Being aware of these sizes helps you compare your measurements and determine whether you need a standard size or custom size door. Bear in mind that custom size doors are custom made to order and will be at a higher price as well as a longer lead time.
At Sans Soucie Art Glass, we sell what's called "full lite glass doors". The glass size varies by the door size. Here's a visual example of the sizes and specs of our doors:
INTERIOR DOOR SIZE AND SCALE
(Style 1501)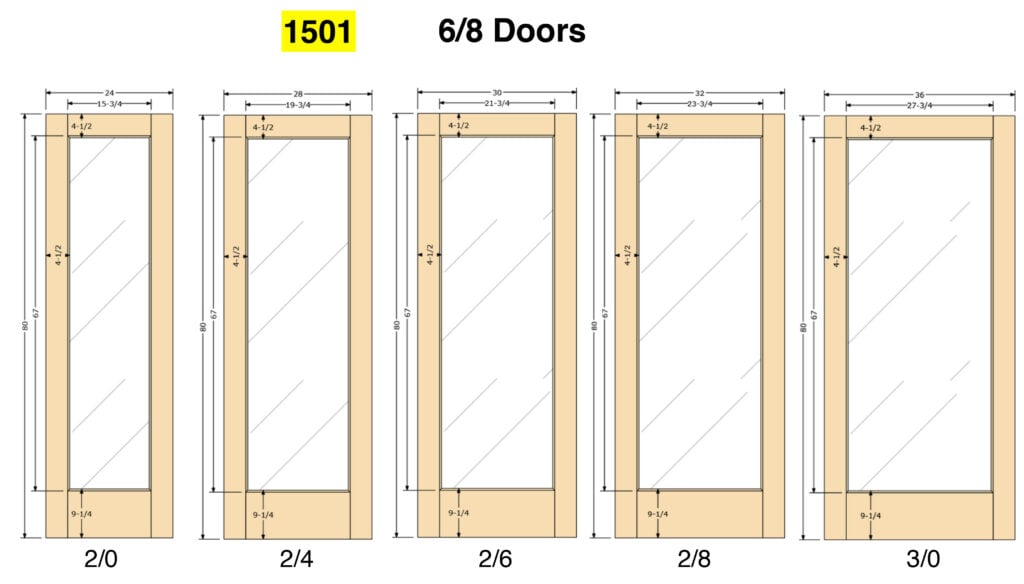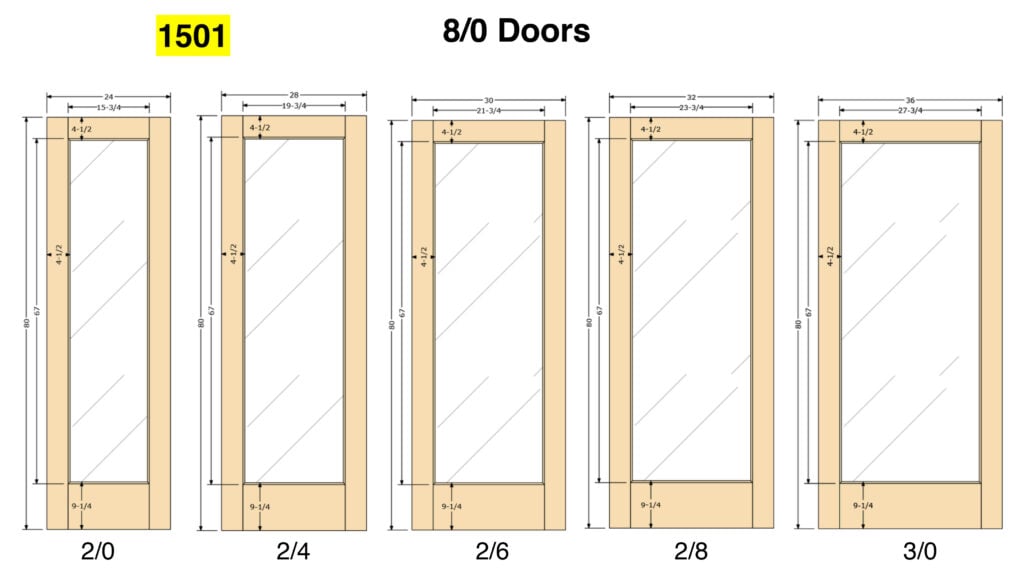 EXTERIOR DOOR SIZE AND SCALE
(Style 5001)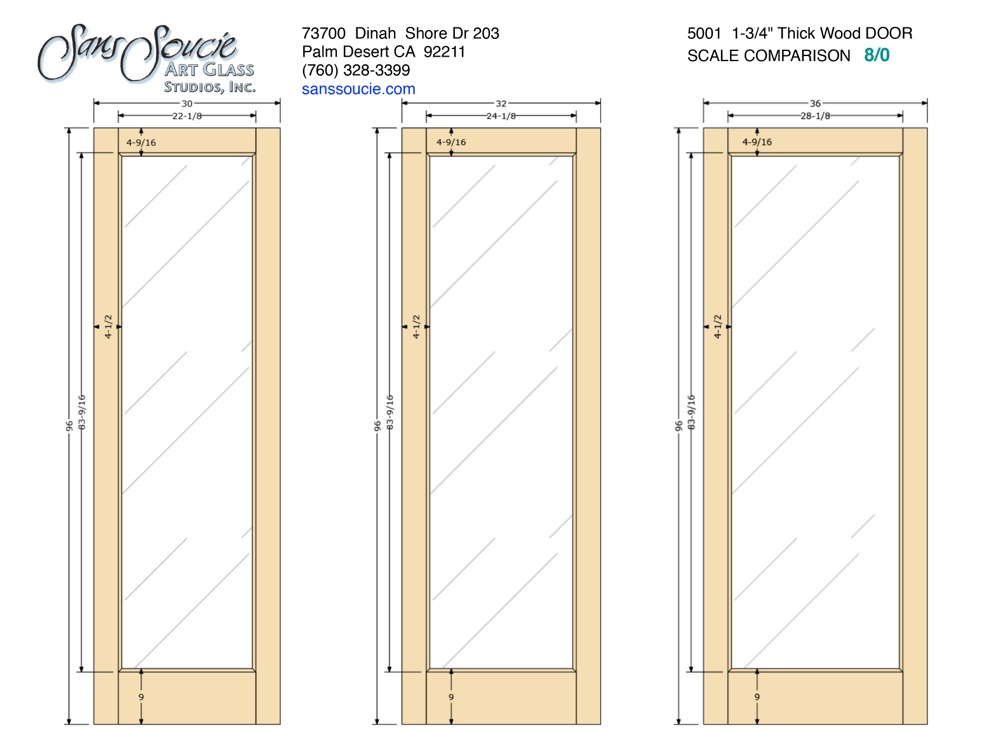 ---
5. Special Considerations:
Swing Direction: Picture your door – when you approach your door from outside the room, do y ou want the door knob on the left or right? Do you want to PUSH it open, or would it be best for it to PULL open?
Flooring: Future flooring changes? Factor in the thickness of any new flooring to your door height measurements.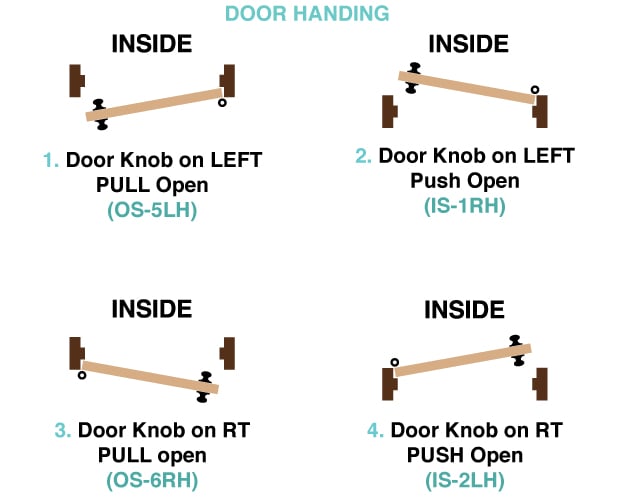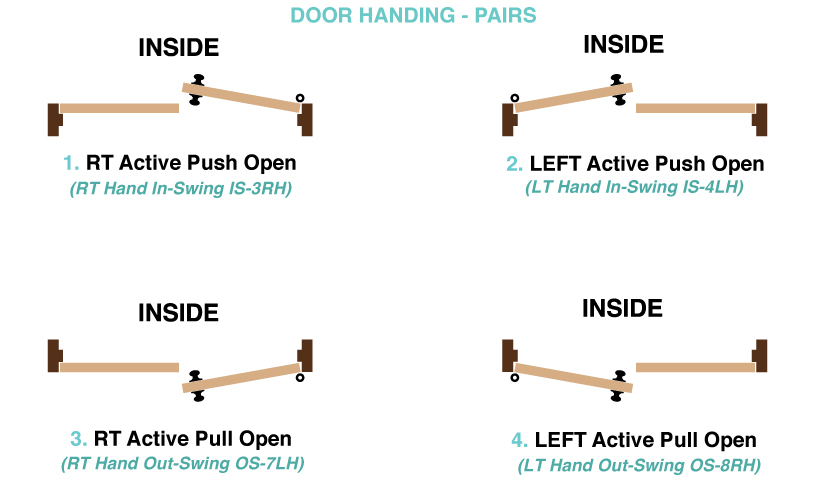 ---
6. Consultation and Purchase:
Equipped with your measurements, you're ready to hit the stores or browse online. Most home improvement stores or door vendors will provide additional guidance if needed. Remember, if in doubt, overestimating the size is slightly is better than underestimating. That's because the door can typically be shaved down, either on the sides or off the bottom of the door. These adjustments can be made during the installation process.
---
Here are two helpful guides for both Interior Doors and Exterior Doors, that list what the rough opening will need to be, based on the Door Size: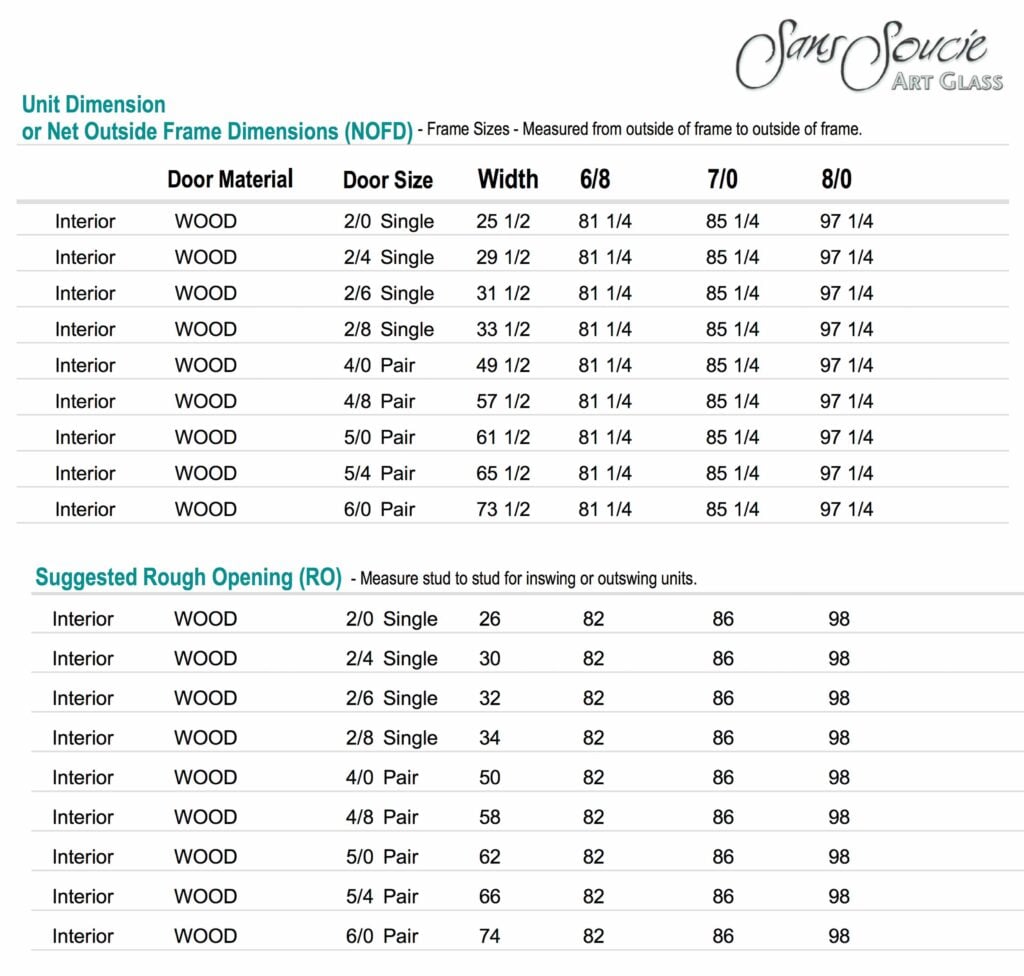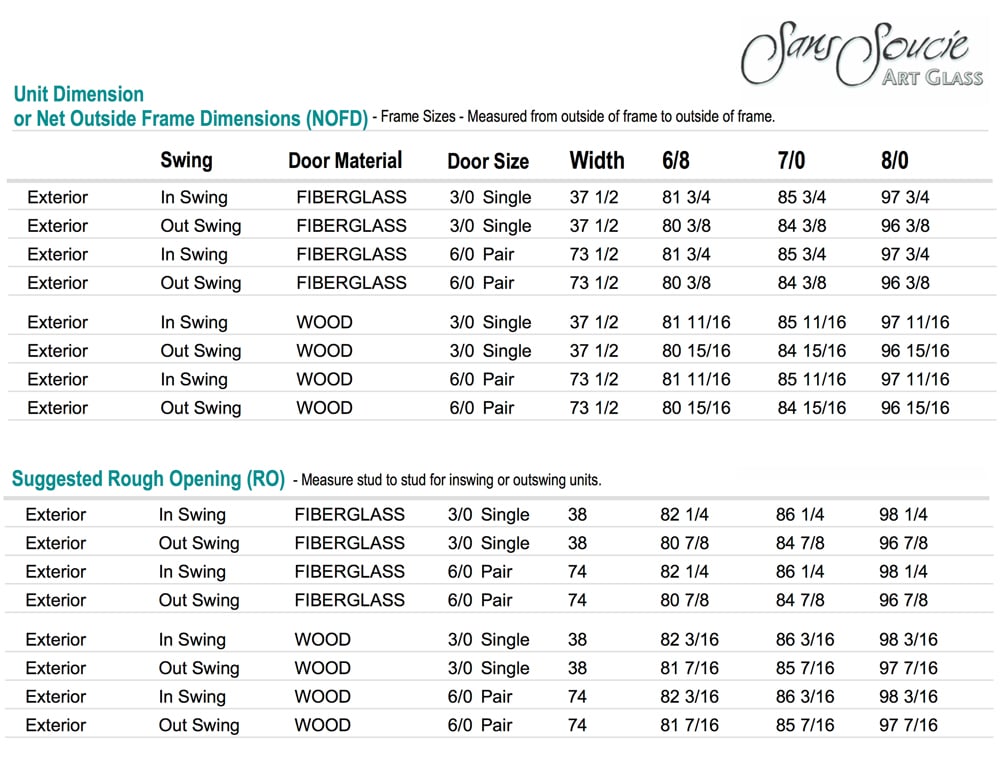 In Conclusion
Selecting the right door size can seem daunting, but with precise measurements and a bit of planning, you're well on your way to enhancing the aesthetics and functionality of your space. Happy door shopping!
About Sans Soucie Art Glass
Family owned and operated since 1976, Sans Soucie sets the industry standard for the highest quality design and execution of sandblast frosted, carved and hand painted glass both nation and worldwide. Choose from our vast collection of designs across every decor, or let us create a brand new one-of-a-kind designs per your specifications. Our frosted glass designs turn ordinary glass into art pieces that add a luxury element to your home, while creating the privacy you need. Truly art with a function, our etched glass designs diffuse light and reduce glare, while enhancing the look of your home with a unique, eye catching custom element. Not clip art or machine manufactured, each design is a uniquely handcrafted original work of art, custom designed for our distinguished clientele of homeowners and commercial developers.
Free shipping to most states, shipping both national and worldwide, all our glass is handmade and expertly packed in-house by our team of glass artisans and shipped from Palm Desert, California. Shop our most popular products like slab and prehung front doors, interior doors, pantry doors, glass front doors, glass interior doors, sliding glass barn doors, windows, shower doors, shower panels and shower enclosures, decorative mirrors, signs and glass tables.
Copyright © 2023, Sans Soucie Art Glass. All rights reserved.