Frosted Pantry Glass Door For Every Budget: What It'll Cost You
Don't let your bank account be deterred by the beauty, style, and quality of our Custom Frosted Pantry Glass Doors! Here at Sans Soucie we're able to offer our clients a variety of Hand Sandblasted Effects that can help meet the needs of every budget. In other words, we can take your design and customize it onto your Frosted Pantry Glass Door without having to sacrifice your wallet. Aside from our Sandblasted Effects, we help you determine whether you need an entire Glass Door or just a Glass Insert. We even make it easy to create both right online! In this conversation we'll also dive into the differences between Frosted Glass versus Clear Glass, and how their details can also affect the cost. In the end we hope you start to see that we can make your Frosted Pantry Glass Door a reality for your home, without going over budget!
PANTRY GLASS DOORS
PANTRY GLASS INSERTS
4 Frosted Glass Effects That Meet Your Budget
With over 50 years of Hand Sandblasting experience, we have 4 Frosted Glass Effects that range from most economical to more expensive. These effects include: 1D, 2D, 3D, and 3D Enhanced. Each of these effects has a different level of intricacy, and time that it will take to execute your design onto your Frosted Pantry Glass Door. We also have painted options that will increase the price of your Frosted Pantry Glass. However, since they're not considered Sandblasted Effects we won't be going into depth about them today. But, check out these 4 effect options below and decide what's best for your home!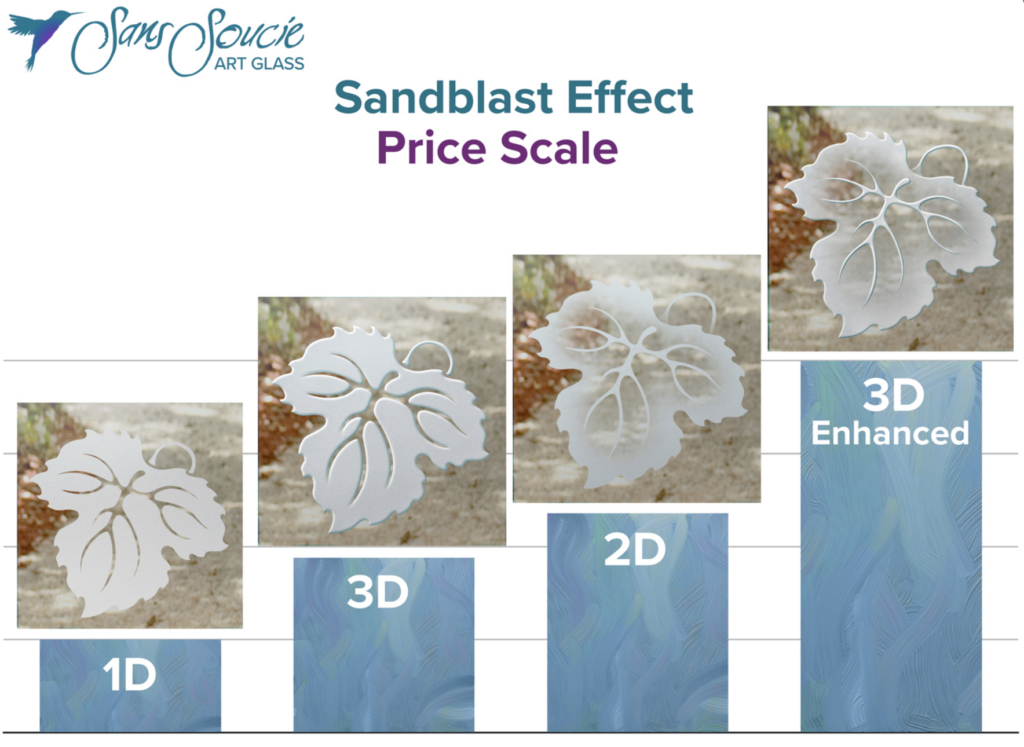 Details About Each Of Our 4 Frosted Glass Effects:
1D – Most Economical
Our 1D Frosted Glass Effect is the most affordable option, featuring solid white shapes that are etched across large sections of the glass surface. This technique is similar to using a stencil for spray painting. It's also different from the more intricate and time-consuming stage sandblasting used for 2D and 3D Enhanced effects. With 2D and 3D Enhanced, our artists work on one small segment at a time to create a more detailed and visually striking finished product.
3D – Carved deep, but no "Shading"
Our 3D Effect is a flat, embossed design that is cut deep into the glass, resulting in a stunning and timeless look. This effect does not require gradients or shading, making it a more straightforward and efficient process. Although simpler in some aspects, our artisans still utilize their exceptional skills to create every piece, ensuring a high-quality finished product.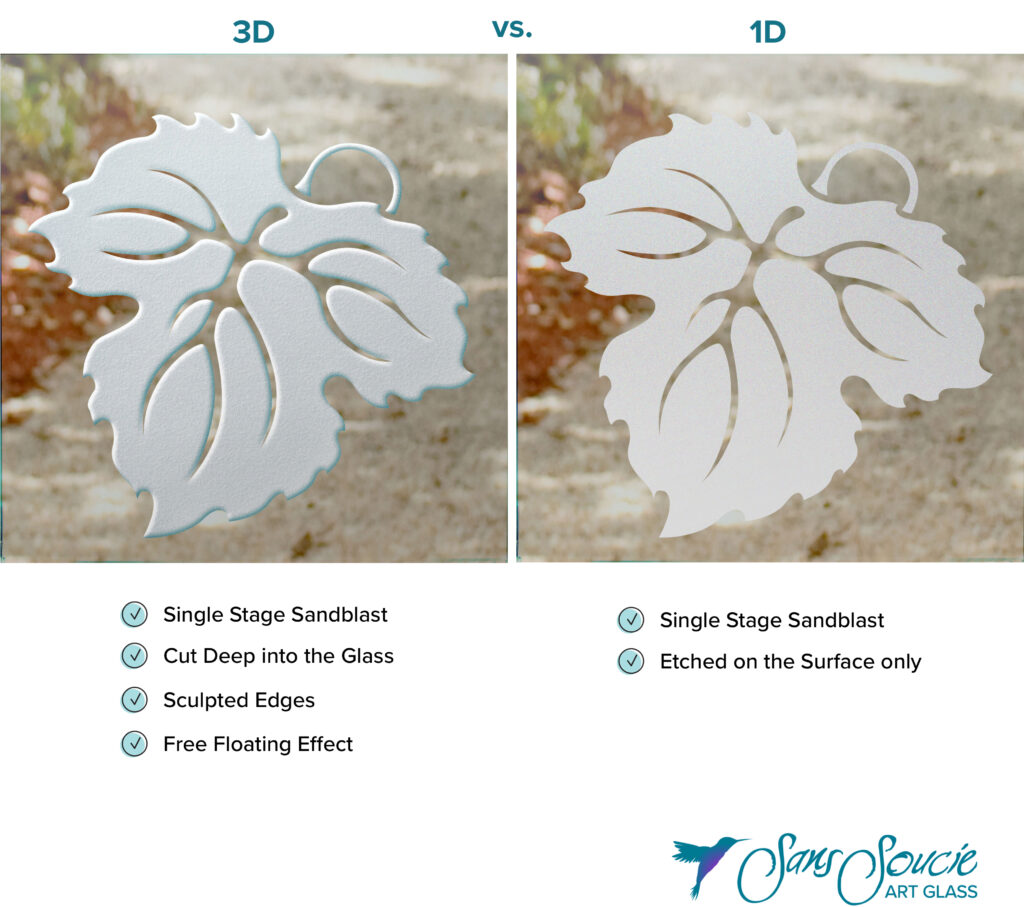 2D – No Carving, Just "Shading"
Our 2D Frosted Glass Effect is a visual feast for the senses! Using the intricate technique of gradient shading, each shape and segment is individually etched with stunning precision and detail, creating a truly amazing work of art. Although just as skilled as our other methods, the process takes less time, resulting in a stunning and enriched look at a lower cost. With 2D Frosted Glass, you can transform your space into a work of art without breaking the bank!
3D Enhanced – Higher Skill + Higher Time = Higher End
Hold on to your hats because our 3D Enhanced effect is a true masterpiece! Our artisans skillfully create this show-stopping design by sandblasting the glass in stages. They meticulously sculpt and cut one small segment at a time. This results in a relief texture that gives the illusion of a three-dimensional object that's free-floating in the glass. And that's not all – the carved edges of each element in the design beautifully catches the surrounding light, illuminating your space like never before. To add even more magic to the mix, our artists use a shading technique that gradually fades the frosted glass to clear glass. This creates a gradient effect that will leave you breathless. In other words, with our 3D Enhanced Effect, you're not just adding a design element – you're adding a true work of art to your space!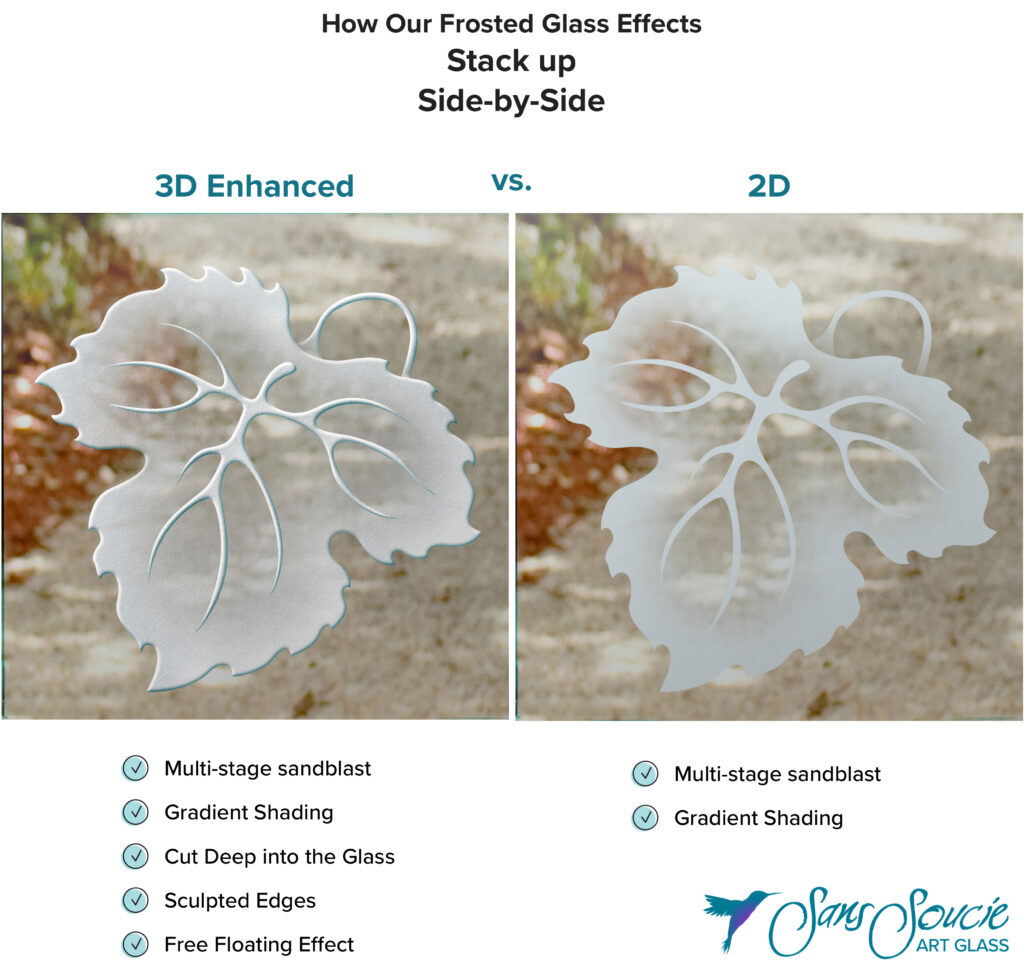 Frosted Pantry Glass Door or Glass Insert Only?
Whether you need a Slab/Book (which is just a door), Pre-Hung Door, or a Frosted Pantry Glass Insert only… we've got you covered! You can easily shop and browse through our vast catalog of designs, in order to choose whatever fits the needs of your home!
If, you're needing an entire Frosted Pantry Glass Door, this will typically cost more than just a Glass Insert for your Pantry. Here is what's included when you "Customize and Buy" a door (Slab/Book or Pre-Hung):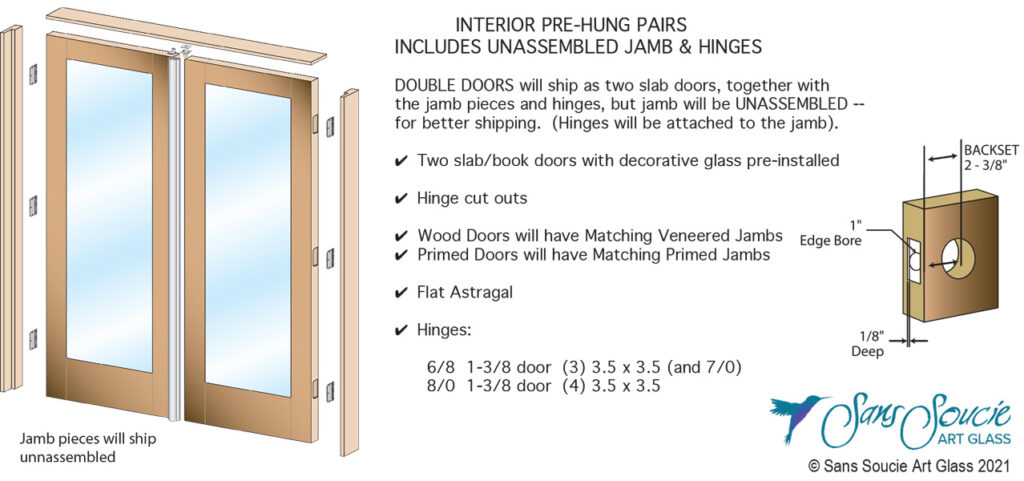 What if you already have a door frame? You can design and purchase a Glass Insert only! This option will be less expensive than buying an entire door with glass. Here's what you'll be getting:
All Glass is Tempered for Safety
Glass for Interior Doors = Single Pane
Glass for Exterior Doors = Dual Pane
Does Frosted Glass Cost More Than Clear Glass?
Nope! At the end of the day it will come down to the intricacy of the design and Frosted Glass Effect you choose! We have 3 Main Types of Glass Finishes that each provide a different level of privacy. They are: Clear Glass (not private), Gluechip (semi-private), and Frosted (private). But today we're only comparing the cost between the Frosted and Clear Glass Finishes.
Here you'll see an examples of the SAME design created onto both a Frosted Glass and Clear Glass Finish. However, each Pantry Glass Door design differs in regards to the Frosted Glass Effect. One effect will cost you more than the other, no matter the Glass that it's created on. Why? Because, like we previously discussed each Frosted Glass Effect takes a different amount of both time and skill level! (Please note: all prices listed are as of March 2023 and are subject to change without notice).
FROSTED (2D) vs. CLEAR (3D Enhanced)
FROSTED (3D) vs. CLEAR (1D)
About Sans Soucie Art Glass
Family owned and operated since 1976, Sans Soucie sets the industry standard for the highest quality design and execution of sandblast frosted, carved and hand painted glass both nation and worldwide. Choose from our vast collection of designs across every decor, or let us create a brand new one-of-a-kind designs per your specifications. Our frosted glass designs turn ordinary glass into art pieces that add a luxury element to your home, while creating the privacy you need. Truly art with a function, our etched glass designs diffuse light and reduce glare, while enhancing the look of your home with a unique, eye catching custom element. Not clip art or machine manufactured, each design is a uniquely handcrafted original work of art, custom designed for our distinguished clientele of homeowners and commercial developers.
Free shipping to most states, shipping both national and worldwide, all our frosted glass is handmade and expertly packed in-house by our team of glass artisans and shipped from Palm Desert, California.  Shop our most popular products like slab and prehung front doors, interior doors, pantry doors, glass front doors, glass interior doors, sliding glass barn doors, windows, shower doors, shower panels and shower enclosures,  decorative mirrors, signs and glass tables.
Copyright © 2023, Sans Soucie Art Glass. All rights reserved.