Prehung vs Slab Doors: A Guide to Understanding What's Best for Your Home
When shopping or designing any door you'll likely be asked this question: do you prefer a slab door or a prehung door? Understandably, not everyone knows the difference between the two. However, it is important to be able to know exactly what you want because if the wrong door is ordered, it probably won't fit in its space. But don't worry, we're here to help you figure the right fit for your home with our guide on prehung vs slab doors.
What is a Slab Door?
Essentially, a slab door is nothing more than the actual door itself. There is no frame or any hinges. The purpose of getting a slab door would be to add or replace just the door. Meaning, if you have created a door frame or you like the current frame for that space, you can opt for just the slab door. While a slab door typically comes with handle preparation, a cutout for the door handle, slab doors may not always come with cutouts for the hardware and hinges that are required for hanging. Instead, the homeowner or the door installer must create a cutout and choose the proper hardware for hanging the door. Let's take a look at the pros and cons of slab doors.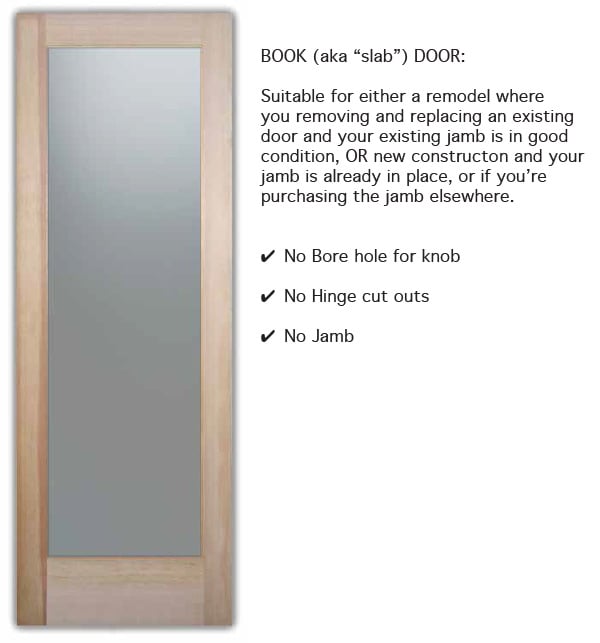 Slab Door Pros:
Less expensive than a prehung door

Since a slab door is basically a blank slate with no frame or hardware, it's typically a cheaper purchase than the alternative.

Provides design flexibility

In a lot of cases, there are more slab door options than prehung options which can give you more room to explore door designs.

A great option for interior doors

Since weatherproofing is not a concern with interior doors, installing a slab door inside your home can be much less daunting of a task.
Slab Door Cons:
Cutouts and hardware not always included

Because this type of door lacks hardware and cutouts for said hardware, it falls on the installer of the door to create the perfect fit which may seem intimidating to even the most seasoned DIYer.
What is a Prehung Door?
A prehung door is a slab door already connected to the frame and ready to install in any space that lacks a door frame and the door. As a rule of thumb, unless you plan to remove the door frame, all the casing, and the trim, this type of door is not right for you. A prehung door is attached by hinges to the frame, so there is no need to locate any additional hardware for hanging the door. Overall, this door option is an all-inclusive package for anyone looking for a completely new look. Let's review some of the pros and cons for prehung doors.
Prehung Door Pros:
Hinges and hardware are pre-attached

No need for creating your own hardware cutouts or installing your own hardware.

Frame is made to fit the door

Takes the guesswork out of building a door frame from scratch then trying to pair it with the right door.

Better for exterior doors

Prehung doors come weather-tight which make it the best option for a new exterior door.
Prehung Door Cons:
Heavy and hard to move

This can be an issue for whoever is installing the door, while the install part may be easier, getting the door where it needs to be can be the hardest part.

Extra work required

After a prehung door is installed, you're likely still going to need to finish the drywall, painting, and trim work around the frame.
Ordering Your Door
Now that we've sorted out the differences between the two doors, we hope choosing the perfect door for your home has become easier. When you're ready to shop or design frosted glass doors for your home, shop our stunning frosted glass doors that are completely customizable through our easy-to-use door designer.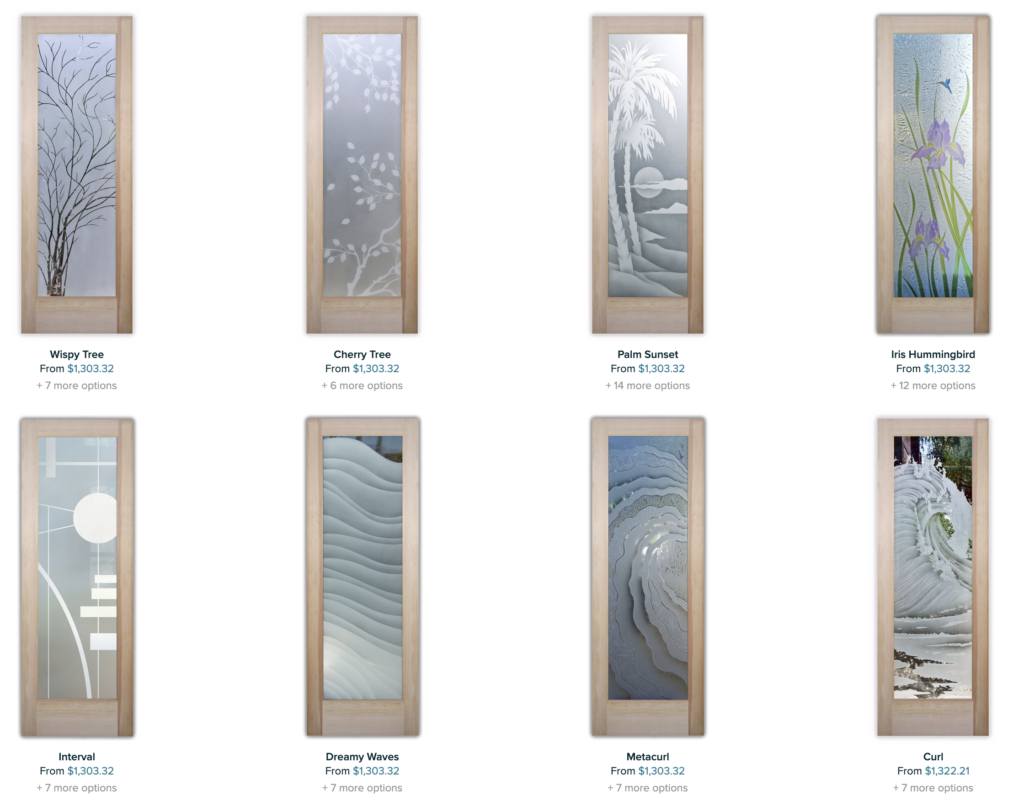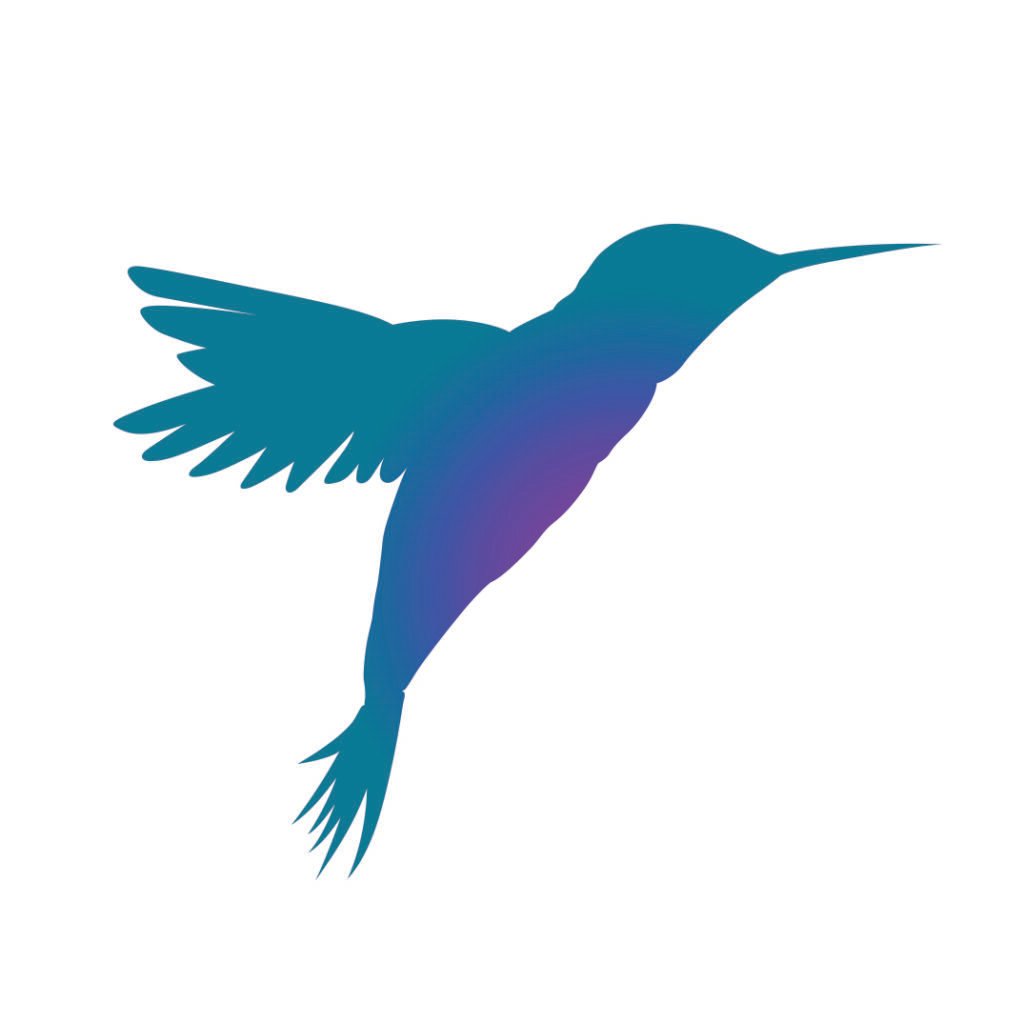 Sans Soucie Art Glass: A Legacy of Craftsmanship and Innovation
Family-owned and operated since its inception in 1976, Sans Soucie has solidified its place as the industry frontrunner in the realm of sandblast frosted glass, carved, and hand-painted glass. Pioneering the art of turning ordinary glass into breathtaking "Works of Art Captured in Glass", we have garnered acclaim both nationally and worldwide.
Sans Soucie has proudly undertaken tens of thousands of residential projects, delighting homeowners not just in the U.S., but internationally as well. Their portfolio also showcases an impressive range of commercial commissions, serving diverse sectors such as the service industry, hospitals, restaurants, museums, hotels, and libraries. Notably, Sans Soucie's exquisite craftsmanship even graces a tribute room aboard the USS George HW Bush CVN 77.
In 2010, Sans Soucie ventured into selling slab and prehung doors, further solidifying their presence in the home decor space. Recognizing the complexities associated with slab and prehung doors, Sans Soucie introduced their innovative Door Designer Tool. This user-friendly tool has since transformed door designing into a fun and effortless experience, allowing homeowners everywhere to craft doors that resonate with their personal style.
In essence, Sans Soucie Art Glass is not just a brand; it's a testament to unparalleled craftsmanship, innovation, and dedication to the art of glass design.
With free shipping to most states and worldwide shipping options from our base in Palm Desert, California, our extensive product range, which includes glass front doors, interior prehung doors, interior slab doors, pantry doors, interior glass doors, sliding glass barn doors, windows, shower doors, shower partitions and shower enclosures, frameless glass entry doors, decorative mirrors, glass signs, glass dining tables and glass coffee tables stands testament to our unwavering dedication to excellence.
Explore the world of Sans Soucie, where every piece of glass tells a story, and where history, craftsmanship, and innovation seamlessly blend.
Copyright © 2023, Sans Soucie Art Glass. All rights reserved.