Slab and Prehung Doors – What's the Difference and What You're Getting
Here at Sans Soucie we've taken the guess work out of creating and installing Frosted Glass Doors. Knowing what's included when you purchase Slab and PreHung Doors will help you better understand how to prepare for and install your perfect Frosted Glass Door. In this article we'll show you exactly what you'll be getting in order to make the process simple and easy!
What's a Book (a.k.a. Slab) Door?
Let's first start out with the basics… What is a Book or a Slab? A Slab is a suitable Glass Door for either a remodel where you remove and replace an existing door and your existing jamb is in good condition. Or, a Slab door can be used with new construction where your jamb is already in place, or if you're purchasing the jamb elsewhere. There is no bore hole for a knob, no hinge cut outs, and no jamb.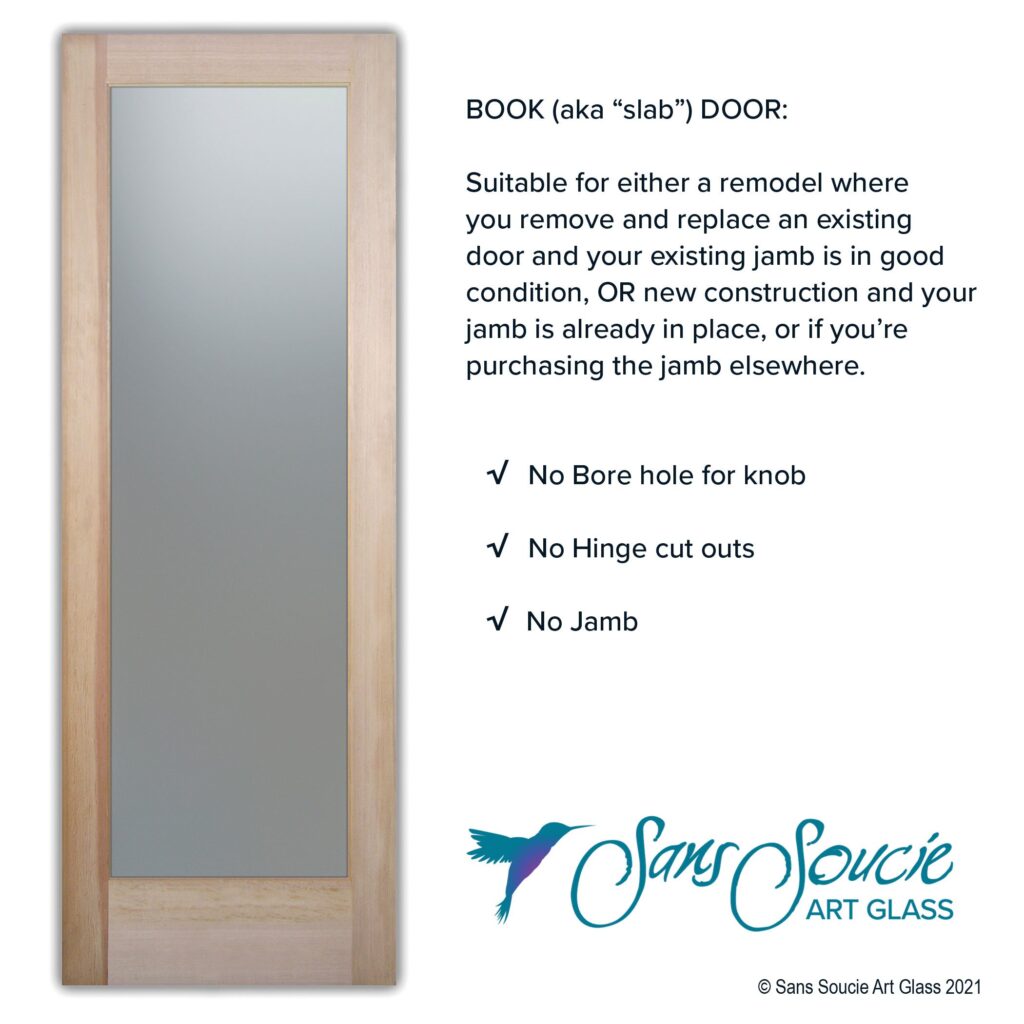 INTERIOR Single Pre-Hung Door And What's Included
When choosing to go this route, our Interior Single Pre-Hung Door will come "installation ready"! This means it will be completely assembled, with attached hinges and matching veneered jamb. The Interior Single Pre-Hung Door will be bored for a knob, along with your decorative glass pre-installed.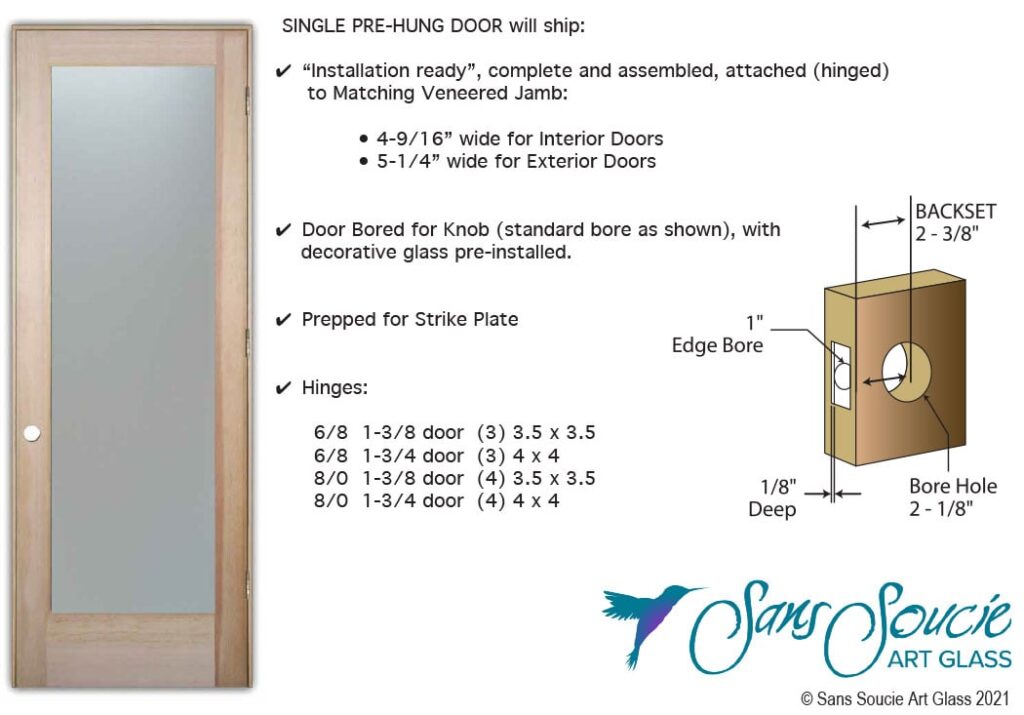 EXTERIOR Single Pre-Hung Door And What's Included
Your Exterior Single Pre-Hung Door is hinged and hanging in it's own frame (a.k.a. the jamb pieces). This package will include everything from hinge, lock, and matching jambs. You'll also find hinge cut-outs on the door. You Exterior Door will be double bored for the knob, prepped for strike plate, weathering stripping, door sweep, and aluminum sill.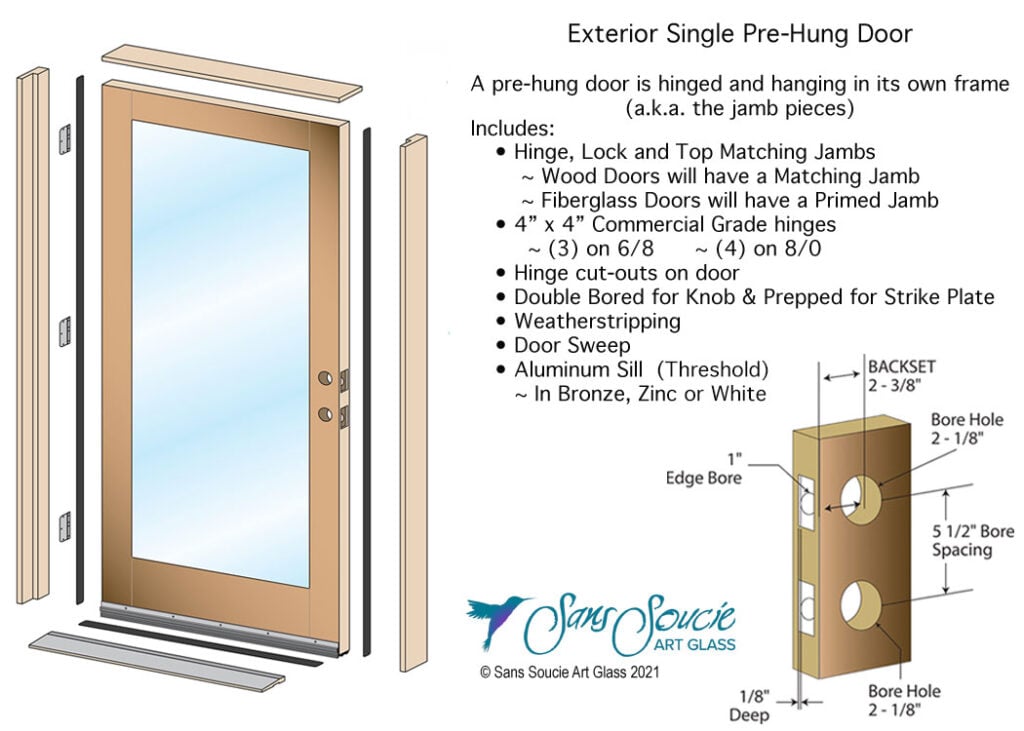 INTERIOR Pre-Hung Door Pairs And What's Included
These Interior Glass Double Door Pairs will ship as two Slab Doors, together with the jamb pieces and hinges. But, the jamb will be UNASSEMBLED for better shipping. The hinges however will be attached to the jamb. Your will be receiving: Two slabs/book doors with decorative glass pre-installed, hinge cut outs, wood doors with matching veneered jambs, primed doors with matching primed jambs, a flat astragal, and hinges.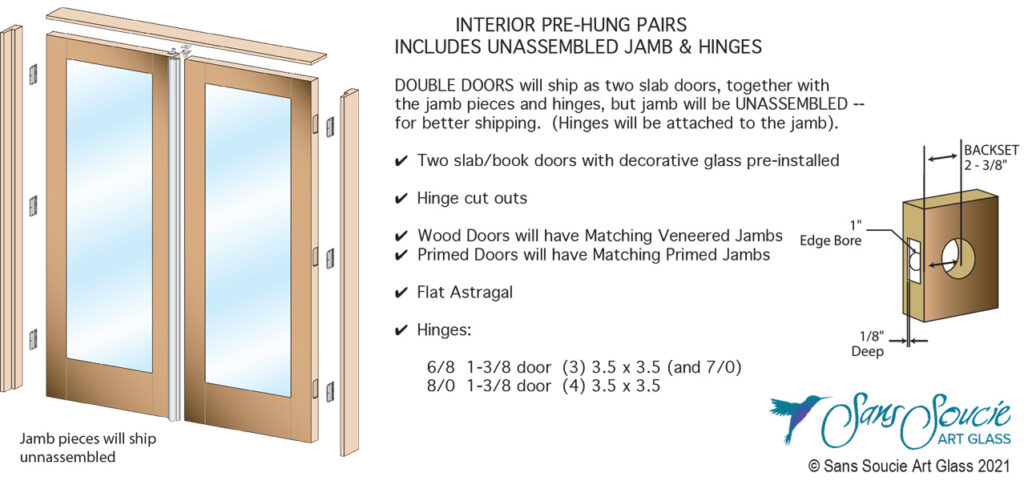 Exterior Pre-Hung Door Pairs And What's Included
Your beautiful Exterior Pre-Hung Door Pairs will ship UNASSEMBLED (a.k.a. "Knocked Down). These double doors will ship as two slab doors together with jamb pieces and hinges. The jamb will be unassembled (for better shipping) and the hinges will be attached to the jamb. You can expect to receive: Hinge, lock, and top matching jambs, hinge cut outs on each door, a double bored area for a knob, and doors prepped for a striker plate. You'll also get weatherstripping, door sweep, T Astragal, and aluminum sill.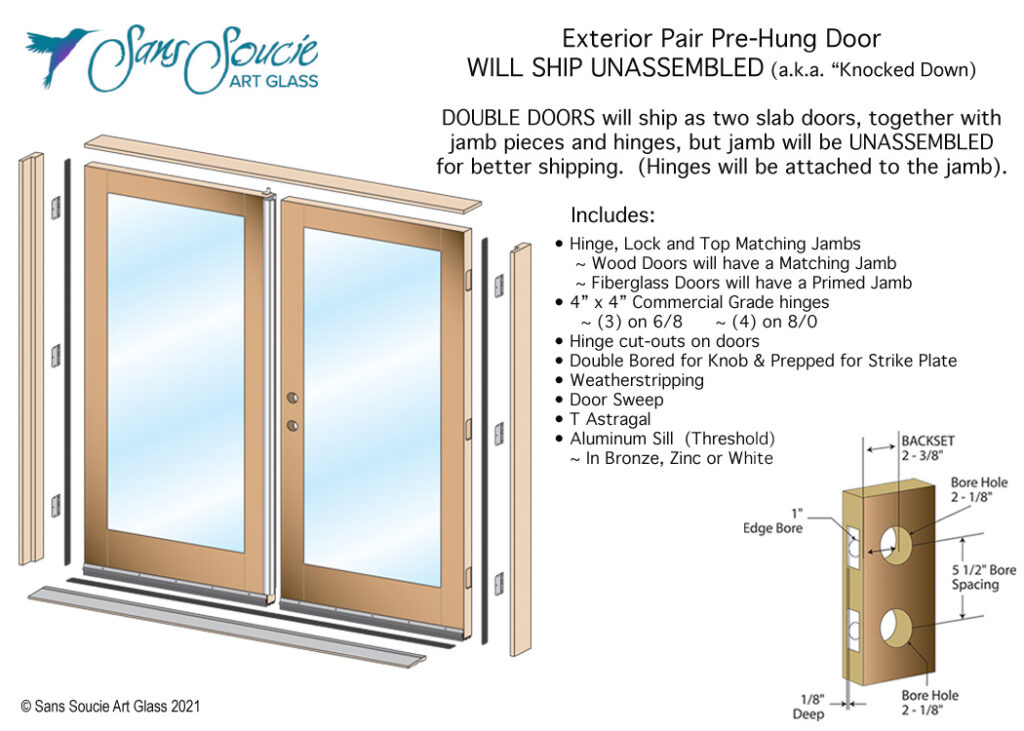 About Sans Soucie Art Glass
Family owned and operated since 1976, Sans Soucie sets the industry standard for the highest quality design and execution of sandblast frosted, carved and hand painted glass both nation and worldwide. Choose from our vast collection of designs across every decor, or let us create a brand new one-of-a-kind designs per your specifications. Our frosted glass designs turn ordinary glass into art pieces that add a luxury element to your home, while creating the privacy you need. Truly art with a function, our etched glass designs diffuse light and reduce glare, while enhancing the look of your home with a unique, eye catching custom element. Not clip art or machine manufactured, each design is a uniquely handcrafted original work of art, custom designed for our distinguished clientele of homeowners and commercial developers.
Free shipping to most states, shipping both national and worldwide, all our frosted glass is handmade and expertly packed in-house by our team of glass artisans and shipped from Palm Desert, California. Shop our most popular products like slab and prehung front doors, interior doors, pantry doors, glass front doors, glass interior doors, sliding glass barn doors, windows, shower doors, shower panels and shower enclosures, decorative mirrors, signs and glass tables.
Copyright © 2023, Sans Soucie Art Glass. All rights reserved.