Why is some frosted glass more expensive?
Frosted Glass can have a wide price range, depending on the type of frosted glass, as well the various features it can have. At Sans Soucie, our frosted glass is all made by hand, through the art of sandblast etching and carving.  As you browse our products, you'll see that we have a number of different effects, each one in a different price range.  You may be asking "What's the difference between them, and why does one cost more than the other?"   In this article, we're gonna take a close look at each of our sandblast frosted glass effects, and explain the differences in how they're made. 
Watch this helpful video that explains and demonstrates how the different sandblast frosted glass effects are made and why they have such a wide range of price!
Higher-end Sandblast Effects: 3D Enhanced and 2D
For our sandblast frosted glass effects, we have two-higher end, more intricate effects, and two less intricate, or lower-end effects. The two higher-end, are called 3D Enhanced and 2D. Let's take a close look at these, starting with our prettiest or premiere effect, 3D enhanced.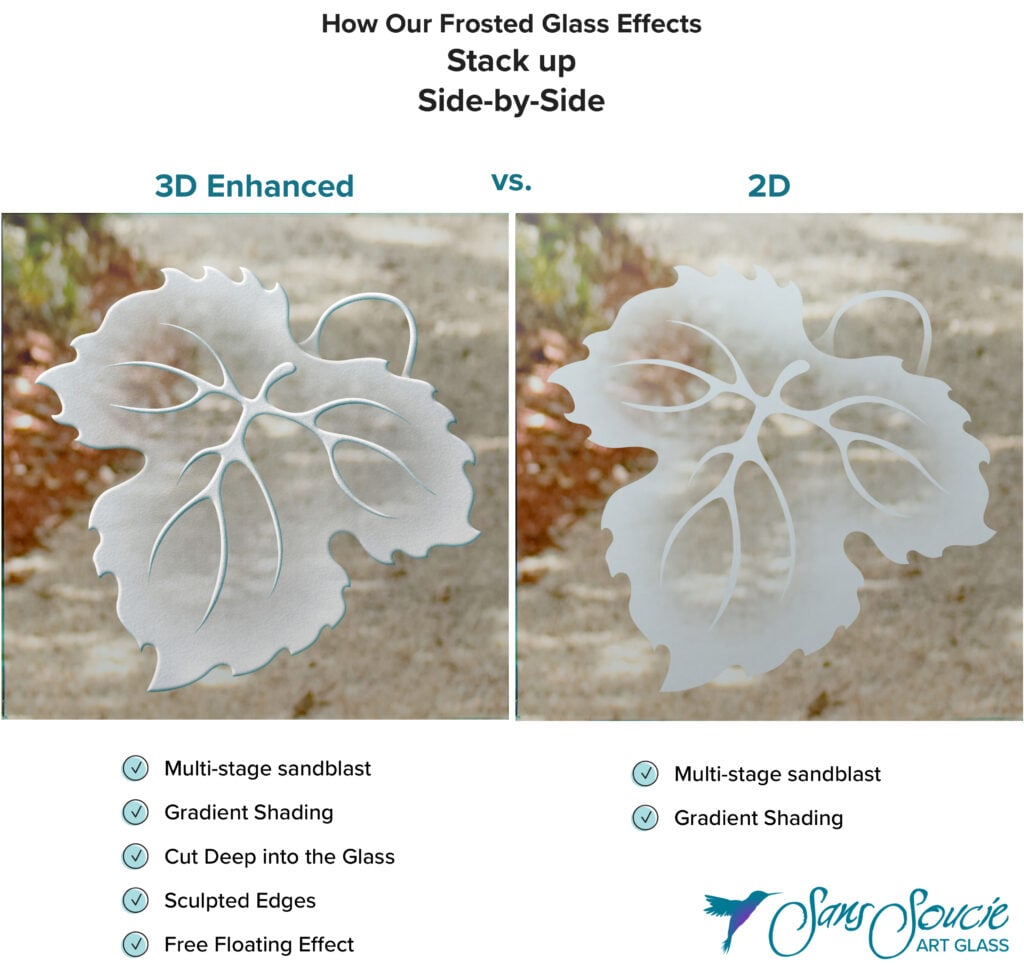 3D Enhanced: Higher Skill + Higher Time = Higher End
Requiring the highest level of skill and time, the design is sandblasted in STAGES, one small segment at a time. The artist sculpts and cuts, deep into the glass, at varying depths, creating a relief texture in the glass.
The carved edges of the various frosted glass elements in the design, will pick up surrounding light, illuminate, and become a 3 dimensional object free-floating in the glass.
The artist also implements what we call "shading", where the frosted glass sandblast density gently fades out to clear glass, a "gradient-like" effect that adds more intricacy and detail to the finished look.
2D
Using the technique of gradient shading alone, each shape and segment is individually etched-with-a-gradient, but without the carved edges. Requiring the same amount of skill, but less time, our 2D frosted glass allows us to offer a detailed and enriched look, at a lower price.
The Lower End Effects
Remember:
You're still getting our beautiful quality, custom designs, but at a lower price!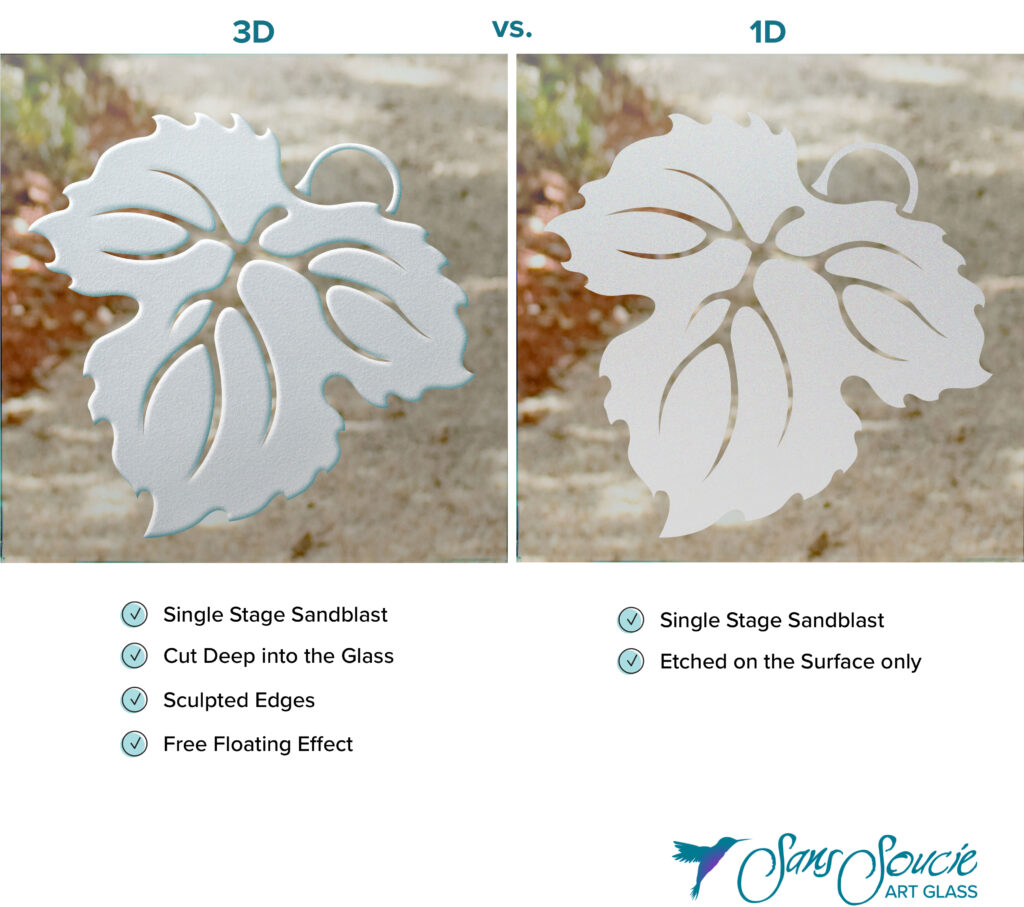 1D: Most Economical
Our most economical effect, is 1D. 1D shows the design as solid, white, shapes. The artist etches the glass overall, across large sections. Much like when you spray paint with a stencil. Far different than the stage sandblasting and intricate work, of 2D and 3D Enhanced, where they work on one small segment at a time.
3D: Carved deep, but no "Shading"
Likewise, with our 3D Effect. This gorgeous look, just like 3D enhanced, is cut deep into the glass, but is a flat, embossed look, with no gradients or shading that require the much higher-level, of both skill and time to create.
Take a look at our two 3D effects side by side.
Both are sculpted and cut deep into the glass, but they are very different!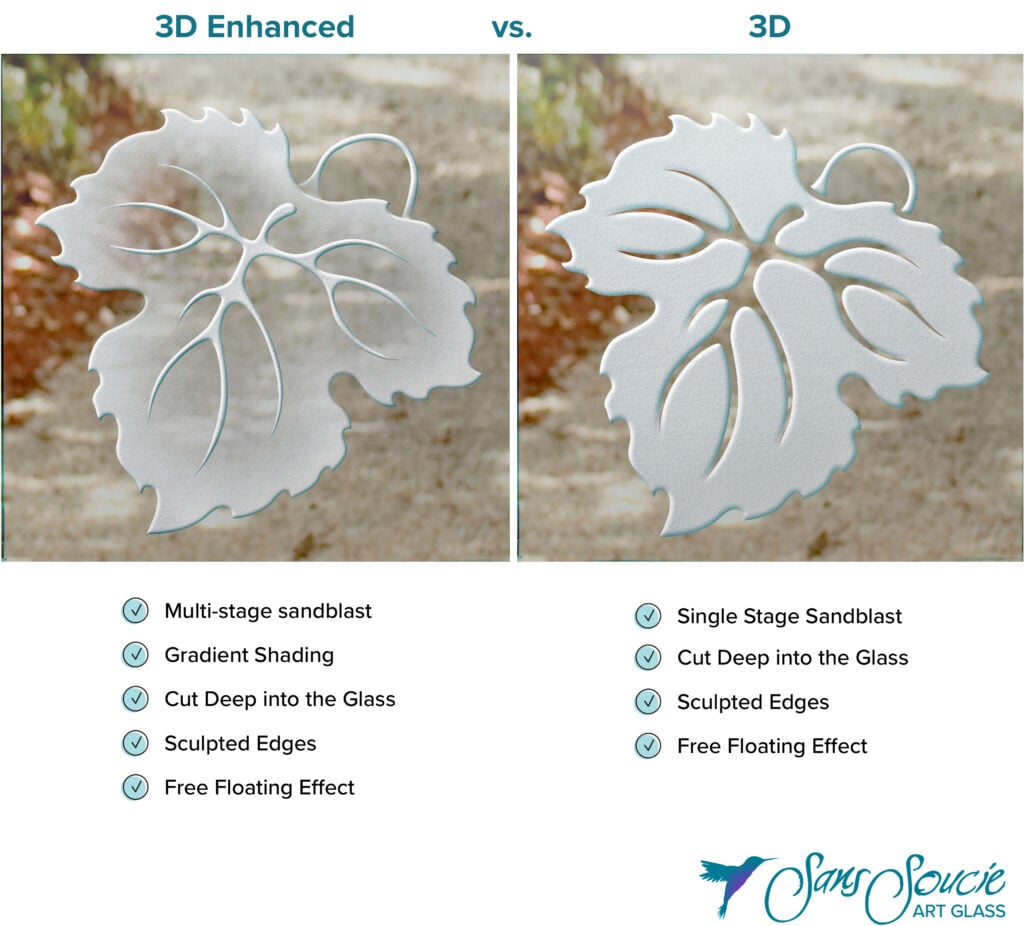 Finally, take a look at how our different frosted glass effects stack up against one another in price in a bar graph!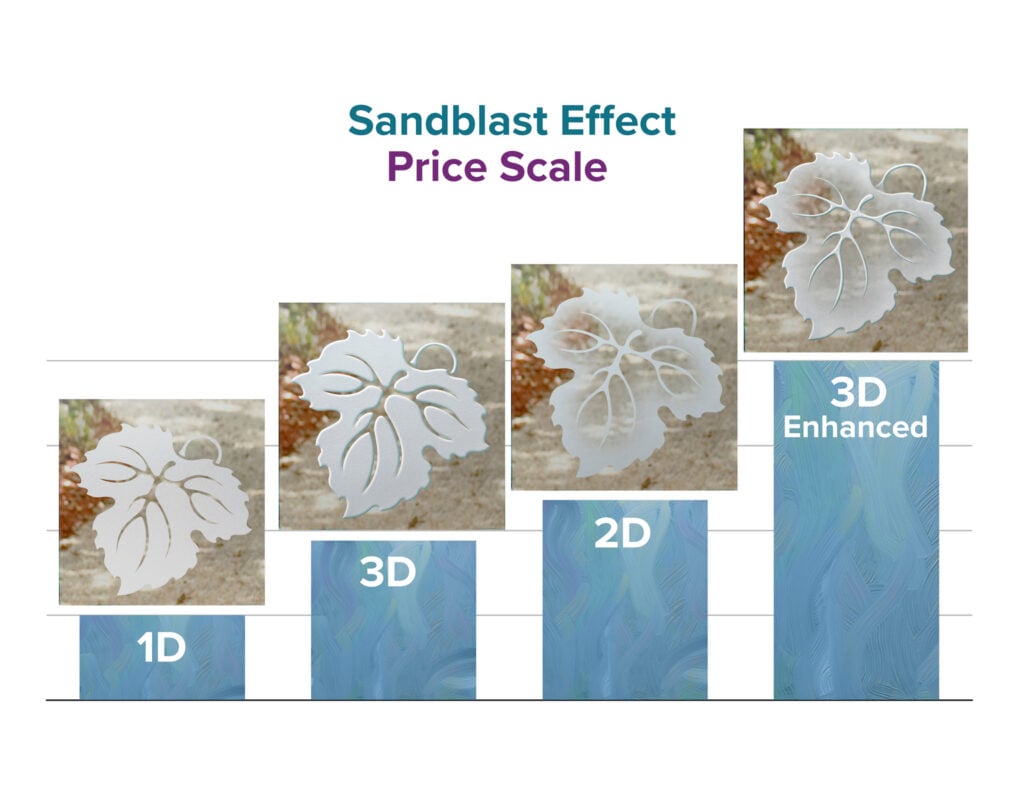 Rest assured, no matter which effect you choose, we guarantee you'll be pleased with your Frosted Glass Art by Sans Soucie!
About Sans Soucie Art Glass
Family owned and operated since 1976, Sans Soucie sets the industry standard for the highest quality design and execution of sandblast frosted, carved and hand painted glass both nation and worldwide. Choose from our vast collection of designs across every decor, or let us create a brand new, one-of-a-kind design per your specifications. Our frosted glass designs turn ordinary glass into art pieces that add a luxury element to your home, while creating the privacy you need. Truly art with a function, our etched glass designs diffuse light and reduce glare, while enhancing the look of your home with a unique, eye catching custom element. Not clip art or machine manufactured, each design is a uniquely handcrafted original work of art, custom designed for our distinguished clientele of homeowners and commercial developers.
Free shipping to most states, shipping both national and worldwide, all our glass is handmade and expertly packed in-house by our team of glass artisans and shipped from Palm Desert, California. Shop our most popular products like slab and prehung front doors, interior doors, pantry doors, glass front doors, glass interior doors, sliding glass barn doors, windows, shower doors, shower panels and shower enclosures, decorative mirrors, signs and glass tables.
Copyright © 2022, Sans Soucie Art Glass. All rights reserved.