Best Tuscan Inspired Frosted Glass Doors For Pantry
When it comes to selecting the Best Tuscan Inspired Frosted Glass Doors for your Pantry, there are several factors to consider. Firstly, the design of the doors should be in keeping with the Tuscan style, featuring rural elements such as wrought iron accents and natural materials like wood. This style of interior and architectural design draws its inspiration from the picturesque region of Tuscany in central Italy. Stepping into a world of warm and earthy tones, as you explore the timeless beauty of Tuscan design. It exudes a sense of rustic elegance that invites you to relax and unwind in a space that's both inviting and stylish.
Secondly, the Frosted Glass should be of high quality and provide a subtle, diffused light that adds to the warm and cozy atmosphere of the pantry. The doors should be functional and durable, and able to withstand the demands of daily use in a busy kitchen. Ultimately, the Best Tuscan Inspired Frosted Glass Doors for your Pantry should strike a balance between style and practicality, creating a space that is both aesthetically pleasing and functional. So, whether you're renovating your home or planning a new interior design project, Tuscan design is a style worth considering.
Tuscan Inspired Frosted Glass Design
Here at Sans Soucie we have a vast catalog of designs to choose from, when looking to create Tuscan Inspired Frosted Glass Pantry Doors! One popular option is to incorporate images of Tuscan Landscapes or Architectural Details, such as Rolling Hills, Vineyards, or Ornate Doorways. This can add a touch of Italian charm and elegance to the pantry while still maintaining the privacy of the space.
Tuscan-Inspired Foods or Ingredients
Another option is to incorporate images of Tuscan-Inspired Foods or Ingredients, such as olives, grapes, or bread. This can create a sense of culinary appeal and warmth, as well as adding visual interest to the Frosted Glass.

Using Wrought Iron Design Inspiration
Alternatively, using patterns that imitate materials typically found in Tuscan Design, such as Wrought Iron. This is a popular element known for its rustic and intricate appearance. The design of Wrought Iron often features ornate swirls and curves, mimicking the natural lines found in vineyards and olive groves.

Customize Your Pantry Door With Rustic Woods
When it comes to selecting woods for Tuscan Inspired Frosted Glass Doors for a Pantry, the focus should be on natural woods that complement the warm, earthy tones of Tuscan decor. Some of the Best Woods for Tuscan inspired frosted glass doors for a pantry include:
Alder: With its warm, reddish-brown tones and subtle grain patterns, alder is an excellent choice for Tuscan inspired decor.
Cherry: Cherry wood is another great choice for Tuscan Inspired Frosted Glass Doors, thanks to its rich, reddish-brown hue and elegant grain patterns.
Mahogany: Mahogany is a hardwood that is known for its durability and deep, warm tones, making it an excellent choice for your Pantry Door.
Hickory: With its rich, warm tones and distinctive grain pattern, hickory is a popular choice for rustic Tuscan design.
At the end of the day, the best woods for Tuscan Inspired Frosted Glass Doors for a Pantry will depend on the overall style and aesthetic of the space, as well as the homeowner's personal preferences. It's important to choose a wood that complements the Tuscan theme and adds coziness and texture to the space.
Build Your Slab or Prehung Doors Glass Pantry Doors
In our easy-to-use Door Designer, you'll be able to create the Glass Pantry Doors of your dreams! Our step-by-step process helps you customize from concept to design! But, first you have to decide if you're in need of a Slab or a Prehung Door.
The difference? A Slab Door is a door with no frame and hinges. If you're looking to replace or add a door without changing the frame, a Slab Door is an ideal choice. With a slab door, you can keep the existing frame intact or create a new one that suits your preferences. A Prehung Door on the other hand is a complete unit consisting of a Slab Door already attached to the frame, ready to be installed in a space that lacks a door frame and door. However, it's important to note that unless you intend to remove the door frame, casing, and trim, a Prehung Door may not be suitable for your needs.
After you figure out what kind of door you need, then you can start customizing every other detail. Pulling together all the elements needed to create your Tuscan Inspired Frosted Glass Doors For a Pantry.
Let There Be Light with Privacy
Light is a critical component of Tuscan Inspired Decor, as it helps to create a cozy and inviting atmosphere that is essential to this rustic lifestyle. In Tuscan Design, natural light is typically favored over artificial light, as it enhances the decor that showcases organic materials and a color palette characterized by warm, earthy hues. Large windows, skylights, and Glass Doors are often used to let in as much natural light as possible.
Tuscan Inspired Frosted Glass Doors for a Pantry can play a key role in maintaining the light ambiance that is essential to this rustic style. Because, of this Frosted Glass is perfect in providing privacy while still allowing natural light to filter through. This helps to create a soft, diffused glow that enhances the warm, earthy tones and natural materials used in Tuscan decor.
The Perfect Privacy Level
Here at Sans Soucie your Glass Pantry Doors don't have to sacrifice design for privacy! With our Hand Sandblasting Design Effects (1D, 2D and 3D), you're able to take your chosen design and make your Glass Pantry Doors the exact Privacy Level you need! Each Effect will also change the amount of light that you want to filter through your space! This is what we like to call, Art with Function! Below you will see the same design done with each Effect, and the difference it can make in the overall look of your Pantry Doors.
1D Glass Effect
Multiple techniques are available to achieve our 1D Glass Effect, each of which delivers a distinct appearance and degree of seclusion. We have coined the term "1D" for this effect, previously known as "solid frost" or "etched glass" – a term that most people associate with Frosted Glass. It's the quintessential look of Frosted Glass that springs to mind when envisioning this timeless design element. Here are your options when selecting our 1D Effect: 1D Positive, 1D Negative and 1D Pinstripe. Each Glass effect will give you a different Privacy Level and overall look to your Pantry Door design. Here are some examples below of each technique.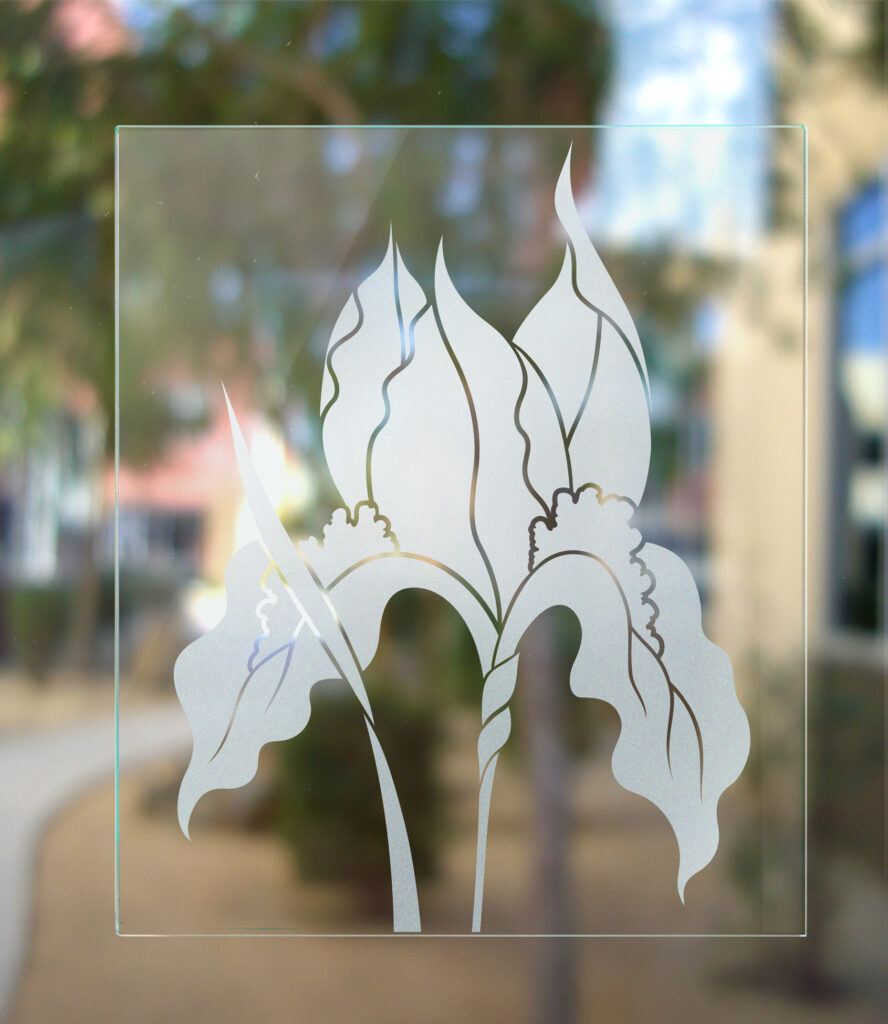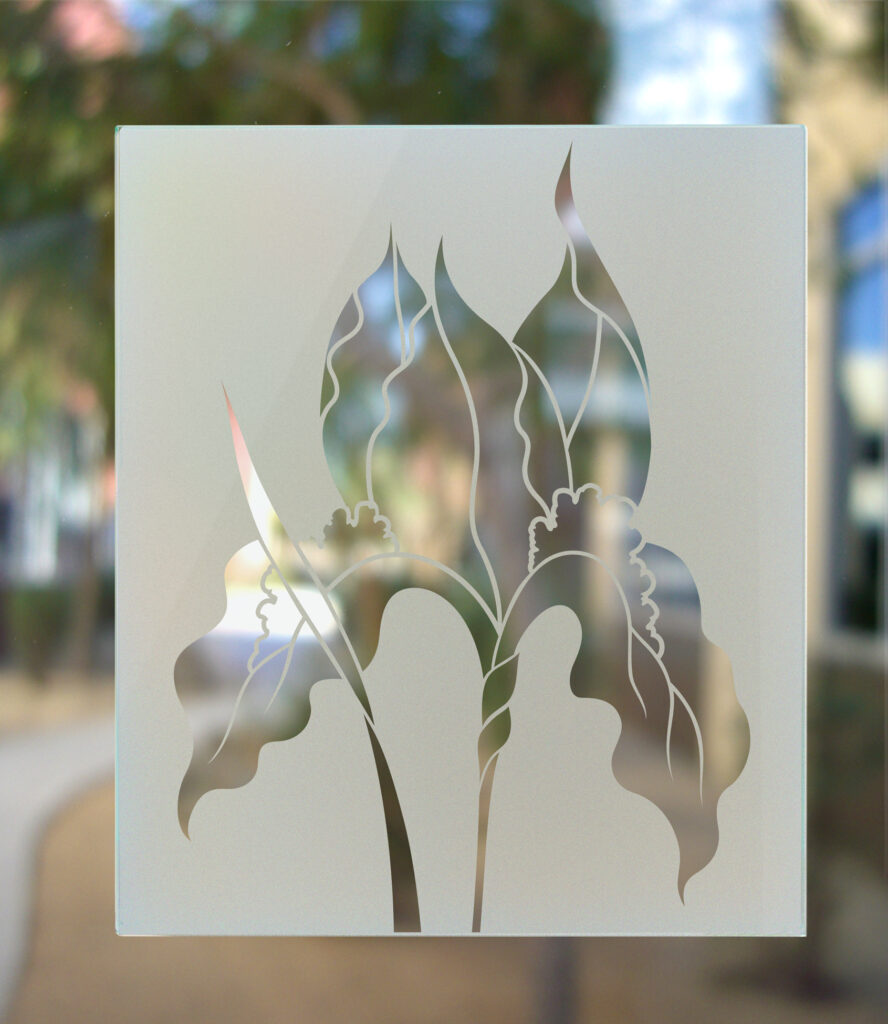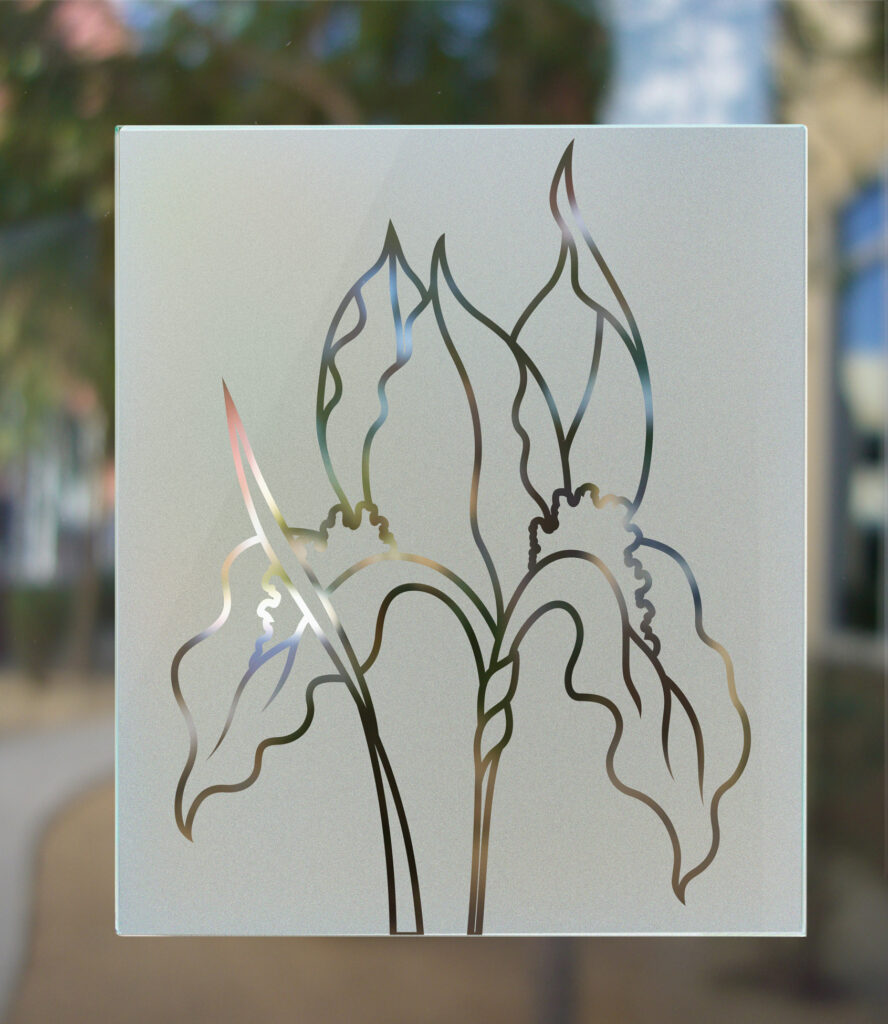 2D Glass Effect
Our 2D Glass Effect incorporates "shading", where the sandblast density gradually fades to clear glass, creating a "gradient-like" effect that adds detail to the finished look. Each shape and segment is individually etched using this technique, but without the carved edges seen in 3D Enhanced. Our 2D effect demands the same skill but less time, enabling us to offer a highly detailed and enriched appearance at a lower cost than 3D Enhanced. Nonetheless, it provides a finer, more intricate appearance than the 1D effect.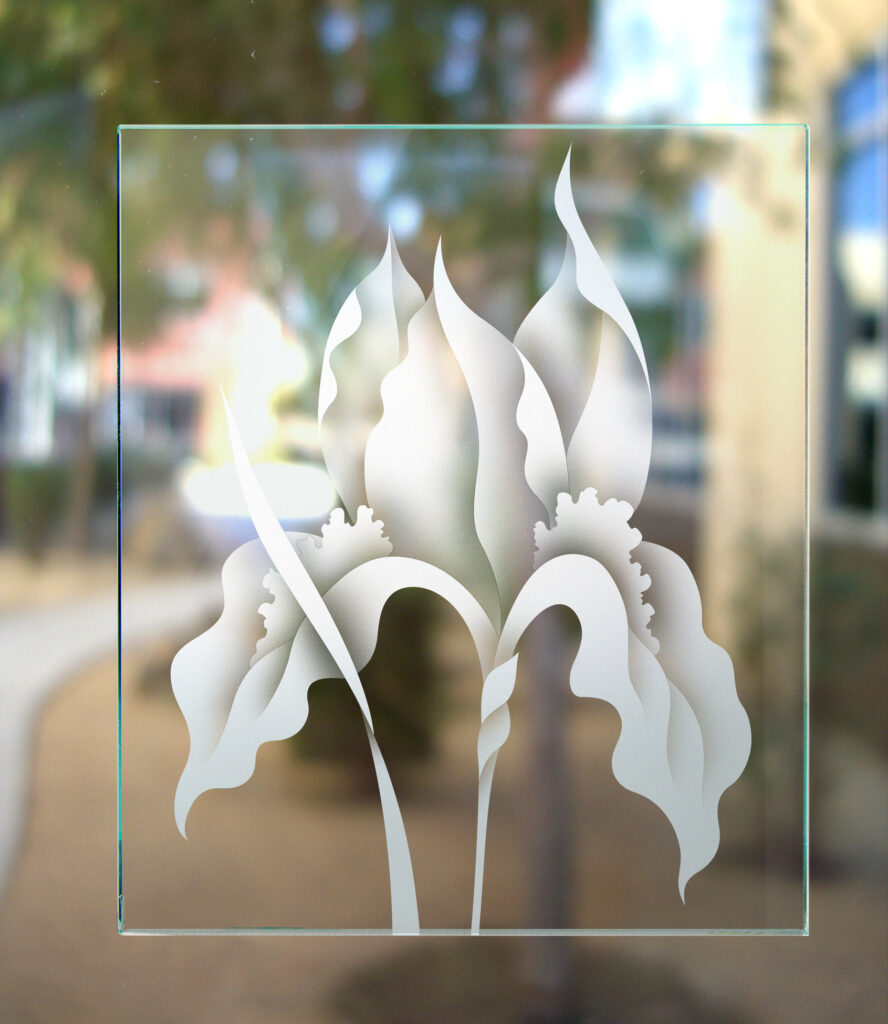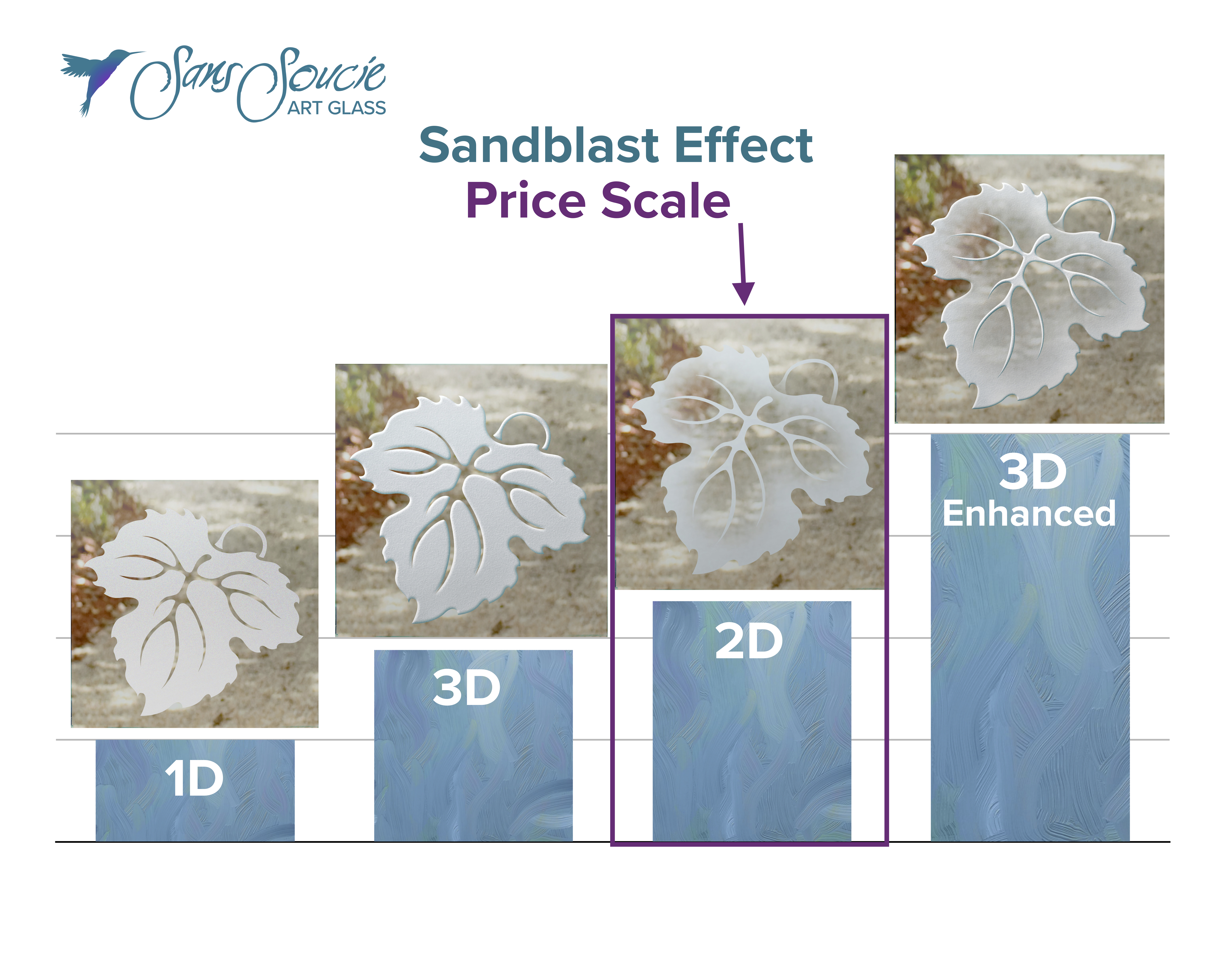 3D Glass Effect
For our 3D Glass Effect, there are actually two types: 3D Carved Solid and Enhanced.
Our 3D Carved design creates a beautiful, sculpted, free-floating look by carving deep into the glass. However, this effect lacks the intricate detail and shading found in 3D Enhanced. The 3D Solid Effect, with its flat, solid white embossed look, is also less detailed, requiring less skill and time to create, hence a lower price. This effect is achieved through a "single stage sandblast," where the artist carves the glass overall, spraying sand across the entire surface of the glass in large, sweeping motions.
Crafting our 3D Enhanced Effect requires an exceptional level of skill and time. The design is sandblasted in small segments, sculpted and carved at varying depths to create a relief texture. Carved edges catch surrounding light, illuminating the design and making it appear free-floating within the glass. The artist also incorporates "shading" to create a "gradient-like" effect that heightens the intricacy and detail of the finished look.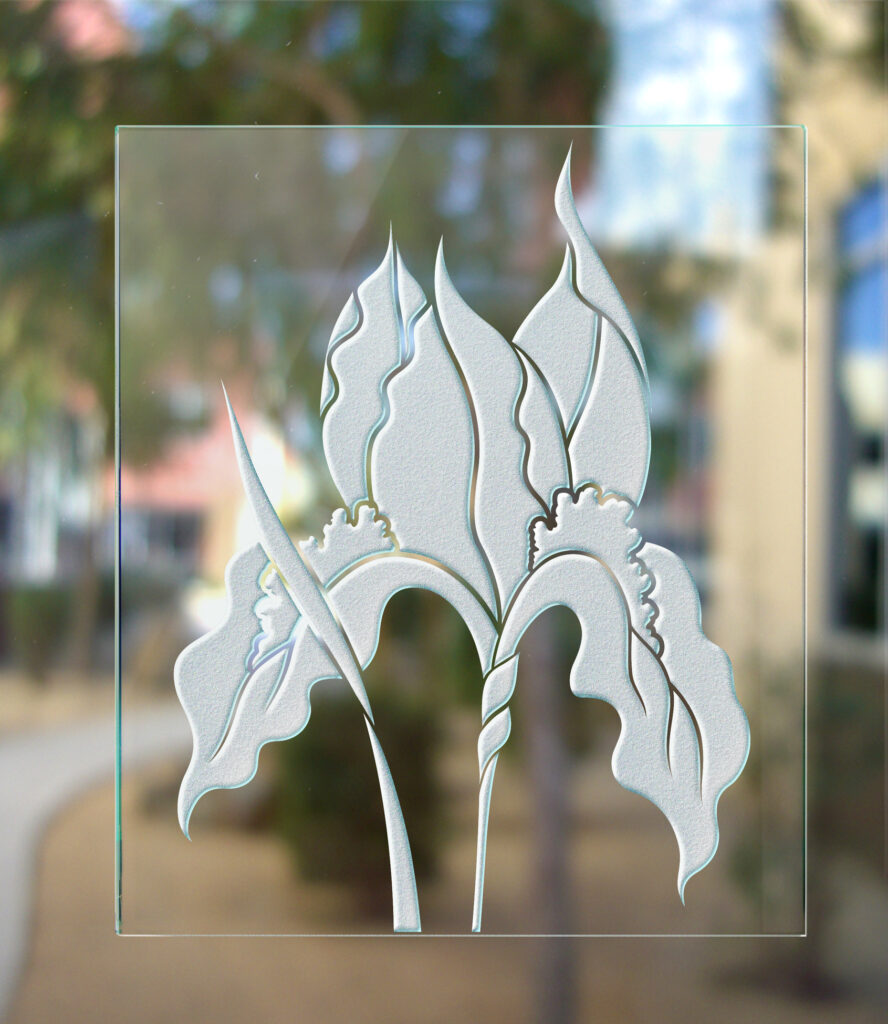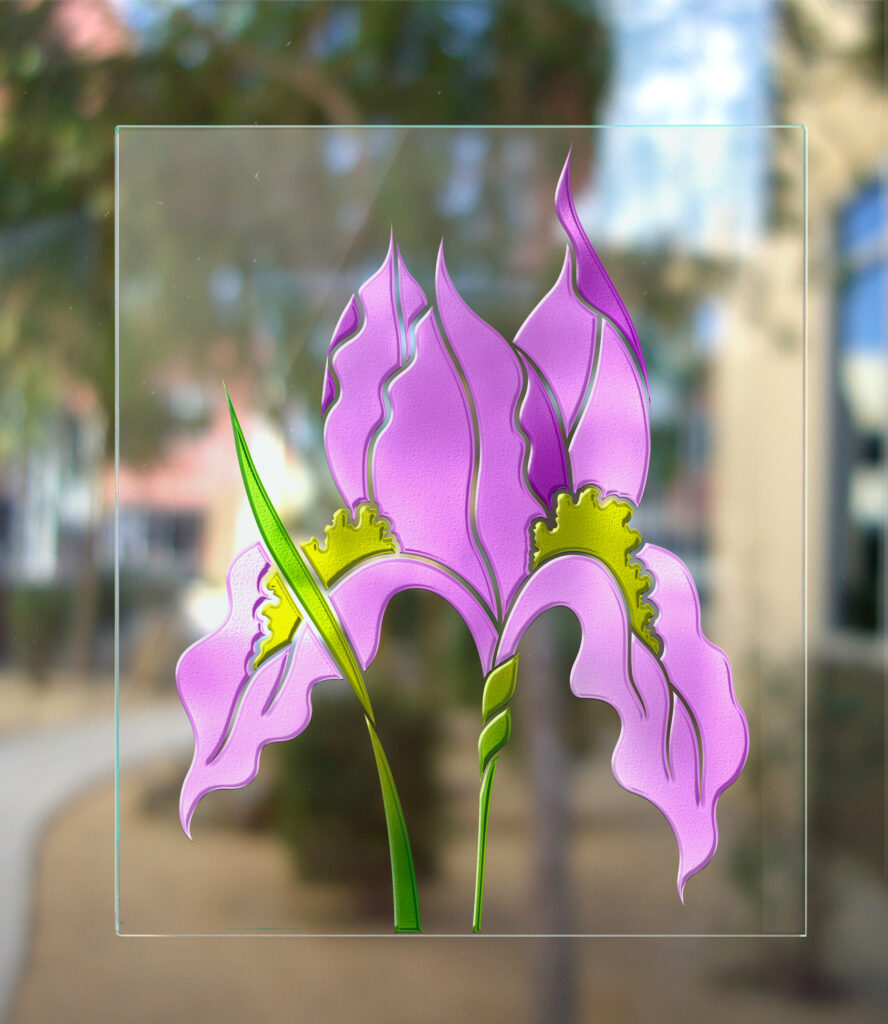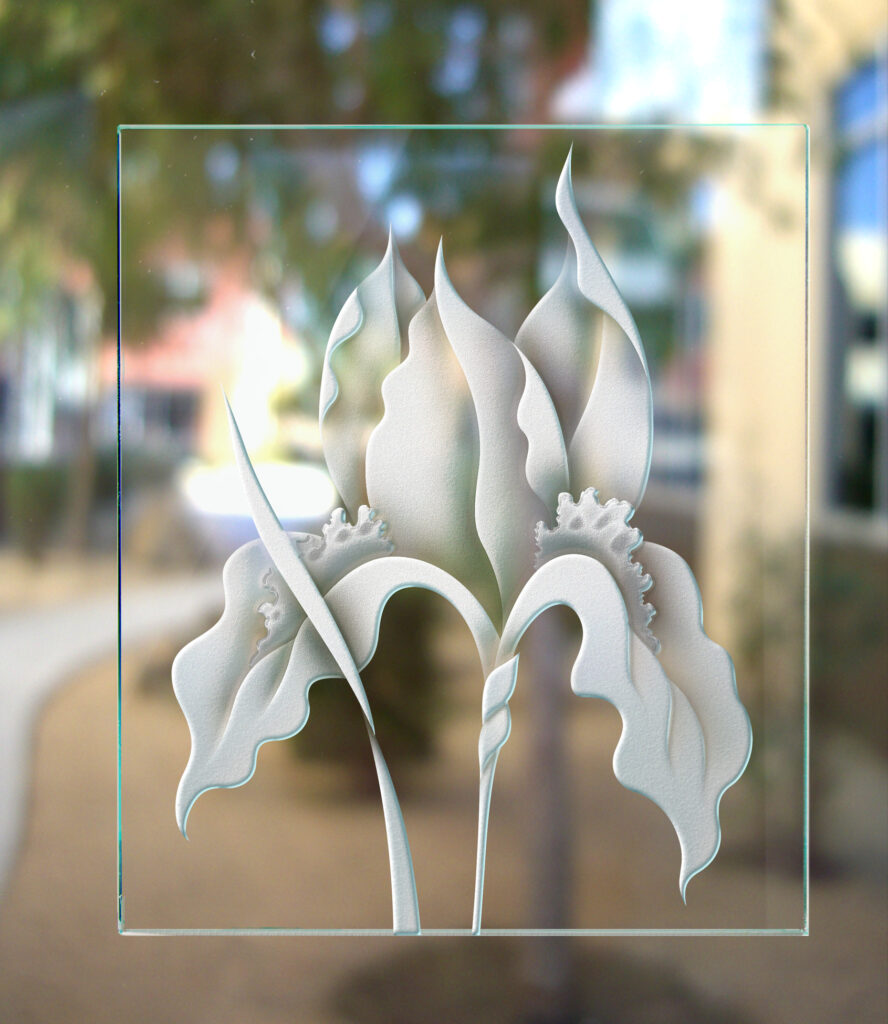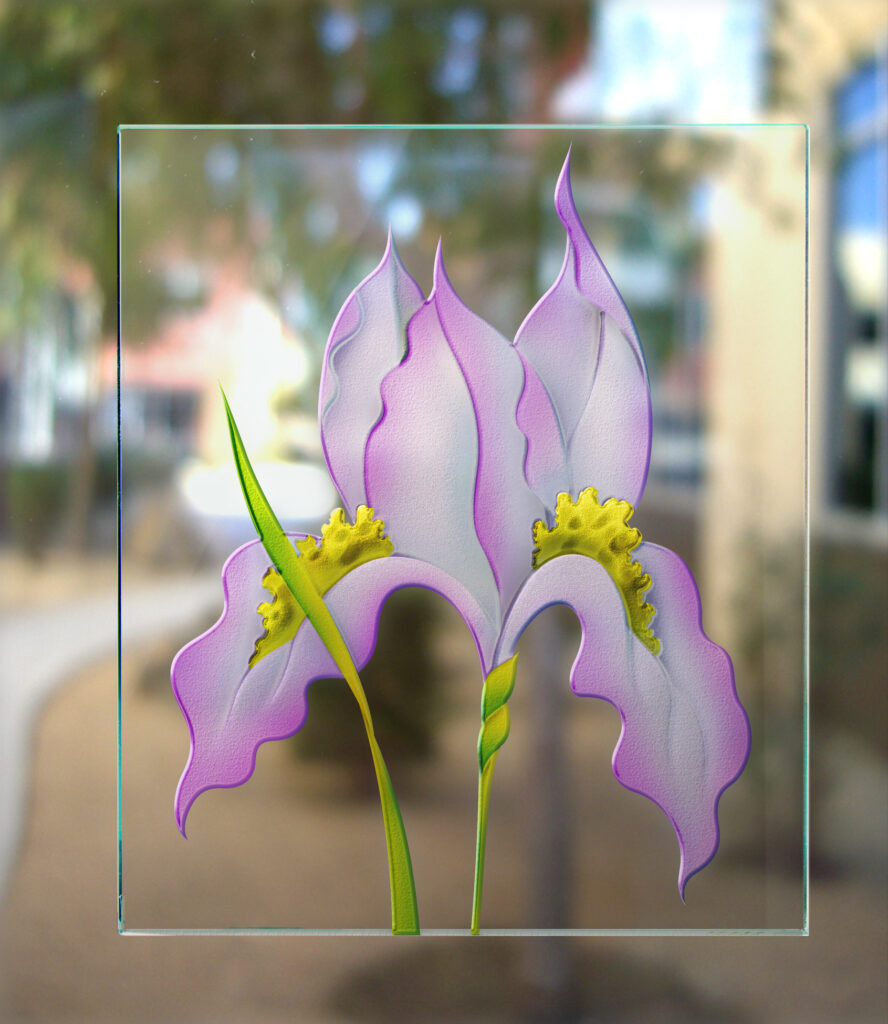 Glass Finishes (or Backgrounds)
In addition to selecting a design, you have the ability to choose the Glass Finish (or background), that it will be created on! They include: Clear, Gluechip, and Frosted Glass. This element is another factor in achieving the exact privacy level that you desire! Traditionally, Glass Pantry Doors have been created with a Frosted Glass Finish. But, if your privacy level needs are flexible then you can get as creative as you want! This is TRULY the definition of customizing!
Clear Glass Finish
Choosing a Clear Glass Finish for your Pantry Door means that the level of privacy will be limited at best. This is because the amount of sandblast coverage on the glass varies depending on the design. Even with a well-executed design, there will always be some areas of Clear Glass that reduce the level of privacy, albeit in small portions. To better understand how some designs offer more privacy than others, you can find design examples below. It's important to carefully consider the design you choose and how it will affect the level of privacy you are seeking.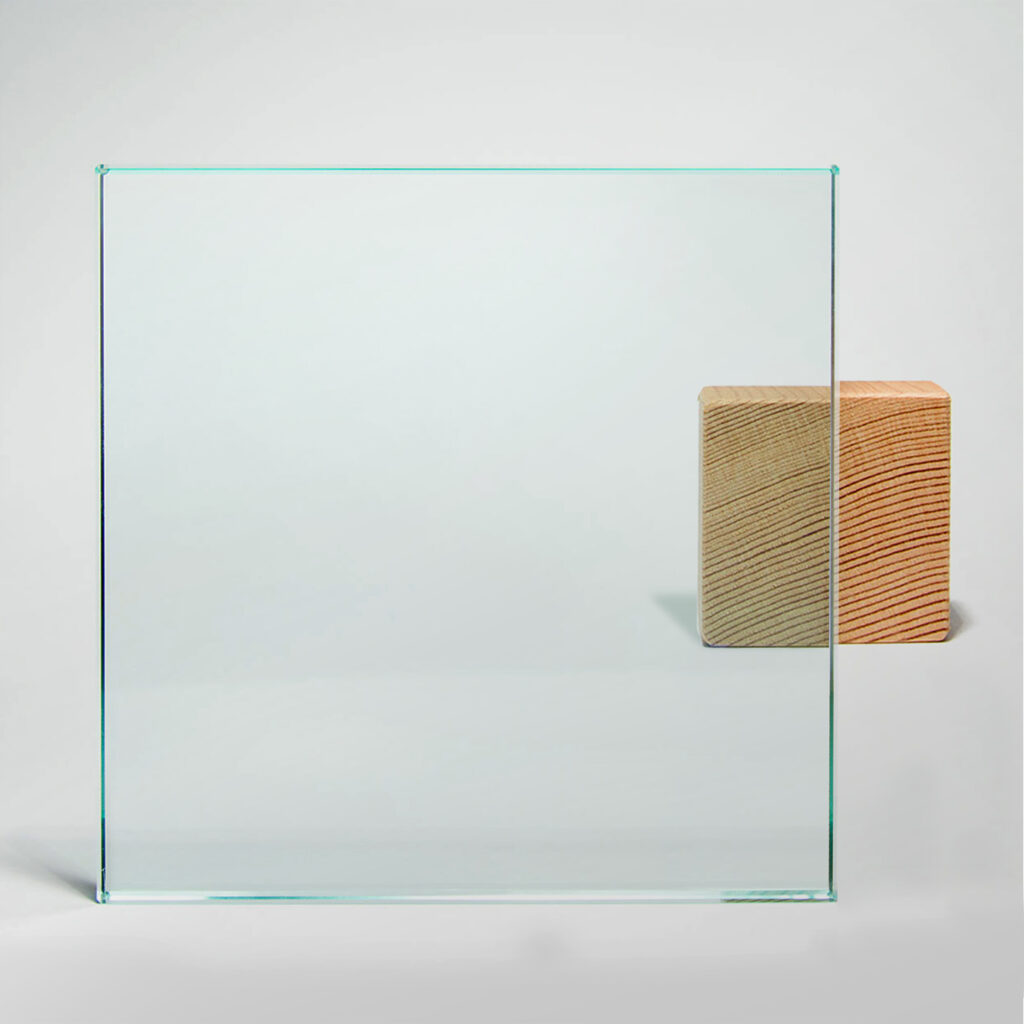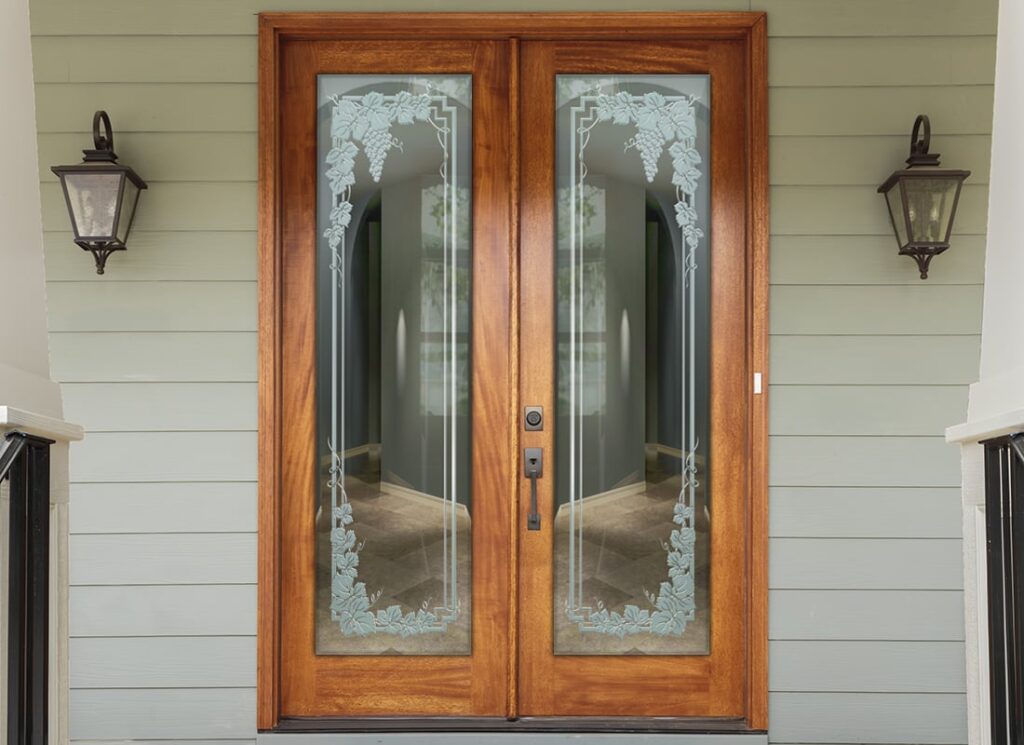 Gluechip Glass Finish
A Gluechip Glass Finish is a texture that creates a sparkling effect resembling winter frost or a fern-like pattern. This finish provides a certain level of privacy since objects behind it appear blurred when viewed from 10-12″ away. Additionally, each design element is surrounded by an 1/8″ clear pinstripe, which further adds to the privacy factor. However, objects can still be seen through the clear pinstripes when viewed up close. From a distance, the beautiful shimmer of the gluechip texture can be admired, with light, shapes, and colors shining through. You can check out design examples below that demonstrate this effect.
Frosted Glass Finish
Opting for a the more traditional Pantry Door look, our Frosted Glass Finish background ensures that the glass is private. This opaque finish is achieved through various abrasive processes and is both attractive and functional. Objects behind the Frosted Glass are only visible when viewed up close, and become invisible once a few inches away. This makes it a perfect solution when privacy is desired without sacrificing light. Check out the design examples below to better understand this effect.
About Sans Soucie Art Glass
Family owned and operated since 1976, Sans Soucie sets the industry standard for the highest quality design and execution of sandblast frosted, carved and hand painted glass both nation and worldwide. Choose from our vast collection of designs across every decor, or let us create a brand new one-of-a-kind designs per your specifications. Our frosted glass designs turn ordinary glass into art pieces that add a luxury element to your home, while creating the privacy you need. Truly art with a function, our etched glass designs diffuse light and reduce glare, while enhancing the look of your home with a unique, eye catching custom element. Not clip art or machine manufactured, each design is a uniquely handcrafted original work of art, custom designed for our distinguished clientele of homeowners and commercial developers.
Free shipping to most states, shipping both national and worldwide, all our glass is handmade and expertly packed in-house by our team of glass artisans and shipped from Palm Desert, California. Shop our most popular products like slab and prehung front doors, interior doors, pantry doors, glass front doors, glass interior doors, sliding glass barn doors, windows, shower doors, shower panels and shower enclosures, decorative mirrors, signs and glass tables.
#glassart #artglass #homedecor #sandblasting #homedecoration #luxuryhomes #interiordesignideas #custominteriors #sandblast #customglass #interiordesigns #etchedglass #glassetching #frostedglass