3 Top Trends in 2023 For Your Pantry With Glass Doors
Skip the total home make-over and Instead opt. for a "kitchen refresh" by upgrading Your Pantry With Glass Doors! By knowing top trends in 2023 for your Pantry With Glass Doors, you can ensure that your space will look modern and up-to-date. This can be appealing for homeowners who want to maintain a stylish and contemporary look. Following these top trends can also add value to your home and potentially make it more attractive to buyers, if you plan on selling it in the future. These current Frosted Glass Designs can also provide inspiration and ideas, when creating your Pantry with Glass Doors. You'll have the ability to make them look beautiful, while also making them functional to meet your unique preferences. This year we're seeing kitchen spaces made up of Bold Colors, Frosted Glass Patterns, and Custom Designs! In this conversation we'll show how you can ultimately, have the best of both worlds- Stylish with function!
Bold Colors
According to Country Living, even though the beloved all-white kitchen continues to hold its ground, the dawn of 2023 brings forth a host of thrilling new trends that are sure to leave you just as excited! This is why you can expect to see playful bursts of color being used to revitalize your home. Your Pantry with Glass Doors can be designed with bold colors to make a statement; and, add that pop of color to a kitchen or pantry space. These tantalizing designs will undoubtedly breathe new life into your culinary haven, leaving you eager to showcase your style!
Vino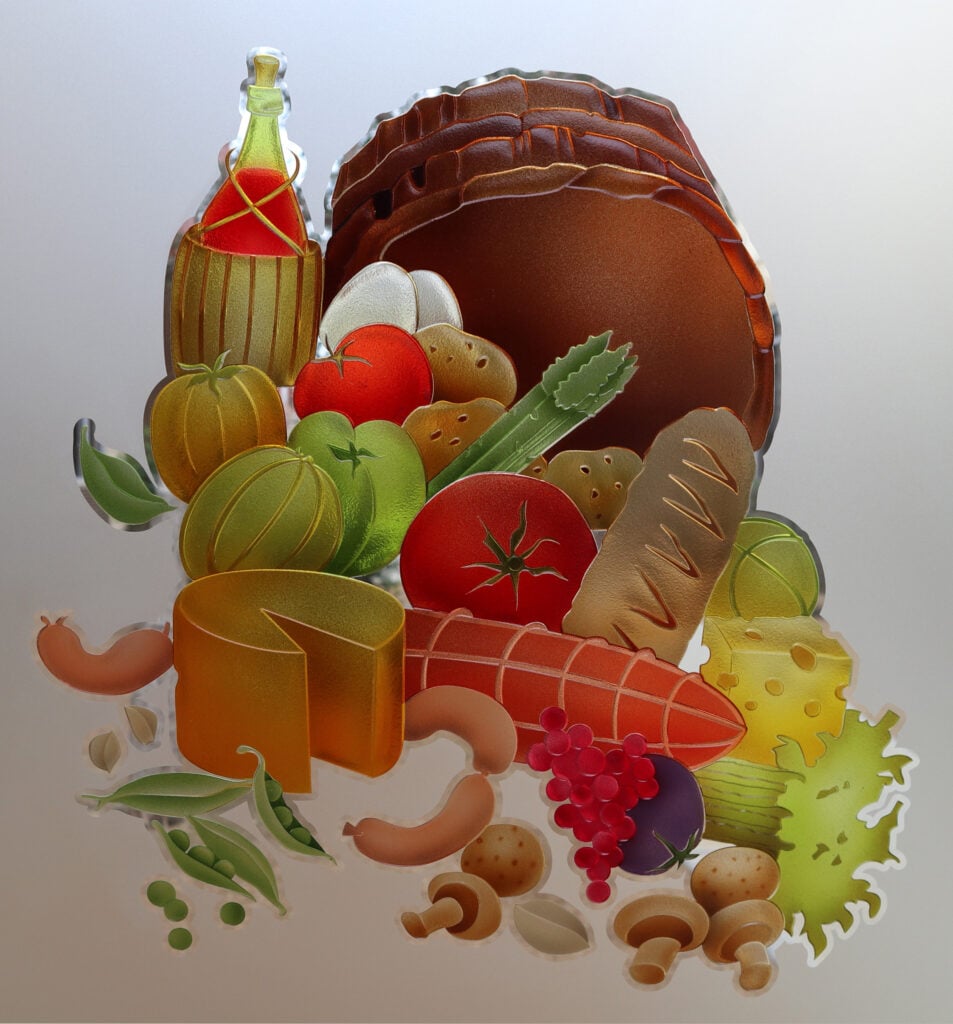 Bakers Delight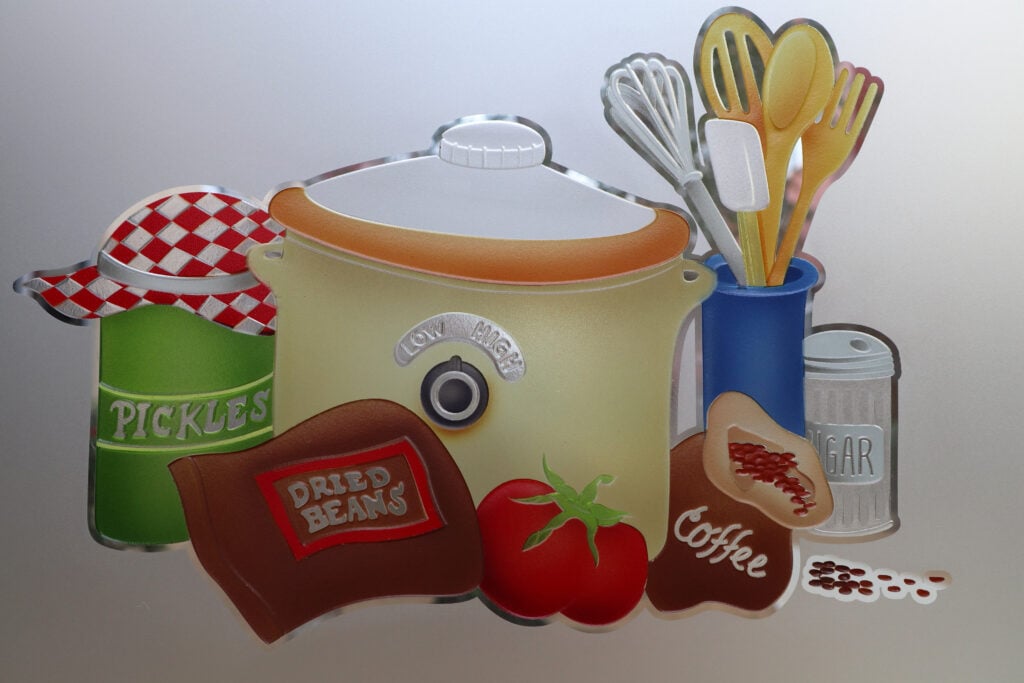 Happy Chef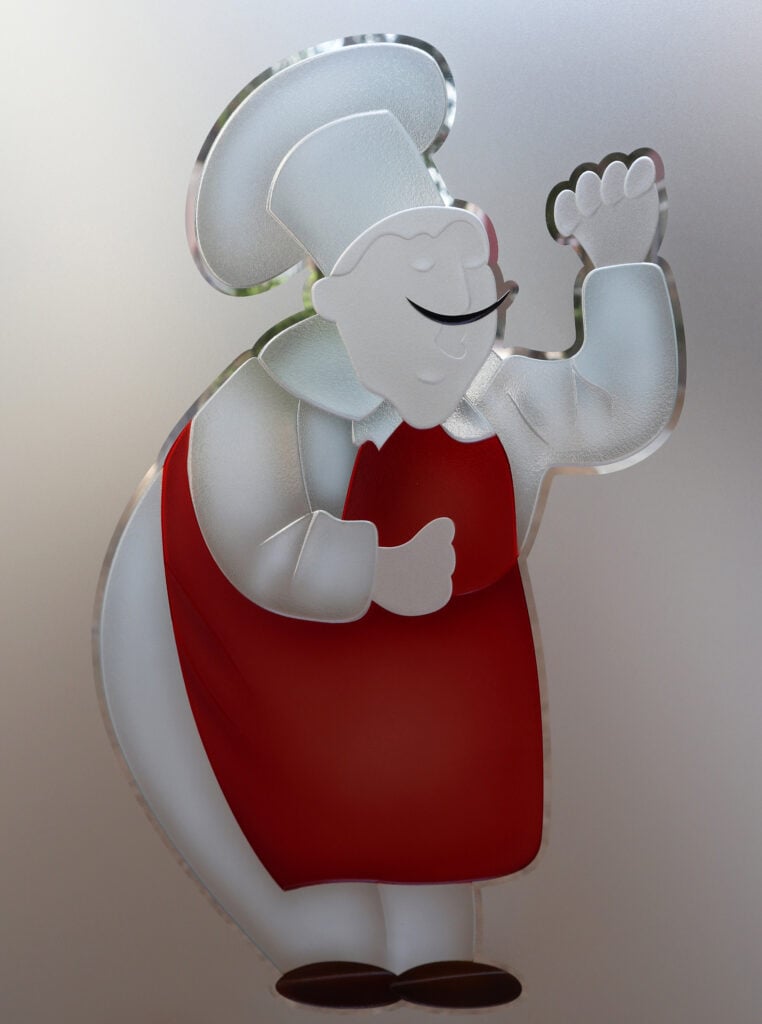 Frosted Glass with Patterns
Frosted Glass with Patterns can add a decorative element to a pantry door while still providing privacy. So, whether it's a traditional pattern or a more sleek and modern vibe, your privacy level can be customized for your Pantry with Glass Doors. How? Because, of our Hand Sandblasted Effect options. From our 1D, 2D, 3D and more, these effects can take one design and create a totally different level of privacy! With endless options, this Frosted Glass Pattern trend is likely to gain popularity in 2023 as homeowners look for unique and stylish design elements.
Customized Designs For Your Pantry Glass Doors
Customized designs for your Pantry with Glass Doors, such as etched designs or personalized patterns, can add an exclusive touch to a kitchen space. We may see more homeowners incorporating customized designs into their Frosted Glass Pantry Doors in 2023. Here at San Soucie we have a vast catalog full of design inspirations to choose from; or, our talented team can help you bring your own unique design to life! In addition to that you also have the ability to select a Glass Finish/Background (Clear, Gluechip, or Frosted), and select a Sandblast Effect of your choice! All of these options are what sets Sans Soucie apart and gives you a true custom design experience!
About Sans Soucie Art Glass
Family owned and operated since 1976, Sans Soucie sets the industry standard for the highest quality design and execution of sandblast frosted, carved and hand painted glass both nation and worldwide. Choose from our vast collection of designs across every decor, or let us create a brand new one-of-a-kind designs per your specifications. Our frosted glass designs turn ordinary glass into art pieces that add a luxury element to your home, while creating the privacy you need. Truly art with a function, our etched glass designs diffuse light and reduce glare, while enhancing the look of your home with a unique, eye catching custom element. Not clip art or machine manufactured, each design is a uniquely handcrafted original work of art, custom designed for our distinguished clientele of homeowners and commercial developers.
Free shipping to most states, shipping both national and worldwide, all our glass is handmade and expertly packed in-house by our team of glass artisans and shipped from Palm Desert, California. Shop our most popular products like slab and prehung front doors, interior doors, pantry doors, glass front doors, glass interior doors, sliding glass barn doors, windows, shower doors, shower panels and shower enclosures, decorative mirrors, signs and glass tables.
#glassart #artglass #homedecor #sandblasting #homedecoration #luxuryhomes #interiordesignideas #custominteriors #sandblast #customglass #interiordesigns #etchedglass #glassetching #frostedglass