Glass Front Doors by Sans Soucie Art Glass: An In-Depth Expert Guide
Make a lasting first impression with the entrance of your home with glass front doors by Sans Soucie Art Glass. While the conventional choice may be a standard door, elevating your entryway with a decorative glass front door from Sans Soucie sets your home apart with a touch of luxury and craftsmanship. Specializing in sandblast frosted and decorative glass, Sans Soucie offers an array of bespoke designs that fuse energy efficiency with enduring quality. This guide will navigate you through the selection of glass types, door styles, and privacy options available, ensuring your front door enhances your home's curb appeal with Sans Soucie's signature decorative flair.
Key Insights:
Sans Soucie's Hallmark: Decorative Glass Front Doors for Supreme Curb Appeal and Energy Efficiency
At the pinnacle of elegance lies Sans Soucie's collection of decorative glass front doors. Offering an array of options, from clear beveled glass to colored and privacy glass, you can customize your entrance to match your personal aesthetic. Sans Soucie doesn't just cater to visual appeal; they offer a variety of materials, including primed, wood species, and fiberglass options, suitable for painting or mimicking textured wood, ensuring durability and performance.
Yet, these doors aren't merely about looks—they're also designed for superior energy efficiency. For those valuing aesthetics alongside energy conservation, the doors' construction—with options such as 3D and 3D Enhanced sandblast effects—features dual pane units with increased glass thickness. This not only allows for intricate carvings but also enhances insulation, reducing heat transfer and potentially leading to energy savings.
Diverse Glass Front Door Types: Framed to Frameless
Sans Soucie caters to varied tastes by offering two fundamental types of glass front doors:
The same design can appear strikingly different under varying lighting conditions, as demonstrated by the Metamorphosis design featured in both door types. This serves as a testament to how the same glass can uniquely interact with sunlight to create different aesthetic effects.
Sans Soucie's Decorative Glass Categories
Sandblast Frosted Glass Front Doors:

Features four main sandblast effects: 1D, 2D, 3D Solid, and 3D Enhanced.
Offers varying levels of privacy and pricing to accommodate different preferences and budgets.

Stained Glass and Beveled Glass Front Doors:

Stained glass, with its vibrant color play and historical richness, adds a traditional yet timeless charm to any entrance.

Cast Glass Front Doors:

Also known as slumped glass, cast glass doors create a dimensional texture and can be enhanced with low iron glass for crystal-clear beauty.

Machine Textured Glass Front Doors:

Produced through modern manufacturing, machine textured glass offers a cost-effective yet attractive solution with light diffusion and privacy features.
1. Sandblast Frosted Glass Front Doors
Our primary specialty is our sandblast frosted glass. Within the category of sandblast frosted glass, we have 4 primary effects we offer, each one creating different levels of privacy and price. We understand and appreciate the varied preferences and budgets of our customers and are pleased to offer our 4 primary sandblast effects, which are:
1D
2D
3D Solid
3D Enhanced
Iris Flower Samples of Sandblast Frosted Glass Effects
2. Stained Glass and Beveled Glass Front Doors
Stained glass is a form of decorative art created by arranging pieces of colored glass into patterns or pictures, often held together by lead strips, known as "cames." The colors of the glass are typically achieved by adding various metallic salts during its manufacture. Stained glass is often used in windows, allowing light to filter through the intricate designs and cast colorful patterns within a space. Historically prominent in churches and cathedrals, these windows depicted religious scenes and served both as an art form and a storytelling medium. Today, stained glass can be found in a variety of settings, both religious and secular, and continues to be admired for its beauty and craftsmanship.
At Sans Soucie Art Glass, we trace our roots back to 1976 when we delved into the world of stained glass. Embarking on a journey of artistic exploration, we sought to learn and master the age-old craft of stained glass, a medium rich in history and tradition. Under the canopy of dedicated craftsmanship, we immersed ourselves in the techniques of selecting, cutting, and assembling stained glass. Over time, we evolved and expanded our repertoire, embracing innovative designs and techniques. Today, while we've diversified into the art of sandblast frosted glass, the foundational knowledge and inspiration we drew in our early days of crafting stained glass remain a testament to our craft. Here's a great article about the history of stained glass by the Stained Glass Association of America.
3. Cast Glass Front Doors
Also known as slumped glass, cast glass is made thru a kiln forming process, that uses heat and gravity to transform sheet glass into the shape of a mold. Molten glass is poured into a mold and then cooled slowly. Textures, patterns and custom designs are kiln-formed through heating, then "slumping" the glass panel, on to, or over a mold, creating a beautiful, glistening relief texture. Beautiful from either side, one surface of the glass, that would be considered the front, will have a deeper or bumpier texture than the other.
As with regular, flat, glass, it does have a slight green hue, especially when viewing the glass edges. Exterior doors and windows will be 1/2" thick, and the green hue will be more pronounced. The thicker the glass, the more noticeable the green hue becomes. As an alternative or upgrade, we also offer cast glass in what's called "low iron" glass. Low iron glass, often referred to as "ultra-clear" or "crystal-clear" glass, is a type of high-clarity glass made with a reduced iron content. The reduced iron minimizes the greenish tint that can be seen in regular clear glass, especially when viewed from the edge or in thicker pieces. By removing most of the iron content, low iron glass allows displays a more neutral color, making it ideal for applications where maximum visibility or true color representation is essential. It's commonly used in high-end architectural projects, display cases, and any setting where pristine clarity and an unobstructed view are desired.
4. Machine Textured Glass Front Doors
Machine textured glass is crafted through a mechanized process that imprints a distinct pattern or texture onto the glass surface. This texture not only adds a visual depth and aesthetic appeal to the glass but can also enhance its privacy features by diffusing light and obscuring clarity. Such machine-textured glasses are popular choices for applications where a balance between aesthetics, light diffusion, and privacy is desired, like in doors, windows, or partition walls. Machine textured glass is a product of modern manufacturing advancements, produced en masse by numerous manufacturers across the globe. Its widespread production is attributed to mechanized processes that imprint consistent patterns or textures onto large sheets of glass efficiently and rapidly. Given its ubiquity and the economies of scale associated with its production, machine-textured glass is a more economical choice compared to other decorative glass types. At Sans Soucie Art Glass, while we take pride in offering a diverse range of bespoke and artisanal glasswork, we recognize the value and appeal of machine-textured glass. Its accessibility and affordability make it a popular choice among our customers, and we ensure that even within this category, the quality and aesthetic appeal meet the standards synonymous with the Sans Soucie name.
Privacy Levels with Decorative Glass
With Sans Soucie, you can choose from full privacy, semi-private, or transparent glass options that provide a range of visibility and aesthetic effects, reflecting your personal privacy preferences. Some glass front doors require total privacy, opting for opaque or frosted glass doors, or eschewing glass altogether. Conversely, others are only in need of semi-privacy. They may choose doors with clear or only lightly tinted glass, allowing them to connect with the world outside, enjoy natural light, or exhibit the aesthetics of their interior space. This choice can signify an open, welcoming nature, or a desire to blend the boundaries between indoor and outdoor living. Regardless of the choice, there are glass options that can provide total privacy, semi privacy or none at all. At Sans Soucie Art Glass, we categorize our decorative glass into 3 basic levels of privacy:
100% Private
Semi Private
Not Private, but made "for Effect"
Shown below are the same 4 sandblast effects, the way the appear in our Sun Odyssey II design, in our 100% private effect. Note that the design itself is the same across all four doors, and yet because each sandblast effect requires a different amount of skill and time to create, each one is a different price. All 4 are beautiful, and all 4 create the same level of privacy, but the price ranges from $2,900 to $4,400, going from the lowest price 1D Effect, to the highest effect, 3D Enhanced.
100% Private Glass Front Doors
Sample Price: Pair 30 x 80 Fiberglass Doors
(*Prices as of 11-2-23. Prices subject to change without notice)
Videos Showcasing our Privacy Glass
Semi Private and Non-Private Glass Front Doors
Most front doors don't require 100% privacy. For those that don't, our most popular semi-private glass front doors will feature a gluechip background. Once again, here's our Sun Odyssey II design with semi-private glass.
Videos Showcasing our Semi Private Glass
Material Choices for Slab and Prehung Doors
Sans Soucie offers an expansive selection of materials, including eight wood types and primed and fiberglass finishes, ensuring that there's a perfect match for every style and requirement. All doors come solid (not hollow) and unfinished, awaiting your personal touch. Please click here to see our Wood Species and Door Material Guide for in depth information about the make up and characteristics of each. Here's a sample look at each door material: (Note: Sample images below show the look of the unfinished, material or natural wood, prior to paint, stain and varnish that you would be applying).
What's Included with Sans Soucie Glass Front Doors
Slab and Prehung Glass Front Doors
For slab and prehung doors, Sans Soucie provides all the essentials, with customizable options for hinges and hardware placements. Prehung doors come with pre-assembled components for easy installation, complete with weatherstripping for insulation. For more insights see our article "Slab and Prehung doors – What's the Difference and What You're Getting".
All Glass Frameless Exterior Doors
For frameless all glass front entry doors, expect commercial-grade materials, impeccable design, and the inclusion of heavy-duty pulls, with optional upgrades available for a truly customized look. Exterior Door hardware is available in the following metal finishes:
Brushed Stainless Steel
Black Bronze Anodized
Polished Stainless Steel
Satin Anodized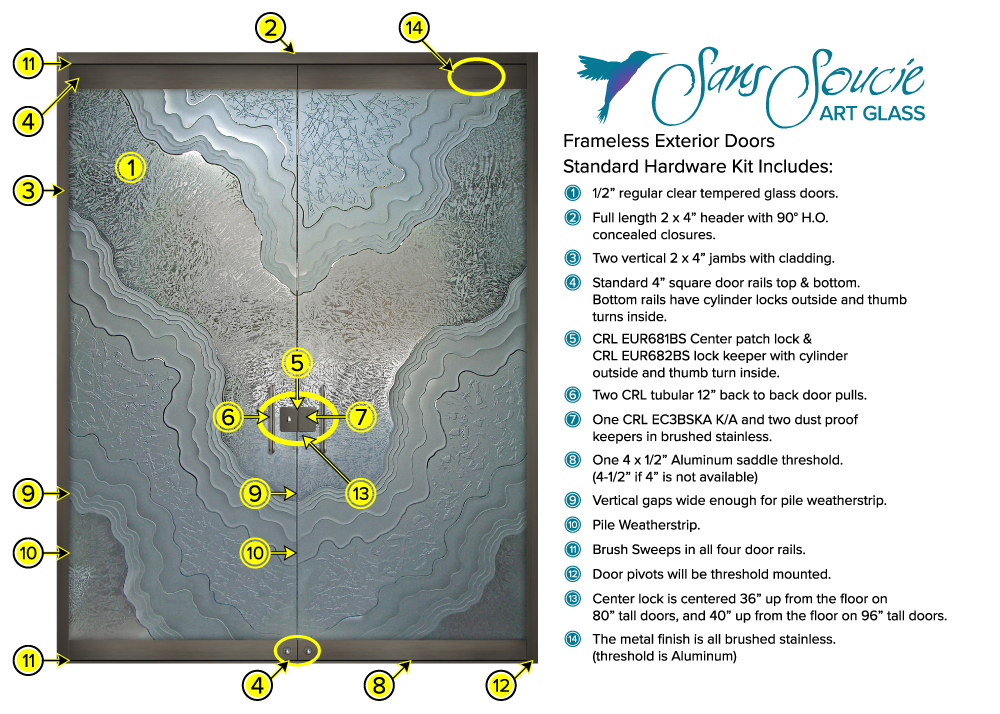 Each door by Sans Soucie is not just a functional entry point but a statement piece, designed to withstand the elements and capture the essence of your home's character. Explore the possibilities with Sans Soucie Art Glass and transform your entryway into a welcoming work of art.
Sans Soucie Art Glass: A Legacy of Craftsmanship and Innovation
Family-owned and operated since its inception in 1976, Sans Soucie has solidified its place as the industry frontrunner in the realm of sandblast frosted glass, carved, and hand-painted glass. Pioneering the art of turning ordinary glass into breathtaking "Works of Art Captured in Glass", we have garnered acclaim both nationally and worldwide.
Sans Soucie has proudly undertaken tens of thousands of residential projects, delighting homeowners not just in the U.S., but internationally as well. Their portfolio also showcases an impressive range of commercial commissions, serving diverse sectors such as the service industry, hospitals, restaurants, museums, hotels, and libraries. Notably, Sans Soucie's exquisite craftsmanship even graces a tribute room aboard the USS George HW Bush CVN 77.
In 2010, Sans Soucie ventured into selling slab and prehung doors, further solidifying their presence in the home decor space. Recognizing the complexities associated with slab and prehung doors, Sans Soucie introduced their innovative Door Designer Tool. This user-friendly tool has since transformed door designing into a fun and effortless experience, allowing homeowners everywhere to craft doors that resonate with their personal style.
In essence, Sans Soucie Art Glass is not just a brand; it's a testament to unparalleled craftsmanship, innovation, and dedication to the art of glass design.
With free shipping to most states and worldwide shipping options from our base in Palm Desert, California, our extensive product range, which includes glass front doors, interior prehung doors, interior slab doors, pantry doors, interior glass doors, sliding glass barn doors, windows, shower doors, shower partitions and shower enclosures, frameless glass entry doors, decorative mirrors, glass signs, glass dining tables and glass coffee tables stands testament to our unwavering dedication to excellence.
Explore the world of Sans Soucie, where every piece of glass tells a story, and where history, craftsmanship, and innovation seamlessly blend.
Copyright © 2023, Sans Soucie Art Glass. All rights reserved.