A little history: Sans Soucie's beginnings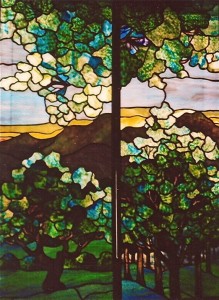 After writing the last blog about stained glass, I got to thinking about some of the beautiful, original work done by Sans Soucie and its beginnings, which prompted me to ask Chauncey's Mother, Bonnie, to share a little bit about the history of Sans Soucie, how things got started and if there were any particular projects or pieces that stood out in her mind as she reflected on the "early days".
"The original start-up business was called 'Classical Glass' and started in our garage, in Newport Beach, in 1974. Sans Soucie Studio began work in the hi-desert of California, in Pioneer Town, 1976. Moving from a barn on Pipes Canyon Road to a glass front shop on the 29 Palms Highway that many locals will remember because of the big white "tipi" that sat in the front parking lot. The County offices never could find a restriction to cover that placement and so the tipi remained until some member of the Agua Caliente Tribe purchased our tipi. Of course they didn't know how to put it up. The Cahuilla never used tipis.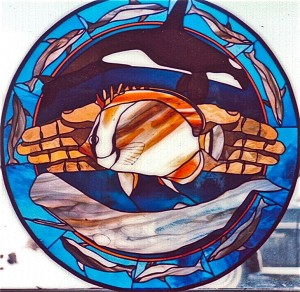 Yes, the only focus in the beginning was classic leaded glass panels and lamp shades of various beveled, hand blown antique glass and Tiffany opalescent, still made by the same factories that Tiffany commissioned. (Stained being something entirely different that we only came close to duplicating with air brushing some years later).
For neophytes, the very first project, in 1974, was one of the finest, most intricate and complex that we ever did. A huge dream commission that consisted of two entry side lites measuring, approximately 4′ x 8′ on each side of massive wood entry doors. It was an intricate floral design of vines, leaves and beautifully shaded opalescent flowers. I went absolutely crazy at Hollander Glass in Long Beach, selecting the glass. The windows were so heavy that they had to be braced with steel rods, heated and bent to conform to the vine pattern, braced across the panels. Doubt that we made any money on the job but it was a wonderful first learning experience.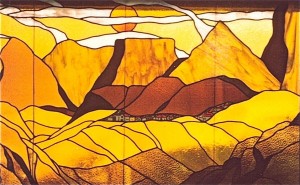 Several other jobs come to memory from either sheer size or sheer prestige.
In 1975, while visiting for a wedding in Canada, we were commissioned to do an entire kitchen ceiling. The pattern and colors mimicked the hand painted floor tiles in rich tones of gold and purple.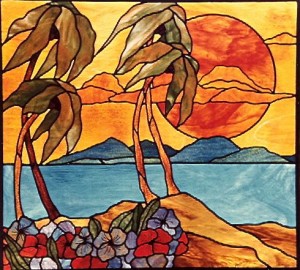 For Jack Knox, (< see page 10 of pdf download) (Jack was always incredibly good, not only at providing work for us, but allowing us free creative expression), we created a round master bedroom window/headboard of Peacocks and Peonies, installed in the front exterior wall of the home.
The very ultimate was a custom beveled entry for the Rusty Pelican Restaurant, Newport Beach, a design of huge flying Pelicans commissioned by the RayGal Design firm that I designed.
Chad (who still assembles the majority of our stained glass pieces today), leaded both of those projects in the 80's. He also re-constructed a 4′ x 8′ Tiffany commissioned piece, taken from a home in Pasadena, California.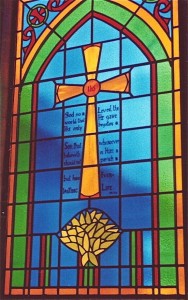 "Stained glass" took root in Cathedral windows after the middle ages. As I recall the history, the formulas for making richly colored blown glass was lost during that time we know as the dark ages. The antique glass could only be mimicked by hand painting clear glass with colors that were then fired to "stain" the glass. There are still a few old glass houses around the world that specialize in "stained" glass. We visited one such work shop in Paris that had been in multi-generation operation. Both here in the US, and in Canada, there are a limited number of companies that specialize in the repair and reconstruction of old stained glass windows. Clients have to wait years for work. The unique beauty of a "Chartres Cathedral" is the jewel like gleaming of the original "antique glass" made with ancient formulas of lead and arsenic, but the glass is hand cut and hand leaded using the same process that we use today."