Privacy – About Our Glass
About Our Privacy Glass
Beautiful From Front To Back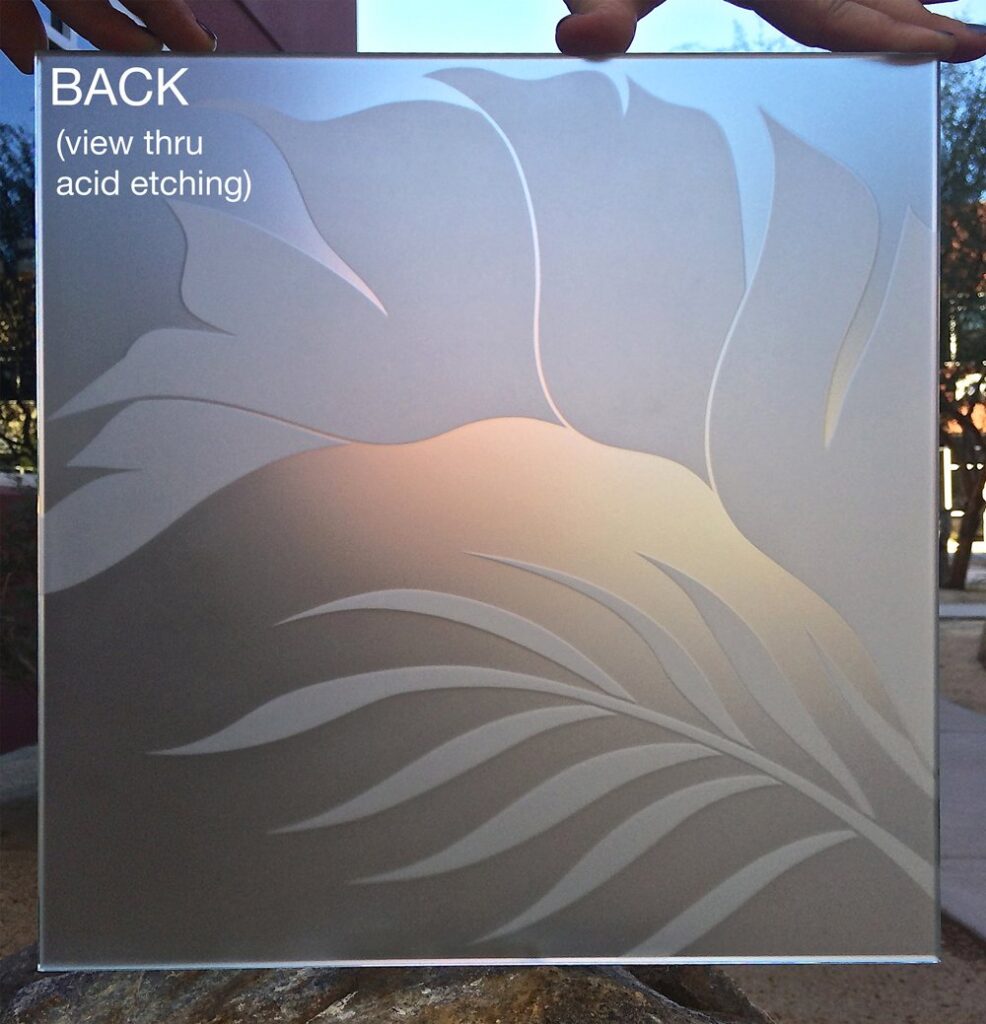 DESCRIPTION – WHAT'S ETCHED WHERE
Frosted and 2D Glass Effects will have the design elements sandblasted on what's considered the outside surface, the side you will be able to reach out and touch as you enter the room or building. The opposite surface of the glass is etched overall, creating a beautiful contrast that allows the sandblast etching to really "pop". The design is viewable from both sides of the glass. The 3D Carved Glass Effects will have the design elements carved on the same surface that's etched overall.
HOW PRIVATE IS THIS "PRIVACY GLASS?"
There are no clear areason the glass, making the glass 100% opaque. By definition "Opaque's" (ō'pāk) adjective (opaquer, opaquest) means not able to be seen through; not transparent. All surface areas are etched. Anything within approx. 5-12″ of the glass surface will be visible in the sense that you can see shapes and shadows. Anything pressed right up against the glass will be visible, so please know that's expected and normal.
This glass is suitable for providing privacy because anything 5″ to 12″ away from the glass will be obscured enough that objects aren't discernible. Anything beyond that will not be visible at all, except again for perhaps some shapes and shadows. We don't typically stand right up against a door or close enough to a door to see a silhouette. This glass is suitable for a bathroom or bedroom door where privacy is needed.
Here are some examples below.
About Sans Soucie Art Glass
Family owned and operated since 1976, Sans Soucie sets the industry standard for the highest quality design and execution of sandblast frosted, carved and hand painted glass both nation and worldwide. Choose from our vast collection of designs across every decor, or let us create a brand new one-of-a-kind designs per your specifications. Our frosted glass designs turn ordinary glass into art pieces that add a luxury element to your home, while creating the privacy you need. Truly art with a function, our etched glass designs diffuse light and reduce glare, while enhancing the look of your home with a unique, eye catching custom element. Not clip art or machine manufactured, each design is a uniquely handcrafted original work of art, custom designed for our distinguished clientele of homeowners and commercial developers.
Free shipping to most states, shipping both national and worldwide, all our glass is handmade and expertly packed in-house by our team of glass artisans and shipped from Palm Desert, California. Shop our most popular products like slab and prehung front doors, interior doors, pantry doors, glass front doors, glass interior doors, sliding glass barn doors, windows, shower doors, shower panels and shower enclosures, decorative mirrors, signs and glass tables.
Copyright © 2023, Sans Soucie Art Glass. All rights reserved.