Why Frosted Glass Pantry Doors Are the Ideal Choice for Privacy and Light
Are you looking for a way to enhance your home's privacy while still enjoying the benefits of natural light? Why frosted glass pantry doors are the ideal choice for privacy and light! Here at Sans Soucie Art Glass we believe they are the perfect solution! In this blog post, we'll explore the numerous advantages of frosted glass pantry doors, from their aesthetic appeal to their durability and ease of maintenance. So, let's get started and discover why these interior doors are an ideal choice for homeowners who value both privacy and light.
Key Takeaways
Frosted glass pantry doors offer the perfect balance of privacy and natural light.
Durable tempered glass, versatile design options, and customization possibilities make them an ideal choice for any home or office.
Professional installation is recommended to ensure a secure fit with door frame compatibility.
Frosted Glass Pantry Doors With Perfect Balance: Privacy and Light
Frosted glass pantry doors offer an ideal mix of privacy and natural light. Unlike clear glass, which allows for full visibility, frosted glass interior doors obscure visibility while still permitting light to pass through. This unique feature makes them an excellent investment for homeowners seeking both total privacy and the benefits of natural light.
Frosted glass doors, including sliding glass doors, blend practicality with aesthetic appeal to meet the privacy-light challenge. With their modern design and versatile style, these doors can easily complement any home decor while providing the privacy level and light you desire.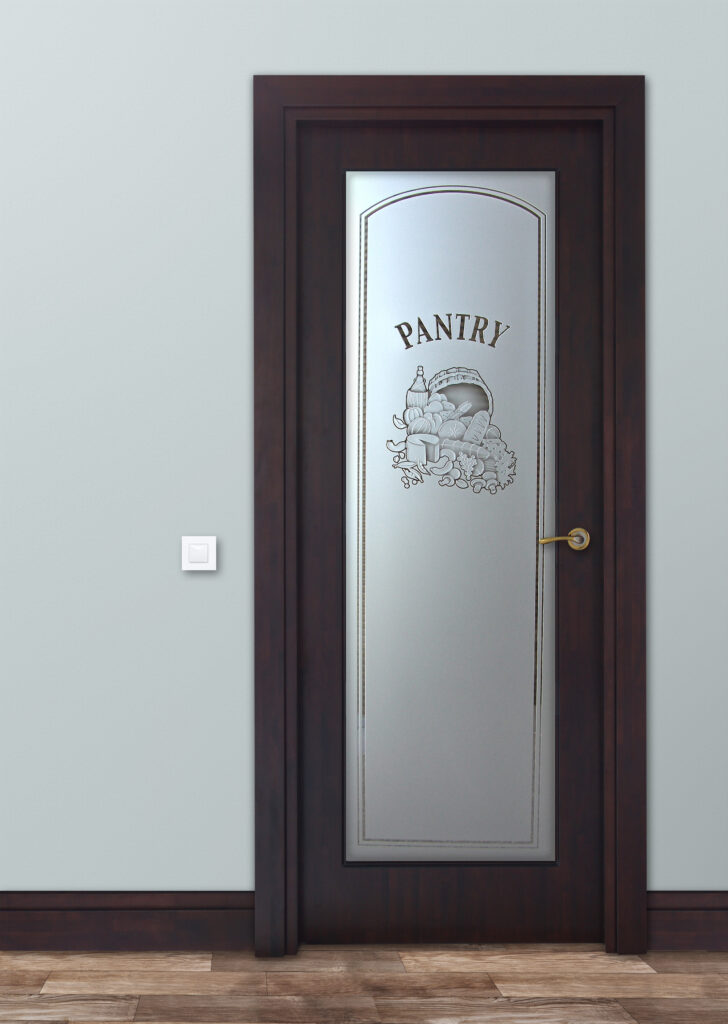 Obscuring Visibility
The key to frosted glass doors' privacy lies in their textured surface. This surface is created through a number of different processes of sandblasting or acid etching clear sheet glass of etching or frosting the glass. To explore the various types and uses of frosted glass, enhancing both aesthetics and privacy in interior design, we invite you to read our detailed article here. At Sans Soucie Art Glass, we create our designs in the glass through sandblasting. Sandblasting the glass results in a lightly "pitted" surface that scatters light passing through the glass, blurring images and reducing visibility. Sandblasting the glass to 100% density or obscurity, ensures that you can maintain 100% privacy in your home while still allowing light to enter.
Frosted glass doors are an excellent choice for many areas of your home, such as bathroom doorss, home offices, kitchen pantries, and private rooms. Their feature of obscuring visibility while permitting light makes them a flexible and pragmatic design option for any area needing seclusion and natural light.
Natural Light Benefits
Inviting sun light into your home offers more than just visual appeal; it comes with functional advantages too. Frosted glass interior doors are a great way to promote energy efficiency by allowing natural light into the room while still maintaining seclusion. This reduces the need for using artificial lighting. Moreover, this type of light creates a pleasant and inviting ambiance in your residence, making your living spaces feel warm and welcoming.
Frosted glass doors are an ideal solution for homeowners who want to enjoy the benefits of sun light without sacrificing privacy. By diffusing light and creating a soft, even illumination, these doors offer the perfect combination of practicality and beauty for any home.
Aesthetic Appeal of Frosted Glass Pantry Doors
Beyond their functional advantages, frosted glass pantry doors also present an appealing aesthetic. These doors provide versatile design options and the ability to blend in with various decor styles, making them an appealing choice for homeowners who want a unique and stylish look for their pantries.
Whether you prefer a minimalist, rustic, or vintage-style interior, frosted glass pantry doors can seamlessly integrate into your home's design while adding visual interest and a touch of elegance. So, why not consider frosted glass doors as a design choice for your pantry?
The flexibility of glass pantry doors allows you to:
Craft a door that aligns with your interior design preferences
Harmonize with your current home decor
Choose from a wide range of design options
Create a unique and personalized pantry door that reflects your style and taste.
Versatile Design Options
Regarding design options for frosted glass pantry doors, the choices are extensive. You can mix and match various types of glass finishes in addition to frosted, such as clear, gluechip, etched glass, stained glass, textured, and decorative patterned, to create a distinctive aesthetic. You can also choose from a range of wood types and hinge finishes, as well as different door styles like sliding doors, French doors, bi-fold doors, and solid MDF core doors.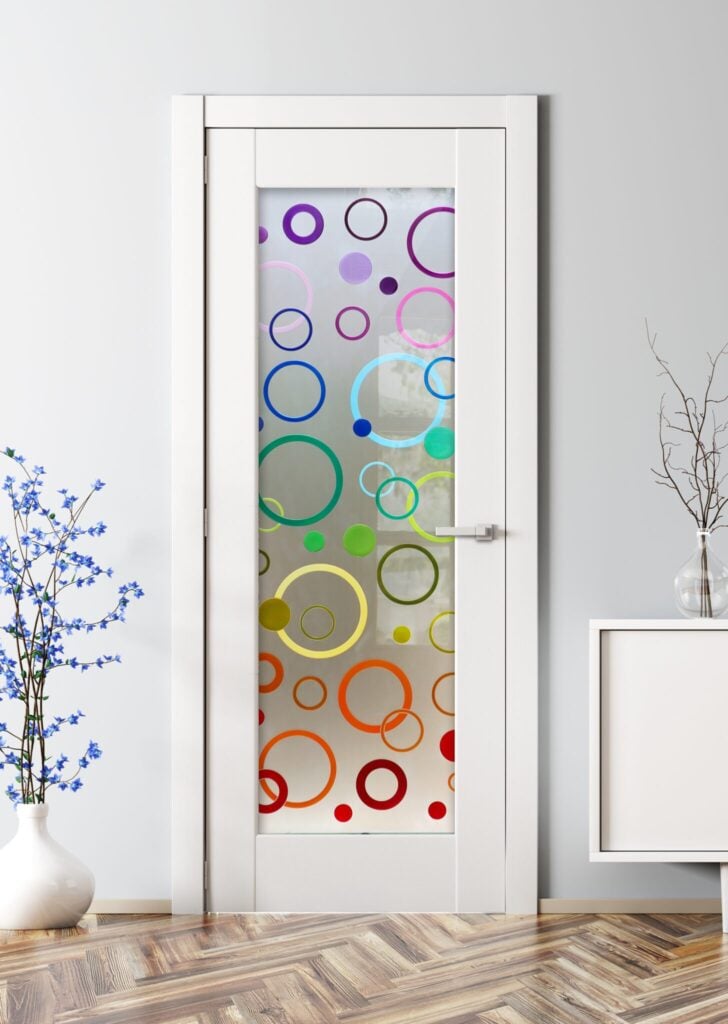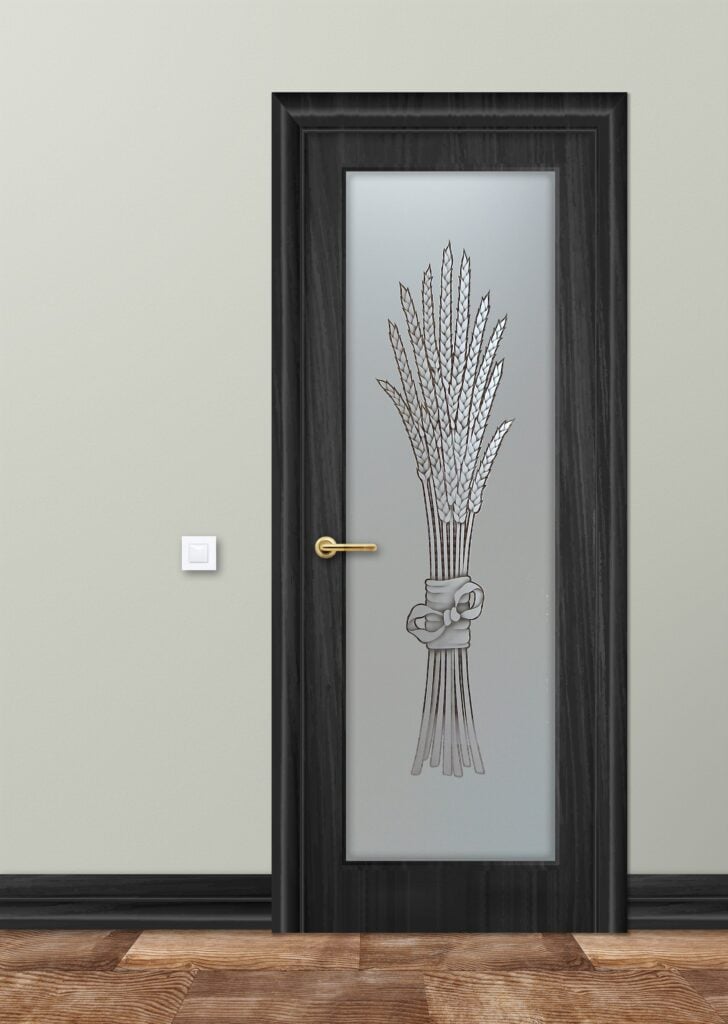 Complementing Different Decor Styles
Frosted glass pantry cabinet doors can enhance various decor styles, from modern and contemporary to traditional and rustic. In minimalist interiors, these doors create a clean and organized look, while in rustic settings, they add a touch of sophistication and elegance without sacrificing the cozy, natural atmosphere.
Regardless of your decor style, frosted glass pantry doors can elevate your home's aesthetic and provide a visually stunning focal point. By incorporating unique designs and textures, you can create a pantry door that seamlessly integrates into your interior design while adding an extra layer of visual interest.
Frosted Glass Pantry Doors: Durability and Maintenance
Frosted glass pantry doors offer more than just visual appeal. They are:
Resilient
Simple to upkeep
Incorporating tempered glass augments their durability and resistance to breakage, scratches, and damage
A lasting and pragmatic choice for any home
Easy maintenance is another advantage of glass doors, making them a suitable option for busy households or office spaces. With just a damp cloth or glass cleaner, you can keep your frosted glass pantry doors looking clean and pristine, without the need for abrasive materials or harsh chemicals. For more details of how to clean and maintain frosted glass, continue reading below and you can also click here to see our article on Cleaning & Maintenance of Frosted Glass.
Tempered Glass Strength
Tempered glass, a specially treated glass type, is enhanced for increased strength and durability. It is a practical choice for frosted glass pantry doors due to its enhanced resistance to:
Breakage
Shattering
Scratches
Damage
In fact, tempered glass, a type of glass pane, is approximately four times more resilient than regular glass. This makes it a safer and more suitable option for areas where privacy and durability are desired.
The use of tempered glass in frosted glass pantry doors ensures that your doors will withstand daily use and potential impacts, providing long-lasting performance and peace of mind. With their enhanced durability, frosted glass doors are an excellent choice for any home.
Cleaning Tips
Cleaning frosted glass doors is a breeze with the right tools and techniques. Here's how to do it:
Use a paper towel or microfiber towel to wipe the glass in a circular motion. This will help prevent streaks.
For stubborn stains, create a paste with baking soda and vinegar. Apply the paste to the stained area and let it sit for a few minutes before wiping it off.
For general cleaning, use a non-abrasive glass cleaner and a microfiber towel. Spray the cleaner onto the towel and wipe the glass in a circular motion.
With these tips, your frosted glass doors will be sparkling clean in no time!
When cleaning your glass doors, avoid using abrasives and harsh chemicals, as they can scratch and damage the frosted surface, resulting in cloudiness or discoloration. By following these simple cleaning tips, you can keep your frosted glass pantry doors looking clean and beautiful for years to come.
Endless Customization Possibilities For Frosted Glass Pantry Doors
One of the most appealing aspects of frosted glass pantry doors is their customization possibilities. These doors can be tailored to suit your specific needs and preferences, allowing you to choose the right level of opacity and incorporate personalized designs.
With a variety of design options and personalized touches, you can create a frosted glass pantry door that is not only functional, but also a reflection of your unique taste.
Pantry Doors with Personalized Text
One of the ways you can personalize your Pantry Door by Sans Soucie, is through personalized text! Choose arched or text that is straight across, both available in a wide variety of fonts!
Click Any Door To Customize!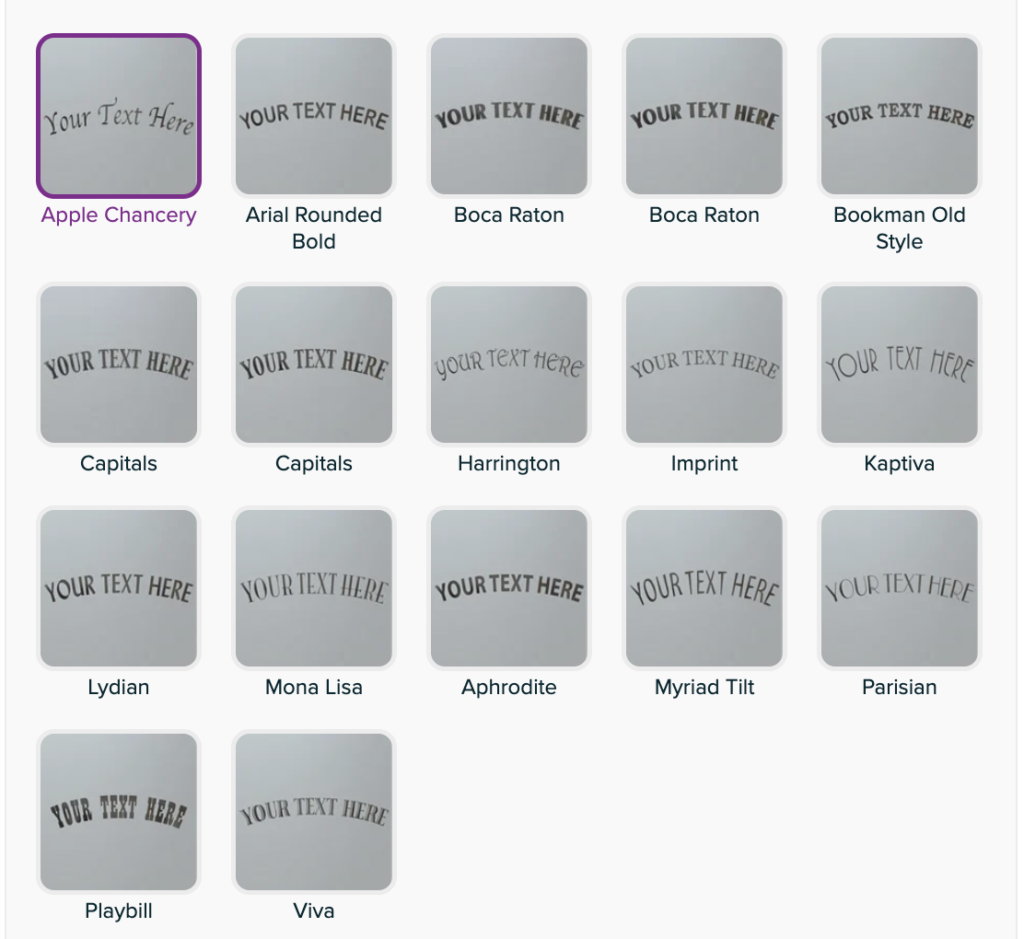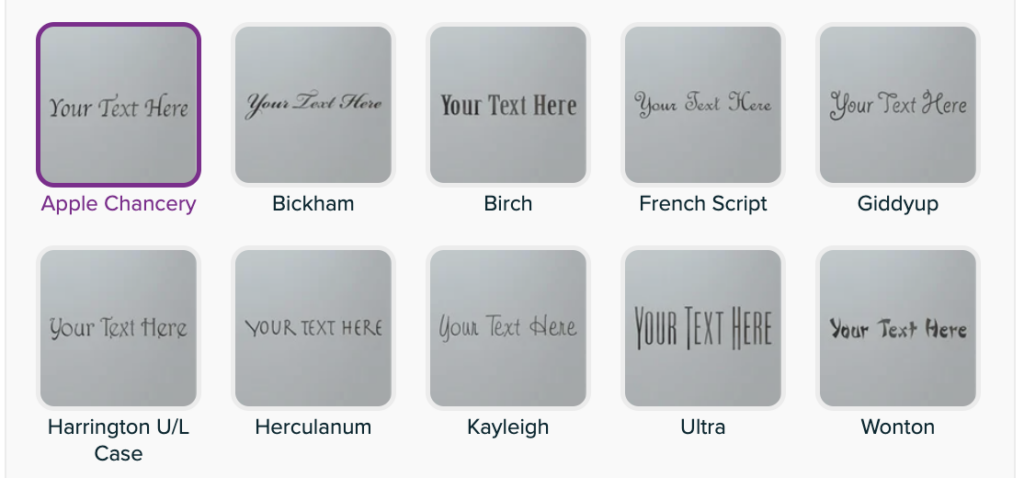 Choosing the Right Glass Finish
The glass finish (a.k.a. background) you choose for your pantry door, will have a direct effect on both privacy and natural light penetration. Frosted, glue chipped, or clear glass options are some of the most popular finishes available. Each glass finish will allow you to achieve the desired level of privacy you desire, while still enjoying the benefits of natural light.
Here at Sans Soucie we categorize our glass into 3 categories: private, semi-private and not private. We have several different effects that fall into each of those categories. Click here for full details on our 3 Types of Privacy Glass options we offer. Knowing the privacy level of each of these 3 glass finishes will help you determine how to best customize the pantry door that your space needs.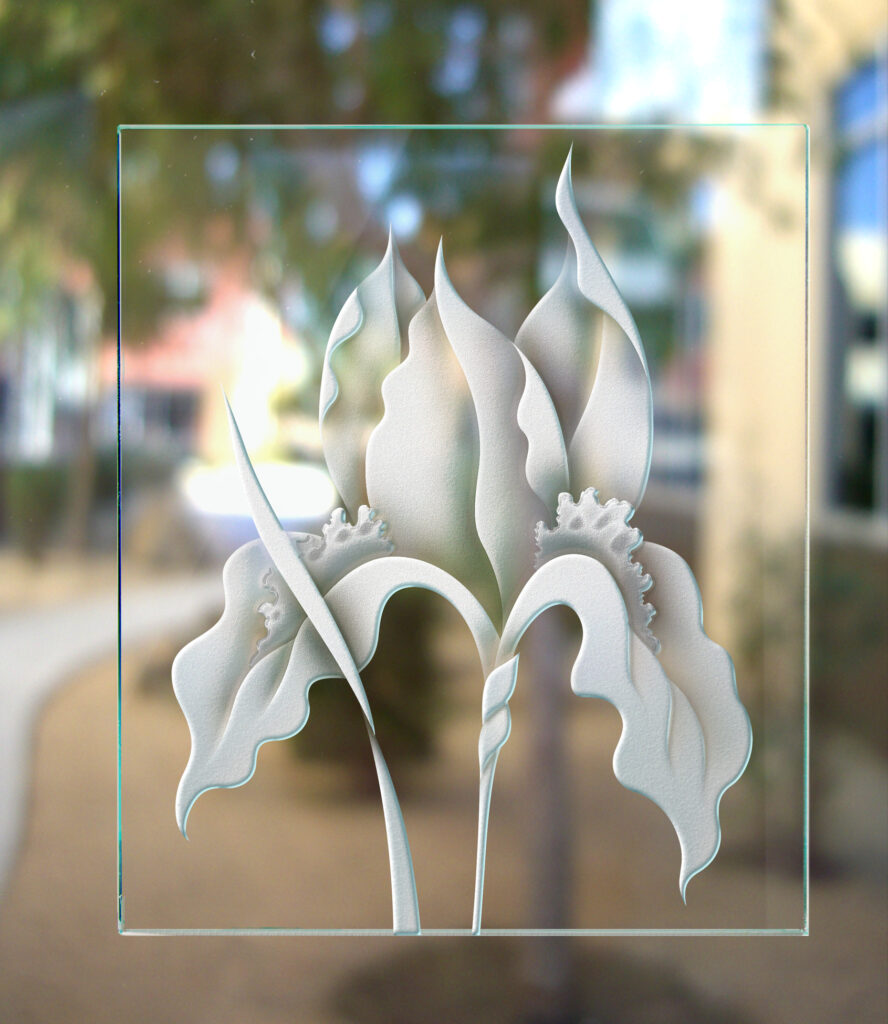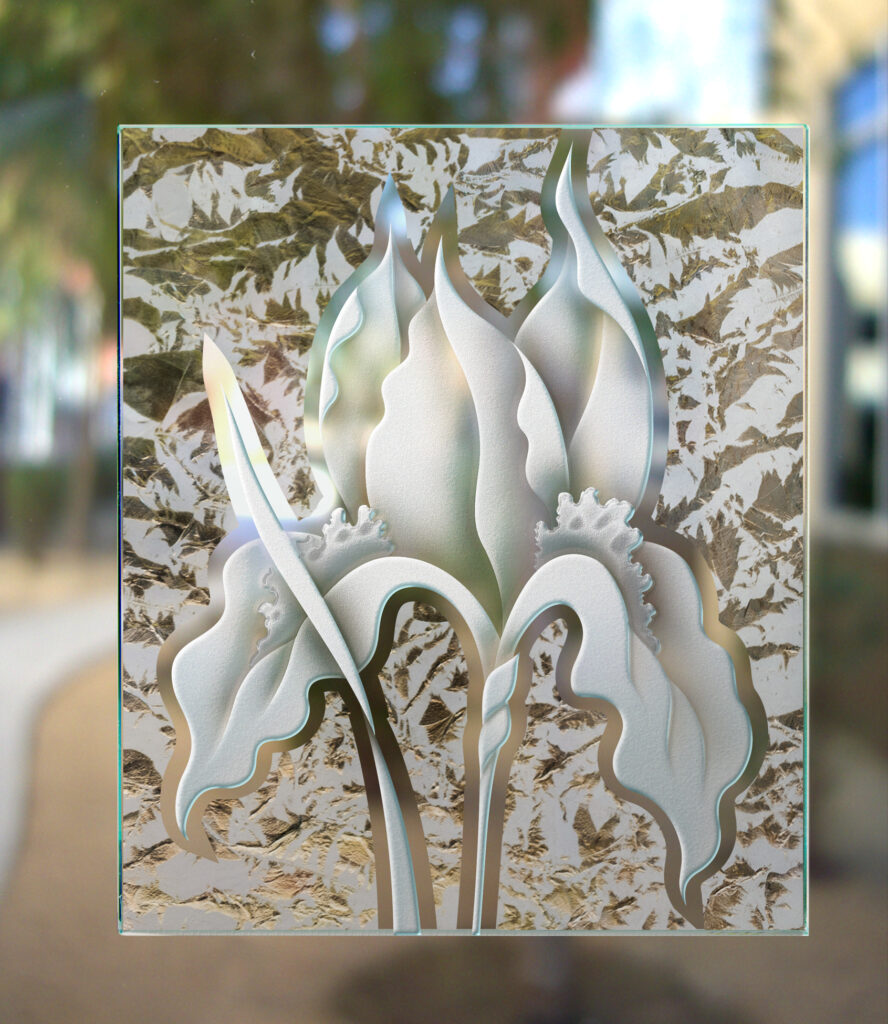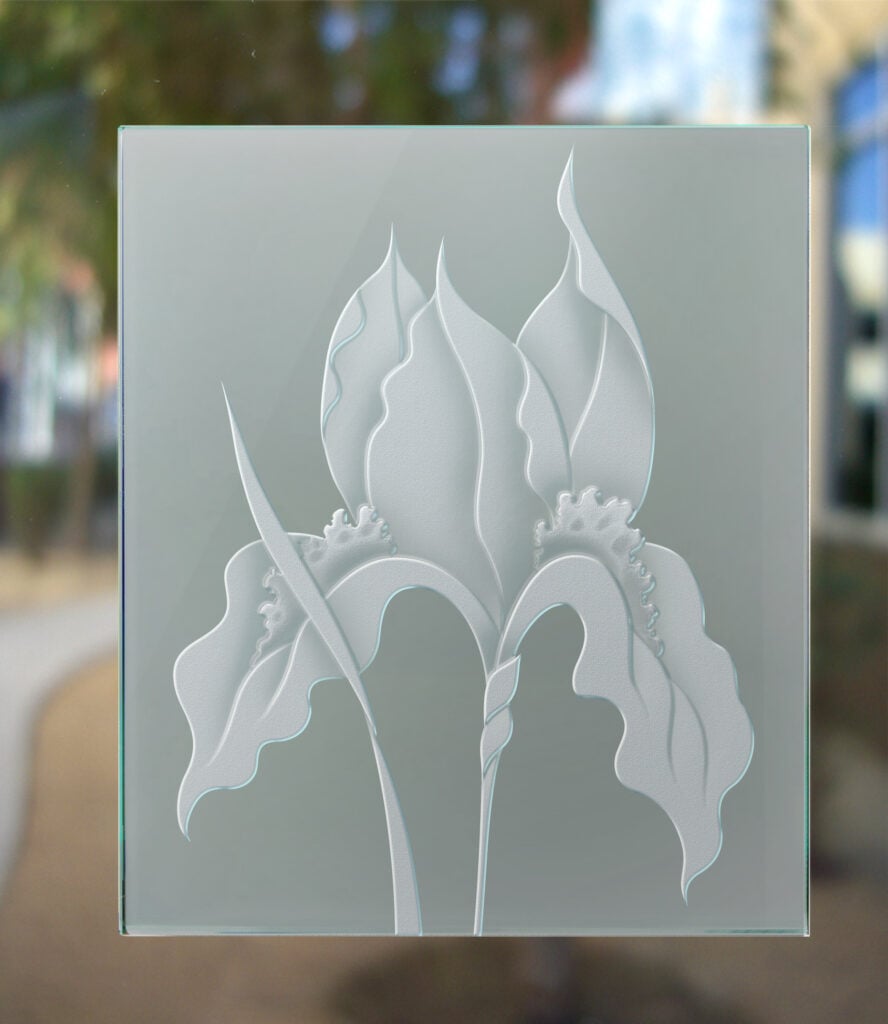 By selecting the appropriate glass finish, you can create a glass door that provides the privacy and light diffusion you want. This will ensure that your pantry door is still practical and visually appealing.
Incorporating Personalized Designs
In addition to choosing the right glass finish, you can also incorporate personalized designs into your frosted glass pantry door. Custom designs can be created through techniques such as sandblasting or applying custom film. The complexity or density of the design can result in different levels of opacity.
By incorporating personalized designs and textures into your frosted glass pantry door, you can create a unique and eye-catching feature in your home. You can create a door that showcases your personal style and taste.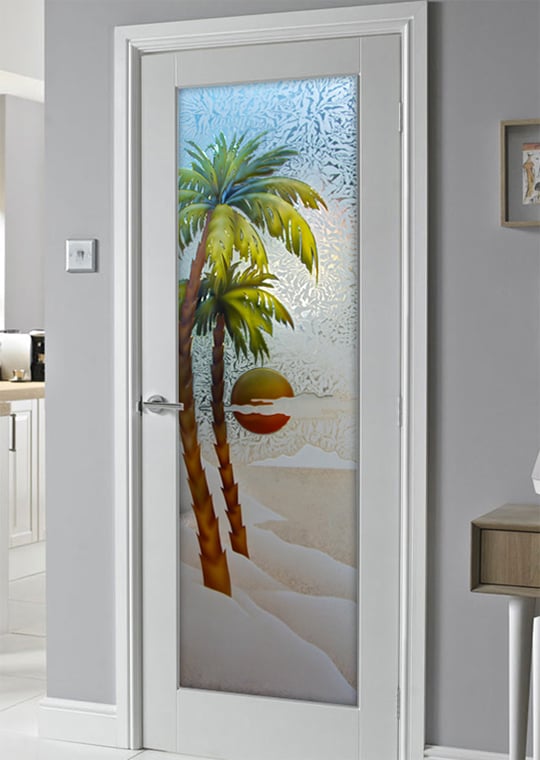 Installation Considerations For Your Frosted Glass Pantry Doors
When contemplating the installation of frosted glass pantry doors, consider professional installation and door frame compatibility. Ensuring a seamless and secure fit will result in a functional and show stopping pantry door. A pantry door that enhances your home's privacy and light.
Taking the time to plan and prepare for the installation process will help you avoid potential issues. This will guarantee a successful outcome. Check out our blog post "How to Install a Pantry Door like a Pro!" for detailed, step by step instructions and expert tips and tricks.
Professional Installation
Installing frosted glass doors can be a complex process, especially if modifications or adjustments are needed. Professional installation is recommended to make sure that your frosted glass pantry door is properly installed, secure, and functional.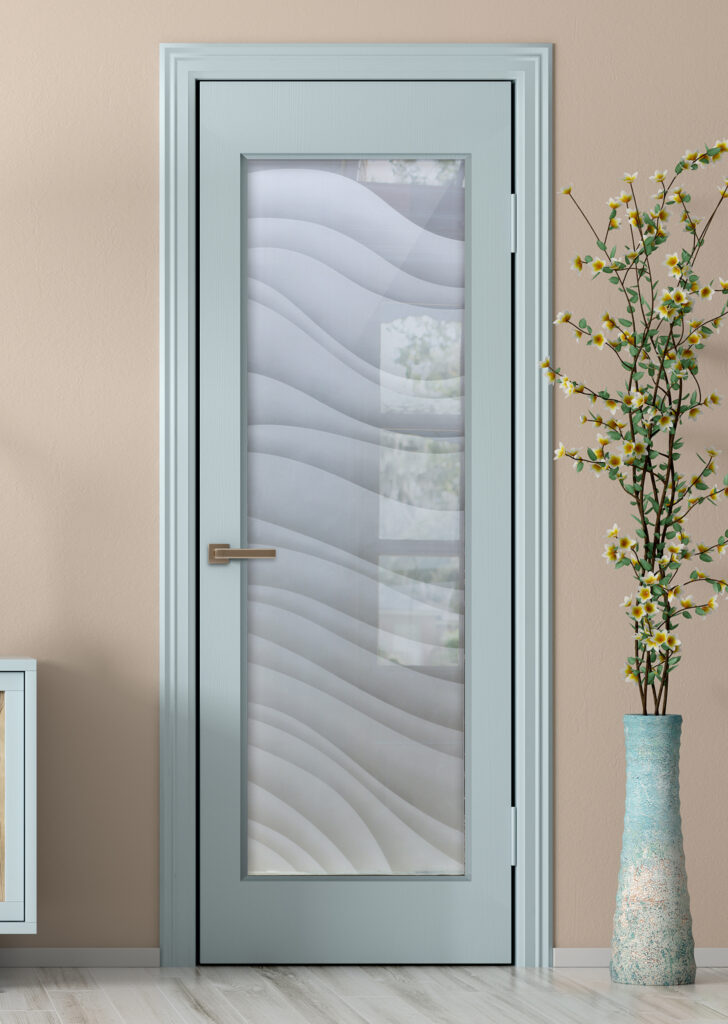 A professional installer can provide the following benefits:
Correct installation of your door
Assistance with potential challenges, such as alignment and leveling, door frame compatibility, and hardware selection
Peace of mind knowing that your frosted glass pantry door will be installed correctly and securely.
Door Frame Compatibility
Before installing a frosted glass pantry door, verify the compatibility of your door frame with the door you select. Factors to consider include:
The door frame's sturdiness
Dimensions
Hardware and hinges
Overall aesthetic and design
By carefully assessing your door frame and selecting a frosted glass pantry door that is compatible, you can guarantee a seamless and secure fit that enhances your home's privacy, light, and overall aesthetic.
Summary
In summary, frosted glass pantry doors present a myriad of advantages to homeowners in search of both privacy and the beauty of natural light. Their inherent aesthetic charm, durability, low maintenance requirements, customization options, and careful installation considerations collectively make them a superb addition to any residence. By selecting the perfect design, glass finish, and skilled installation professional, you can revel in the presence of a stunning pantry door. One that elevates your home's privacy, illumination, and overall interior design.
Frequently Asked Questions
Is frosted glass good for privacy?
Frosted glass provides an increased level of privacy by obstructing the view of what's inside, making it perfect for areas where extra privacy is needed while allowing natural light in.
What are the advantages of frosted glass?
Frosted glass provides advantages such as an increased amount of natural light, reducing the need for artificial lighting and helping you save energy; moreover, it blocks out harmful UV rays while still allowing the "good rays" to come through.
Do frosted glass doors let light in?
Yes, frosted glass doors do let light in, allowing for shapes or silhouettes to be seen on the other side. They are also highly versatile and popular.
What are the benefits of frosted glass pantry doors?
Frosted glass pantry doors offer privacy while allowing natural light to pass through, adding an aesthetic appeal to any space. In addition, they are durable and easy to maintain.
How do frosted glass doors obscure visibility?
Frosted glass doors have a textured surface which scatters light and reduces visibility, obscuring visibility to those looking through the doors.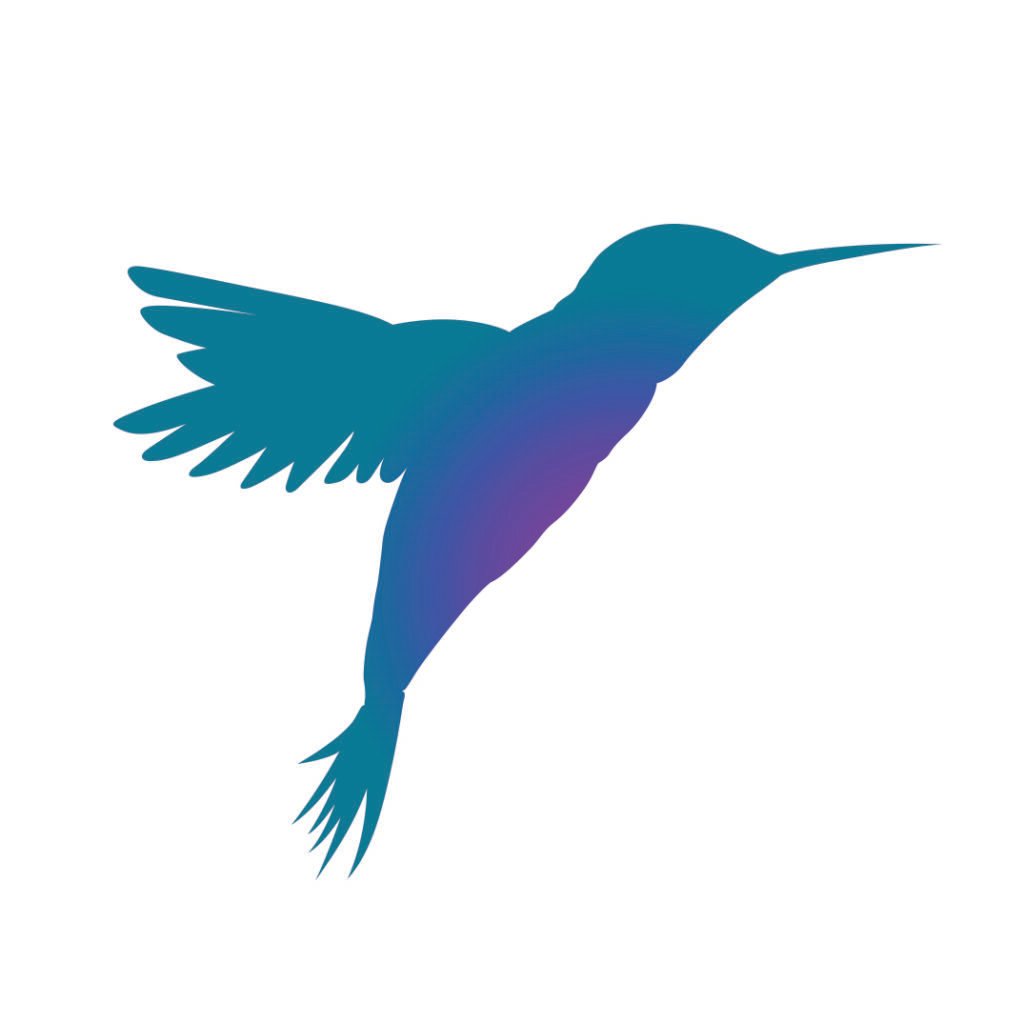 Sans Soucie Art Glass: A Legacy of Craftsmanship and Innovation
Family-owned and operated since its inception in 1976, Sans Soucie has solidified its place as the industry frontrunner in the realm of sandblast frosted glass, carved, and hand-painted glass. Pioneering the art of turning ordinary glass into breathtaking "Works of Art Captured in Glass", we have garnered acclaim both nationally and worldwide.
Sans Soucie has proudly undertaken tens of thousands of residential projects, delighting homeowners not just in the U.S., but internationally as well. Their portfolio also showcases an impressive range of commercial commissions, serving diverse sectors such as the service industry, hospitals, restaurants, museums, hotels, and libraries. Notably, Sans Soucie's exquisite craftsmanship even graces a tribute room aboard the USS George HW Bush CVN 77.
In 2010, Sans Soucie ventured into selling slab and prehung doors, further solidifying their presence in the home decor space. Recognizing the complexities associated with slab and prehung doors, Sans Soucie introduced their innovative Door Designer Tool. This user-friendly tool has since transformed door designing into a fun and effortless experience, allowing homeowners everywhere to craft doors that resonate with their personal style.
In essence, Sans Soucie Art Glass is not just a brand; it's a testament to unparalleled craftsmanship, innovation, and dedication to the art of glass design.
With free shipping to most states and worldwide shipping options from our base in Palm Desert, California, our extensive product range, which includes glass front doors, interior prehung doors, interior slab doors, pantry doors, interior glass doors, sliding glass barn doors, windows, shower doors, shower partitions and shower enclosures, frameless glass entry doors, decorative mirrors, glass signs, glass dining tables and glass coffee tables stands testament to our unwavering dedication to excellence.
Explore the world of Sans Soucie, where every piece of glass tells a story, and where history, craftsmanship, and innovation seamlessly blend.
Copyright © 2023, Sans Soucie Art Glass. All rights reserved.