An Easy Guide to Cleaning Frosted Glass
When it comes to windows and natural lighting, sometimes you just want to have your cake and eat it too! Frosted glass is a popular type of obscure glass that allows light to pass through, but makes the glass itself noticeably opaque. The end result? A calm, diffused light that also acts as a privacy screen, preventing anyone looking in or out from seeing what's happening on the other side. Frosted glass has a range of applications in the home, such as in shower stalls, closet doors, skylights, and even front entrances — after all, you wouldn't want every person who rings your doorbell to be able to see inside.
But while frosted glass brings with it several benefits, many homeowners aren't quite sure how to keep it clean. Here, we share our favorite, tried-and-true method for cleaning frosted glass.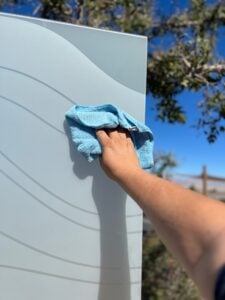 Cleaning Frosted Glass: What You Will Need
Knowing how to clean frosted glass (pantry doors, windows, shower stalls, etc.) means first knowing what materials you're going to need. Here's a list of items you should have on hand for cleaning frosted glass:
Rubber Gloves: Although not strictly necessary for cleaning frosted glass, rubber gloves are important for protecting your hands from exposure to harsh chemicals. Some cleaners are strong enough to cause rashes, and may even lead to more significant damage over time. And that's to say nothing of exposure to dirt, gunk, grime, and germs that can lead to infection and illness. So, before you
Newspapers/Paper Towels: Newspapers are great for wiping down the glass because they tend to leave fewer streaks. Of course, if you don't have any newspapers lying around, paper towels will work almost as well.
A soft cloth: Newspapers and paper towels are great for the dust and grease you're likely to encounter when cleaning frosted glass, but for scrubbing actual stains you might need something with more substance. A soft yet durable cloth will come in handy when you find spots that need more than a once-over pass with the window cleaners. You can also use a sponge without a scouring pad if that's all you have on hand; just be careful that it isn't so abrasive that it scratches the glass. Also, never use steel wool on any glass surface — it can easily cause scratches, and older steel wool pads may rust, creating a bigger mess for you to deal with.
Non-abrasive glass cleaner: There are a lot of window cleaners out there, and honestly, most of them do the job just fine. Something ammonia- or alkaline-based will be an effective option, or if you want something more natural, try mixing equal parts white vinegar with warm (not scalding) water. Citrus-based cleansers are effective against soap scum and hard-water deposits if you're interested in how to clean frosted glass shower doors.
Baking Soda and Dish Soap: To remove really tough stains, mix a tablespoon of baking soda with a cup or two of water, and add a small amount of dish soap. This mixture can be applied to the stain to help break it up, and then scrubbed away after it has had a chance to do its job (which takes about a minute).
Cleaning Frosted Glass: What You Need to Do
OK. With your materials ready, it's time to start cleaning frosted glass! Because the glass is textured, cleaning it will take a little bit more time and care than simply wiping down a mirror. So, put on those gloves, get your cleaner and wiping materials ready, and let's get to work.
Start with the glass cleaner. Spray down the surface and then wipe it away using a circular motion. You may need to do some extra buffing on, particularly smudgy areas. Be sure to remove all of the cleaners; if left to dry on the glass surface, it can leave behind unsightly streaks and spots. Depending on the size of the surface, you may be able to do the entire job all at once. Otherwise, we suggest that you divide the surface into smaller areas, and then concentrate on cleaning them one at a time. This will allow you to give each section the right amount of care and pressure, without having to hurry to get to other areas before the cleaner dries.
When you encounter tougher stains, use the baking soda mixture mentioned earlier. Again, simply apply the mixture to the stain, allow it to sit for about one minute, and then gently wipe it away using a small circular motion. Repeat if necessary. Don't get too aggressive in your wiping; the stain will come off eventually, but scratches are forever. Once the stain is gone, follow up with another spray from your glass cleaner and a light wipe.
After you've taken care of the visible smudges, stains, and any gunk that might have settled into the textured surface, the last step to cleaning frosted glass is one final full-surface wipe down. Again, divide the total area into smaller sections if you need to, and use newspapers or paper towels to give it an attractive, streak-free shine!
Cleaning Frosted Glass: Final Thoughts
Frosted glass is a beautiful and utilitarian addition to any home. That said, if you don't keep it clean, it can easily go from frosted to dingy. The good news is that, with the right materials and know-how, cleaning frosted glass can be a breeze. Give our guide a try, and enjoy the privacy and shine of properly maintained frosted glass!
Want to see just how beautiful the right frosted glass can be? Check out our top frosted glass designs today!
About Sans Soucie Art Glass
Family owned and operated since 1976, Sans Soucie sets the industry standard for the highest quality design and execution of sandblast frosted, carved and hand painted glass both nation and worldwide. Choose from our vast collection of designs across every decor, or let us create a brand new one-of-a-kind designs per your specifications. Our frosted glass designs turn ordinary glass into art pieces that add a luxury element to your home, while creating the privacy you need. Truly art with a function, our etched glass designs diffuse light and reduce glare, while enhancing the look of your home with a unique, eye catching custom element. Not clip art or machine manufactured, each design is a uniquely handcrafted original work of art, custom designed for our distinguished clientele of homeowners and commercial developers.
Free shipping to most states, shipping both national and worldwide, all our frosted glass is handmade and expertly packed in-house by our team of glass artisans and shipped from Palm Desert, California. Shop our most popular products like slab and prehung front doors, interior doors, pantry doors, glass front doors, glass interior doors, sliding glass barn doors, windows, shower doors, shower panels and shower enclosures, decorative mirrors, signs and glass tables.
Copyright © 2023, Sans Soucie Art Glass. All rights reserved.