Does Frosted Glass Scratch Easily?
It all depends on the type of frosted glass. Some types of frosted glass are more easily scratched than others, each having a different level of durability, cost and decorative options. Not all are created equal!
Benefits and Uses Of Frosted Glass
When it comes to home design and glass choices, frosted or etched decorative glass can transform your space and add a decorative, custom element to different areas of your home. The other big benefit is that the glass being frosted or etched, provides different levels of privacy where you need it, while still letting natural light into the home or room.
No matter where you're thinking of incorporating frosted glass in your home, you want to be sure the type of frosted glass you choose gives you the amount of durability you need for the application.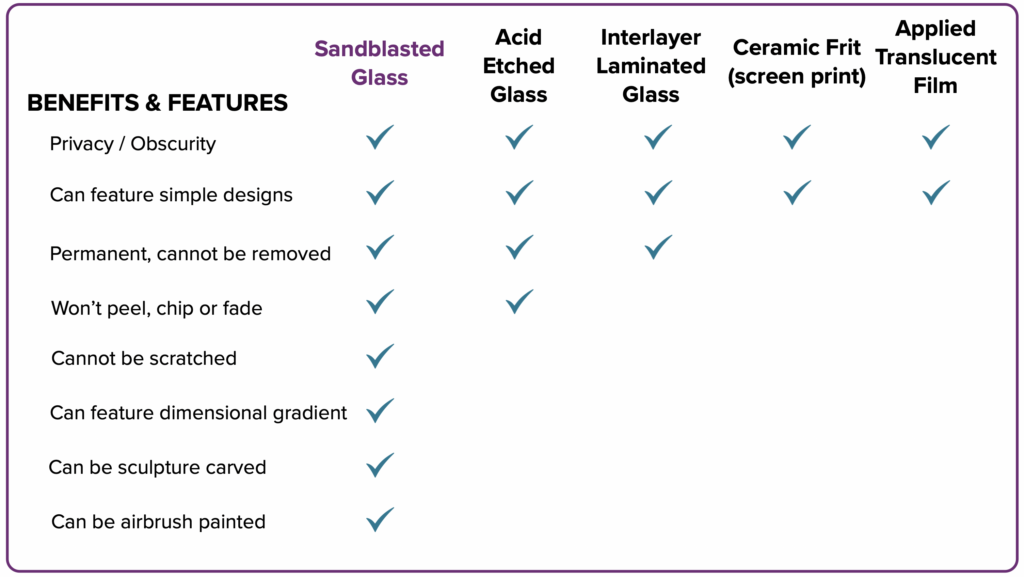 5 Main Types of Frosted Glass:
1) Acid Etched Glass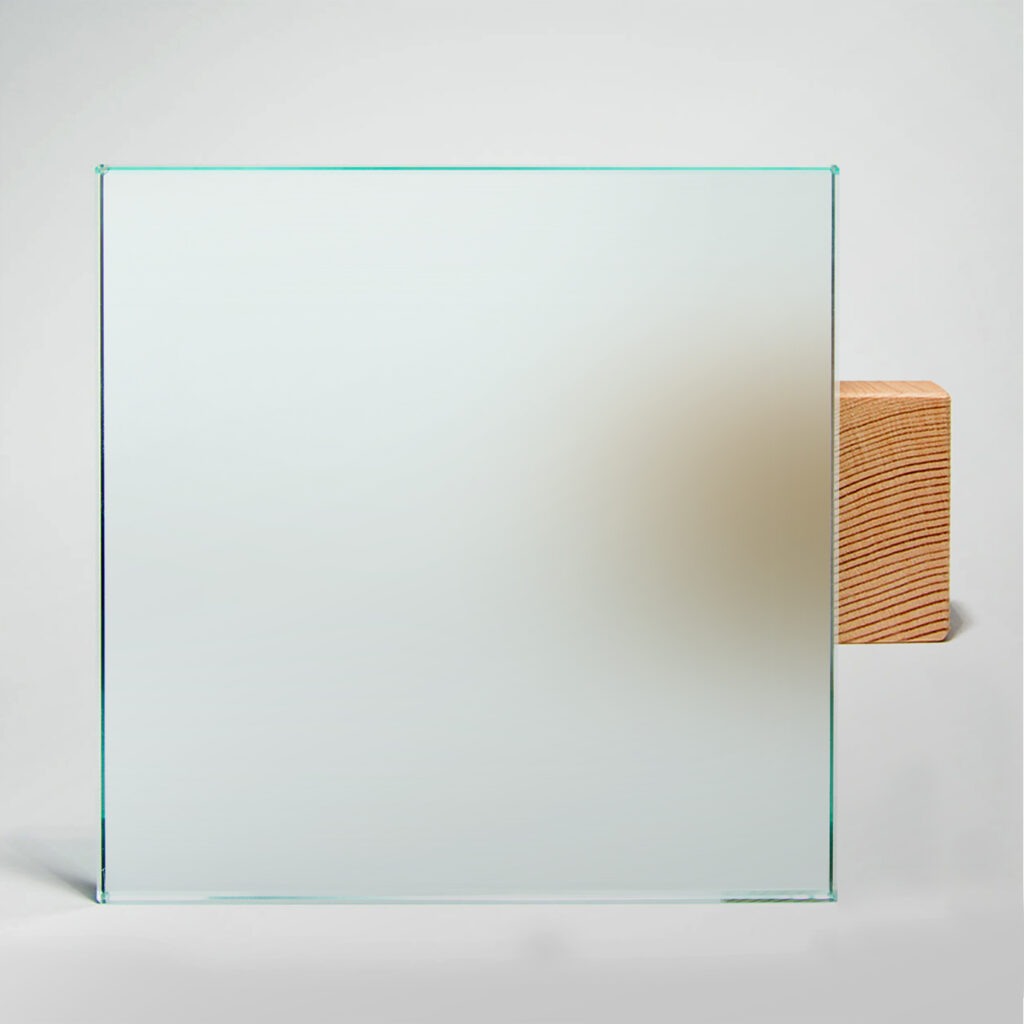 Acid-etched glass — also known as French Embossing — is highly technical and involves applying acid to glass that etches away the surface. It's made by applying a mixture of acid and water to the surface of the glass. This mixture can be applied across the whole surface, or a stencil can be used to mask off certain areas and create a pattern or design. The acid etching creates a matte finish on the glass and does "etch away" a thin layer of the top surface of the glass, but when compared to sandblast etching, the acid etching creates more of a "sheen" or smooth finish when compared to the rougher, slightly more gritty feel of sandblast etched glass. Acid etching is a relatively cost-effective way to achieve a frosted look, but it doesn't have the same level of durability of sandblasted glass. It also doesn't allow for any dimensional shading or deep carving into the glass the way sandblasting does.
2) Ceramic Frit Silkscreened Glass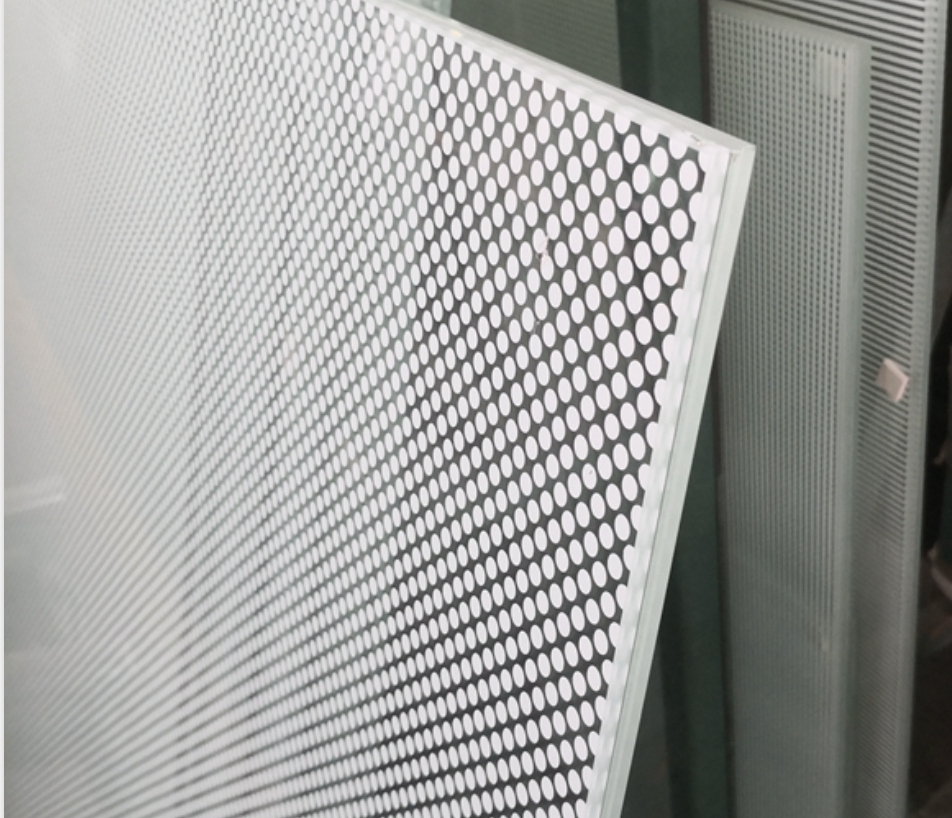 Although this process can be used to create decorative designs and indeed creates an "etched" look, it is NOT highly durable over time. That's because the process involves treating the glass with a fine, abrasive powder made of ceramic material. The frit is applied TO the top surface of the glass using a special printing process. The glass is heated to a high temperature to fuse the frit onto the surface of the glass. This means the "etching" is being applied TO the glass, or layered ON to the glass. Unlike sandblast etching where the glass surface is etched INTO, thereby permanently REMOVING and etching the top layer of the glass, transforming the shiny glass surface into a matte, etched finish. In addition, this process can only create a 1-dimensional look. The ceramic frit is certainly much more durable and resistant to scratches than plain, smooth glass, as the surface is indeed, already "etched". However, because it is APPLIED TO the glass, it is possible for the ceramic frit to become damaged or worn over time, from cleaning or heavy use. The frit may begin to peel or flake off the surface of the glass over time. If you have ceramic frit glass, you'll need to use very gentle cleaning methods to avoid damage and peeling.
3) Translucent Interlayer Laminated Glass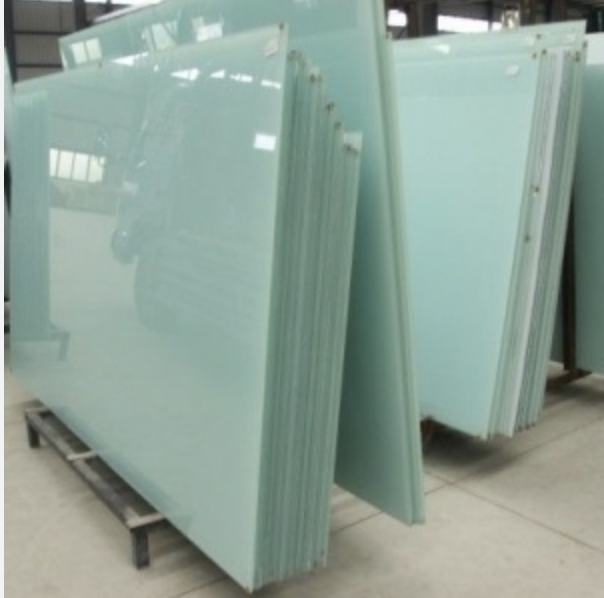 This type of glass is made by bonding layers of glass together, sandwiching a layer of semi-transparent material in-between two layers of glass. The interlayer is typically made of polyvinyl butyral (PVB), which is a strong and flexible material that helps to hold the glass layers together. The interlayer being semi-transparent, allows light to pass through while obscuring the view through the glass. The interlayer is what creates the frosted look. Since the interlayer is between the layers of glass, both sides of the glass will be a shiny, smooth surface. This is different than other types of etched or frosted glass, where one surface is shiny and smooth, and the other etched or frosted.
4) Applied Translucent Film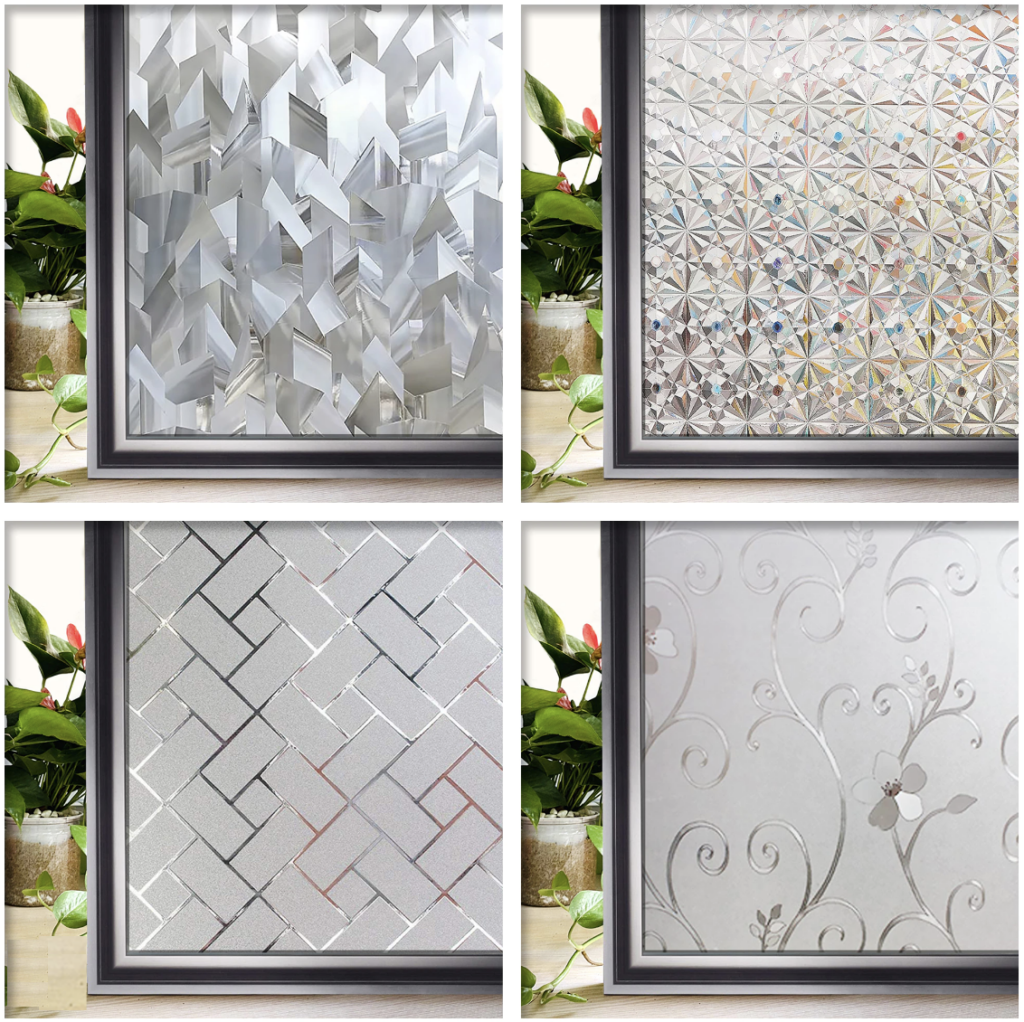 This type of frosted glass involves applying a film that is applied to the surface of the glass that features a matte or frosted finish. The film is typically made of a thin, semi-transparent material that is applied to the glass using an adhesive. The film can be applied to the entire surface, or used to create a pattern or design. While it is a lower cost choice than other types of frosted glass, the film is NOT permanent. The films are made of durable material that's resistant to wear and fading, but given that it's a material applied to the surface with an adhesive, it IS removable, and more prone to damage than other types of decorative finishes. For example, if you're looking to temporarily label a glass door or window, then glass film is a good option, as the film letters can be removed. One danger in that, however, is that in the process of removing the film lettering, the glass can easily be scratched or gouged by the razor edge that will need to be used to remove the film. It can last for years, but is susceptible to damage and requires more maintenance and upkeep than other types of etched finishes, and will need to be replaced over time.
5) Sandblasted Glass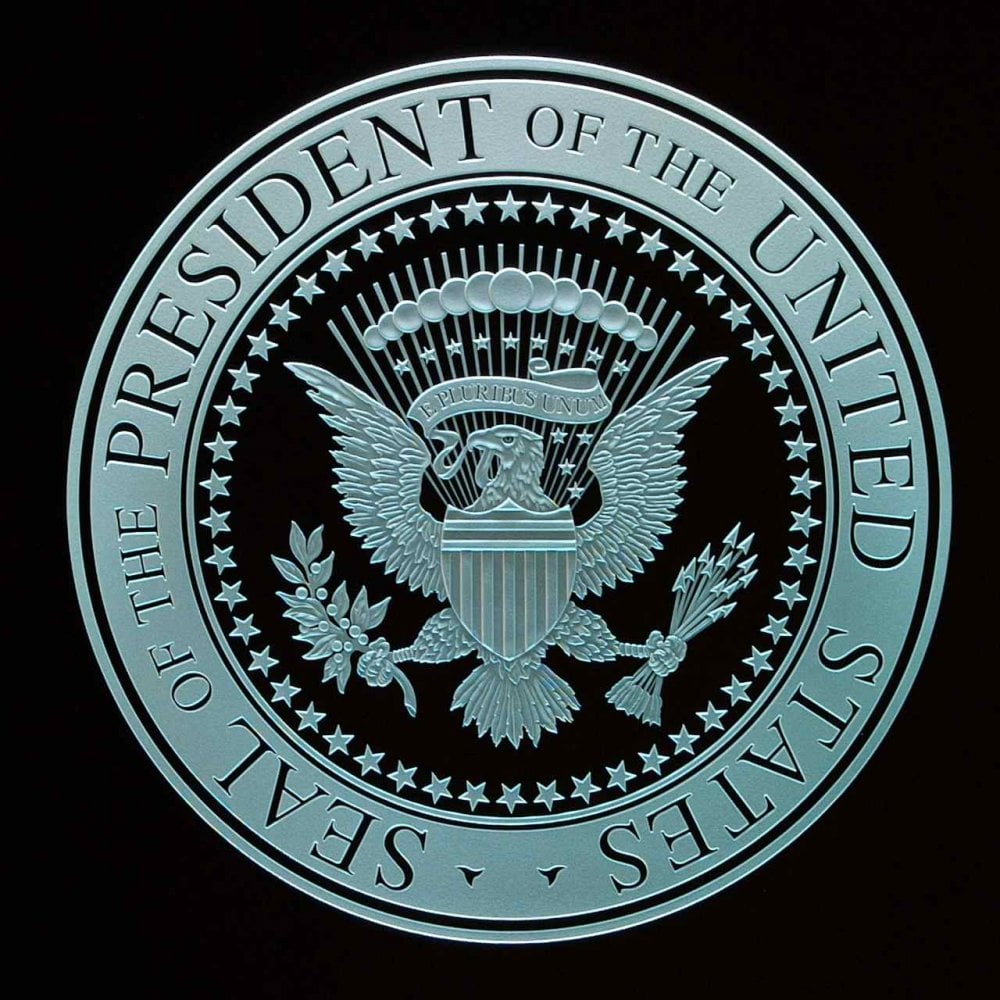 Sandblasted glass is a type of etching or frosting where the glass is treated with a blasting method to create a frosted, matte fish on the surface. The process of sandblasting glass involves using a stream of high-pressure air to blast abrasive sand against the surface of the glass. The abrasive particles etch the surface of the glass, creating a rough, frosted texture that is 100% permanent, cannot fade or wear over time and cannot be removed. Sandblasted glass is not only durable, but is easy to clean and maintain, as sandblasted glass can be cleaned with acetone or alcohol if any oil spots of blemishes should appear on the glass.
When it comes to decorative, frosted glass, sandblasted glass is the only type of glass etching that allows for artistic dimensional, gradient shading and sculpture carving, into the glass. Being able to implement these artistic techniques means the designs can feature highly intricate and beautiful detail that other types of glass etching simply cannot have. Given the highly durable finish and the beautiful effects it can create, sandblast etched glass is the top choice when it comes to decorative frosted glass. There's basically no comparison to the other types of methods when you consider its benefits, stacked against the others.
Sandblast frosted glass …
Creates obscurity and privacy in the glass
Can feature, simple decorative designs
Permanent, cannot be removed
Won't peel, chip or fade over time
Cannot be scratched
Can feature dimensional, gradient etching
Can be sculpture carved
Can be airbrush painted
If you're looking for a way to beautifully upgrade your space and provide privacy through frosted glass, sandblasted glass is the best possible choice, hands down.
More examples of sandblast frosted glass: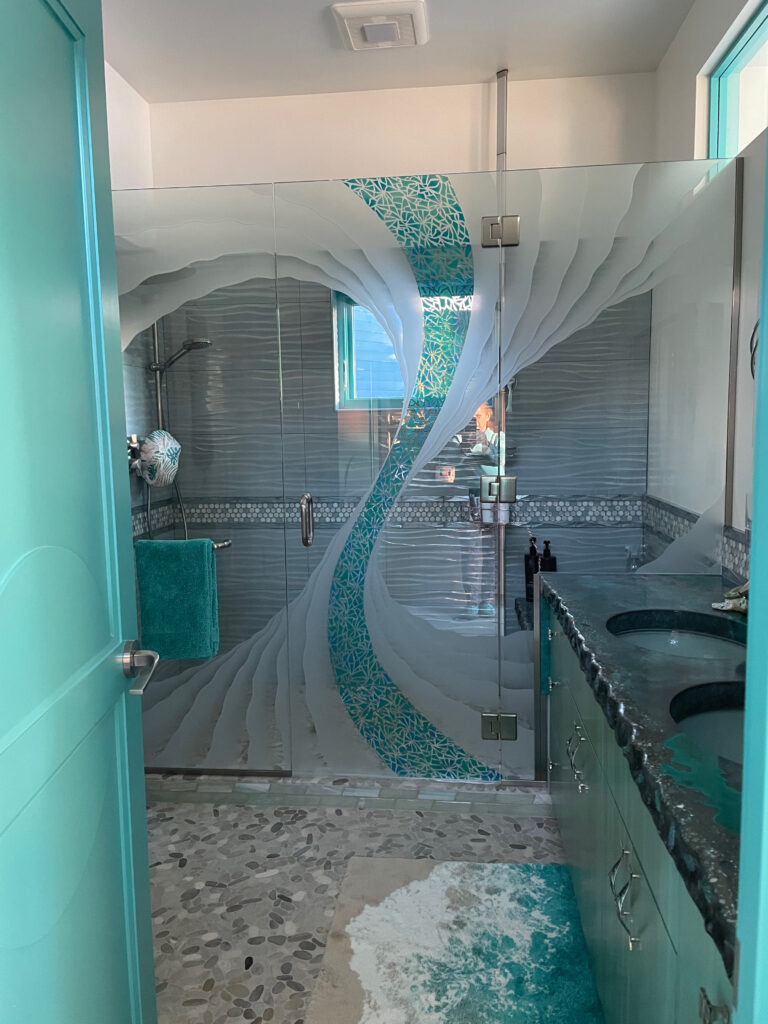 Choosing The Right Frosted Glass
There are many options when it comes to frosted glass, but if you want a truly scratch-free, high-quality design, sandblasted glass is the way to go.
For more information on how Sans Soucie Art Glass can help you design your frosted glass, visit our website or contact us for a consultation. We can't wait to help you get started!
About Sans Soucie Art Glass
Family owned and operated since 1976, Sans Soucie sets the industry standard for the highest quality design and execution of sandblast frosted, carved and hand painted glass both nation and worldwide. Choose from our vast collection of designs across every decor, or let us create a brand new one-of-a-kind designs per your specifications. Our frosted glass designs turn ordinary glass into art pieces that add a luxury element to your home, while creating the privacy you need. Truly art with a function, our etched glass designs diffuse light and reduce glare, while enhancing the look of your home with a unique, eye catching custom element. Not clip art or machine manufactured, each design is a uniquely handcrafted original work of art, custom designed for our distinguished clientele of homeowners and commercial developers.
Free shipping to most states, shipping both national and worldwide, all our glass is handmade and expertly packed in-house by our team of glass artisans and shipped from Palm Desert, California. Shop our most popular products like slab and prehung front doors, interior doors, pantry doors, glass front doors, glass interior doors, sliding glass barn doors, windows, shower doors, shower panels and shower enclosures, decorative mirrors, signs and glass tables.
Copyright © 2022, Sans Soucie Art Glass. All rights reserved.