Can you see through Frosted Glass Doors?
The simple answer is no.  You can't.  But, there's more to the story with all the different types of frosted glass, and the different ways glass can be frosted.  If the glass is "plain" with the frosting or etching "overall", covering the whole surface of the glass, with NO clear segments in the glass whatsoever, then no.  You can't see thru it.  The entire glass surface will be opaque.   ("not able to be seen through; not transparent).  IF, however, you're getting any type of decorative frosted glass, then some segments or areas MAY be see though.  
All plain Frosted Glass is opaque and obscure
When it comes specifically to the most popular various TYPES of frosted glass (acid etch, sandblasted glass, ceramic frit, vinyl decals and interlayers used in laminated glass), the end result of all those is the same when it comes to privacy: they're all obscure. They're all opaque. They're all private. The opacity provides obscurity in the glass, while eliminating glare, which is another added benefit.
Decorative Frosted Glass – may or may NOT be see through
Frosted glass continues to be a long standing favorite as a type of decorative art glass. Especially useful for areas in your home where you want privacy and obscurity, but you don't want to lose the amount of light entering the room, frosted glass is the perfect solution for glass products such as windows, front doors, interior doors, pantry and laundry room doors, and shower doors, panels or enclosures where you don't want to block light. Not only functional, these interior home decor products become art pieces when a frosted glass design is applied.
That said, there's a variety of frosted glass effects, some of which don't cover the entire surface of the glass, but only some portions or sections, leaving the remaining glass CLEAR or see through.
From most private to the most see through
Starting with the most private, to the least, these photos show the same design, in various frosted glass effects, along with their price range*.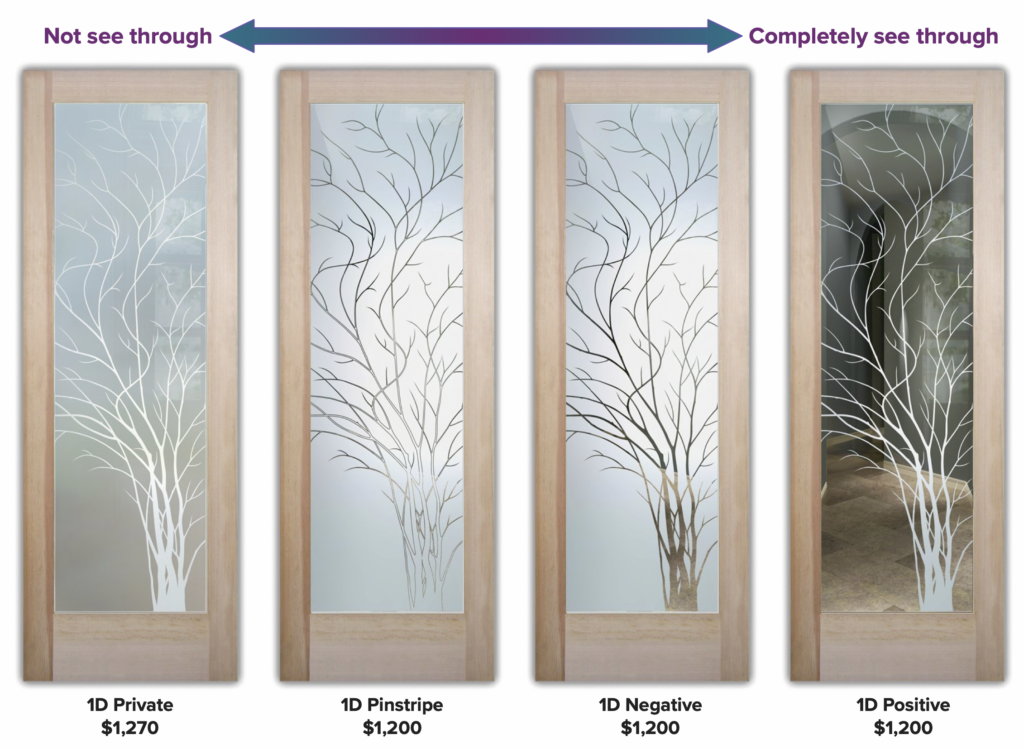 Frosted Glass Doors you CAN'T see through, with cost comparison
Each of these examples show frosted glass that you cannot see through, and their corresponding price range*.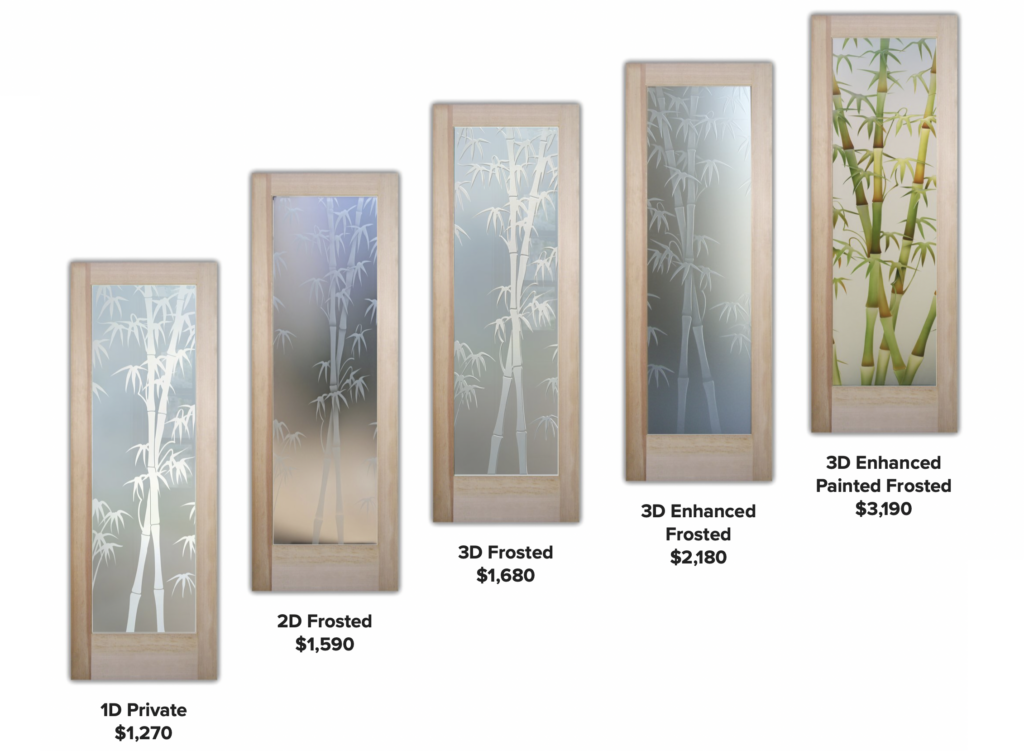 So, if you have a bathroom, bedroom, pantry, office or a front door where you want to keep the area nice and bright but you need privacy, then a frosted glass door will do the job beautifully! And with all the different effects available, you can can find just what you're looking for in a wide range in price! Shop Sans Soucie Frosted Glass Doors today where you'll find hundreds of designs in every decor!
*Price is for a 28 x 80 interior primed book door by Sans Soucie Art glass per pricing of Dec 5, 2022.
About Sans Soucie Art Glass
Family owned and operated since 1976, Sans Soucie sets the industry standard for the highest quality design and execution of sandblast frosted, carved and hand painted glass both nation and worldwide. Choose from our vast collection of designs across every decor, or let us create a brand new one-of-a-kind designs per your specifications. Our sandblast etched glass designs turn ordinary glass into art pieces that add a luxury element to your home, while creating the privacy you need. Truly art with a function, our etched glass designs diffuse light and reduce glare, while enhancing the look of your home with a unique, eye catching custom element. Not clip art or machine manufactured, each design is a uniquely handcrafted original work of art, custom designed for our distinguished clientele of homeowners and commercial developers.
Free shipping to most states, shipping both national and worldwide, all our glass is handmade and expertly packed in-house by our team of glass artisans and shipped from Palm Desert, California. Shop our most popular products like slab and prehung front doors, interior doors, pantry doors, glass front doors, glass interior doors, sliding glass barn doors, windows, shower doors, shower panels and shower enclosures, decorative mirrors, signs and glass tables.
Copyright © 2022, Sans Soucie Art Glass. All rights reserved.