Top 5 Most Popular Pantry Doors
Our pantry doors have been one of our most popular products since the launch of our online Door Designer back in 2010! With the endless combinations of our Frosted Glass design elements, text and borders, you might be wondering … what's the most popular? Well, here they are!
#1 Classic Pantry
With it's sleek lines and simplicity, our Classic Pantry Door design continues to be the most popular choice overall! This design features the word "Pantry" in all caps, in a font called "Capitals", and a two pinstripe border, with the outer pinstripe being thinner than the inside pinstripe. Bear in mind, people often decide on a different font that best coordinates with their kitchen decor, but this elegant and simple look, is the overall favorite!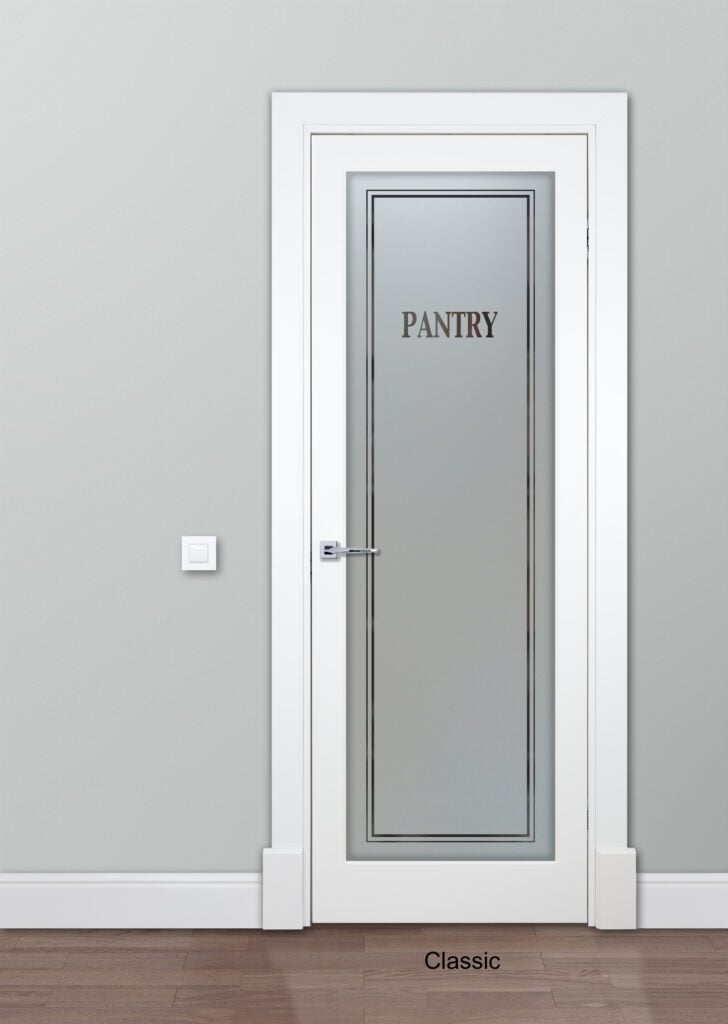 #2. Melany
Another simplistic look, this time the border is arched at the top, and the font style is a stylish script with a scroll detail beneath is our Melany Pantry Door. This look is a bit more fancy and formal than the Classic capital lettering. The font has a handwritten look and features a delicate scroll beneath the text.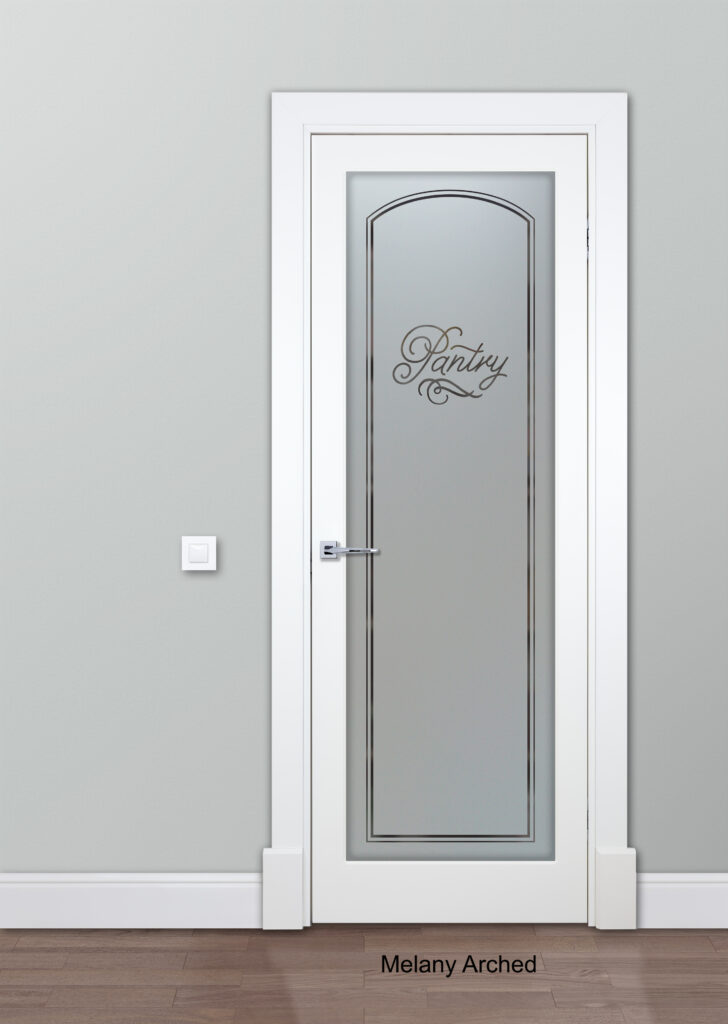 #3. Apple Pie
A definite favorite among our design elements is our Apple Pie Pantry Door design. Bear in mind that none of our designs are clip art, or something machine generated! In almost every case, each one of our designs is created the first time for an individual customer, for a specific order, as a custom, one of a kind, brand new design. This is why our quality outshines any "competition" out there! They're all unique, and they're all designed by US! Our adorable Apple Pie design includes wheat as the backdrop, a couple of mason jars, a bowl of sugar, some strawberries, and apple, and a loaf of bread with the first few slices ready to go! Shown here is Apple Pie in our 2D Effect, but Apple Pie is also available in our 1D and 3D Enhanced effects as well!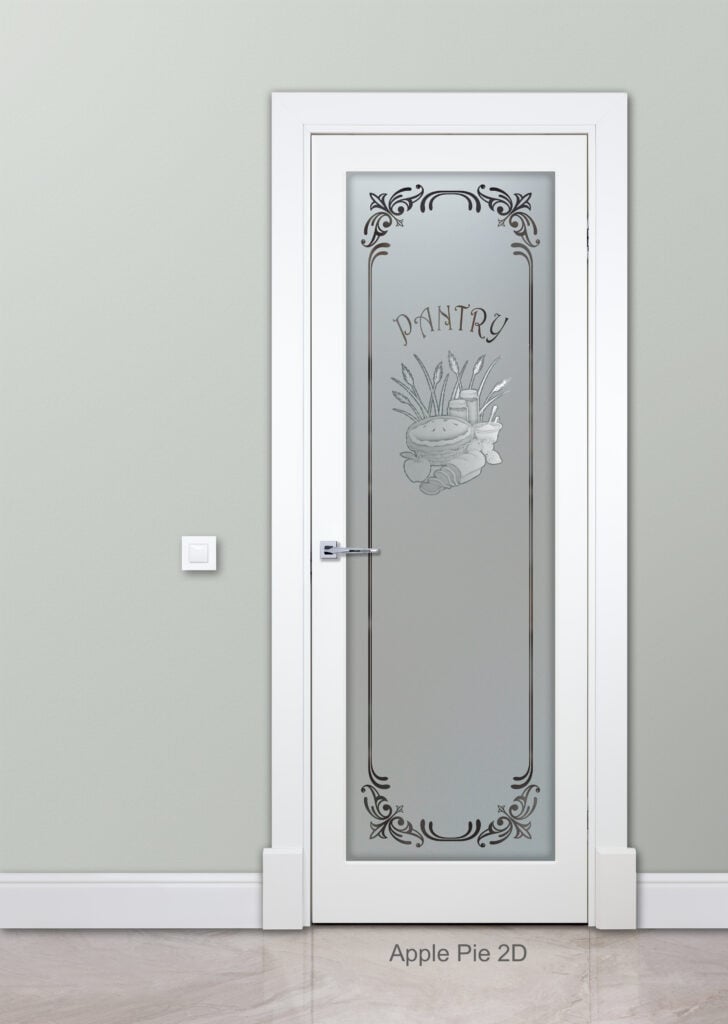 #4. Pantry Goods
This pretty pantry door design will compliment almost any kitchen decor and features a list of goodies we find in our pantry .. hence the name Pantry Goods! The lettering of each word is made up of various fonts, sizes and styles running down the glass. Most pantry door designs are sandblasted in what's called a "1D Negative effect", which means the design elements are clear glass and the background is sandblast frosted solid white. The sandblasting creates total obscurity in the glass, while the elements can be seen thru if you approach and peer into the pantry. Since the light inside the pantry is normally turned off, the text, border and design element if there is one, appears dark. When the light is turned ON, the glass is illuminated and appears nice and bright!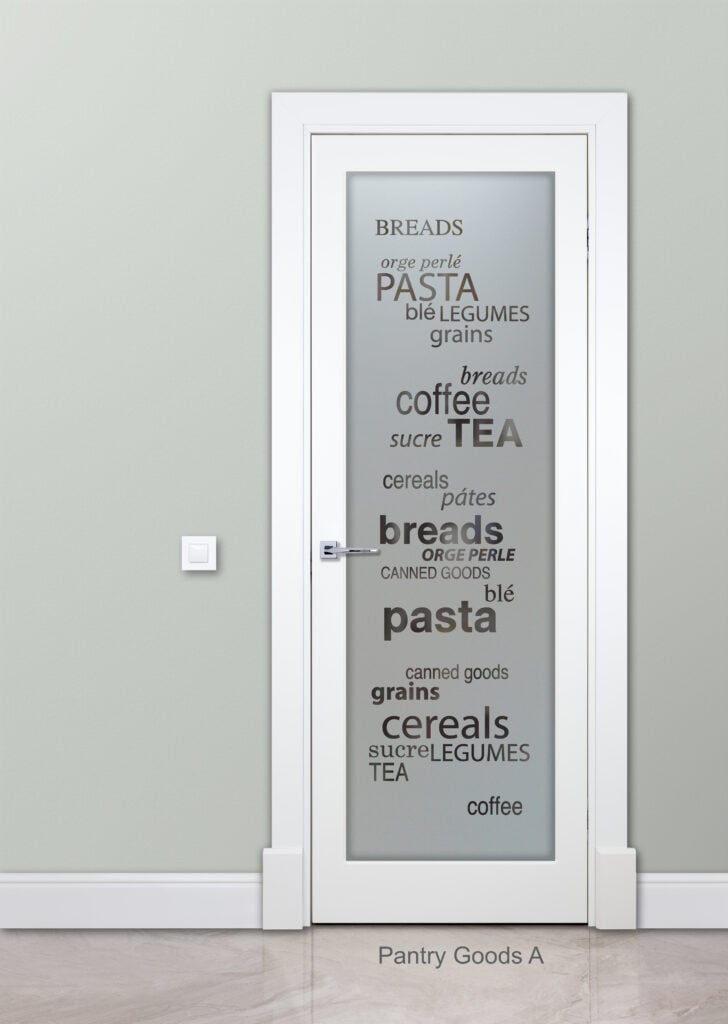 #5. Bread Basket
Finally, #5 is Bread Basket. A very close rival in popularity to #3 and #4, our Bread Basket design a "close cousin" to Apple Pie, featuring the same design elements, with a few changes to make it more fitting for a basket of bread. The apple has been replaced with 3 stalks of wheat and the strawberries with 3 cute little eggs, nestled behind the loaf of bread. As with Apple Pie and nearly all of our pantry door design elements, the design is available in 3 different sandblast effects: 1D, 2D and 3D Enhanced.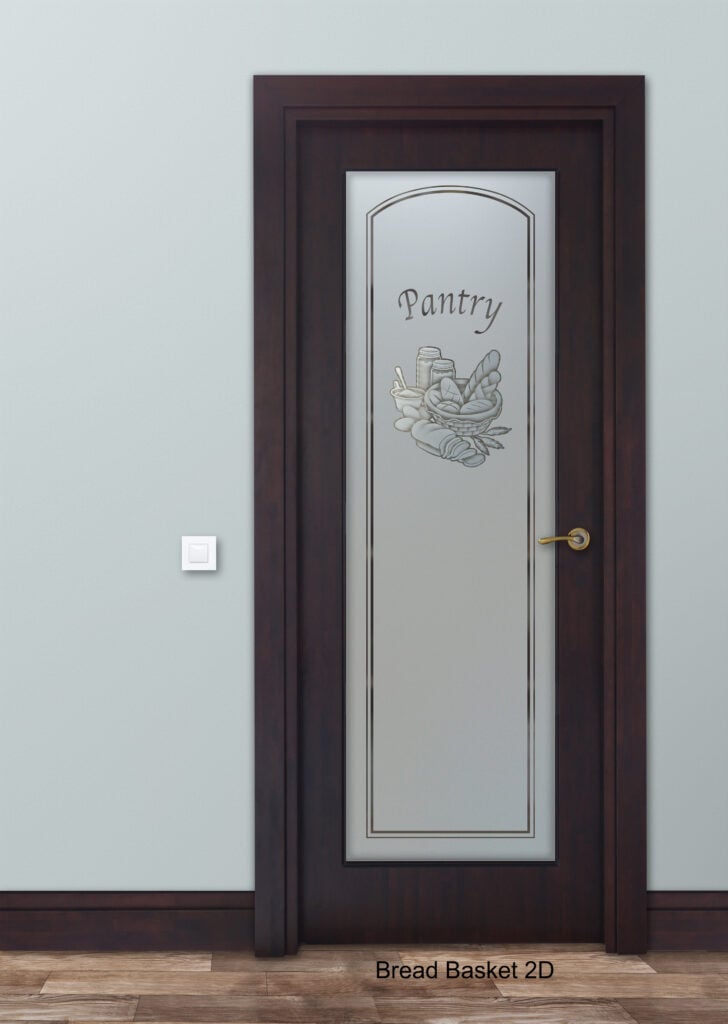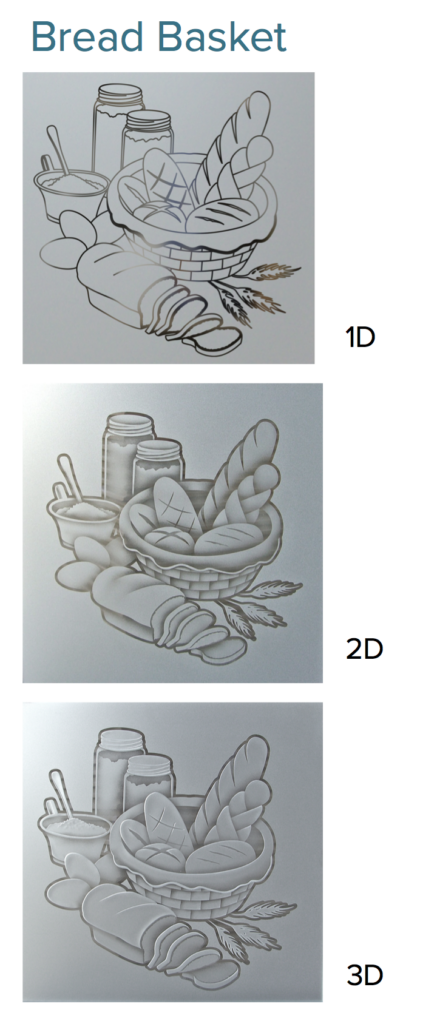 Line up of the Top 5 Most Popular Pantry Doors: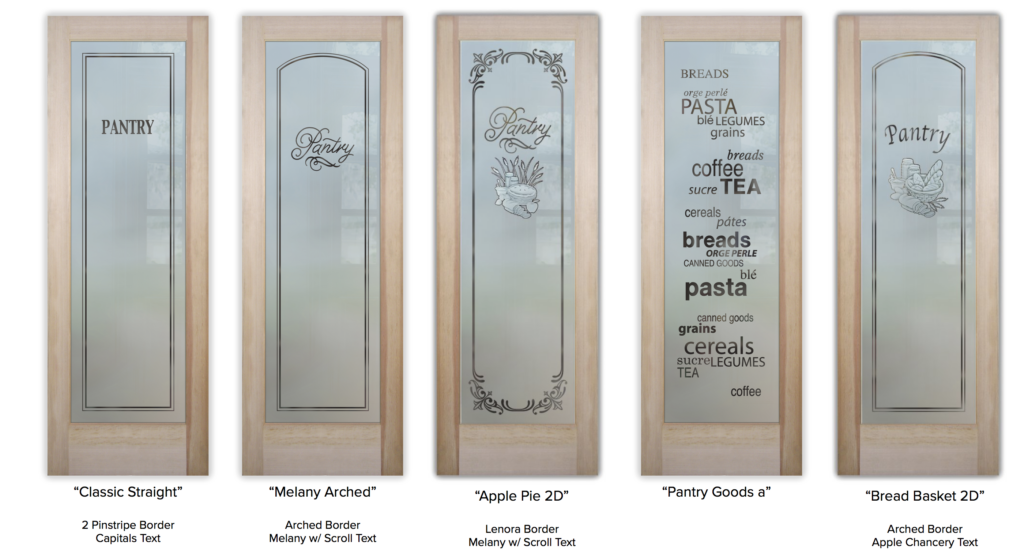 Many more to choose from!
These 5 beautiful glass pantry doors are just a tiny sampling of what you can design and customize inside our Pantry Door Designer! Mix and match dozens of designs, borders, text and font styles to create the perfect pantry door to compliment your kitchen décor! Browse our Pantry Doors Collection and start designing your dream pantry door today!
About Sans Soucie Art Glass
Family owned and operated since 1976, Sans Soucie sets the industry standard for the highest quality design and execution of sandblast frosted, carved and hand painted glass both nation and worldwide. Choose from our vast collection of designs across every decor, or let us create a brand new one-of-a-kind designs per your specifications. Our frosted glass designs turn ordinary glass into art pieces that add a luxury element to your home, while creating the privacy you need. Truly art with a function, our etched glass designs diffuse light and reduce glare, while enhancing the look of your home with a unique, eye catching custom element. Not clip art or machine manufactured, each design is a uniquely handcrafted original work of art, custom designed for our distinguished clientele of homeowners and commercial developers.
Free shipping to most states, shipping both national and worldwide, all our glass is handmade and expertly packed in-house by our team of glass artisans and shipped from Palm Desert, California. Shop our most popular products like slab and prehung front doors, interior doors, pantry doors, glass front doors, glass interior doors, sliding glass barn doors, windows, shower doors, shower panels and shower enclosures, decorative mirrors, signs and glass tables.