Ultimate Guide to Frosted Window Glass: Benefits, Designs & Care
Frosted window glass transforms your home into a stylish sanctuary with the perfect balance of privacy and natural light. The secret to achieving this lies in frosted glass windows. Not only do they enhance the overall aesthetic appeal of your living space but they also provide a multitude of practical benefits. With an extensive range of patterns, textures, and custom designs, you'll find the ideal frosted window glass solution to suit your unique style and needs. At Sans Soucie, we create our frosted glass through the art of sandblast etching carving the glass.
In this blog post, we will delve into the world of frosted window glass, exploring the various processes of creating them, their benefits, and various applications. We will also discuss installation and maintenance tips, as well as alternatives. Prepare to be inspired and informed as you consider the possibilities of incorporating these beautiful windows into your home.
Key Takeaways
Frosted window glass provides privacy, light diffusion, UV protection and aesthetic appeal.
The process of creating frosted glass involves sandblasting and acid etching techniques for customizable levels of privacy.
Alternatives to frosted glass include window film, blinds, shades or shutters that offer adjustable privacy while complementing any home's style.
Understanding Frosted Window Glass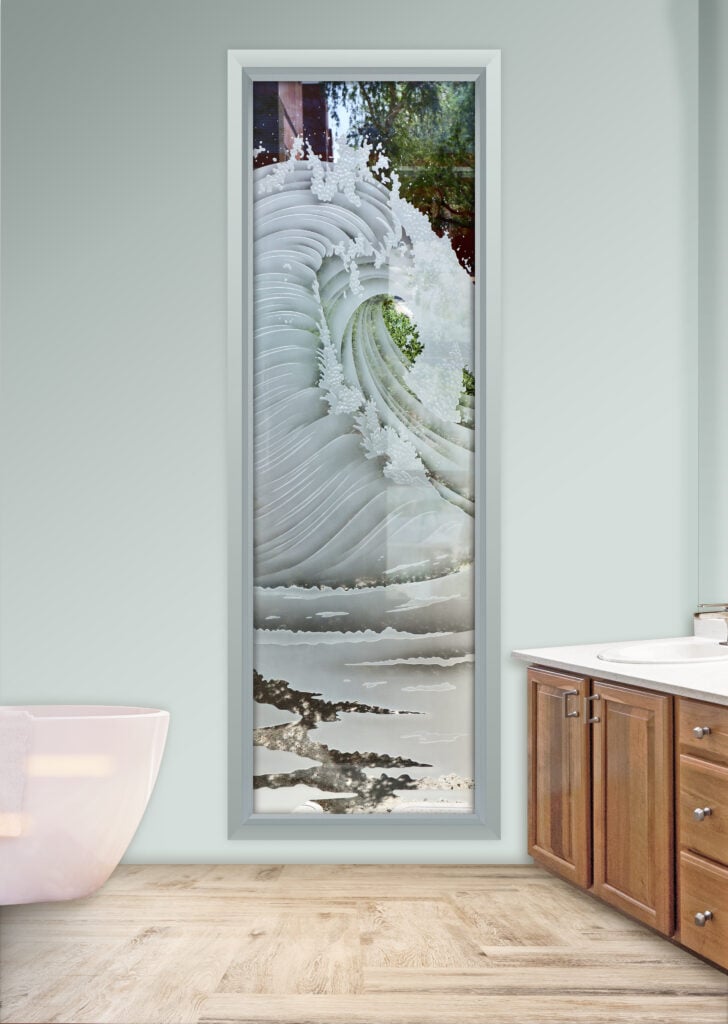 Frosted glass windows are an ingenious blend of practicality and design, perfect for those seeking privacy while still allowing natural light to illuminate their space. Created through techniques such as sandblasting or acid etching, these windows offer a textured or pitted surface, resulting in a translucent appearance that obscures visibility while permitting light to pass through. Ideal for various applications, including bathroom windows, bedroom windows, and entryway windows, frosted glass windows are a versatile and stylish choice for any home.
Additionally, they also provide numerous benefits, such as light diffusion and energy efficiency. They are particularly popular in bathrooms, where they provide privacy without sacrificing natural light. We'll explore further the creation process and the advantages that frosted window glass has to offer.
At Sans Soucie, when we sandblast our designs, we implement a technique we call "shading". This is when the sandblasting will go from completely solid frosted white, then fade out to a light sandblast. The photo below shows various levels of sandblast density.
Privacy Levels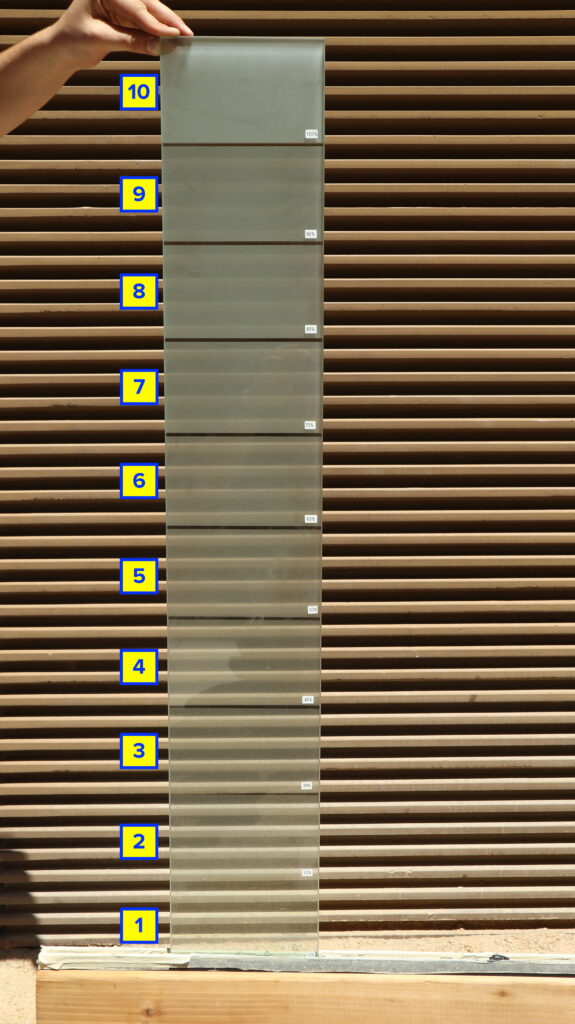 The Process of Creating Frosted Glass
The magic behind frosted glass windows lies in their creation process. As mentioned earlier, these windows are produced through sandblasting or acid etching techniques. Our method, sandblasting, involves propelling abrasive particles at high speeds onto the glass surface, while acid etching utilizes glass etching cream, such as Armour Etch, to create a frosted effect. Both methods result in a translucent or opaque glass surface that obscures visibility while still allowing light to pass through.
This unique surface allows for a myriad of customizations, ranging from standard geometrics to bespoke sketches, with opacity levels varying from light frosting to complete opacity. This versatility makes frosted glass windows, including obscure glass, suitable for a wide array of applications, such as casement windows and awning windows, where different levels of privacy and light diffusion may be required.
See how we make our frosted glass!

Benefits of Frosted Glass Windows
Apart from its unique appearance, frosted glass windows offer a myriad of benefits. One of the primary advantages is enhanced privacy. By blurring the view from the outside, the glass frosting allows homeowners to maintain privacy without sacrificing the benefits of natural light. Another benefit is light diffusion, as frosted glass creates a gentle, uniform light in the area, reducing the intensity of sunlight and creating a more pleasant atmosphere.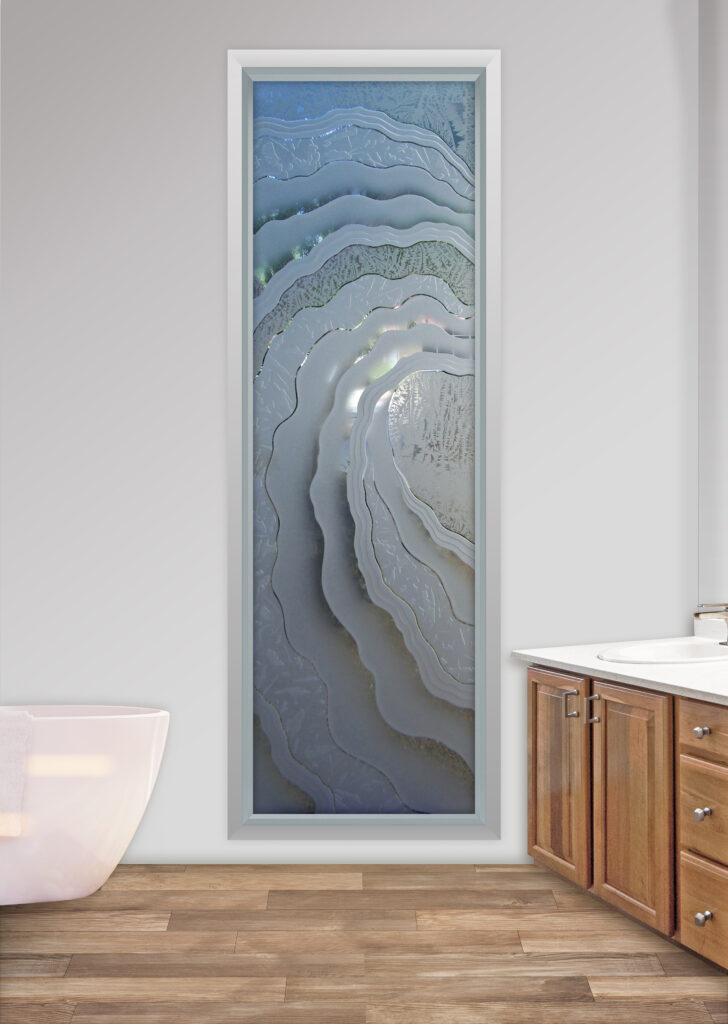 Frosted glass windows offer several benefits, including:
Blocking out UV rays and helping to maintain cooler temperatures during the summer
Contributing to energy efficiency
Lending a fashionable air to any space
Offering a contemporary appearance that is both practical and visually appealing
With these benefits in mind, it's no wonder that frosted glass windows have beeen a popular choice for homeowners for many years.
Selecting the Perfect Frosted Glass Design for Your Home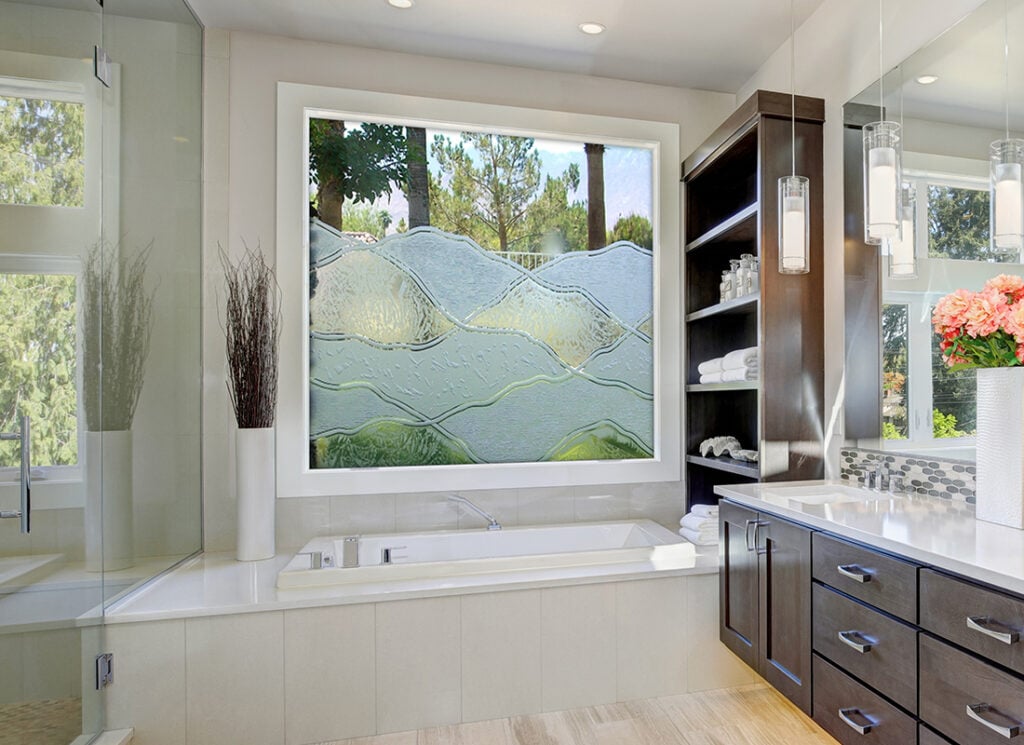 Having gained a clearer understanding of frosted glass windows and their benefits, you might want to start thinking about the most suitable design for your home. At Sans Soucie, we offer a plethora of designs each one an original work of art, with designs across every decor style.
In the upcoming sections, we'll delve into the different patterns, textures, and custom design options that might help you strike the perfect balance between privacy, light control, and aesthetics in your home.
Patterns and Textures
Frosted glass windows come in an array of patterns and textures that can transform the look and functionality of your space. Available options include: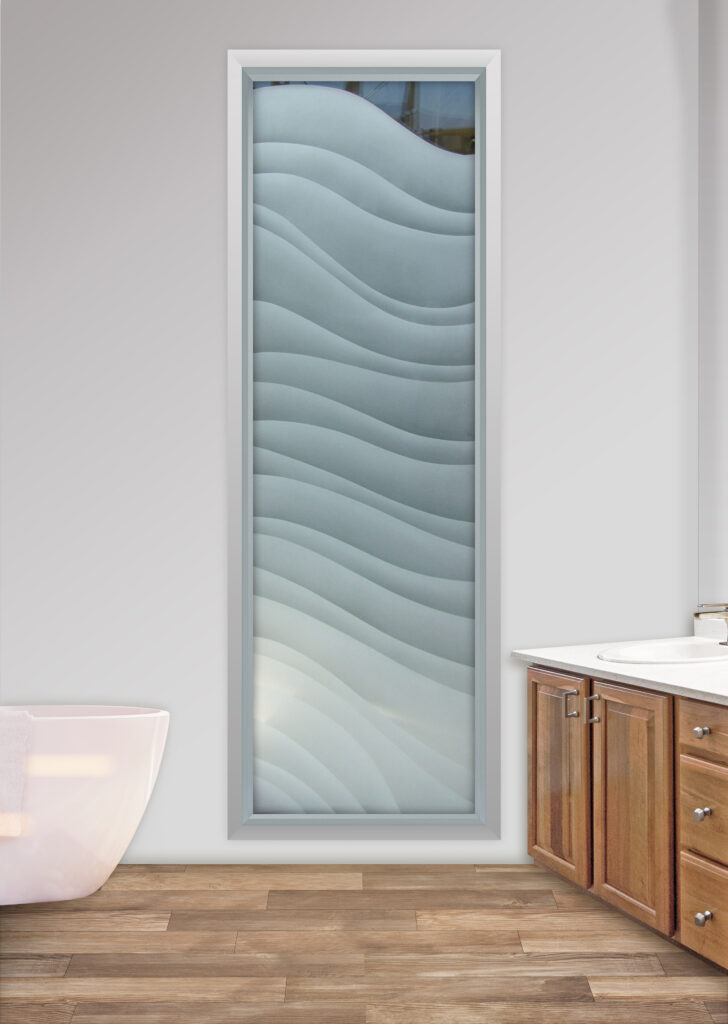 These diverse options offer varying degrees of privacy and light diffusion, allowing you to strike the perfect balance between functionality and aesthetics. For instance, etched glass provides a classic look, while stained glass adds a hint of color, and reeded glass, ribbed glass, and rain glass all provide a distinctive texture. Consider the degree of privacy and light diffusion you require, as well as the appearance you wish to achieve, when selecting the appropriate frosted glass pattern and texture for your home.
Custom Designs
For homeowners looking to add a personal touch to their home, custom designs offer the perfect solution. Custom designs can include monograms, patterns, and other personalized elements that truly reflect your unique style and taste.
Custom frosted glass designs are created through sandblasting the design into the glass, resulting in a distinctive appearance that offers varying degrees of privacy and cost. When selecting a custom design, consider the style of your home, the amount of privacy desired, and the financial resources available.
With custom designs, you can truly make your frosted glass windows a reflection of your personality and taste. At Sans Soucie, if you can dream it, we can make it.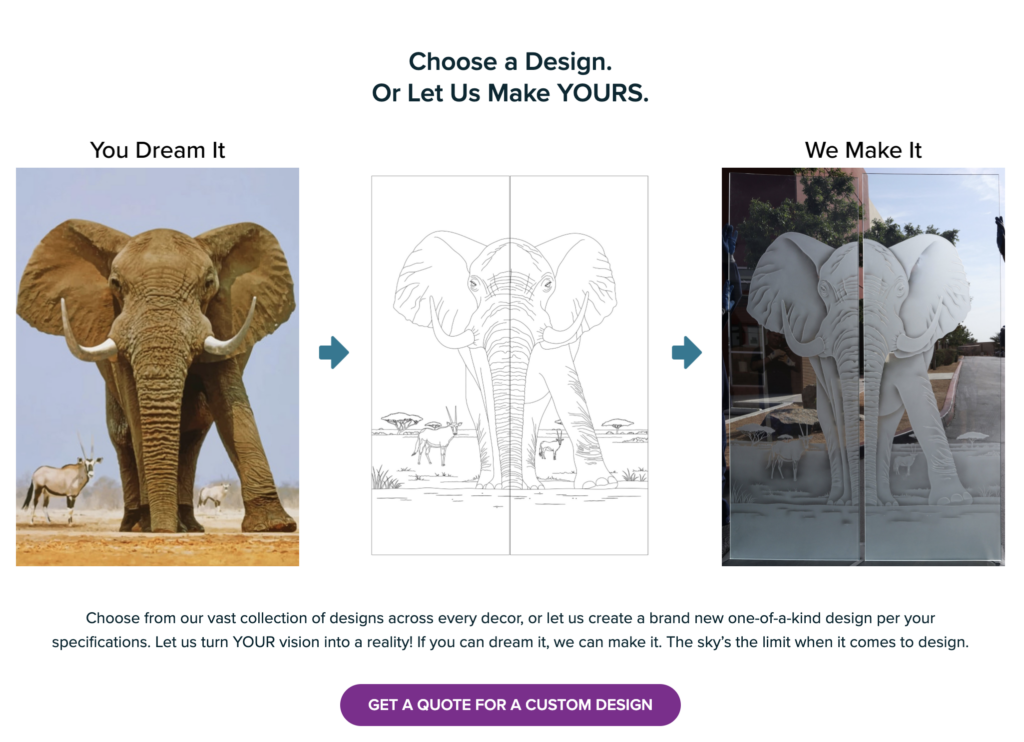 Frosted Glass Window Applications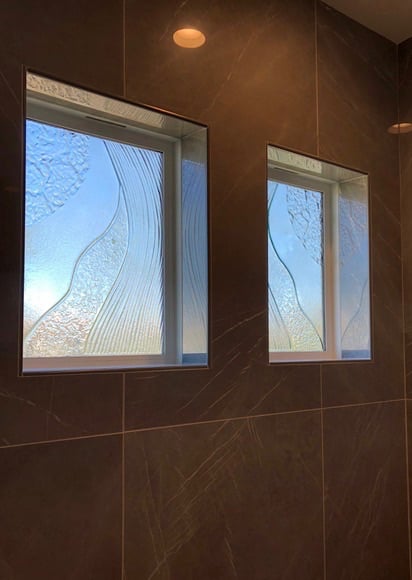 Frosted glass windows can be used in various applications, enhancing privacy, style, and functionality throughout your home. Some of the most common applications include bathroom windows, bedroom windows, and entryway windows. Each application offers unique benefits that enhance the overall comfort and aesthetics of your living space.
The upcoming sections delve into the specific benefits of using frosted glass windows in various applications, giving you a more comprehensive understanding of how these versatile windows can enhance your home.
Bathroom Windows
Frosted glass windows are an ideal choice for bathroom windows, as they provide privacy without sacrificing natural light. Oftentimes, bathrooms are located in areas with direct sunlight, making frosted glass windows a practical solution for filtering out harmful UV rays while allowing ample bathroom light through the bathroom window.
Various options are available for bathroom windows, including frosted glass spray paint, window film, and glass etching cream, providing budget-friendly and easily removable alternatives to traditional frosted glass windows. In your bathroom, you can enjoy a comfortable and stylish space that offers the perfect balance of privacy and light.
Bedroom Windows
In bedrooms, frosted glass windows provide a restful and secure environment by offering privacy and light control. The translucent appearance allows natural light to enter the room while obscuring visibility from the outside, creating a serene atmosphere conducive to relaxation and sleep.
Moreover, have them in bedrooms offer several benefits:
They help to filter out damaging UV rays, making them an ideal choice for rooms exposed to direct sunlight.
They provide privacy, allowing you to enjoy a comfortable and private space.
They are both functional and aesthetically pleasing, enhancing the overall look of your bedroom.
Entryway Windows
Entryway windows with frosted glass enhance security by obscuring visibility while still allowing light to pass through. These windows, with their stylish window frame, provide both privacy and security without obstructing natural light, making them a practical and stylish addition to your home's entrance.
Frosted glass windows can also be used in french doors and patio doors, providing an elegant and practical solution for maintaining privacy while allowing light to pass through. Whether you're looking to enhance the security of your entryway or simply add a touch of style, frosted glass windows are a versatile and attractive option.
Installation and Maintenance of Frosted Glass Windows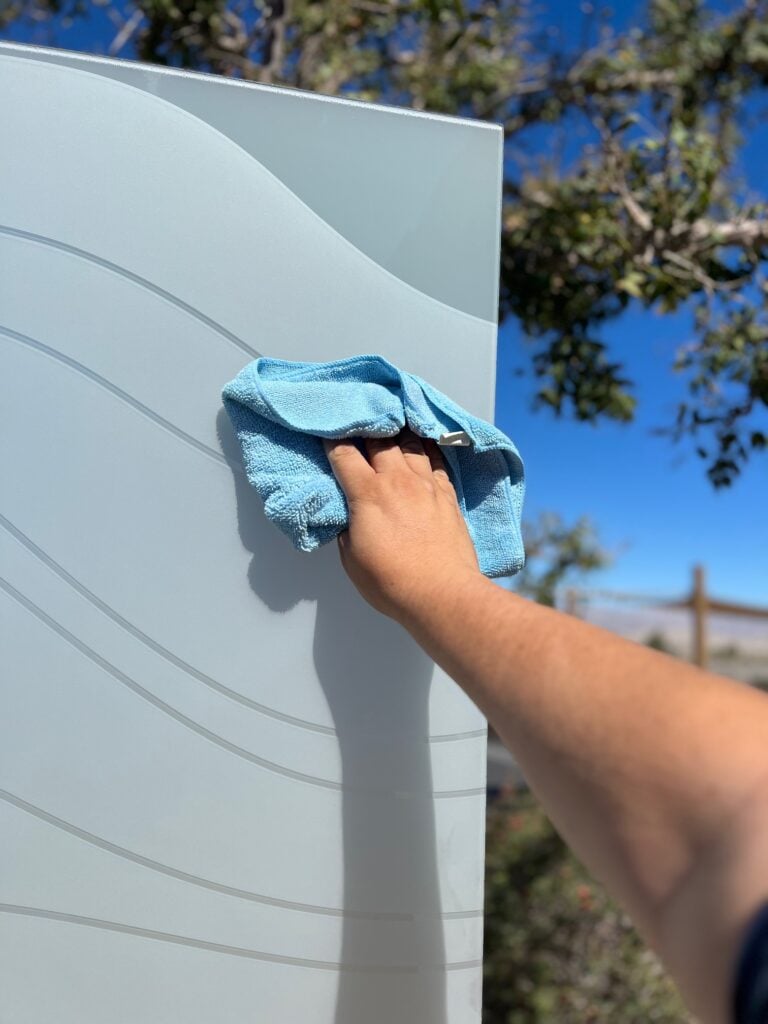 Ensuring the longevity and optimal performance of frosted glass windows requires their proper installation and maintenance. Whether you opt for professional installation or decide to undertake a DIY project, understanding the installation process and maintenance requirements is essential for preserving the beauty and functionality of your frosted glass windows. Read more about the proper Cleaning and Maintenance of your Frosted Glass.
The upcoming sections will touch on the differences between professional installation and DIY options, along with tips on how to clean and maintain your art glass.
Professional Installation vs. DIY
When it comes to installing frosted glass windows, you have two main options: professional installation or DIY. While professional installation ensures a perfect fit and finish, DIY alternatives like frosted glass spray paint or window film offer budget-friendly options. The main differences between the two methods lie in:
The quality of the final product
Expertise required
Time and effort involved
Cost
Ultimately, the choice between professional installation and DIY will depend on your personal preferences, budget, and confidence in your abilities. Regardless of the method chosen, proper installation is crucial for maximizing the benefits and longevity of your frosted glass windows.
Cleaning and Maintenance Tips
To keep your frosted glass windows looking their best, regular cleaning and maintenance are essential. Cleaning requires gentle cleaning solutions and soft cloths to avoid damaging the surface. Mild soap and water, or a glass cleaner, can be used with a soft cloth or sponge to clean the windows.
Maintaining frosted glass windows is equally straightforward. Regular dusting with a soft cloth and the use of a glass cleaner to remove stubborn dirt or grime will keep your windows in optimal condition. By following these simple cleaning and maintenance tips, you can ensure that your frosted glass windows remain beautiful and functional for years to come.
Alternatives to Frosted Glass Windows
While frosted glass windows offer numerous benefits, there are alternative options available for those seeking a different solution. Some popular alternatives include:
Window film
Blinds
Shades
Shutters
These alternatives provide a permanent solution for privacy and light control without the need for frosted glass.
The subsequent sections will delve into these alternatives to frosted glass windows, discussing the benefits and uses of window film, along with the merits of blinds, shades, and shutters.
Window Film
Window film is a cost-effective and easily removable alternative to frosted glass windows. Made from vinyl, window film can be self-installed and provides privacy without obstructing light. Available in a variety of designs and privacy levels, window film offers a versatile solution for homeowners seeking a budget-friendly option.
Installation of window film is simple and can be completed by following a few straightforward steps, making it an attractive option for those who prefer a DIY approach. With window film, you can achieve the privacy and light control of frosted glass windows without the commitment or expense.
Blinds, Shades, and Shutters
Blinds, shades, and shutters provide adjustable privacy and light control, making them a versatile alternative to frosted glass windows. Available in a range of materials, colors, and styles, these window coverings allow you to regulate the amount of light entering your space and create a more private environment.
In addition to their functional benefits, blinds, shades, and shutters can also enhance the aesthetic appeal of your windows, offering a customizable solution that can be tailored to suit any home's style. With these alternatives, you can enjoy the benefits of privacy and light control without the need for frosted glass windows.
Summary
Frosted glass windows offer a unique blend of style, privacy, and functionality, making them an attractive option for homeowners seeking to enhance their living spaces. With various patterns, textures, and custom designs available, you can find the perfect solution to suit your unique style and needs.
Whether you opt for professional installation or a DIY approach, proper maintenance is essential for preserving the beauty and functionality. With alternative options like window film and blinds, shades, and shutters available, there are numerous ways to achieve the perfect balance of privacy and light control in your home. Explore the possibilities of frosted glass windows and transform your living spaces into stylish sanctuaries.
Frequently Asked Questions
Can you see through frosted glass at night?
No, you cannot see through frosted glass at night, as it is designed to scatter light and blur images. Even if there is a light in the room, it does not change its effectiveness, though it may allow people outside to discern some color and definition.
How much does frosted windows cost?
Frosted glass window tint films generally cost between $6 and $10 per square foot plus installation costs, while frosted glass panels average between $250 and $750 per window. At Sans Soucie Art Glass our frosted glass windows have a huge range in price. They will range on average anywhere between $500 – $5,000, all depending on the complexity of the design and the sandblast effect that is chosen. Click here to learn about our various frosted glass effects.
Is frosted glass good for windows?
Frosted glass is an ideal choice for windows due to its durability, making it suitable for high-traffic areas like medical facilities.
Is frosted glass still in style?
Frosted glass is no longer in style, according to Marian Louise Designs owner Mimi Meacham. Designers are turning to more creative and fashionable looks instead.
Is frosted glass good for bathroom windows?
Frosted glass is a great option for bathroom windows, as it allows natural light to enter while providing the necessary privacy. With different levels of frosting available, it can be customized to suit the desired level of opacity, from slightly blurring objects or people inside the bathroom to making them almost unrecognizable.
Sans Soucie Art Glass: A Legacy of Craftsmanship and Innovation
Family-owned and operated since its inception in 1976, Sans Soucie has solidified its place as the industry frontrunner in the realm of sandblast frosted glass, carved, and hand-painted glass. Pioneering the art of turning ordinary glass into breathtaking "Works of Art Captured in Glass", we have garnered acclaim both nationally and worldwide.
At the heart of Sans Soucie's success is the visionary and principal artist, Chauncey W. Gannett. Born into the craft, Chauncey initially envisioned a future in architecture or engineering. However, in 1985, he channeled his innate prowess in art, design, and engineering into the world of art glass. Joined by his wife LeeAnn, the duo, alongside a team of masterful artisans and glaziers, has elevated Sans Soucie to unparalleled heights in the industry.
Our vast collection spans across all décors, ranging from abstract to contemporary, landscapes to custom logos. And while our designs dazzle, they serve a purpose beyond aesthetics. The frosted glass designs not only introduce luxury to any setting but also offer the privacy one desires. They act as brilliant diffusers, softening light and reducing glare. Every piece we craft isn't merely decorative glass; it becomes the focal point, delivering a 'wow factor' wherever it graces.
Sans Soucie is more than just an art glass studio. We are advocates for the fusion of art with function. We believe in the transformative power of decorative glass – how a simple pane can evolve into a handcrafted masterpiece that speaks volumes.
Beyond our rich legacy and unparalleled designs, our commitment extends to our patrons. We pride ourselves on offering an outstanding level of customer service and satisfaction. With free shipping to most states and worldwide shipping options from our base in Palm Desert, California, our extensive product range, which includes glass front doors, interior prehung doors, interior slab doors, pantry doors, interior glass doors, sliding glass barn doors, windows, shower doors, shower partitions and shower enclosures, frameless glass entry doors, decorative mirrors, glass signs, glass dining tables and glass coffee tables stands testament to our unwavering dedication to excellence.
Explore the world of Sans Soucie, where every piece of glass tells a story, and where history, craftsmanship, and innovation seamlessly blend.
Copyright © 2023, Sans Soucie Art Glass. All rights reserved.