Positive & Negative Sandblast Techniques
At Sans Soucie, we use a variety of different sandblast effects and techniques in our work.  For the most part, the pieces we create are achieved through what's called "multi-stage sandblasting", where the design elements are carved, one small part a time, layer upon layer, achieving a multi-dimensional effect in the design.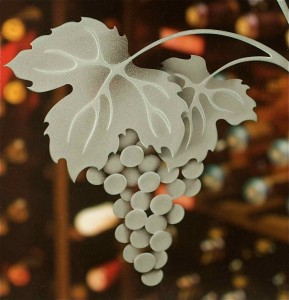 A more common technique used in sandblasted glass, is called a "single stage sandblast".  It's "one stage", in that the entire template is cut and all the elements or portions that will be sandblasted are removed at the same time, then the entire surface is sandblasted at the same time.   Within this technique, are two "effects" or finishes:   They're what's referred to as  a "postive" or "negative" sandblast.
The positive sandblast is where the elements within the design remain clear glass and the background area of the glass is solid etched.
Obviously the negative sandblast provides for obscurity and so this technique is used for the majority of products like pantry or door glass where privacy is desired.