Enjoy the Beauty & Privacy of Glass Barn Doors
Imagine transforming your living space with the beauty and functionality of glass barn doors. Stylish, versatile, and space-saving, they offer a contemporary touch to any home while providing privacy and allowing natural light to flow through. Ready to discover the perfect glass barn door for your space? Let's dive in!
Short Summary
Explore the various glass barn door styles, from sliding to frameless and suspended options.
Customize your glass barn door with panel configurations, frame styles, finishes & handles for a unique look.
Follow installation tips such as installing stops & floor guides for secure operation of your new door.
Exploring Glass Barn Door Styles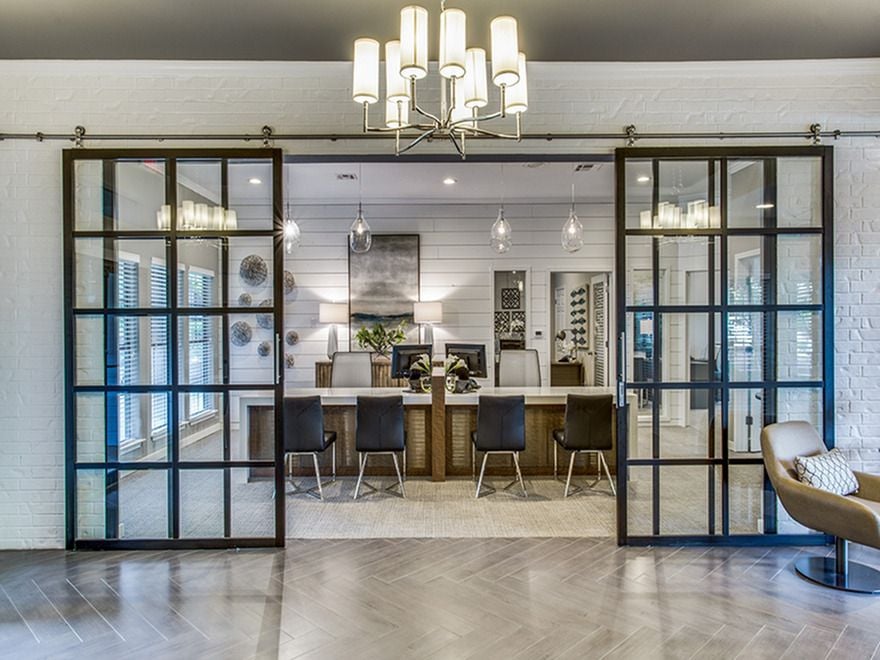 Glass barn doors are not only a practical solution for room division and closet access, but they'er also an eye-catching design element that elevates your home's aesthetic. With a range of styles available, you can find the perfect door to suit your interior design needs, whether it's for your kitchen, bathroom, or living area.
From sliding to frameless and suspended options, each style offers unique benefits that cater to different preferences and requirements. Let's explore these captivating glass barn door styles and uncover their distinctive characteristics.
Sliding Glass Barn Doors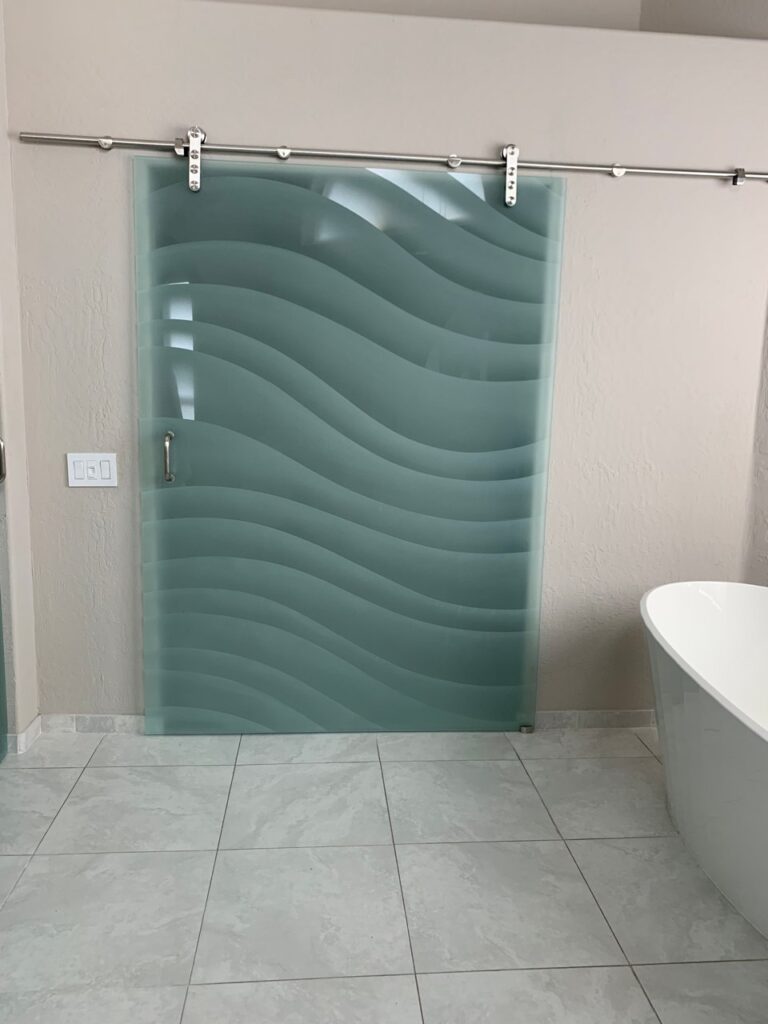 Sliding glass barn doors are a timeless yet contemporary alternative, harmonizing effortlessly with various designs while permitting natural light to permeate the area. This allows you to create a bright and airy atmosphere in any space while integrating a touch of elegance into your home. Moreover, sliding barn doors are available in a variety of colors, including:
Clear
Frosted
Bronze
Gray
This provides you with endless design possibilities to suit your personal taste.
In addition, sliding glass barn doors are not just about visual appeal; they are fabricated with safety in mind as well. Crafted from 3/8" thick tempered glass, these doors offer durability and robustness, ensuring your peace of mind. With a stylish sliding door system, such as the ALU100, you can enjoy the beauty and functionality of sliding glass barn doors without compromising on safety or quality.
Frameless Glass Barn Doors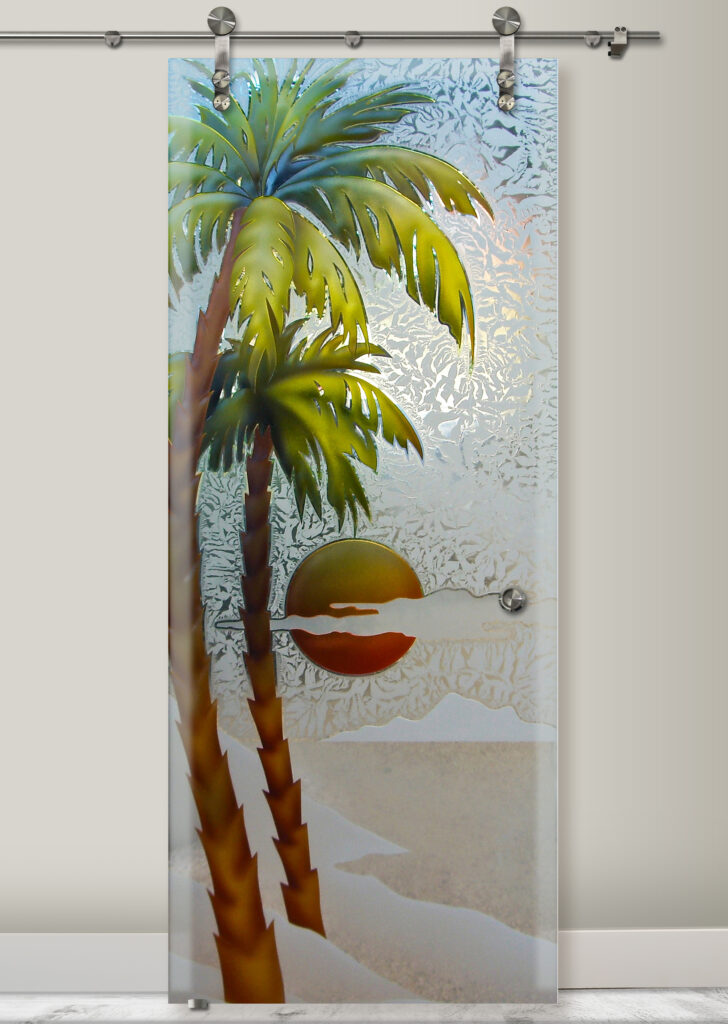 For those who prefer a sleek, minimalist look, frameless glass barn doors are the perfect choice. Constructed with 10mm thick tempered glass and decorative exposed hardware, these doors provide a wide vision and high lighting efficiency. This makes them an ideal option for contemporary spaces, such as bathrooms and bedrooms, where privacy and natural light are essential.
In addition to their modern aesthetic, frameless glass barn doors offer a space-saving design and increase natural light in most rooms. With a variety of styles available, such as sliding, suspended, and bi-folding, you can easily find the perfect frameless glass barn door to complement your interior design and meet your functional needs.
Suspended Glass Barn Doors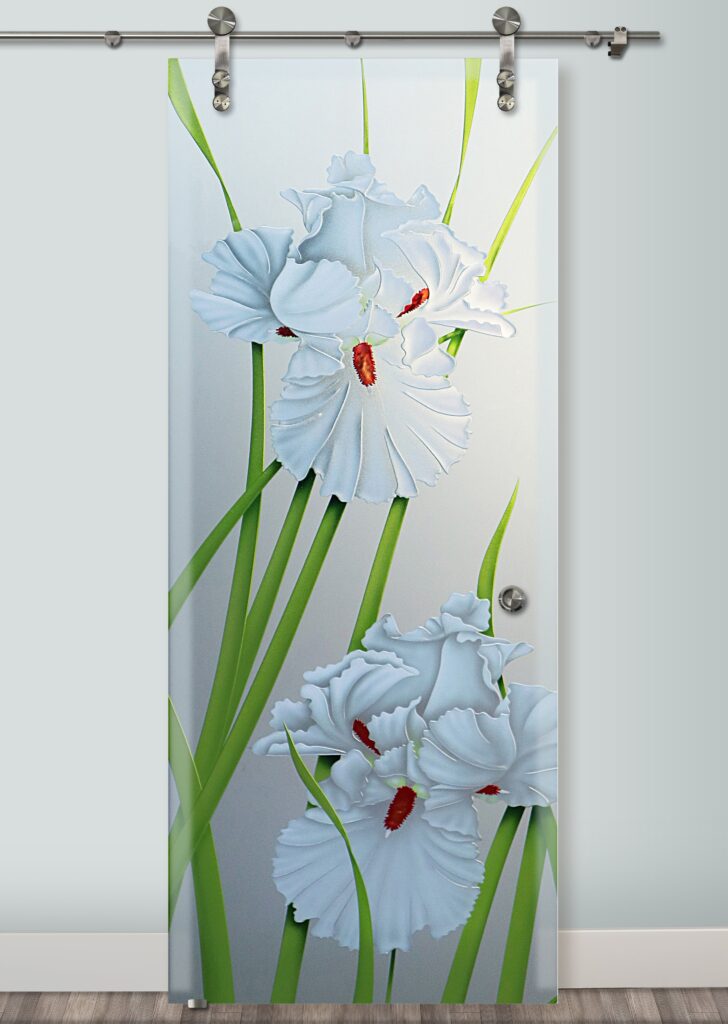 Suspended glass barn doors offer an innovative and eye-catching solution for those looking to make a bold statement in their living space. These doors create a distinctive, floating effect, adding a touch of sophistication and class to any room. With options like tempered, frosted, and transparent glass, you can customize your suspended glass barn door to match your design preferences and requirements.
Not only do suspended glass barn doors provide a unique visual beauty, but they also offer a range of practical benefits. Some of these benefits include:
Space-saving design
Versatility in terms of usage and placement
Allowing for natural light to pass through, creating a light and open atmosphere
Perfect for modern interior design
Various panel configurations, frame styles, and finishes available for customization
With these features, you can create a truly personalized suspended glass barn door that reflects the needs of your lifestyle.
Glass Options for Your Barn Door
The type of glass you choose for your barn door plays a crucial role in determining its safety, privacy, and style. With a variety of glass options available, such as tempered, frosted, and transparent, you can find the perfect glass to suit your wants and preferences.
Each type of glass offers its own unique benefits, from the enhanced strength and durability of tempered glass to the privacy and light transmission of frosted glass. Let's explore these various glass options in more detail to help you make an informed decision.
Tempered Glass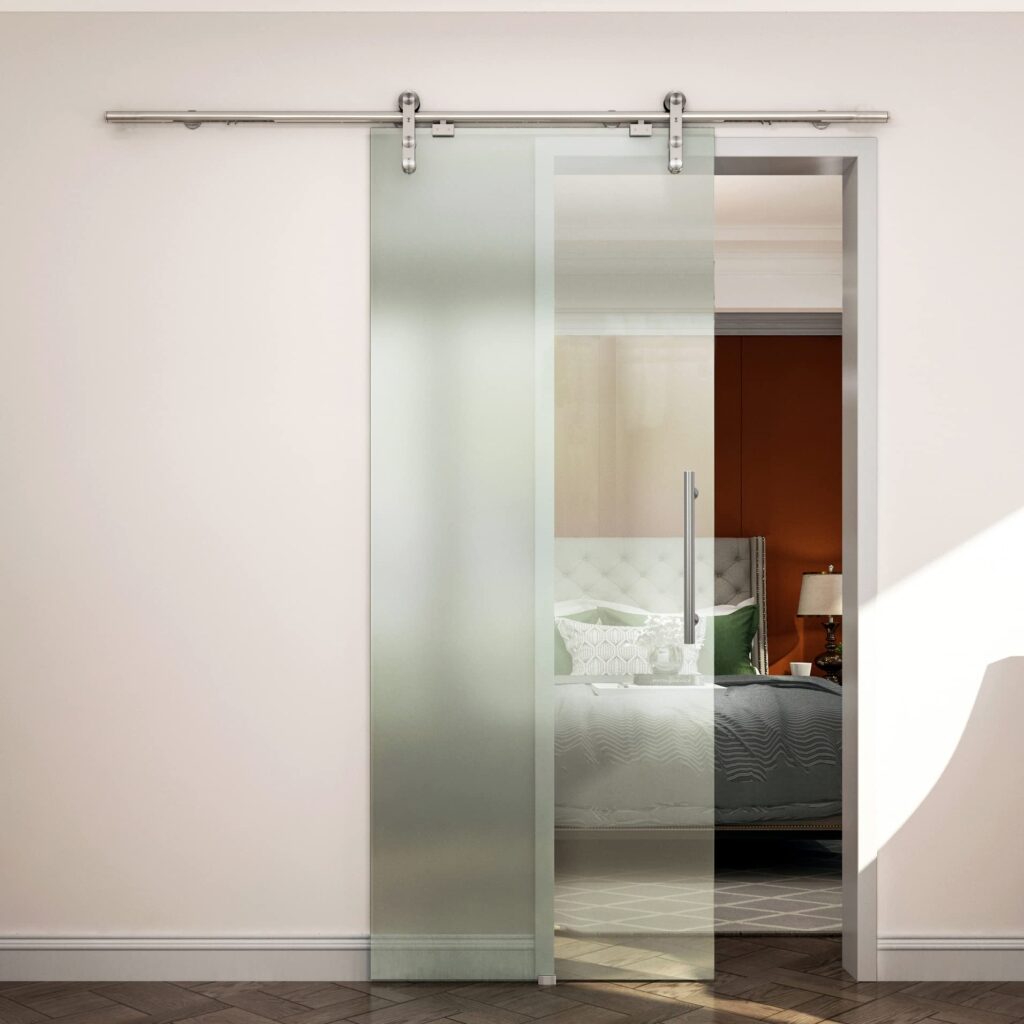 Tempered glass is a popular choice for barn doors due to its enhanced strength and resistance to breakage. This type of safety glass is heat-treated to increase its durability and can endure extreme temperatures, making it an ideal option for various settings, including glass door applications.
In addition to its robustness, tempered glass offers several safety features. If broken, it shatters into small, harmless fragments, minimizing the likelihood of injury. Furthermore, it allows for increased light transmission, creating a brighter and more inviting environment. With tempered glass, you can enjoy the beauty and functionality of your glass barn door with peace of mind.
Frosted Glass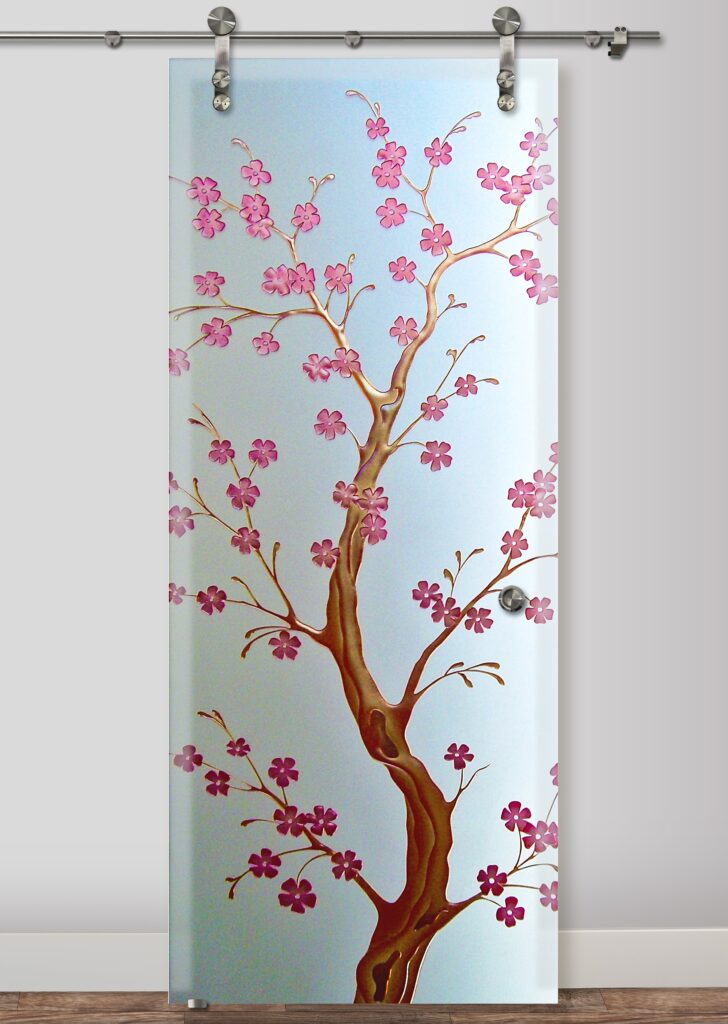 Frosted glass is an excellent option for those seeking privacy without compromising on natural light. This type of glass is perfect for bathrooms and bedrooms, as it offers privacy while still allowing light to pass through. The frosted effect is achieved by sandblasting or acid etching the surface of the glass, creating a soft, translucent appearance.
Here at Sans Soucie we offer our customers 3 different types of glass finishes (a.k.a. glass backgrounds) to choose from, when creating custom sliding glass barn doors. They include clear glass (or transparent), gluechip glass, and frosted glass. Each finish provides different privacy levels and delivers a different overall look to your door design. When is comes to privacy levels here's what you can expect from each glass finish: our clear glass is not private, gluechip is semi-private, and our frosted glass is 100% private.
All-in-all, the versatility of frosted glass allows for a variety of decorative options, from simple patterns to intricate designs. Whether you opt for a minimalist look or a more elaborate design, frosted glass barn doors can add a touch of refinement to your space while providing the privacy you need.
Transparent Glass
Transparent glass is perfect for those looking to maximize light transmission and create an open, airy feel in their space. With completely transparent or slightly tinted options, transparent glass barn doors allow the greatest amount of light to pass through, making them ideal for kitchens, pantry, and living rooms. This makes transparent or clear glass finishes typically considered a "not private" option. But depending on your design choice it can elevate your privacy level to that of semi-private.
Aside from their aesthetic benefits, transparent glass barn doors are also easy to maintain and clean. Additionally, they can be customized with various finishes and door handles to match your existing décor and add a touch of personalization.
With transparent or clear glass, you can enjoy a bright and inviting atmosphere while enhancing the overall look of your house.
Customizing Your Glass Barn Door
Creating a unique and personalized look for your glass barn door is easier than ever with various customization options available. You can tailor every aspect of your glass barn door to suit your individual requests and style preferences, including:
Panel configurations
Frame styles
Finishes
Door handles
Let's delve into these customization options in more detail, helping you design the perfect sliding glass barn door that not only meets your functional requirements; but, also reflects your personal taste while enhancing your interior design.
Panel Configurations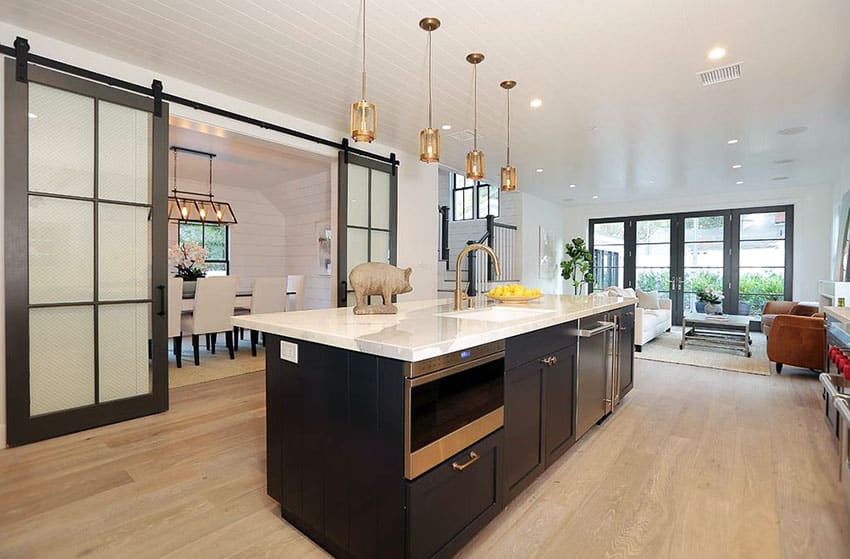 Choosing the right panel configuration for your glass barn door is crucial in achieving the desired look and functionality. Single-panel configurations are an ideal choice for compact areas, while multiple panel configurations, such as double-panel or multi-panel, cater to larger spaces that require a more substantial presence.
Whether you select a single or multiple panel option, each one offers its own unique aesthetic and functional benefits. Carefully consider your space and design preferences when selecting the panel configuration that best suits your lifestyle.
Frame Styles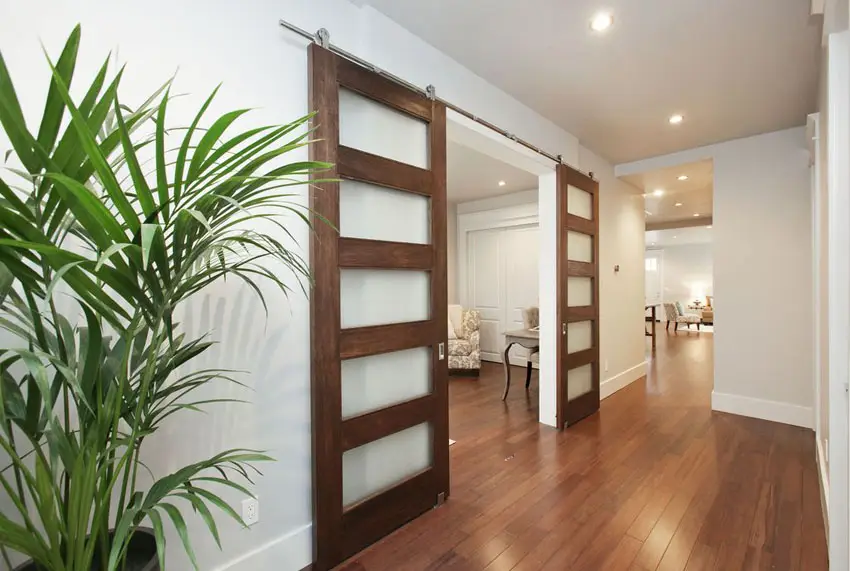 Selecting the appropriate frame style for your glass barn door can significantly impact its overall appearance and complement your interior design. Options include:
Wood frames with beveled clear glass for a classic touch.
Metal framing with two glass panels in a French-style design for a fashionable statement.
Frameless glass barn doors for a modern, minimalistic look.
Minimal design doors with natural wood frames for a cozy and welcoming vibe.
Each frame style offers its own unique advantages and aesthetic appeal, allowing you to choose the perfect option that aligns with your design preferences and elevates your living space.
Finishes & Door Handles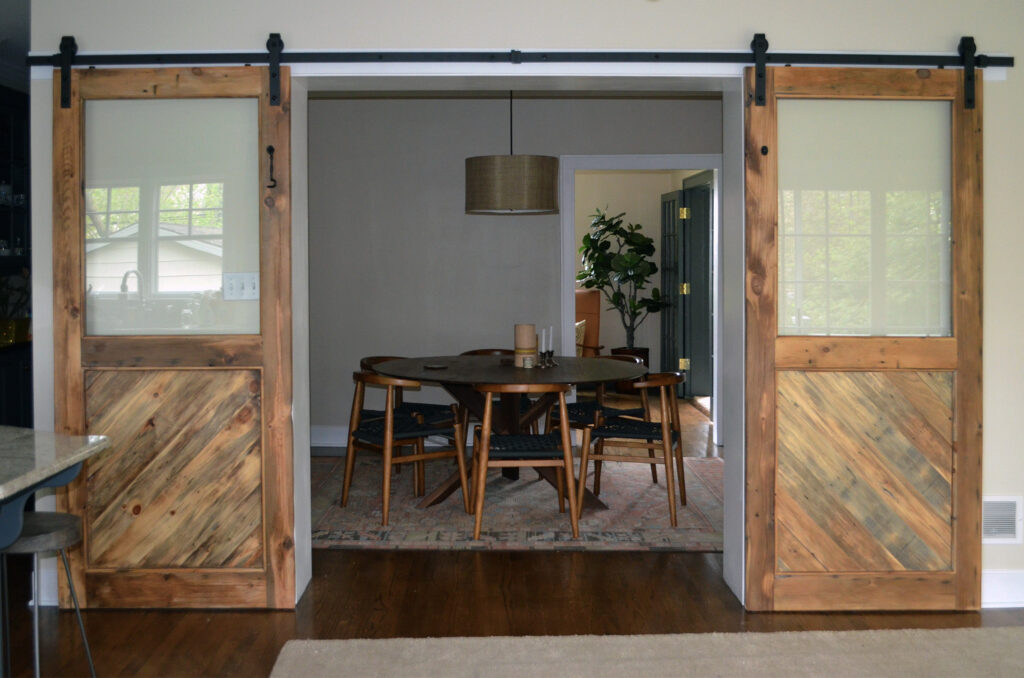 Adding the finishing touches to your sliding glass barn doors is just as important as selecting the right panel configuration and frame style. With various finishes and door handles available, you can easily match your existing décor and add a touch of personalization to your door.
Choose from a selection of wood finishes, such as oak, cherry, walnut, and mahogany, or opt for metal finishes like brushed nickel, chrome, and brass. In addition, a variety of door handles, including knobs, levers, and pulls, are available to complete the look. This will help guarantee your glass barn doors stands out as a statement piece in your home.
Installation Tips & Accessories
Ensuring a smooth installation process and enhancing your glass barn door's functionality is crucial for optimal performance and longevity. By following helpful tips and incorporating essential accessories, you can enjoy your glass barn door for years to come.
Let's explore some valuable installation tips and accessories that will not only make the installation process seamless, but also improve the overall performance of your glass barn doors.
Installation Process
The key to a successful installation is following the process carefully and ensuring proper measurements and alignment. Here are the steps to follow.
Start by accurately measuring the doorway space, making sure that the doors are wider than the opening they will cover.
Remove the existing door, if applicable.
Adhere to the manufacturer's instructions for installing the track or hardware to the wall.
Once the track and hardware are securely in place, lift the door and attach the wheels to the metal track. Test the door to guarantee it slides smoothly and securely attach it to the track. By following these steps, you can certify a seamless and secure fit for your glass barn door.
Door Stops
Door stops are essential accessories for glass barn doors, as they prevent the door from sliding off the track and causing damage or injury. Available in wall-mounted, floor-mounted, and adjustable models, door stops provide an additional layer of safety and security for your door.
To install door stops, follow these steps:
Measure the track of your sliding glass barn door.
Select the appropriate door stop for the track.
Attach the door stop to the track using the supplied hardware, guaranteeing a secure fit.
With door stops in place, you can enjoy peace of mind knowing that your glass barn door is safe and secure.
Floor Guides
Floor guides play a crucial role in maintaining the stability and alignment of glass barn doors. They help to certify a smooth operation and by preventing swaying. With various types available, such as:
C-Guide
T-Guide
U-Shape Guide
Wall-Mounted Guide
You can find the perfect floor guide for your specific door and needs.
To install floor guides, simply follow these steps:
Attach the floor guides to the floor parallel to the door track using the appropriate screws and anchors for the type of floor guide.
Make sure the floor guides are securely fastened.
Test the door to confirm that it glides smoothly and effortlessly along the floor guides.
Make any necessary adjustments to check proper operation. With floor guides in place, your glass barn door will glide smoothly and effortlessly, providing reliable and efficient operation for years to come.
Summary
In conclusion, glass barn doors offer a beautiful and functional solution for any living space, with a range of styles, glass options, and customization possibilities to suit your individual requests and preferences. By carefully selecting the right components and following proper installation tips and accessories, you can create a stunning, personalized glass barn door that elevates your home's aesthetic, while meeting the needs of your lifestyle. Embrace the beauty and privacy of glass barn doors and transform your home today!
Frequently Asked Questions
Can you lock a glass barn doors?
Yes, it is possible to lock a sliding glass barn door using the hook and eye latch or tear drop latch.
How do you hang glass barn doors?
To hang a sliding glass barn door, enlist the help of another person to securely attach the backer board to the wall using wood screws.
Are barn doors out of trend?
Barn doors are a popular option for tight spaces, master bathrooms, closets, pantries and other flexible-use spaces, so they're unlikely to go completely out of style.
What is a French barn door?
A French barn door is a modern, minimalist flush glazed door with narrow aluminum stiles and rails. It's made with 3/8" thick tempered safety glass, offered in either clear or cloud versions.
Prices range from $1,250 to $1,400.
What are the main benefits of glass barn doors?
Glass barn doors provide a stylish and efficient way to divide spaces, while allowing natural light to fill the room for a bright, airy atmosphere.
The doors are available in a variety of styles and finishes, making it easy to find the perfect look for any home or office. They are also easy to install and maintain, making them a great choice for any space.
About Sans Soucie Art Glass
Family owned and operated since 1976, Sans Soucie sets the industry standard for the highest quality design and execution of sandblast frosted, carved and hand painted glass both nation and worldwide. Choose from our vast collection of designs across every decor, or let us create a brand new one-of-a-kind designs per your specifications. Our frosted glass designs turn ordinary glass into art pieces that add a luxury element to your home, while creating the privacy you need. Truly art with a function, our etched glass designs diffuse light and reduce glare, while enhancing the look of your home with a unique, eye catching custom element. Not clip art or machine manufactured, each design is a uniquely handcrafted original work of art, custom designed for our distinguished clientele of homeowners and commercial developers.
Free shipping to most states, shipping both national and worldwide, all our glass is handmade and expertly packed in-house by our team of glass artisans and shipped from Palm Desert, California. Shop our most popular products like slab and prehung front doors, interior doors, pantry doors, glass front doors, glass interior doors, sliding glass barn doors, windows, shower doors, shower panels and shower enclosures, decorative mirrors, signs and glass tables.
Copyright © 2023, Sans Soucie Art Glass. All rights reserved.