Sliding Glass Barn Door – What You're Getting – Installation Kit Details
In this article, we'll cover what's included with your installation kit for your Sliding Glass Barn Door. Knowing what hardware comes with your Sliding Glass Barn Door can be crucial to ensure a smooth and successful installation process. The right hardware will not only make your doors look beautiful and stylish, but also help them function correctly. With the wrong hardware or missing components, you may encounter issues such as difficulty opening and closing the door, a loose or wobbly track, or improper alignment. In addition, having the correct hardware and components ensures that your door or doors are safe and secure for regular use. By understanding what hardware comes with your doors, you can ensure a successful installation and enjoy the benefits of beautiful and functional doors in your home.
The hardware kit for your Sliding Glass Barn Doors will include: stainless steel suitable for 3/8″ thick glass, rollers, stoppers, track, track and wall connectors, end caps, floor guide, 2-1/4″ round finger pull door knob.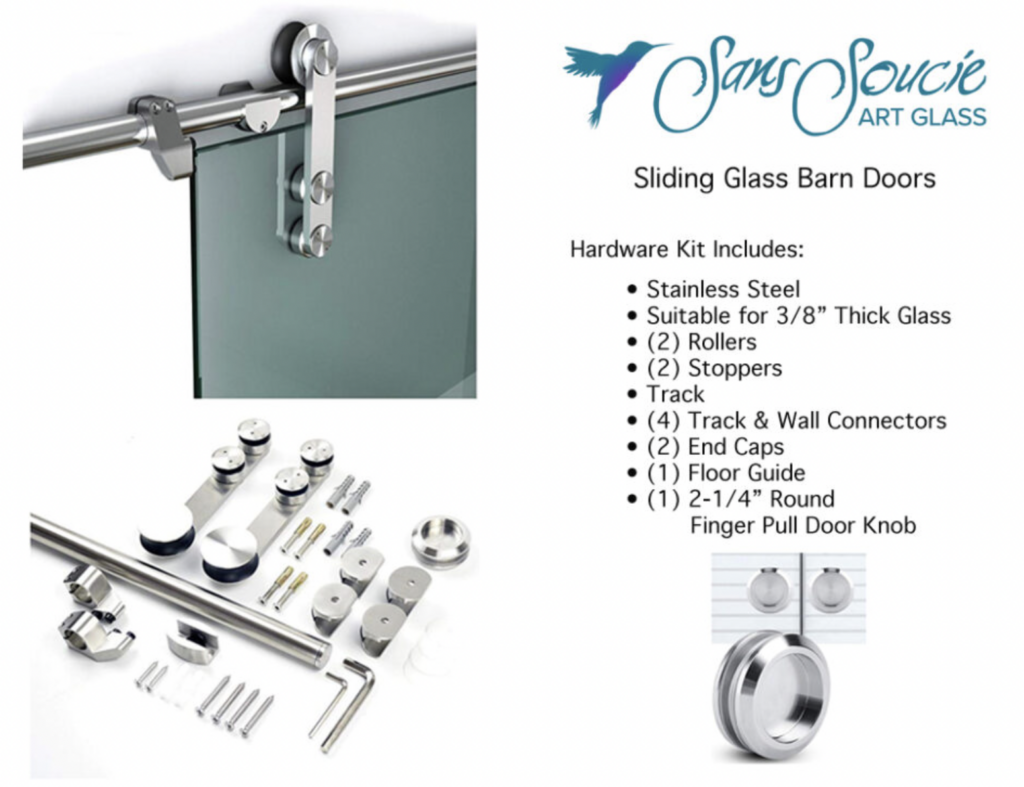 Recessed Grip vs. Bar Handles On Your Sliding Glass Barn Doors
The opening width of a recessed grip and a bar handle can vary and can affect the overall design and functionality of your Sliding Glass Barn Doors. Recessed Grip Knobs are built into the door and provide a minimalist look that's perfect for modern and contemporary styles. The opening width of a recessed grip is typically smaller, requiring less space to open the door. In contrast, Bar Handles are attached to the surface of the door and offer a more traditional look. The opening width of a bar handle is typically wider, making them ideal for larger and heavier doors. It's essential to consider the style and weight of your sliding glass barn doors when selecting between a recessed grip and bar handle. Considering this will ensure the best fit for your home.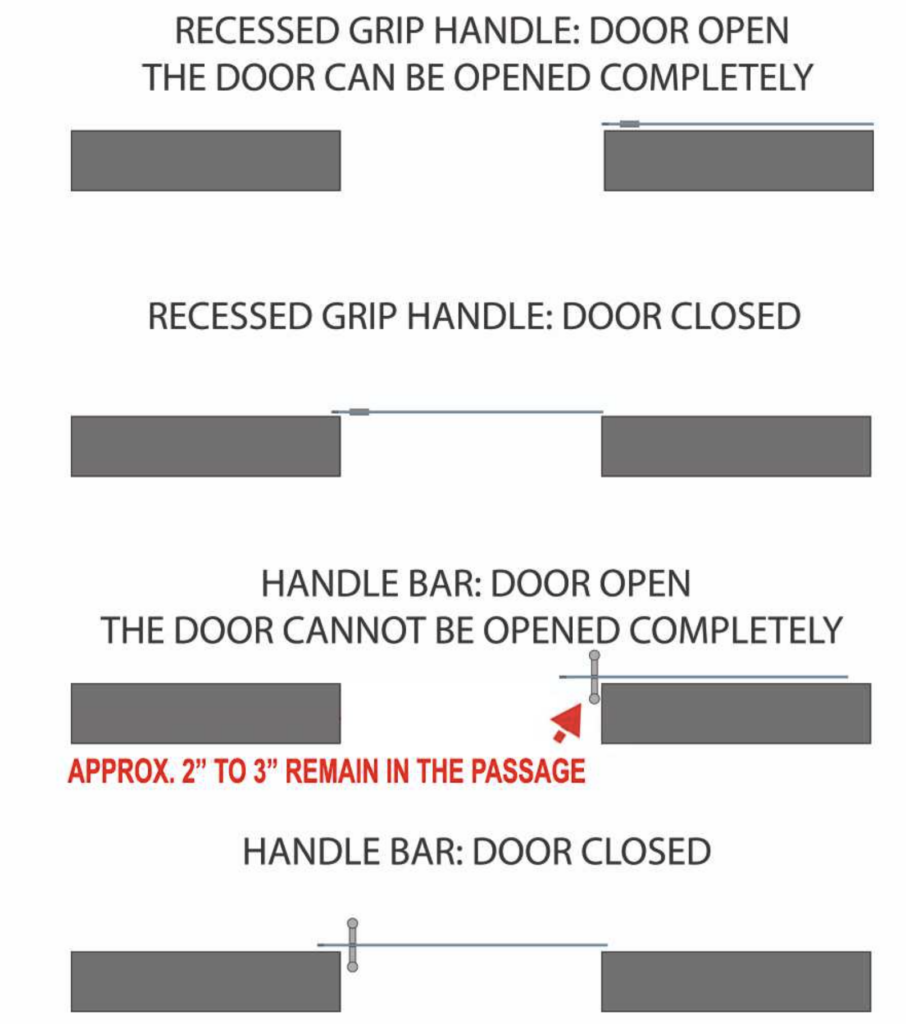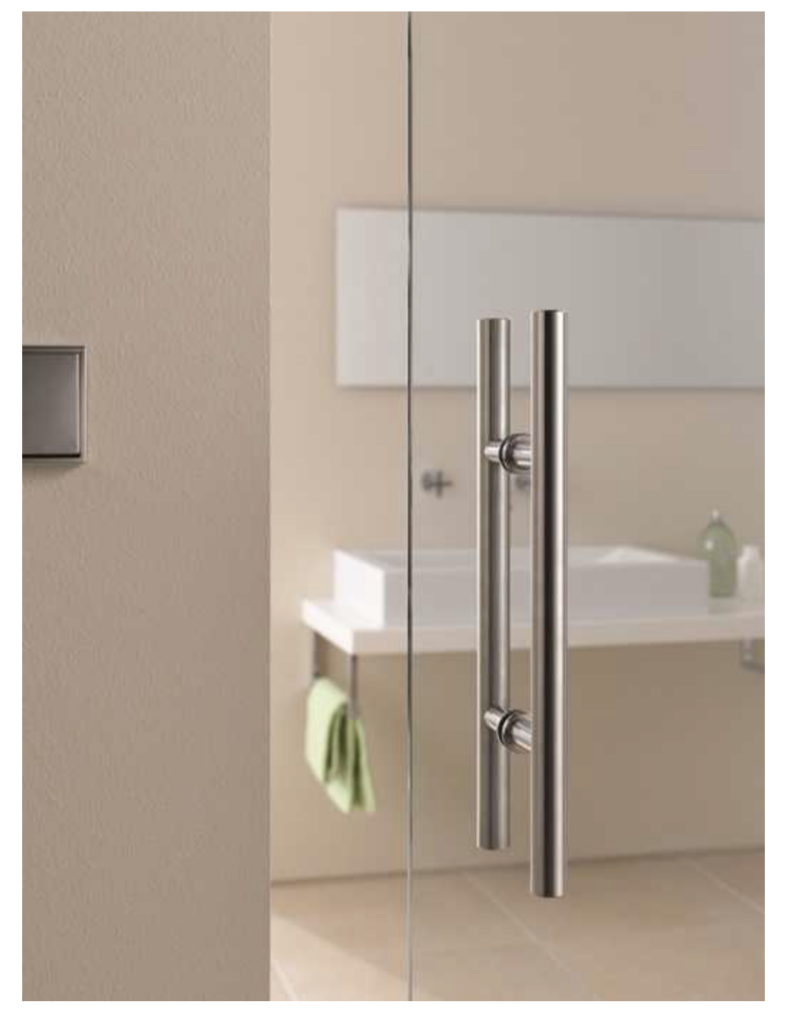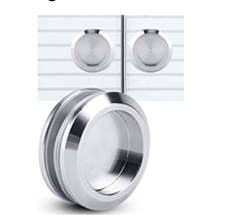 Hole Sizes & Locations
Even though a third party will be handling the installation of your Sliding Glass Barn Doors, we still want to provide you with all the necessary information to ensure a smooth installation process. As part of our commitment to excellent customer service, we will give you details on hole sizes and locations for the proper installation of your doors. With this information, the installation process will be more accurate and precise, allowing for a secure and functional finished product. Our team here at Sans Soucie is also available to answer any questions or concerns you may have about the installation process. By providing comprehensive details and support, we ensure that the installation of your Glass Doors is stress-free and successful.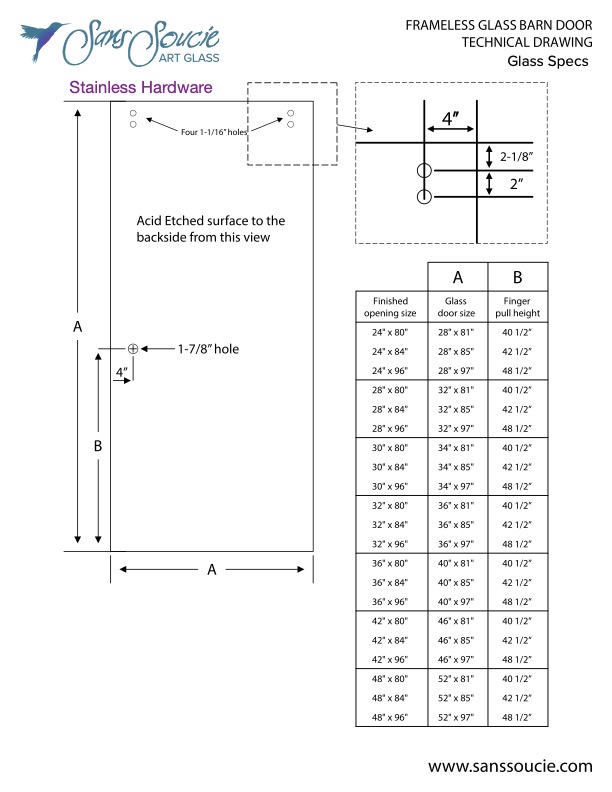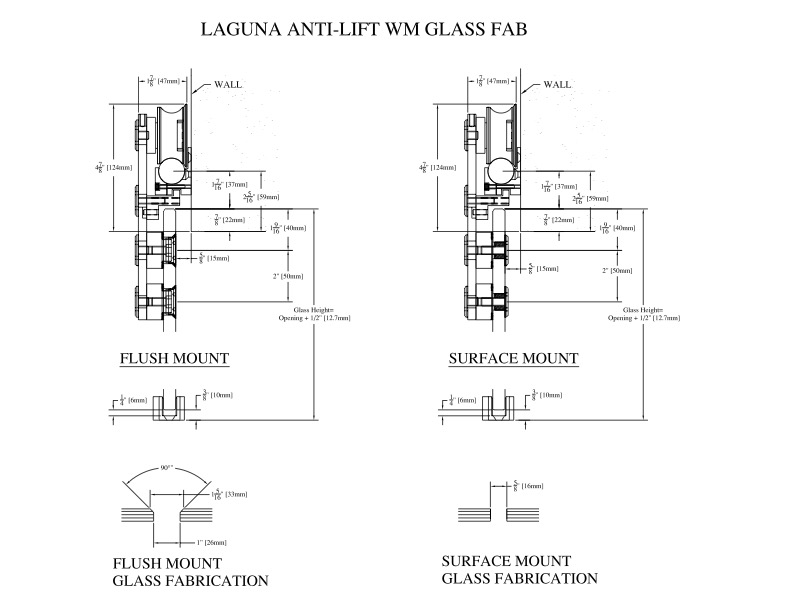 Sliding Barn Glass Door Installation Process
To keep up with our sales volume and prevent longer wait times, for LOCAL orders, we outsource the installation of our glass products to Midwest Glass. This locally owned and operated glass company is highly reputable and has been our trusted partner for many years. As a liaison, we will coordinate with Midwest Glass to have them set up your appointments for measuring and delivery, as well as installation when your glass is ready. You can expect direct communication from Midwest Glass throughout the installation process to ensure a smooth and efficient experience.
In conclusion, our Sliding Glass Barn Doors are a beautiful home upgrade to add some serious style and pizzazz to your space! With a wide range of designs and hardware options to choose from, you can personalize your doors to your unique style and taste. Our top-notch customer service team is here to make the installation process a breeze, and we've got your back every step of the way. With our Glass Doors, you can enjoy all the benefits of natural light and an open feel while, making your home look seriously cool! So, let's kick boring doors to the curb and upgrade to the ultimate Sliding Glass Barn Doors today!
About Sans Soucie Art Glass
Family owned and operated since 1976, Sans Soucie sets the industry standard for the highest quality design and execution of sandblast frosted, carved and hand painted glass both nation and worldwide. Choose from our vast collection of designs across every decor, or let us create a brand new one-of-a-kind designs per your specifications. Our frosted glass designs turn ordinary glass into art pieces that add a luxury element to your home, while creating the privacy you need. Truly art with a function, our etched glass designs diffuse light and reduce glare, while enhancing the look of your home with a unique, eye catching custom element. Not clip art or machine manufactured, each design is a uniquely handcrafted original work of art, custom designed for our distinguished clientele of homeowners and commercial developers.
Free shipping to most states, shipping both national and worldwide, all our frosted glass is handmade and expertly packed in-house by our team of glass artisans and shipped from Palm Desert, California.  Shop our most popular products like slab and prehung front doors, interior doors, pantry doors, glass front doors, glass interior doors, sliding glass barn doors, windows, shower doors, shower panels and shower enclosures,  decorative mirrors, signs and glass tables.
Copyright © 2023, Sans Soucie Art Glass. All rights reserved.