Get the Perfect Prehung Pantry Door for Your Home
Is your pantry door outdated or not functioning properly? Upgrading to a prehung pantry door can improve both the aesthetic and functionality of your pantry. In this blog post, we will guide you through the process of finding the perfect prehung pantry door for your home, from understanding the benefits of prehung doors to installing them with ease. Let's transform your pantry into a space you'll be proud to show off!
Short Summary
Prehung pantry doors offer convenience and aesthetic appeal, with door sizes ranging from 24-48 inches wide and 80 inches high.
Different materials, styles, colors, hinge types & placements are available to create the perfect prehung pantry door for your home.
Home improvement stores & online retailers like Sans Soucie, provide top deals on prehung pantry doors at an affordable price.
Understanding Prehung Pantry Doors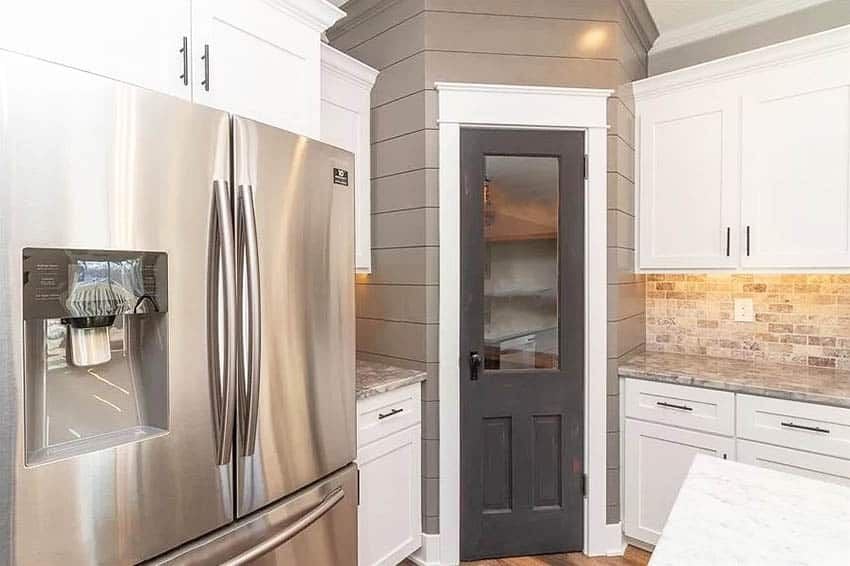 Prehung pantry doors are preassembled units that come with the door frame and hinges already installed. These doors are specially designed for pantry spaces and may feature frosted glass panels, pantry-themed designs, and/or both! The main advantage of prehung pantry doors is their convenience, as their ready-to-install nature reduces time and effort while providing a refined aesthetic to the kitchen area. You can find them at home improvement stores such as Home Depot and Lowe's, as well as online retailers like Amazon and Wayfair. See this article about slab and prehung doors for visual examples and in depth information about the differences between the two!
But if you're wanting more customization options, here at Sans Soucie you can create the a beautifully unique frosted glass prehung pantry door. From concept to design you'll get to curate the artwork, privacy level, and even the wood species that you're wanting, with our easy online process.
With a wide variety of styles and materials available, finding the perfect pantry door for your home is easier than ever. So, why not take advantage of this simple and straightforward installation option to elevate the appearance of your pantry space?
Choosing the Right Door Size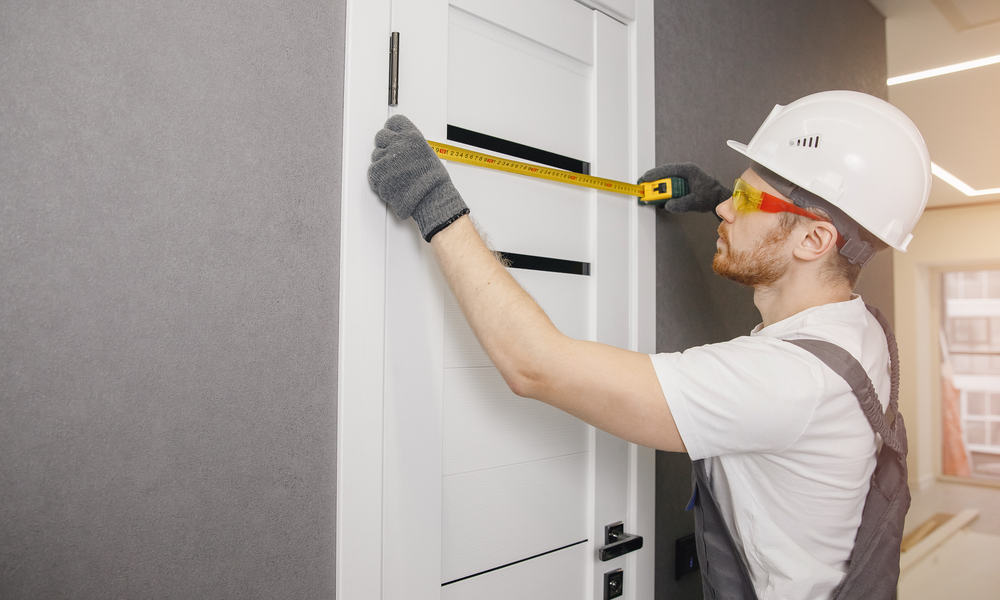 Before selecting your new prehung pantry door, it's crucial to ensure a proper fit by measuring your door frame and understanding standard door sizes. This will help you find a door that corresponds to your door frame's measurements, preventing any issues during installation.
Measuring the Door Frame
To measure your door frame accurately, you need to determine the width, height, and depth. Start by measuring the width of the door frame from the inside, from one side to the other. Next, measure the height of the door frame, starting at the top and going down to the bottom. Finally, measure the depth of the door frame by starting from the front and going to the back.
Once you have the measurements, compare them to a door size chart to ensure that the door will fit properly. Keep these measurements handy as you browse different prehung pantry doors to make the selection process easier. See our in-depth article about How to Choose the Right Size Door for Your Interior or Exterior Prehung Door: A Step by Step Guide.
Standard Door Sizes
Familiarizing yourself with common door sizes can help you choose the right one for your pantry. The typical height for prehung pantry doors is 80 inches, with common widths for interior doors being 24, 28, 30, 32, 34, 36, and 48 inches.
To accurately measure a door size, one should measure the width of the door frame from jamb to jamb and the height from the top of the door frame to the floor. Armed with this knowledge, you're ready to find a prehung pantry door that perfectly fits your space.
Material Options for Prehung Pantry Doors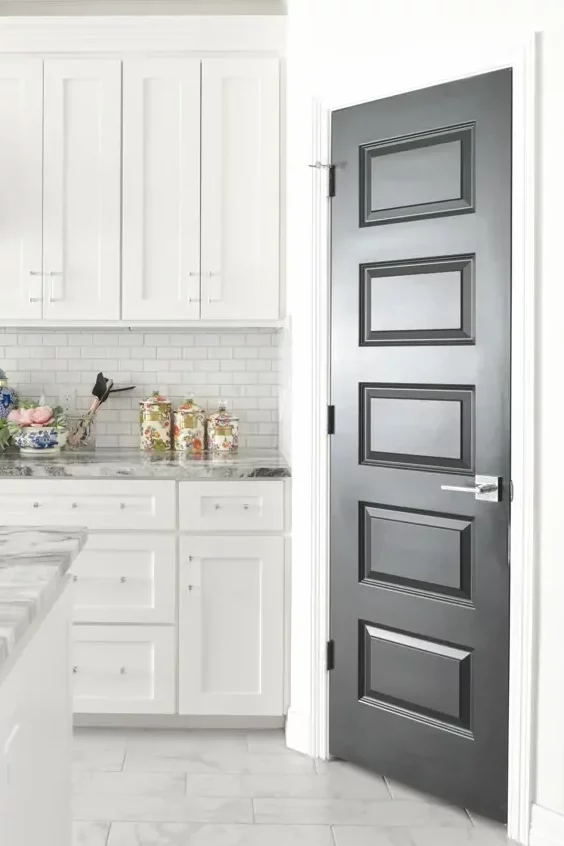 There are several material options for prehung pantry doors, including wood, fiberglass, metal, MDF, and glass. Each material offers distinct benefits, and your choice will depend on factors such as your home's style, your budget, and the desired level of maintenance.
See the variety of door material available in our Door Designer in this comprehensive Wood Species Guide – For Slab and Prehung Doors. Let's take a closer look at glass, wood, and fiberglass doors to help you make an informed decision.
Glass Doors
A glass pantry door presents a versatile and stylish option for homeowners looking to elevate the aesthetics of their living spaces. For those with a modern or contemporary home design, glass can add an element of sophistication and sleekness, allowing light to filter through while maintaining privacy. On the other hand, if your home leans towards a more traditional or rustic style, frosted glass can soften the overall ambiance. This offers a harmonious blend of classic and modern elements.
For budget-conscious homeowners, you'd be surprised at how affordable glass pantry doors can be. Because of our many options to choose when creating a glass pantry door, you'll never have to sacrifice your desired design because of price.
In essence, a glass prehung pantry door is a design-savvy choice that adapts effortlessly to various home styles, fits diverse budgets, and minimizes the hassle of maintenance, making it a winning option for homeowners seeking both functionality and elegance.
Wood Doors
Wood is a timeless material that exhibits great strength and resilience, making it an excellent choice for prehung pantry doors. Wooden doors can be stained or painted to coordinate with the look of your home, offering an appealing and versatile option. Prehung pantry doors come in various wood styles, including solid wood, engineered wood, and veneer.
When selecting a wood door it is important to consider factors such as the size, type of wood, style, and finish. This way you can enhance the durability and overall vibe of your pantry, ensuring it stands the test of time.
Fiberglass Doors
Fiberglass doors are composed of glass fibers and resin, known for their strength, durability, and low maintenance requirements. They are lightweight, easy to install, and highly moisture-resistant, making them an ideal option for bathrooms and kitchens. However, fiberglass doors can be pricier than other door types and may not provide the same aesthetic appeal as other materials.
Despite the higher cost, fiberglass doors are an excellent choice for homes requiring a robust, low-maintenance door and are suitable for exterior applications. If durability and minimal upkeep are your priorities, these doors are certainly worth considering.
Door Styles and Color Choices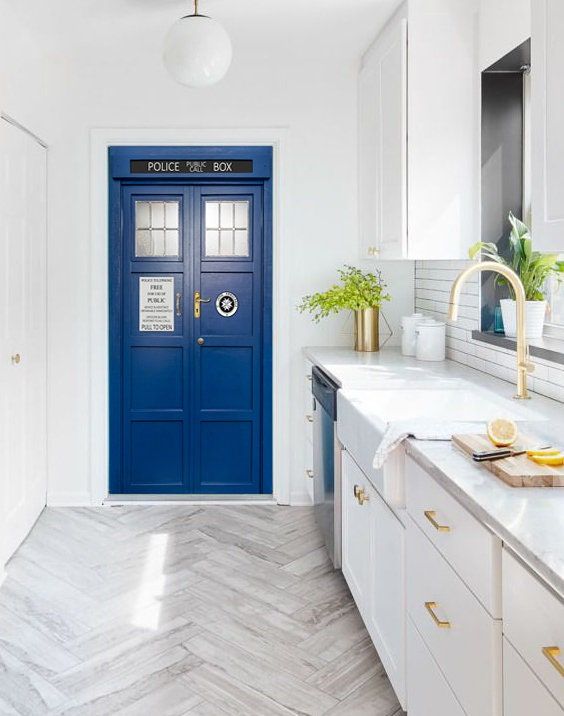 With a wide range of door styles and color options available, finding the perfect pantry door to match your home's design is a breeze. Let's explore some of these popular door options to help you make the best choice for your pantry. There is definitely something to suit every taste.
Door Styles
Prehung pantry doors come in various styles, including classic four panel, Rockport, French, shaker-style, raised panel, and glass insert designs. Classic four-panel doors feature four rectangular panels, with the two center panels being slightly larger than the two side panels, providing a traditional look. Rockport doors have a single panel with a raised center and two side panels that are slightly recessed, offering a more modern appearance.
French doors consist of two panels connected by hinges and open outward, commonly used to divide two spaces. They are typically composed of glass, allowing natural light to filter through and enhancing the overall space.
Glass or glass insert doors are perfect for allowing soft light to brighten up you room, while still maintaining a level of privacy. No matter the design or artwork you select for your glass door, you can get the best of both worlds!
By exploring these different door styles, you can find the perfect design to complement your home and elevate your pantry's appearance. It's all about finding the right sort of door that suits your taste and needs.
Color Options
Prehung pantry doors are available in a range of colors, such as white, black, brown, and wood-grain finishes. When selecting the appropriate color for your door, consider the existing colors in your home, such as the walls, furniture, and flooring. Coordinating the color of your pantry door with the rest of your home is essential for a unified look.
By selecting a suitable hue, you can harmonize your pantry door with your home's existing color palette, creating a cohesive and stylish look.
Hinge Types and Placement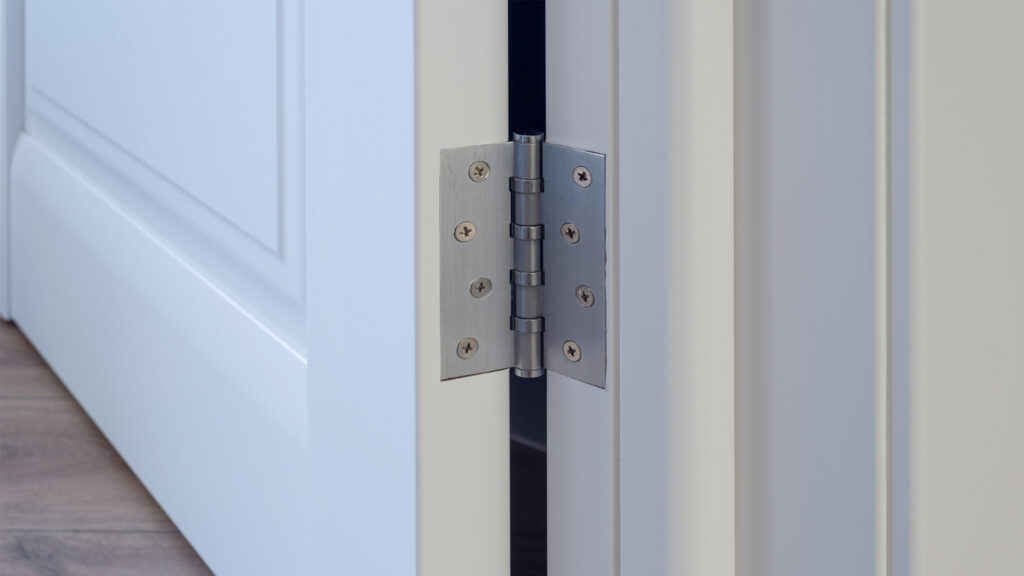 The hinges of your prehung pantry door play a crucial role in its seamless operation. By understanding different hinge types and their placement, you can ensure a smooth installation process and a properly functioning door.
Hinges come in a variety of styles, including butt hinges, strap hinges, and pivot hinges.
Hinge Types
There are various hinge types available for prehung pantry doors, including Ball Bearing Hinges, Plain Bearing Hinges, Butt Hinges, Spring Hinges, Concealed/European Hinges, Continuous/Piano Hinges, and Flush Hinges. Each hinge type offers unique benefits and drawbacks, depending on factors such as door weight, aesthetic preferences, and budget.
For example, Ball Bearing Hinges are designed for heavy doors and offer a smooth, quiet operation, but are more expensive. On the other hand, Plain Bearing Hinges are more economical, but may not be as long-lasting. By exploring different types and their advantages and disadvantages, you can choose the best ones for your prehung pantry door.
Hinge Placement
Proper hinge placement is essential for a smooth door operation. The standard placement for hinges on a prehung pantry door is to have the top hinge situated approximately 6 inches from the top of the door. And, then the bottom hinge located approximately 6 inches from the bottom of the door.
When installing them, it is important to measure the door and frame accurately and use the appropriate type of screws for the material of the door and frame.
With the correct hinge placement, your pantry door will open and close effortlessly. This guarantees a seamless and functional addition to your home.
How to Install a Prehung Pantry Door
Now that you have selected your perfect pantry door, it's time to install it in your home. Follow these step-by-step instructions for a professional finish, including removing your old door and installing your new one with ease.
Removing the Old Door
Before installing your new pantry door, you need to remove your existing one. Next, use a screwdriver to remove the door handle and hinges. Gently lift the door out of the frame and set it aside.
Lastly, contact your local waste management company to determine the best way to dispose of the old door.
Installing the New Prehung Door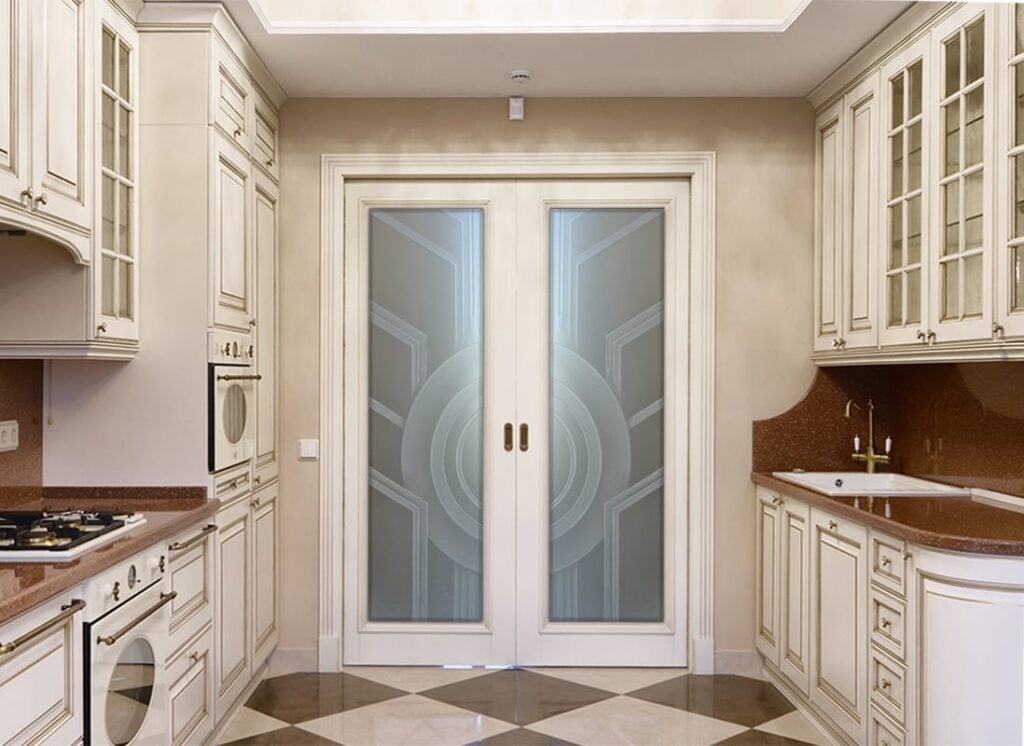 With the old door removed, it's time to install your new prehung pantry door. First, verify the dimensions of the rough opening to ensure your door fits properly. Shim the trimmers to make certain that they are level and plumb. Fit the door into the opening, making sure it is centered and level. Adjust the gap between the door and the frame as necessary to ensure an even gap. Secure the jamb to the rough opening using screws.
Lastly, replace the hinge screws to secure the door to the jamb. With your new prehung door installed, you'll enjoy a polished look and improved functionality in your pantry space.
Top Deals on Prehung Pantry Doors
Upgrading your pantry with a prehung door doesn't have to break the bank. You can find the best deals on prehung pantry doors at home improvement stores such as Home Depot, Lowe's, and Menards, as well as online retailers like us here at Sans Soucie, Amazon and Wayfair.
Be sure to consider factors such as size, material, style, color, hinge type, and hinge placement when searching for the perfect prehung pantry door. With a bit of research, you can transform your pantry into a beautiful and practical space at an affordable price.
Summary
In conclusion, finding and installing the perfect prehung pantry door can significantly enhance the aesthetic and functionality of your pantry area. From understanding the benefits of prehung doors to measuring, selecting materials, choosing styles and colors, and installing your new door, this comprehensive guide has equipped you with the knowledge needed to make an informed decision and successfully upgrade your pantry. Don't wait any longer and transform your pantry today!
Frequently Asked Questions
What are the different types of frosted glass doors?
Frosted glass doors come in 5 varieties: Acid Etched Glass, Ceramic Frit Silkscreened Glass, Translucent Interlayer Laminated Glass, Applied Translucent Film, and Sandblast Frosted Glass.
Each type of frosted glass door has its own unique characteristics and benefits. Acid Etched Glass is a great option for privacy, as it has a matte finish that obscures the view from the outside. Sandblast Frosted Glass is a great choice since you can create stunning and decorative look, with the privacy level that you need. It's the best of both worlds!
What is the best glass for internal doors?
For internal doors, clear glass is the most suitable option, as it allows for maximum natural light to pass through.
French glass and frosted glass are additional options that can provide increased privacy, depending on preference.
Can you see through frosted glass doors?
Frosted glass offers some privacy, but you won't be able to see through it clearly. Here at Sans Soucie we offer 3 privacy level options from Not Private, Semi-Private, and 100% Private.
Are solid core interior doors worth it?
Solid core doors offer excellent insulation, sound-proofing and fire resistance. They are strong, heavy and engineered for long-term performance, making them ideal for rooms where privacy and sound control is desired. Overall, solid core interior doors are definitely worth it.
Can you see through a frosted pantry door?
Frosted glass pantry doors provide privacy while still allowing some light to come through, making it possible to see if the light is left on. This makes it easier to conserve energy and save money on electricity bills.
About Sans Soucie Art Glass
Family owned and operated since 1976, Sans Soucie sets the industry standard for the highest quality design and execution of sandblast frosted, carved and hand painted glass both nation and worldwide. Choose from our vast collection of designs across every decor, or let us create a brand new one-of-a-kind designs per your specifications. Our frosted glass designs turn ordinary glass into art pieces that add a luxury element to your home, while creating the privacy you need. Truly art with a function, our etched glass designs diffuse light and reduce glare, while enhancing the look of your home with a unique, eye catching custom element. Not clip art or machine manufactured, each design is a uniquely handcrafted original work of art, custom designed for our distinguished clientele of homeowners and commercial developers.
Free shipping to most states, shipping both national and worldwide, all our glass is handmade and expertly packed in-house by our team of glass artisans and shipped from Palm Desert, California. Shop our most popular products like slab and prehung front doors, interior doors, pantry doors, glass front doors, glass interior doors, sliding glass barn doors, windows, shower doors, shower panels and shower enclosures, decorative mirrors, signs and glass tables.
Copyright © 2023, Sans Soucie Art Glass. All rights reserved.