Looking for a Frosted Glass Bathroom Door?
Start Here! Let us help you easily build your own Frosted Glass Bathroom Door, thru our inactive website! From design, glass finishes, sandblast effects, privacy levels, and more… We'll take your vision and turn your Glass Door into a reality!
The bathroom itself dates further back than you might think. As a matter of fact, the original intention and use of a bathroom wasn't so much for hygiene, but for bathing which had more of a spiritual and purifying meaning. The bathing experience included large rooms and pools of water where people would gather. It later became a place of relaxation and rejuvenation in the Roman culture. As bathrooms continued to evolve, it became a social status where people would meet up to discuss life, entertainment, etc. Eventually, there became a distinction between private and public bathrooms. The wealthy had their private bathrooms within their homes, while the public had a more shared experience.
Fast forward to today and the bathroom space is not only a place for cleanliness and relaxation, but it's also a room to display your personal style. Today, a Frosted Glass Bathroom Door can elevate the vibe of any room, and express your own flair! With lots of options to choose from, let us share some details that you may want to consider when customizing your perfect Glass Door.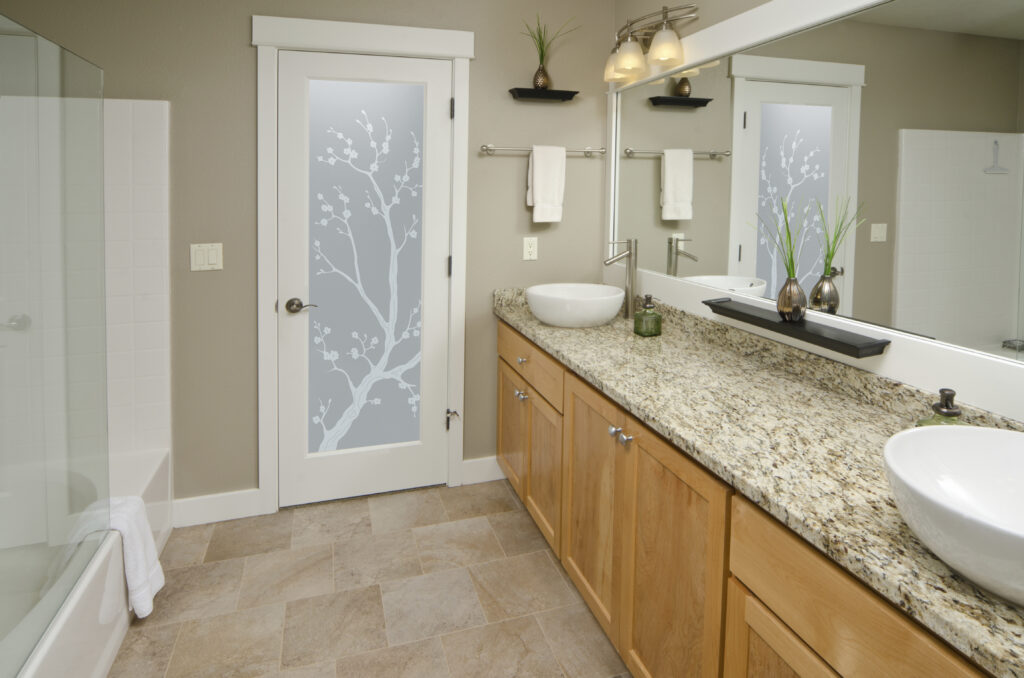 Why Frosted Glass is Used in Bathrooms
Here at Sans Soucie we have a variety of ways for you to create a Glass Bathroom Door that fits your specific needs. Especially, in terms of both Privacy Level and Finish. We have three different privacy levels to choose from: Not Private, Semi-Private, and Private. Our Frosted Glass is an opaque, aesthetically attractive glass finish that's created thru a number of abrasive processes. This finish will provide you with the highest level of privacy. An object will only be visible when pressed right up against the Glass Door. However, any object that is only a few inches away from the door won't be easily seen. This is why our Frosted Glass Bathroom Doors are a perfect solution for privacy without blocking out light. You can also choose from our other glass finishes such as Gluechip (which provides a semi-private level), and/or Clear (which is not private).
Frosted Glass Bathroom Door Designs
Now that you've selected your privacy level and finish, let's talk about your endless design options! Your vision for your Frosted Glass Bathroom Door can come to life in so many ways! You can choose from our beautiful gallery to inspire you, or you can work with one of our artisans to make your design into a reality. Our Sandblast Effects which include 1D, 2D and 3D, will help in creating unlimited textures and patterns. These effects will take your selected design and bring both depth and uniqueness to your Frosted Glass Door's overall look. Our Sans Soucie craftsmen have taken it one step further and have created multiple options when selecting our 3D Sandblast Effect. These options include 3D Enhanced, 3D Painted, and 3D Painted Enhanced. Your Frosted Glass Bathroom Door Design will be stunning, as a result!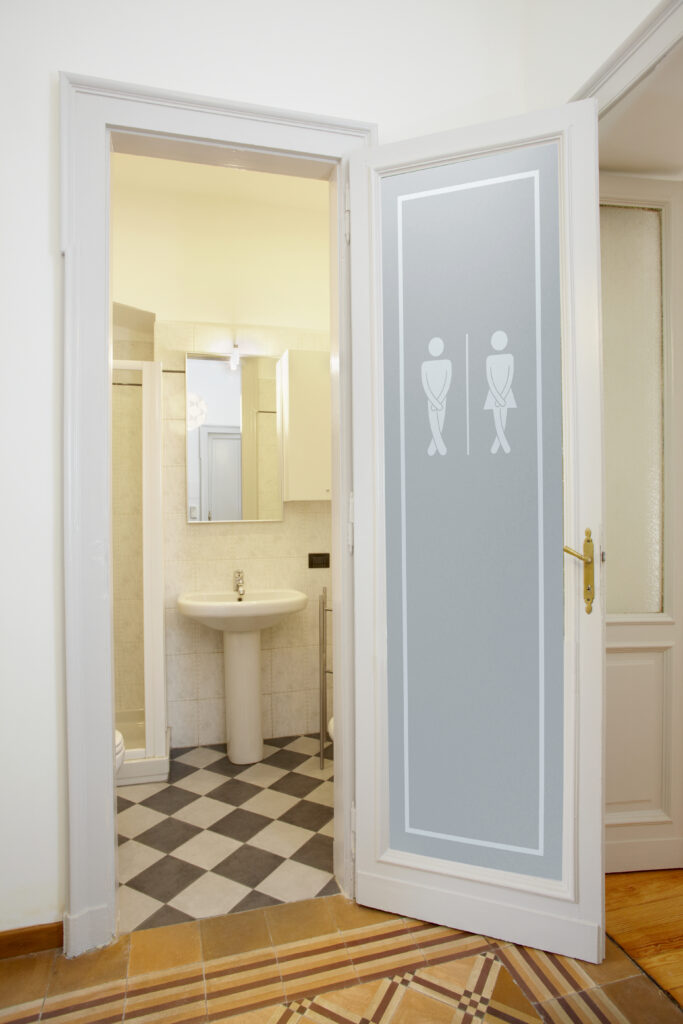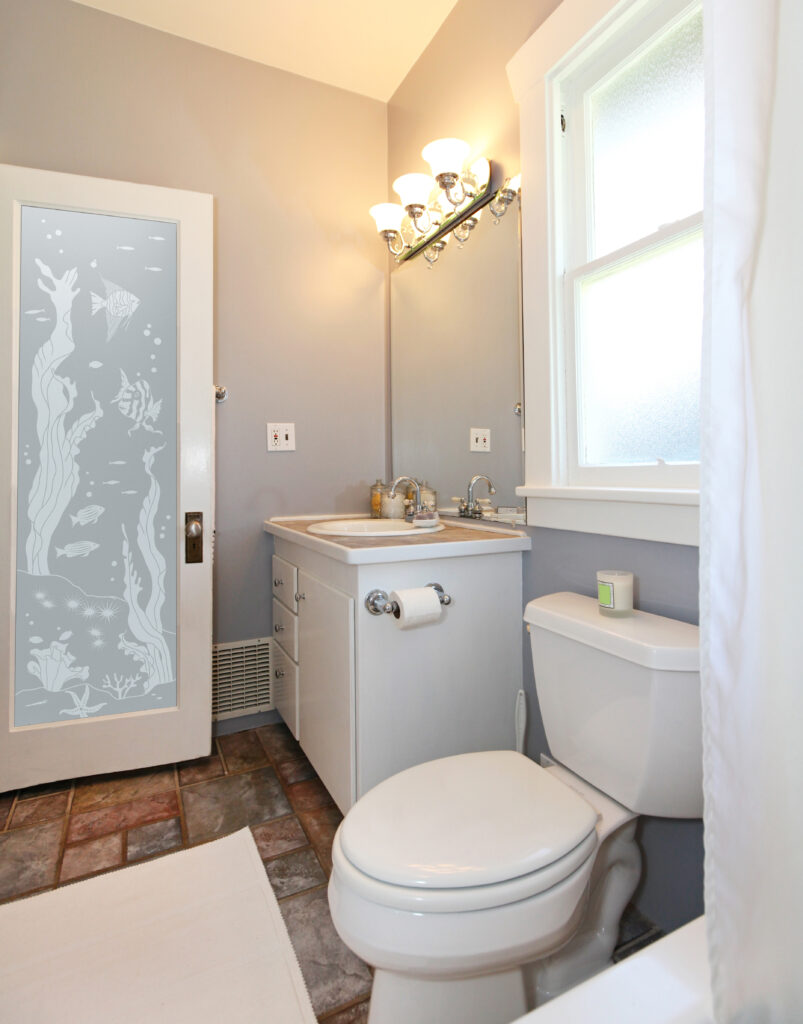 Customize Everything About Your Frosted Glass Door
In addition to your beautiful design, you have the ability to choose your door material, size, door type (book/slab or pre-hung), and more! The wood we use for our Glass Doors come in unfinished/unstained wood. When building your perfect Frosted Glass Bathroom Door you'll get to choose from primed, Douglas fir, Alder Clear, Alder Knotty, Cherry, Hickory, Maple, Oak, and Mahogany wood.
I think we can agree that the bathroom has come a long way since the Roman times! But, we'd like to think that they too would have appreciated a chic and sophisticated Frosted Glass Bathroom Door as well!
About Sans Soucie Art Glass
Family owned and operated since 1976, Sans Soucie sets the industry standard for the highest quality design and execution of sandblast frosted, carved and hand painted glass both nation and worldwide. Choose from our vast collection of designs across every decor, or let us create a brand new one-of-a-kind designs per your specifications.  Our frosted glass designs turn ordinary glass into art pieces that add a luxury element to your home, while creating the privacy you need. Truly art with a function, our etched glass designs diffuse light and reduce glare, while enhancing the look of your home with a unique, eye catching custom element. Not clip art or machine manufactured, each design is a uniquely handcrafted original work of art, custom designed for our distinguished clientele of homeowners and commercial developers.
Free shipping to most states, shipping both national and worldwide, all our glass is handmade and expertly packed in-house by our team of glass artisans and shipped from Palm Desert, California. Shop our most popular products like slab and prehung front doors, interior doors, pantry doors, glass front doors, glass interior doors, sliding glass barn doors, windows, shower doors, shower panels and shower enclosures, decorative mirrors, signs and glass tables.
Copyright © 2023, Sans Soucie Art Glass. All rights reserved.