Explore Your Options for Short Doors
Are you struggling to find the perfect door solution for your small or unique spaces? Do you feel that standard-sized doors just don't fit your needs? Worry not, because short doors are here to save the day for short interior doors and interior glass doors! In this blog post, we'll explore the world of short doors, their types, materials, and customization options. We'll also guide you on the installation process of various types of interior doors, where to buy them, and how to maintain them for long-lasting beauty and functionality.
Discover the incredible potential of short doors, and how they can transform your spaces while adding a touch of style and elegance. Say goodbye to limited options and embrace the versatility of unique doors!
Key Takeaways
Short doors come in a variety of types and materials, allowing for customization to suit any space.
Selecting the right style and hardware is key when adding an aesthetic appeal to your home.
Regular cleaning and maintenance is essential for protecting short door longevity.
Understanding Short Doors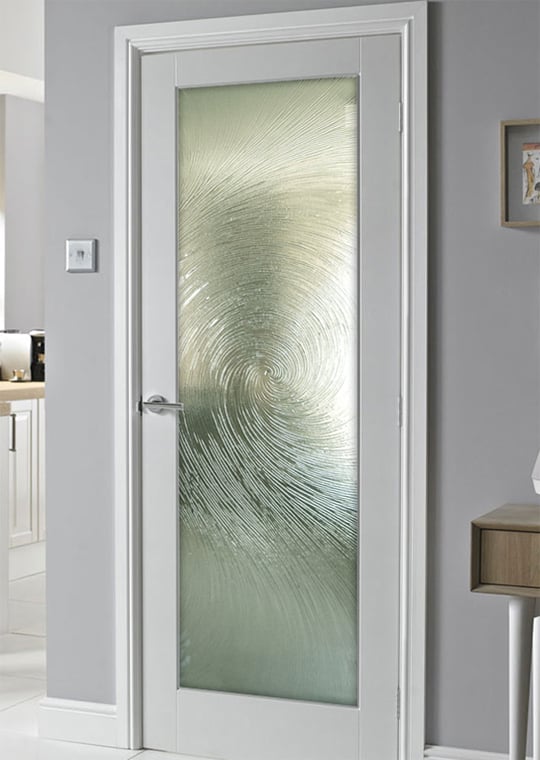 Short doors, as the name suggests, are interior doors that are shorter than standard doors. They come in a variety of types, including:
French doors (double doors)
These short doors can be made from various materials like wood, composite, or metal.
It's not only feasible but also advisable to tailor short doors to your space and style. When selecting the appropriate look and door hardware, consider factors like maintenance, sound transmission, and the available design options.
Types of Short Doors With Glass
Entering the world of short doors, you'll come across numerous options, including:
With so many options, selecting the perfect short door style for your space becomes an exciting adventure.
The Flat Panel Collection provides an extensive range of molded interior doors, including a variety of interior door options, giving you even more design possibilities to suit your tastes. Whether you prefer a sleek and modern look or a more traditional style, there's a door waiting to enhance your room.
Materials Used for Short Doors
Short doors can be made from a variety of materials, such as:
Wood
Fiberglass
Aluminum
Steel
PVC
Vinyl
JELD-WEN molded wood interior doors are an eco-friendly and cost-effective option, perfect for those seeking both style and sustainability. For a more luxurious touch, the Woodview Collection features molded doors with a hand-brushed finishing technique and a two-tone color process.
Understanding the material options available for short doors can help you make an informed decision on which door fits your needs and preferences. From classic wood to modern composites, to those with frosted glass designs or panels, there's a short door material that will complement your area beautifully.
Applications of Short Doors in Various Spaces
Short doors, with their versatility, can be incorporated into every space within your home. They can be used in:
Home offices
Bedrooms
Closets
By selecting or customizing the style, finish, and material for each interior door, you can create a cohesive and chic look throughout your home. This will ensure that your short doors not only serve a practical purpose, but also contribute to the overall vibe of every chosen living space.
Customizing Short Doors for Your Space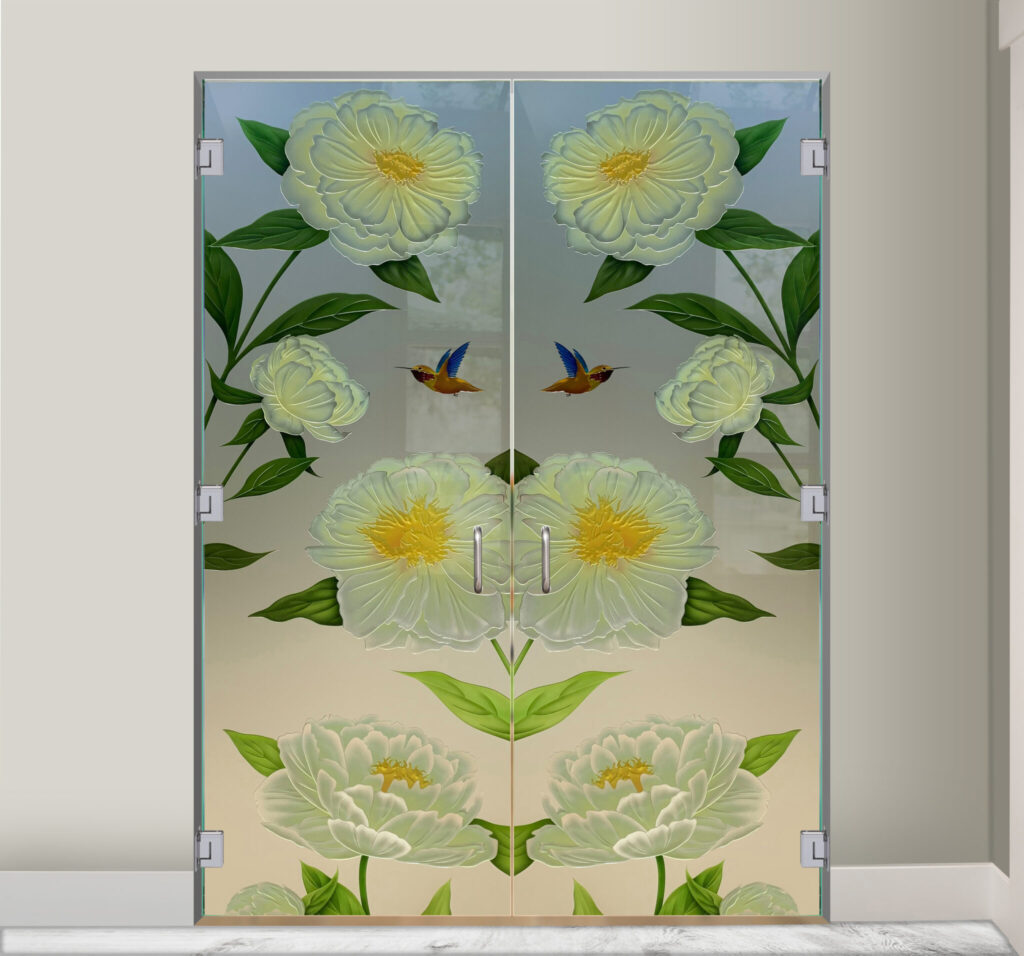 The incredible versatility of short doors allows for customization to fit your unique space and design preferences. With a wide variety of options like:
Panel doors
Folding doors
Colonial doors
Louver doors
Functional doors
Shaker style doors
There's a short door that's perfect for your needs. To truly make your door your own, consider the hardware and finishes available, such as hinges, handles, locks, knobs, and decorative trim, with finishes like glass types, paint, stain, and varnish.
When selecting the suitable style, hardware, and finishes for your home, consider the overall design of the room, the type of door necessary, and the amount of maintenance you're willing to undertake. Customizing your door is an opportunity to express your personality and enhance the overall aesthetic of your room.
Selecting the Right Style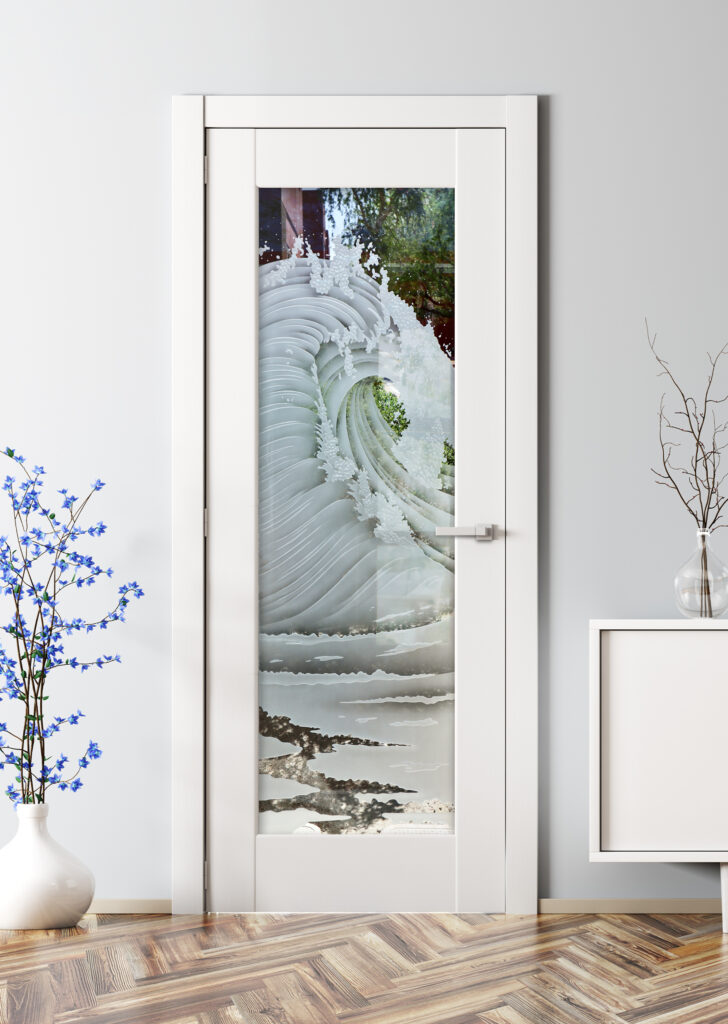 Among the types of short doors available, you'll find panel doors, sliding doors, folding doors, colonial doors, louver doors, door lites, framesless glass, and functional doors, including the popular barn door. The most straightforward approach to customizing a short door is to purchase a solid core birch slab, delineate and trim two openings for the panels, and affix quarter round or scribe on both sides of the panels for retention.
Each style has its benefits and drawbacks, depending on your needs and preferences. Here are some examples:
Panel doors: generally cost-effective and simple to install
Folding doors: offer greater flexibility and a distinctive aesthetic
Sliding doors: perfect for confined spaces
Louver doors: provide ventilation and light control
Door lites: introduce natural light to a room
Functional doors: can be used to establish a secure area
The multitude of options available enables you to craft a space that genuinely mirrors your style and requirements.
Choosing The Right Glass Finish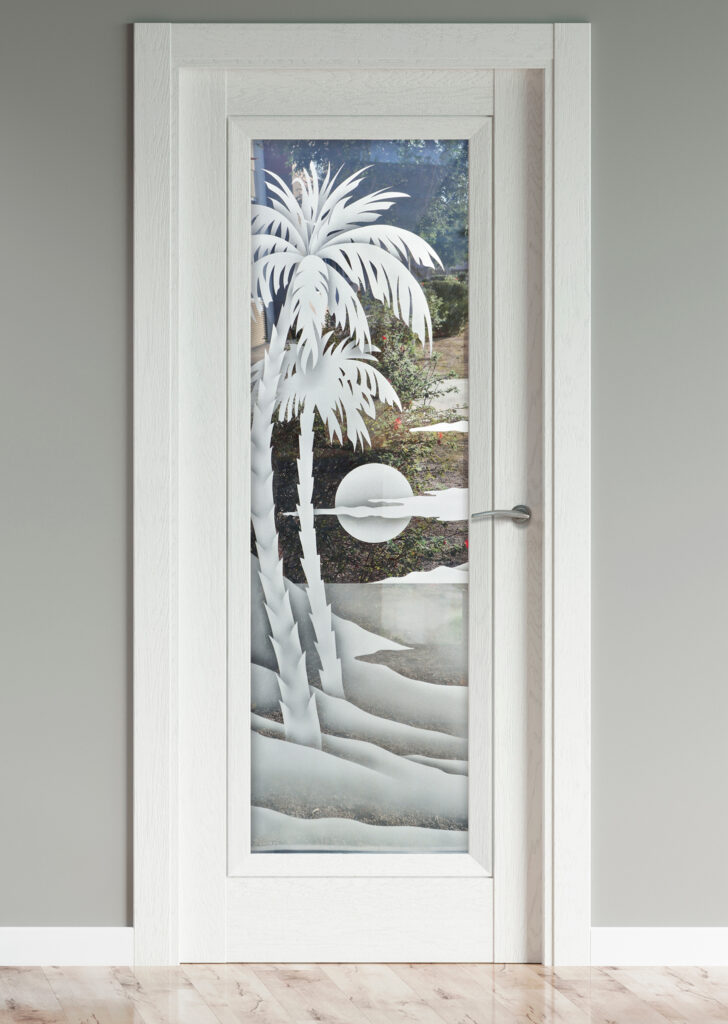 When incorporating a short door with glass, choosing the right glass finish is important. Here at Sans Soucie we offer 3 glass finishes (or backgrounds) when customizing your interior door. They include: clear glass, gluechip glass, and frosted glass. Each one of these finishes provides a different level of privacy; therefore, you can customize a short door with glass that meets the needs of your lifestyle.
Clear glass will allow the most amount of light to pass through into your space and is considered not private. Our unique gluechip glass finish will provide you with a semi-private level, while the ever popular frosted glass will give you the most amount of privacy needed.
Choosing Door Hardware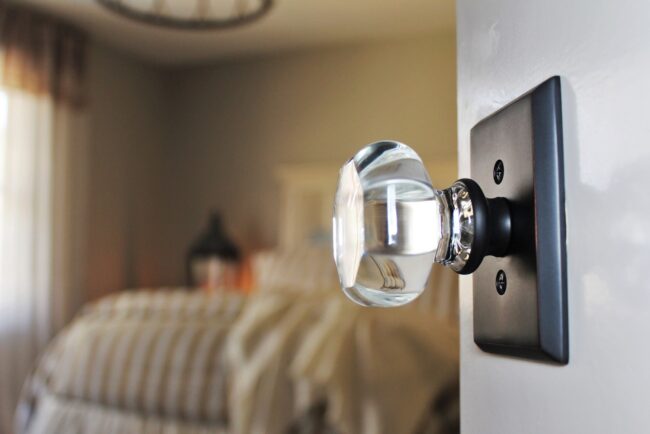 The functionality and aesthetic appeal of your short door heavily rely on the door hardware. You'll find a variety of hardware options, such as handles, locks, hinges, latches, and DesignGlide™ hardware. Door hardware comes in various styles, finishes, and materials, designed for both decorative and functional purposes. To install door hardware properly, you'll need to measure the door, drill holes, and affix the hardware.
Selecting the right door hardware for your short door not only ensures smooth operation but also adds an elegant touch. Whether you prefer minimalist designs or ornate fixtures, the perfect hardware awaits to complement your short interior door.
Painting and Finishing Short Doors
A variety of painting and finishing options are available to help you achieve your desired look for your short door, such as:
Oil-based paints
Water-based paints
Stains
Varnishes
Lacquers
Each type of paint and finish offers its benefits and unique effects. To ensure the best results, the door must be sanded, cleaned, and primed prior to painting.
Brushing, rolling, and spraying are recommended techniques for painting and finishing short doors. With the right paint and finish, your short door will not only function smoothly but also exude style and sophistication.
Installation Tips for Short Doors
To guarantee optimal functionality and aesthetic appeal of your short door in your space, correct installation is paramount. Following the recommended procedure for constructing a door frame, hanging the door, and adding finishing touches can help you achieve a seamless and professional result.
Whether you're a DIY enthusiast or prefer to hire a professional, understanding the installation process for short doors can save you time, money, and potential headaches down the road. With the right installation tips and techniques, your short door will be a stunning and functional addition to your home.
Preparing the Door Frame
To ensure a seamless short door installation, it's essential to prepare the door frame properly. Here are the steps to follow:
Cut a top plate to match the width of the rough door opening and affix it to the ceiling joists.
Cut a sole plate and attach it to the floor.
Secure the top plate and sole plate together to form the frame.
Install the king studs and jack studs to reinforce the frame.
Mark and cut the header to finish the door frame.
When attaching the top plate and sole plate, follow these steps for optimal results:
Nail the top plate through the ceiling or ceiling joists.
Nail the sole plate into the floor.
Accurately measure and cut the king studs and jack studs.
Attach the king studs to the top plate.
Attach the jack studs to the sole plate.
Once the door frame is prepared, you can move on to hanging the door.
Hanging the Door
Correct hanging of your door ensures its smooth operation. The optimal method for hanging a short door is utilizing a door hanger, which attaches to the top of the door and allows it to be hung from the frame. It's crucial to use appropriate screws and anchors to ensure the door is securely attached.
During the hanging process, you'll need to:
Ready the door lining or frame by measuring the opening and cutting the door lining to the appropriate size.
Place the door in the lining and mark it up by positioning the door in the lining and marking the top and sides of the door with a pencil.
Follow the process for marking the hinges, creating hinge recesses, and attaching the hinges to the door.
Finally, hang the door in the frame, ensuring that it's level and plumb, and secure it with screws.
Adding Finishing Touches
After the installation of your short door, you can then proceed to add the finishing touches that will amplify its uniqueness and enhance its functionality. Door hardware options like:
Door knobs
Handles
Locks
Hinges
Stops
Doorbells
can be added to your short door for ease of access and improved aesthetics.
Crown molding, a decorative trim typically installed along the upper edge of a wall or door frame, can add an extra touch of elegance to your short door installation. You can also incorporate the following to add a unique touch to the door frame:
Wallpaper
Board and batten
Potted plants
Hanging plants
Flower arrangements
These elements can help complete the look and enhance the overall look of your short door installation.
Where to Buy Short Doors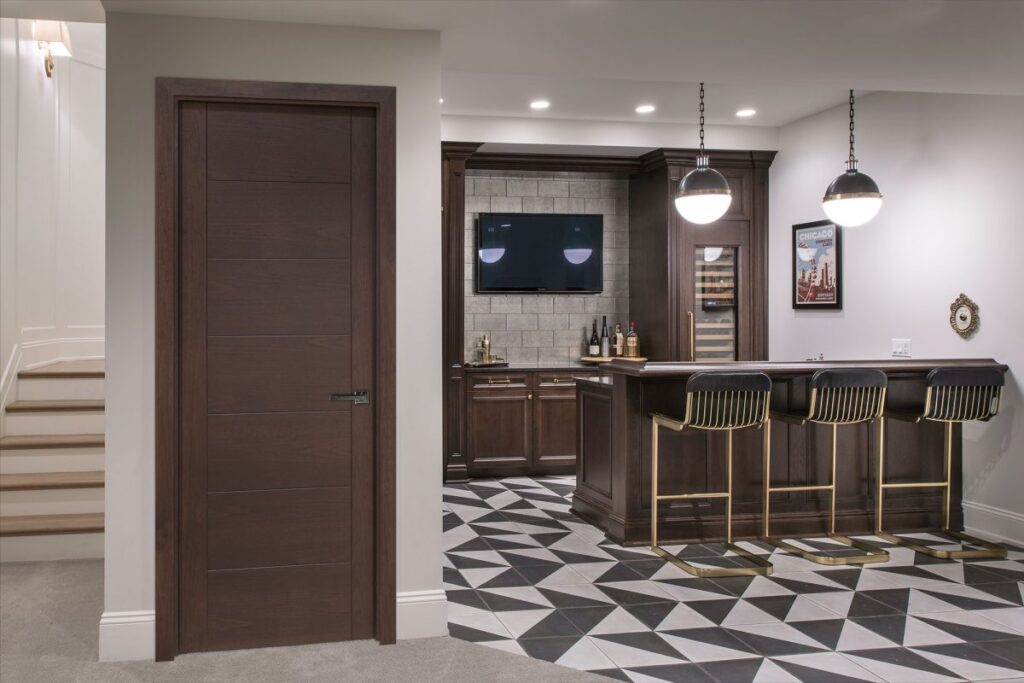 Identifying the right place to buy short doors is a key step in finding the ideal door for your home. The distinction between stock and custom orders is important to consider. Stock orders refer to items that are already in a company's inventory or warehouse, ready for immediate purchase and delivery. Custom orders are items that need to be specially made or ordered from the manufacturer to meet unique design specifications or measurements.
HD Supply stocks many of the same styles in standard sizes, usually ready to ship with complimentary next-day delivery.
Here at Sans Soucie we offer true customization when it comes to creating the door of your dreams and the needs of your space. Our team works closely with you, taking your short door from a concept into a reality. We also offer an easy system where you can design your door right online.
When purchasing doors, consider the cost of shipping, the delivery time, and any additional fees associated with the delivery.
Stock vs. Custom Orders
Stock orders are typically more economical and can be delivered expeditiously, providing more flexibility in terms of customization options. However, they may not provide the exact size or style desired and may not offer the same level of customization as custom orders.
Custom orders provide greater flexibility in terms of size, style, and customization options, and can be tailored to meet specific design specifications. However, custom orders tend to be more costly and may require more time for delivery.
Weighing the pros and cons of stock and custom orders will help you find the perfect short door for your space and budget.
Shipping and Delivery Options
The most prevalent shipping and delivery options for short doors are:
Standard ground shipping: This is the most cost-effective option but may take several days for the item to be delivered.
Expedited shipping: This is more expensive but can get the item to you quicker.
White glove delivery: This is the most costly option but includes delivery and installation of the item.
The cost of shipping and delivery will depend on the size and weight of the item, as well as the distance it needs to be shipped. In the event of any issues with shipping and delivery, it's advised to contact the retailer or delivery company as soon as possible.
Be prepared for potential returns by contacting the retailer or delivery company to arrange for a return.
Short Door Maintenance and Care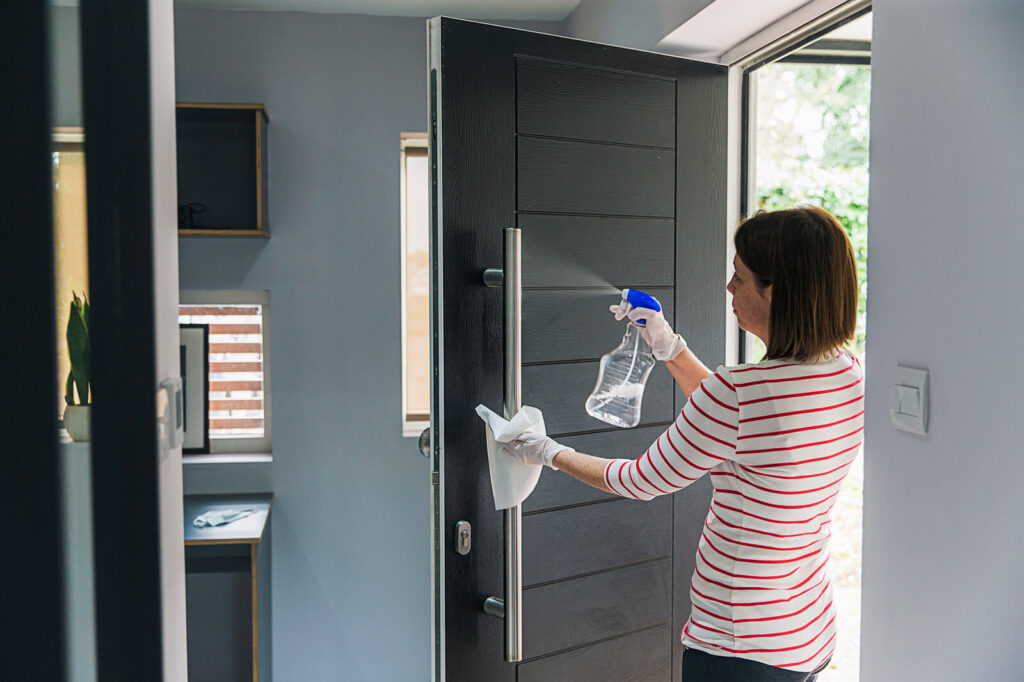 Maintaining your short doors is pivotal for their long lifespan and to keep their aesthetics intact. Recommended cleaning techniques include:
Using a combination of equal parts water and gentle dish soap or vinegar to lightly scrub the door with a soft sponge or cloth.
When cleaning wood doors, be sure to wipe in the direction of the grain.
Afterward, use a heavy-duty paper towel or cloth to dry the door.
Commercial cleaner can also be used for door fixtures.
If your short door has sustained damage, consult a professional to assess the damage and determine the most suitable course of action. Depending on the extent of the damage, replacing or repairing the door may be necessary.
Cleaning Tips
Adopting proper cleaning techniques is crucial to maintain the pristine appearance of your short doors. Here are some tips to follow:
Use a soft cloth or duster to effectively remove dust from the door.
For optimal results, mix a small quantity of mild soap with warm water and use a soft cloth to delicately wipe the door.
It's also recommended to use a damp cloth to wipe down the door frames and walls.
For different door materials, appropriate cleaning solutions should be used. For wood doors, dish soap, Murphy's oil soap, or vinegar are recommended. For glass or acrylic doors, a clean damp cloth should be used to gently wipe the surface.
Repairs and Replacement
Signs such as cracks, warping, and other damages might suggest the need for repair or replacement of a short door. To ready a short door for repair or replacement, follow these steps:
Sand the seam and lower door to eliminate any irregularities.
Use wood glue, clamps, and small nails to fix any broken parts.
Use wood filler to fill any gaps or cavities in the door.
To finish the repair or replacement of a short door, sand the filled areas to achieve a smooth and flush surface with the rest of the door. Additionally, stain or paint the repaired area to match the remainder of the door.
Summary
In summary, short doors offer a versatile and stylish solution for small or unique spaces. With a wide variety of types, materials, customization options, and installation tips, short doors can truly transform any home. Whether you prefer a sleek modern design or a more traditional look, short doors cater to every taste and need.
So why settle for standard-sized doors when you can explore the incredible world of short doors? Embrace the possibilities and make a statement with a beautifully designed and functional short door that suits your space and style perfectly.
Frequently Asked Questions
What is the shortest door you can buy?
The shortest door you can buy is 36 inches wide, and 80 inches tall.
Can you get doors shorter than 80 inches?
Standard interior doors must be a minimum of 80 inches, or 6 foot, 8 inches, making them commonly known as "6/8 doors." A 78 inch door, which is 6 foot, 6 inches, would be referred to as a "6/6 door."
Will Home Depot cut a door to size?
Yes, Home Depot will cut a door to size; however, the work is outsourced to their contractors. Plan your project with Home Depot and they will pair you with a contractor to complete the work.
What types of short doors are available?
Glass panel, all panel, bifold, and louver styles are all options when it comes to choosing a short door.
Can I customize my short door?
Yes, you can customize your short door to fit your unique space and design preferences.
About Sans Soucie Art Glass
Family owned and operated since 1976, Sans Soucie sets the industry standard for the highest quality design and execution of sandblast frosted, carved and hand painted glass both nation and worldwide. Choose from our vast collection of designs across every decor, or let us create a brand new one-of-a-kind designs per your specifications. Our frosted glass designs turn ordinary glass into art pieces that add a luxury element to your home, while creating the privacy you need. Truly art with a function, our etched glass designs diffuse light and reduce glare, while enhancing the look of your home with a unique, eye catching custom element. Not clip art or machine manufactured, each design is a uniquely handcrafted original work of art, custom designed for our distinguished clientele of homeowners and commercial developers.
Free shipping to most states, shipping both national and worldwide, all our glass is handmade and expertly packed in-house by our team of glass artisans and shipped from Palm Desert, California. Shop our most popular products like slab and prehung front doors, interior doors, pantry doors, glass front doors, glass interior doors, sliding glass barn doors, windows, shower doors, shower panels and shower enclosures, decorative mirrors, signs and glass tables.
Copyright © 2023, Sans Soucie Art Glass. All rights reserved.