Decorative Glass for the Bathroom adds a Custom Flair
Sans Soucie Art Glass creates a number of etched glass products for the bathroom that will turn ordinary bathroom items into stunning, personalized custom glass works of art!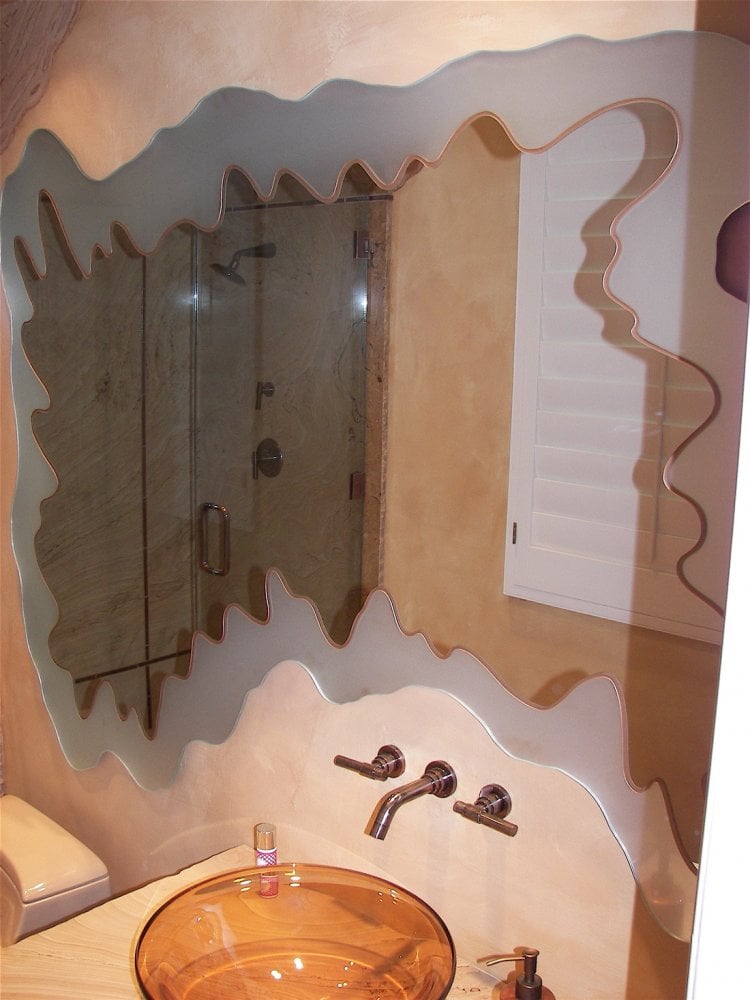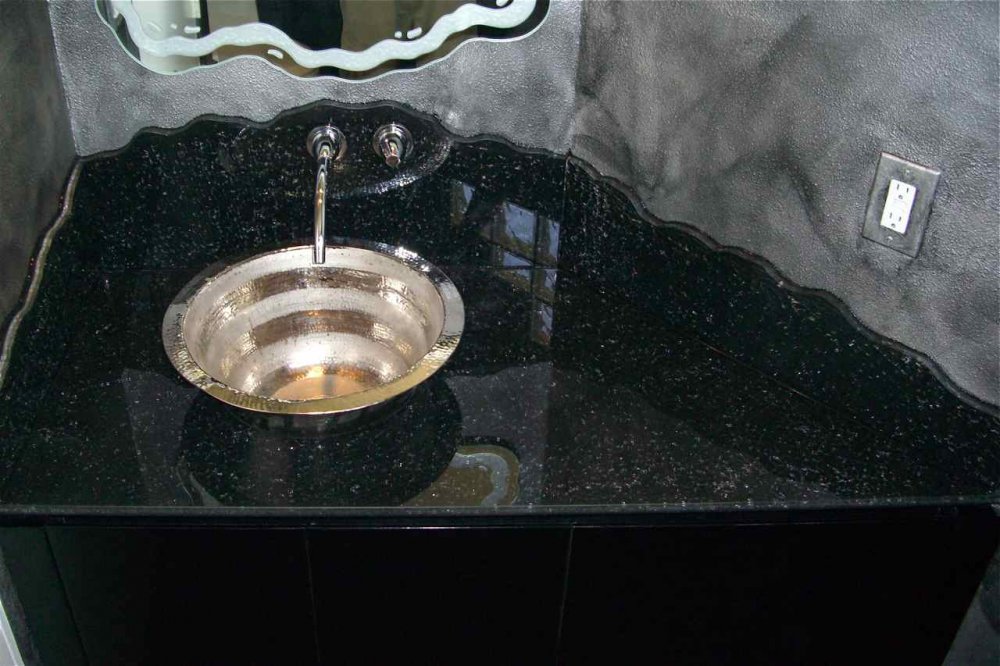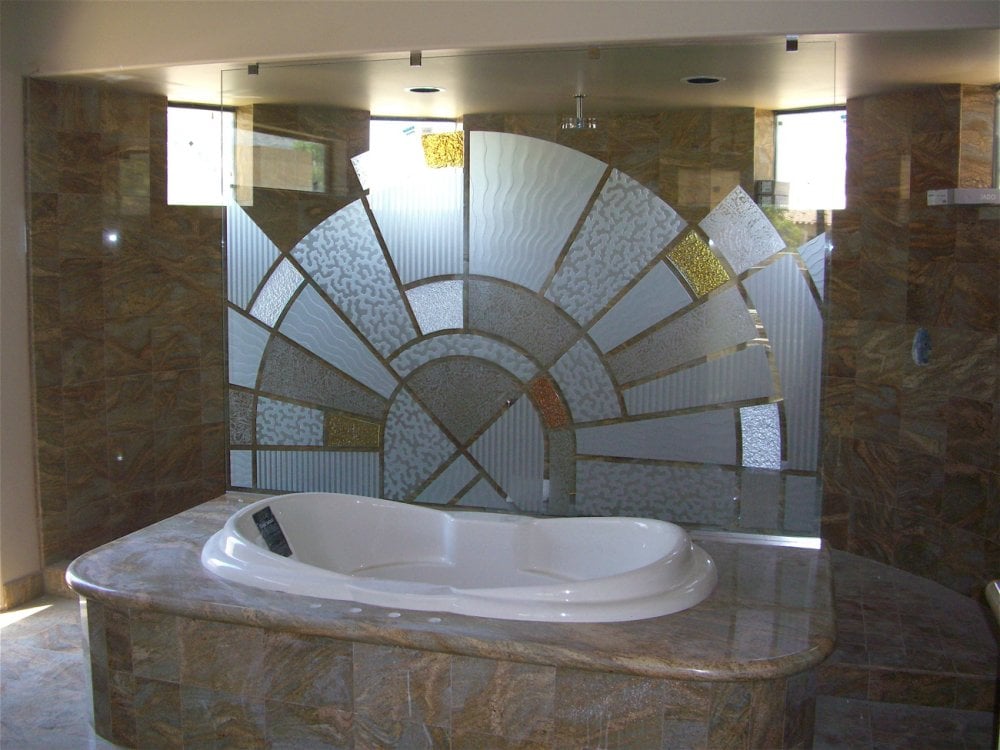 From our tub window glass that feature custom designs that are etched for privacy, to decorative custom mirrors that feature carved and painted borders, patterns and designs that coordinate and compliment the bath decor, and custom glas bath vanity counter tops that are deep etched & carved and edge lit, adding custom glass to your bathroom, will certainly set it apart and create an area you will love to spend time in!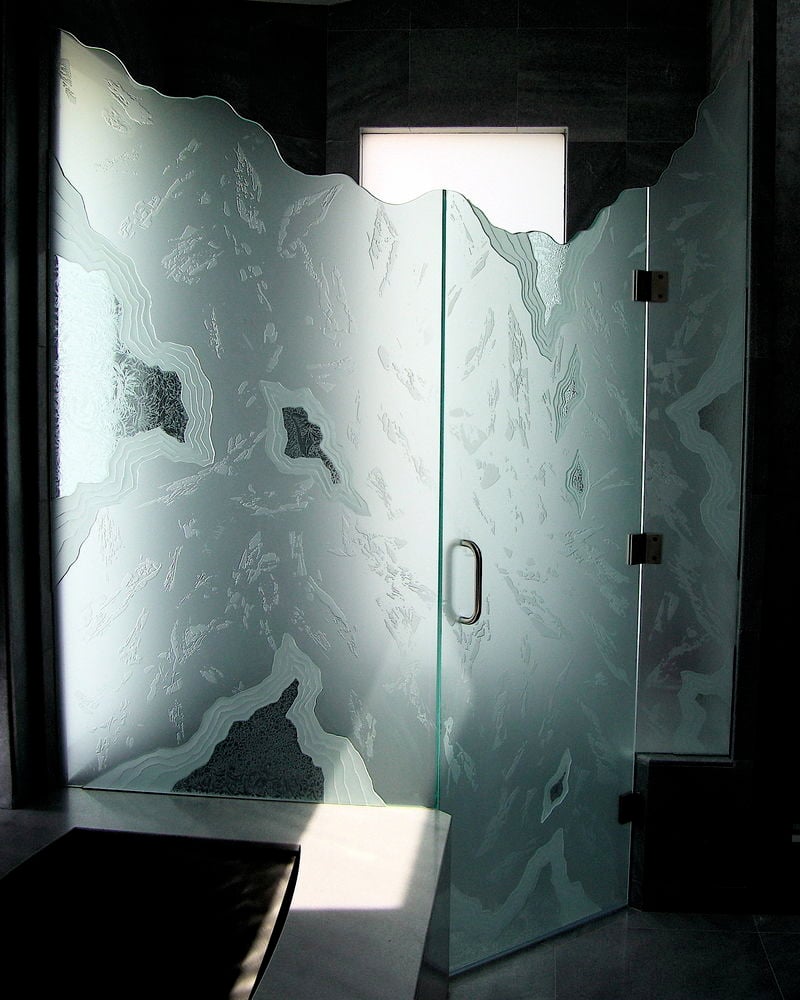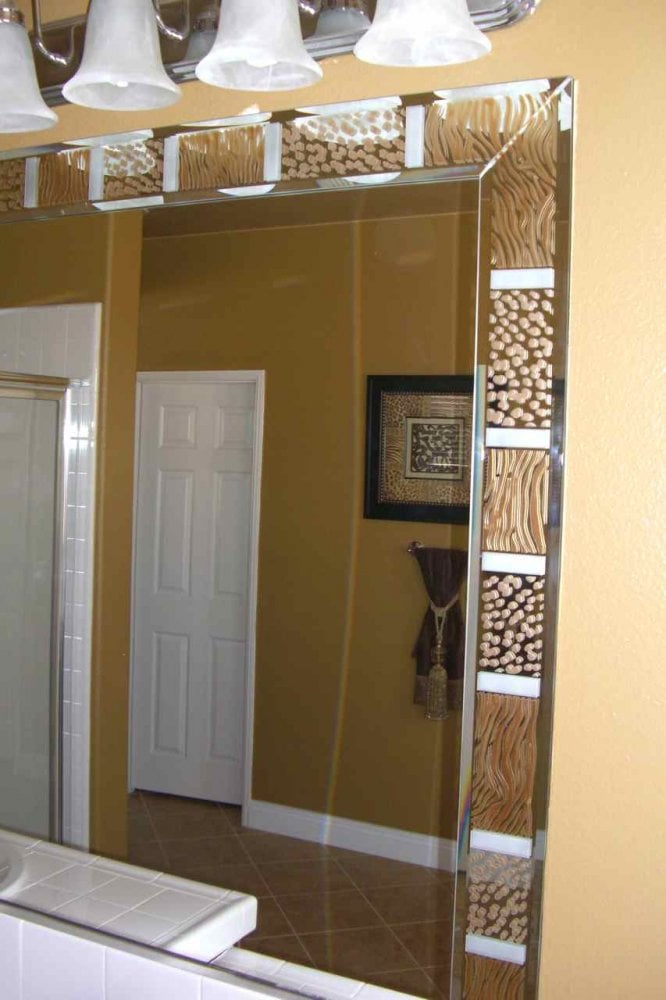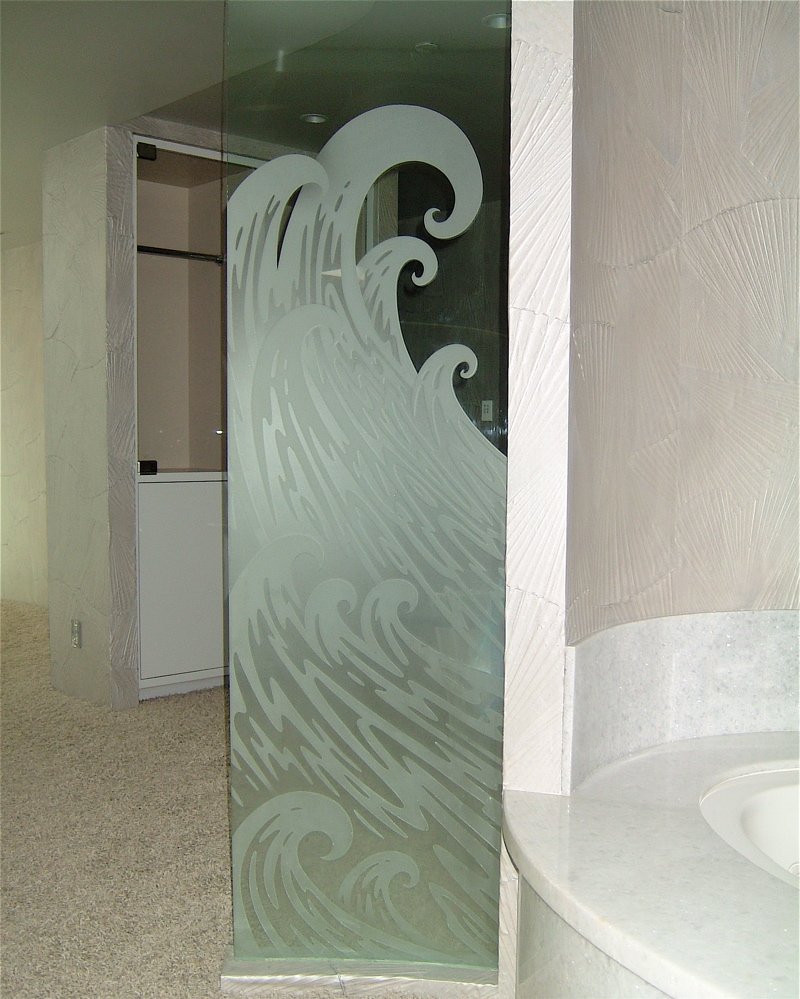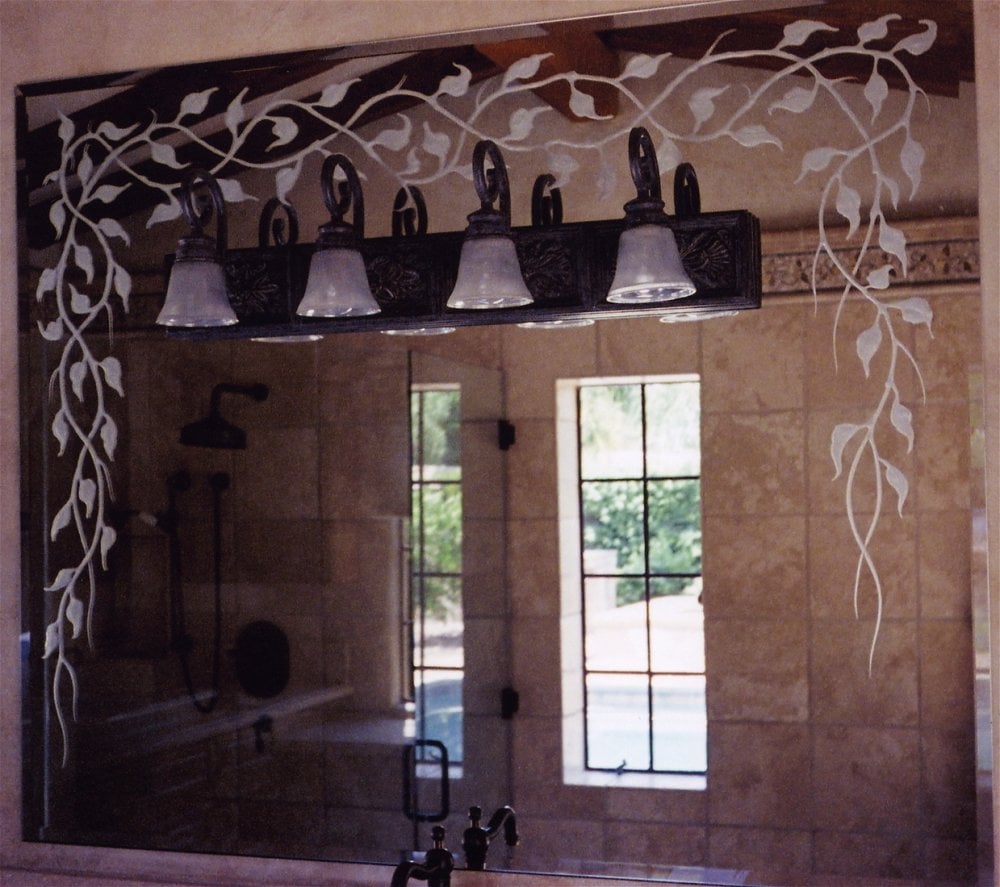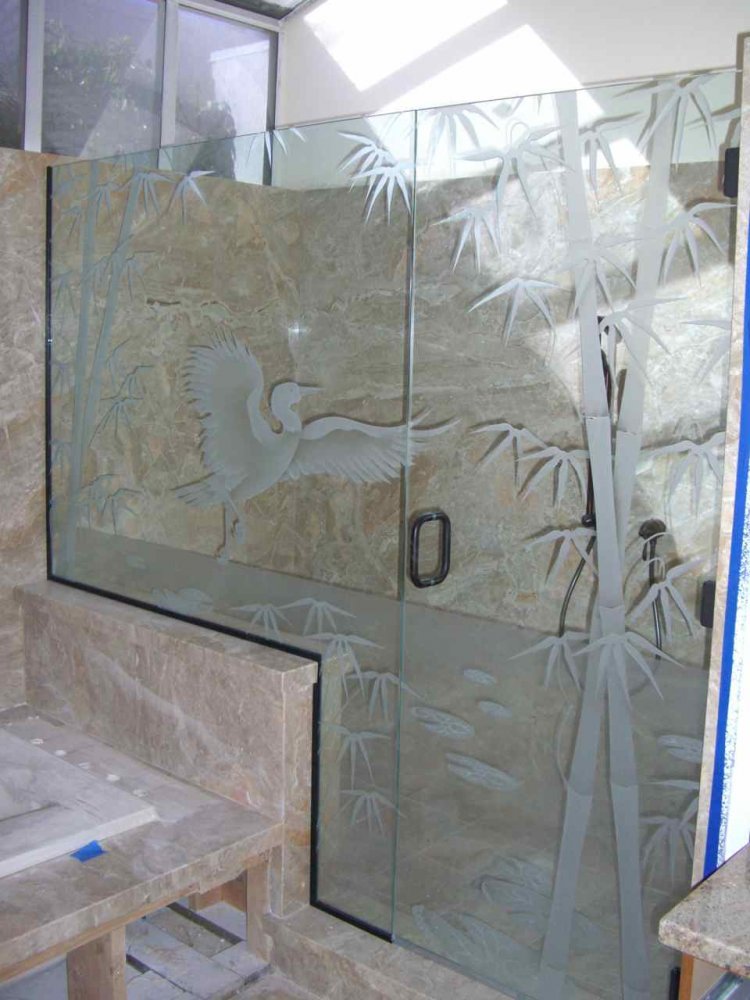 Shower in illuminated art, inside a custom etched and carved frameless glass showers and shower doors by Sans Soucie! There's no limit to the design possibilities .. we create what YOU want to see! Each shower is custom designed to suit your tastes and meet your needs! We create designs from very simple pinstripes, where just a touch of detail is desired, to more decorative designs, like Abstract Glass Patterns or Textures, or even Landscape Scenes that bring the "outside in" .. coordinating with the area your home is located in.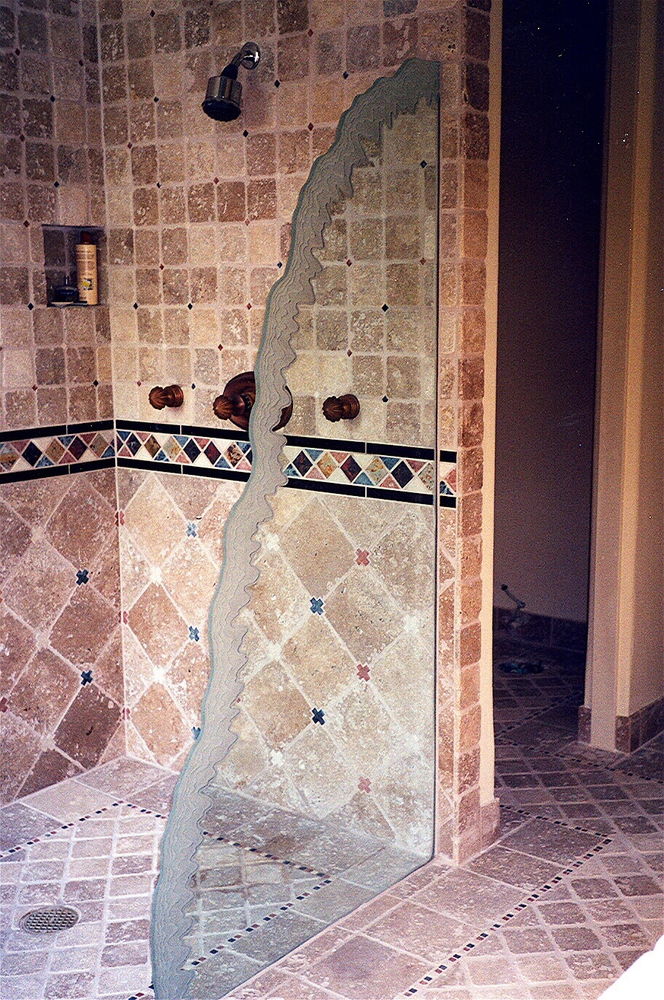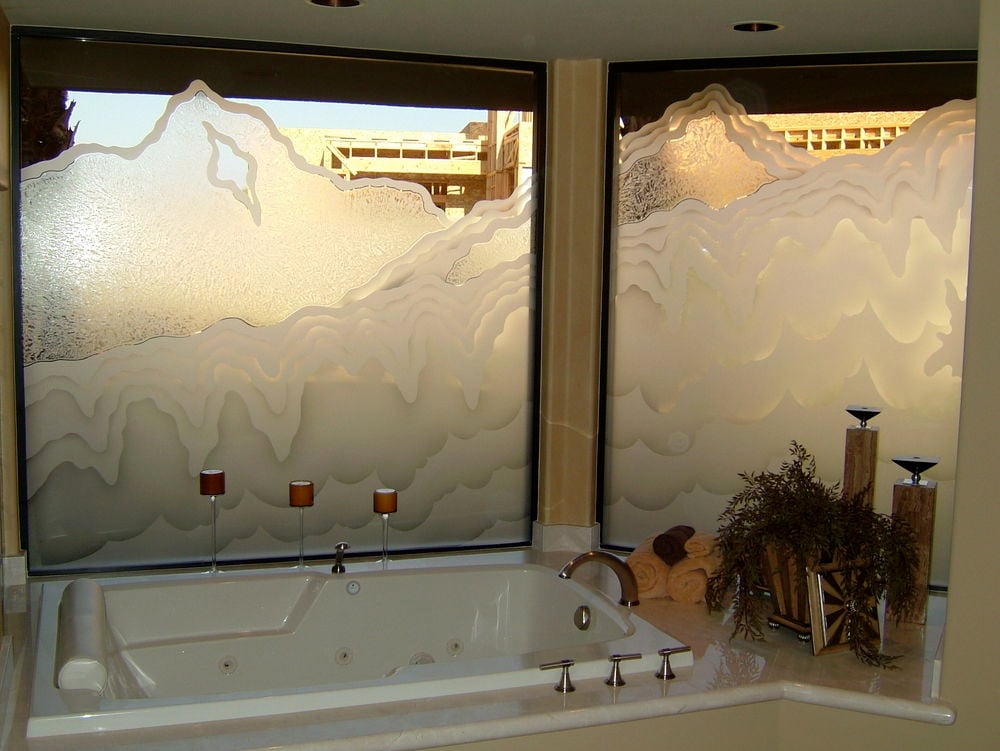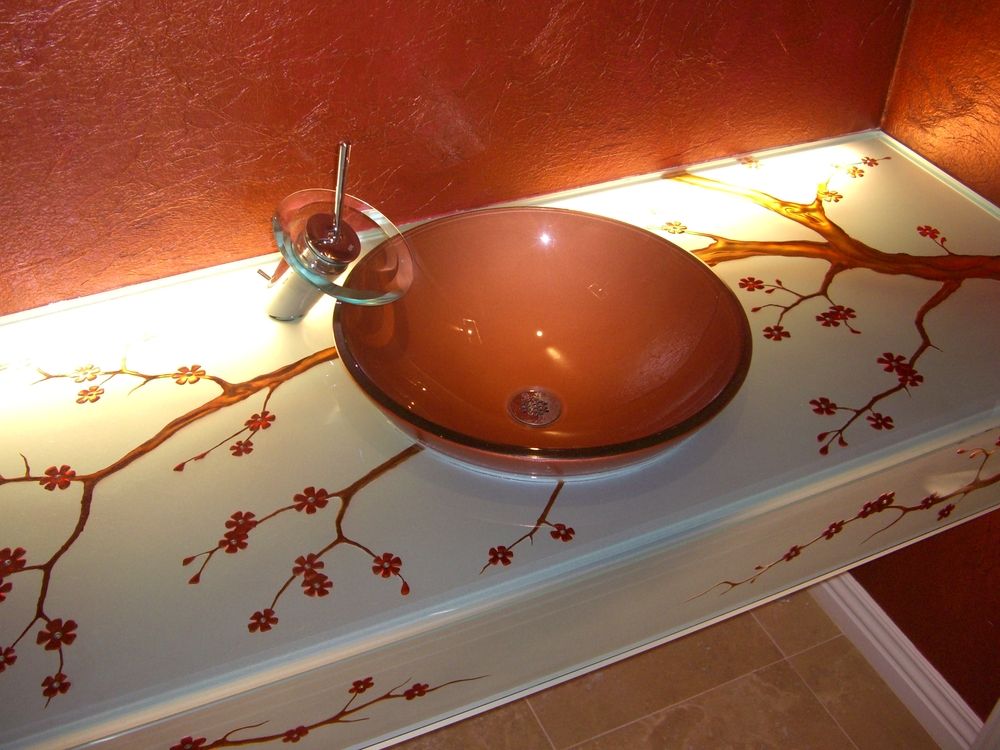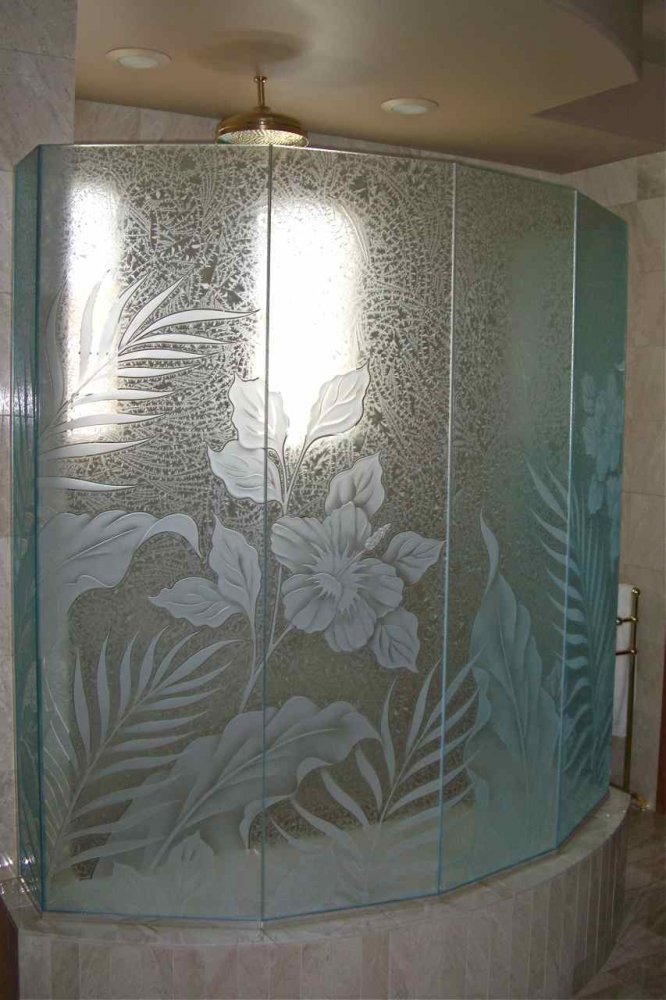 A truly stunning and eye catching effect is created with our custom glass counter and vanity glass. Glass can be edge lit, or simply spot lit from beneath and of course adding color to the carved glass design will really make a statement, and pull from the colors of the surrounding decor items, like tile and wallpaper. Our transparent colors can be matched to your decor.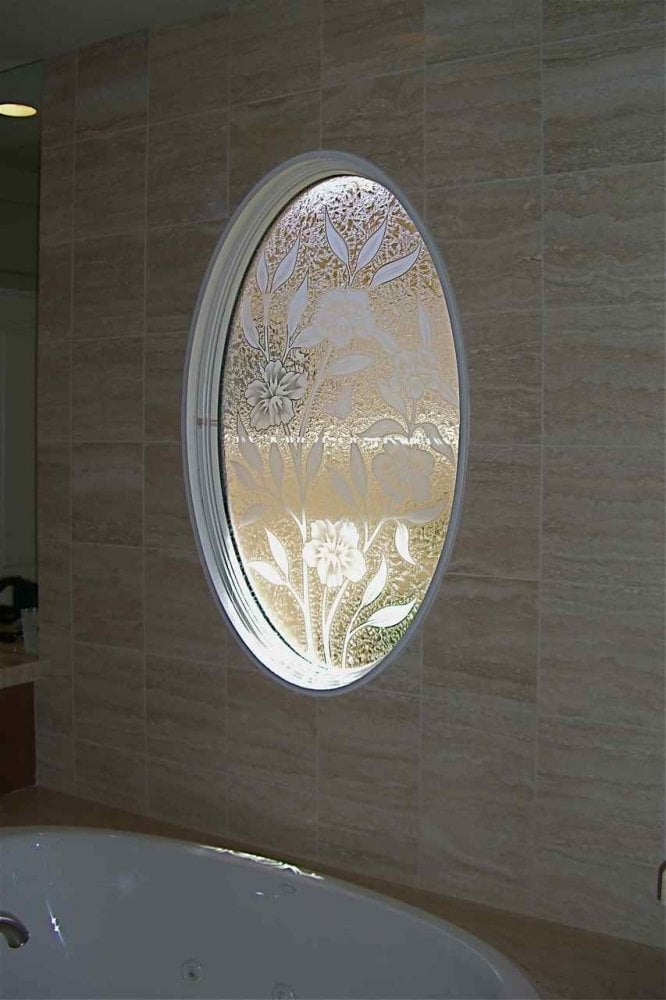 A Shattered Glass Counter is a beautiful custom option, which can be made to fit any size or configuration bath vanity. Shattered glass is typically 3 layers of 1/4″ thick glass, resulting in counter top that is 3/4″ thick. The center layer is tempered glass, that when "drilled" through, shatters and creates that gorgeous, multi-facted "diamond like" appearance that sparkles brilliantly! A fanastic option we suggest is making that bottom layer, a layer of mirror! Mirror comes in a multitude of different colors, which again would coordinate to any color scheme. Using the mirror, adds dimension and multiplies that gorgeous "sparkle effect!"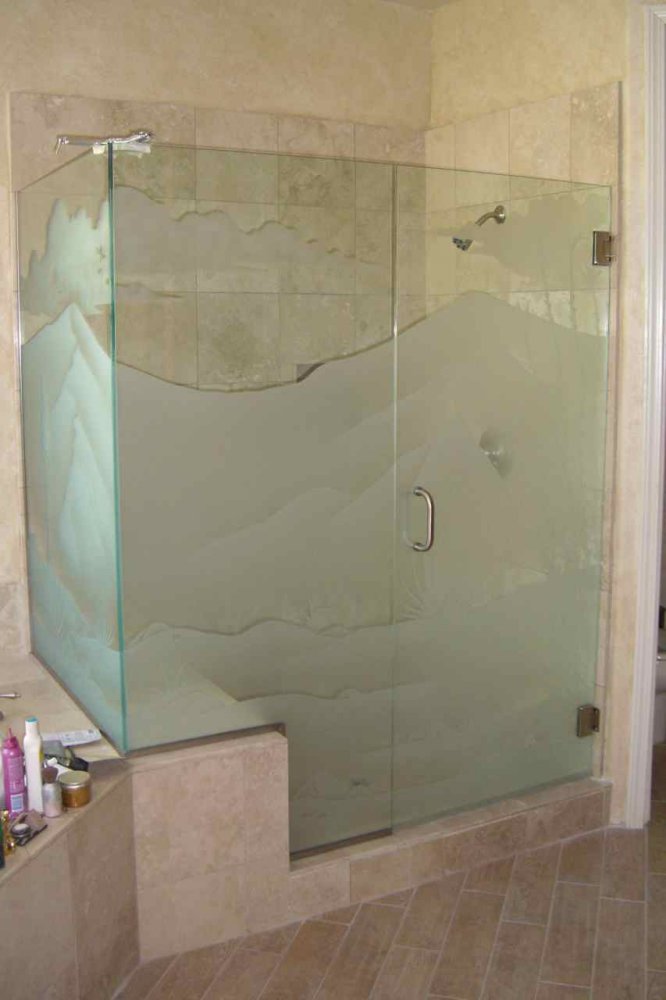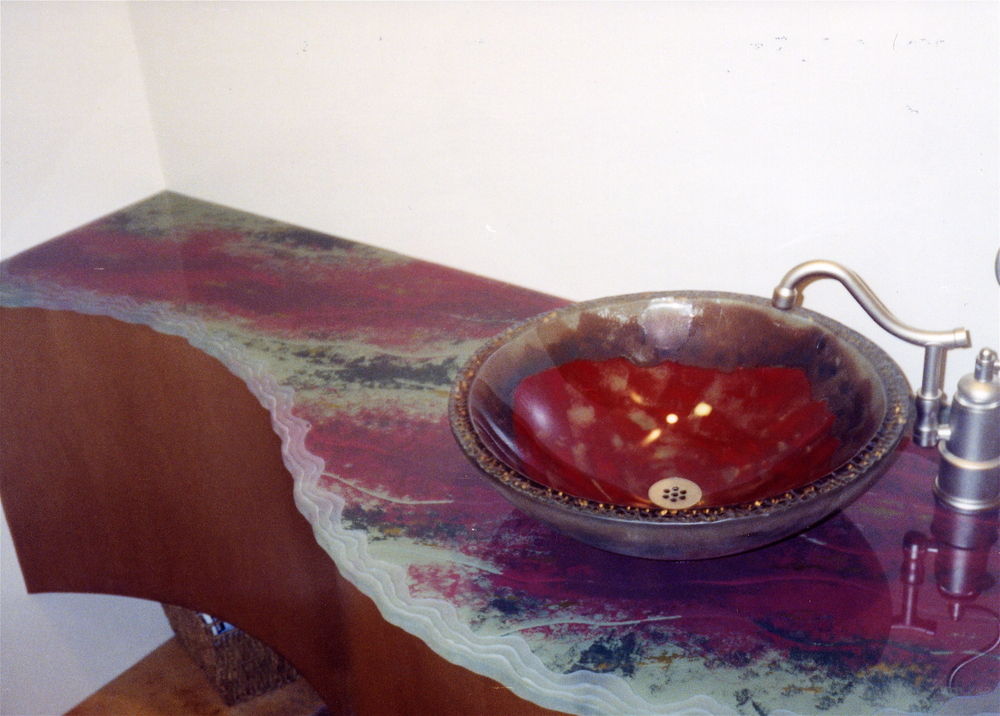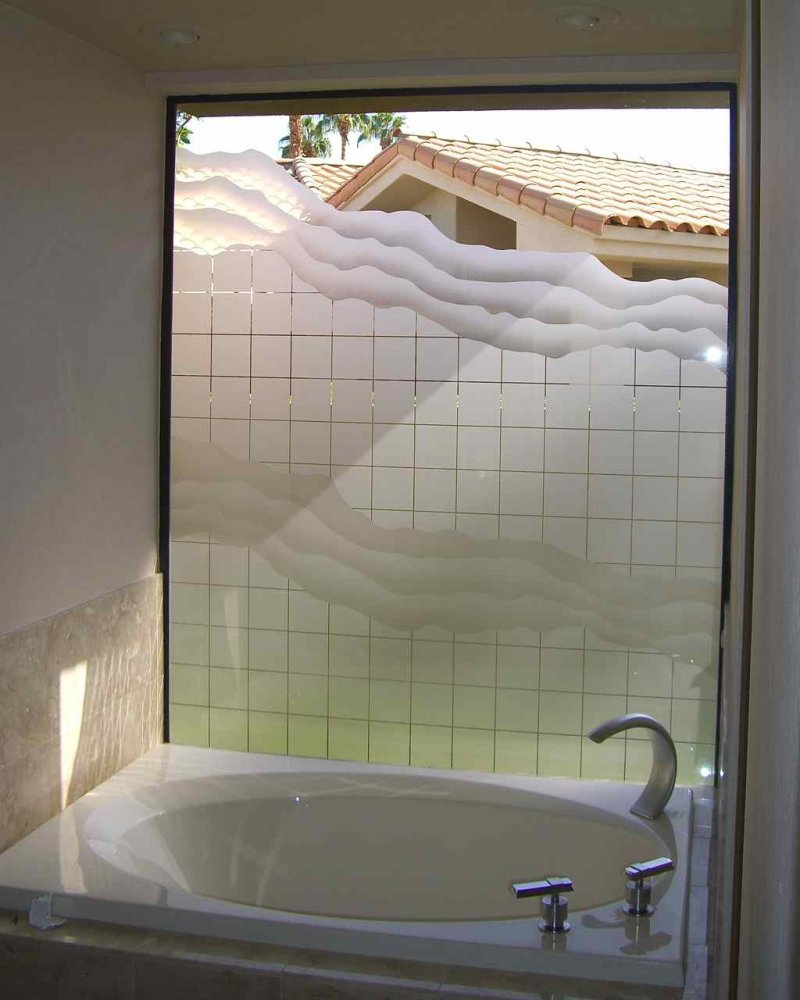 Freestanding shower partitions are another fantastic custom glass item for your bath. A plain glass partition in and of itself is pretty, but adding one of our Custom Etched, Carved Glass Edges really finishes off the piece, adding a beautiful, custom look. Sans Soucie creates a number of custom glass edges that we apply not only to shower dividers, but also to frameless, all glass shower enclosures, custom glass shelving and table edges.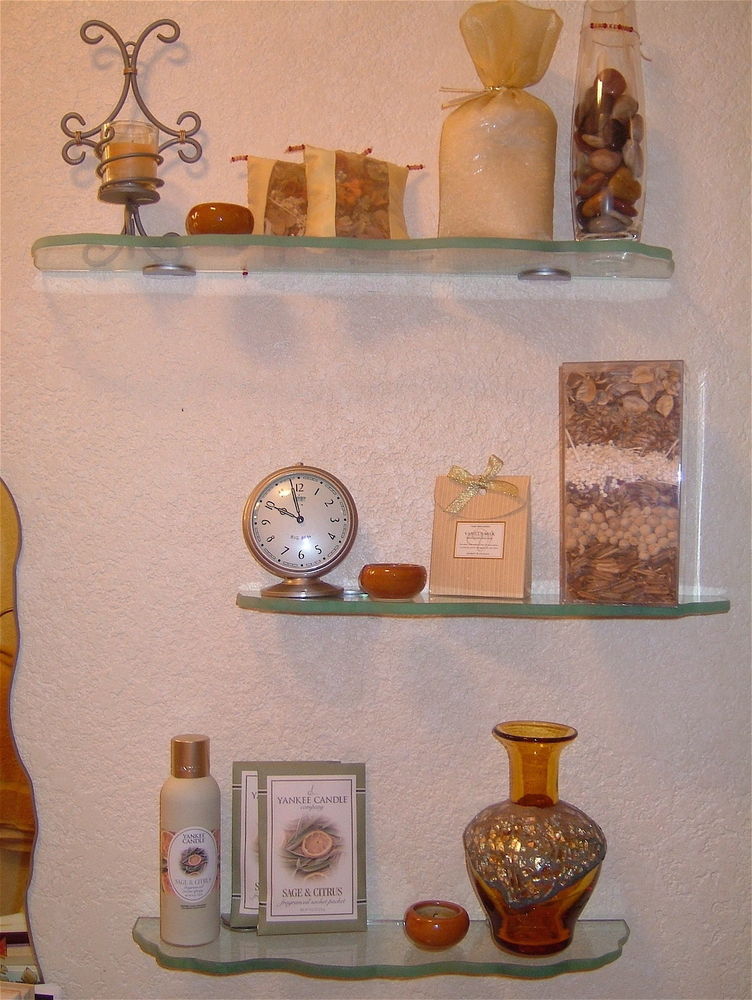 Sans Soucie also creates custom bathroom shelving, great for small areas like over the commode.
Contact Us for any questions your may have or about any custom glass project you are working on and let us help you create that custom work of art glass you're looking for! Visit our Custom Designs Gallery to see hundreds of examples of our work, and visit our Pricing Page for dozens of example prices.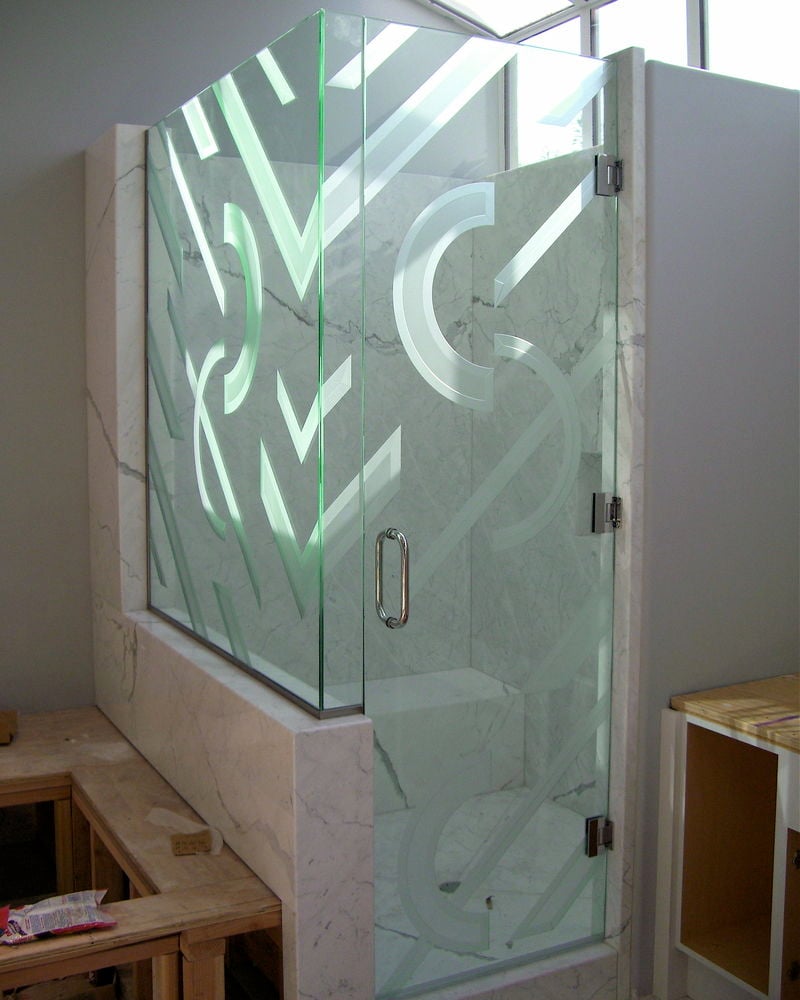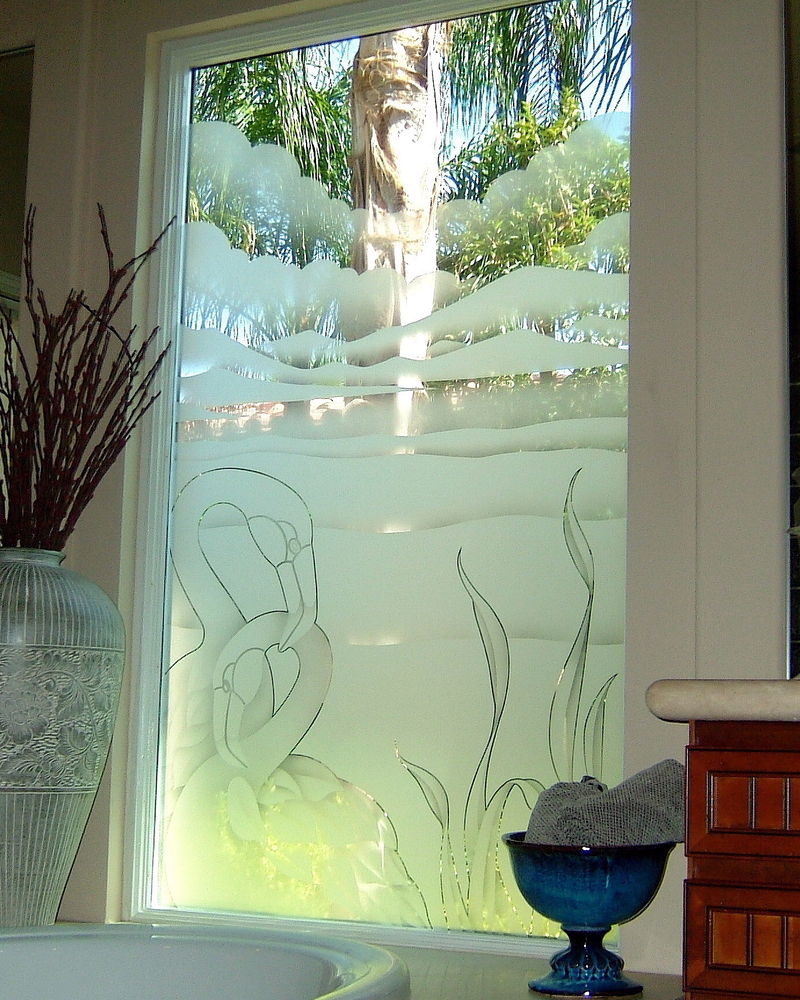 THANK YOU FOR VISITING OUR BLOG!