Beautiful Wood Pantry Doors for Your Kitchen
Transforming your kitchen with beautiful wood pantry doors doesn't just add function, but also a touch of elegance to your home. In this post, we'll guide you through the exciting world of pantry doors, exploring customization options, the perfect wood species, frosted glass options, and more. Get ready to create a stunning focal point in your kitchen!
Key Takeaways
Choose the right wood species for your pantry door to create a cohesive kitchen aesthetic.
Customize your design with frosted glass, contrasting colors, or farmhouse style signage.
Consider interior prehung doors vs interior slab doors, and shipping & ordering options when selecting the perfect pantry door for your lifestyle.
Choosing the Right Wood Species for Your Pantry Door
The choice of wood species for your pantry door plays a significant role in establishing a unified kitchen look. Each species offers unique attributes, ranging from durability to natural beauty that should be taken into account.
We will further examine the benefits and properties of Douglas Fir, Oak, Mahogany, Knotty Alder, and Cherry in the upcoming sections.
Douglas Fir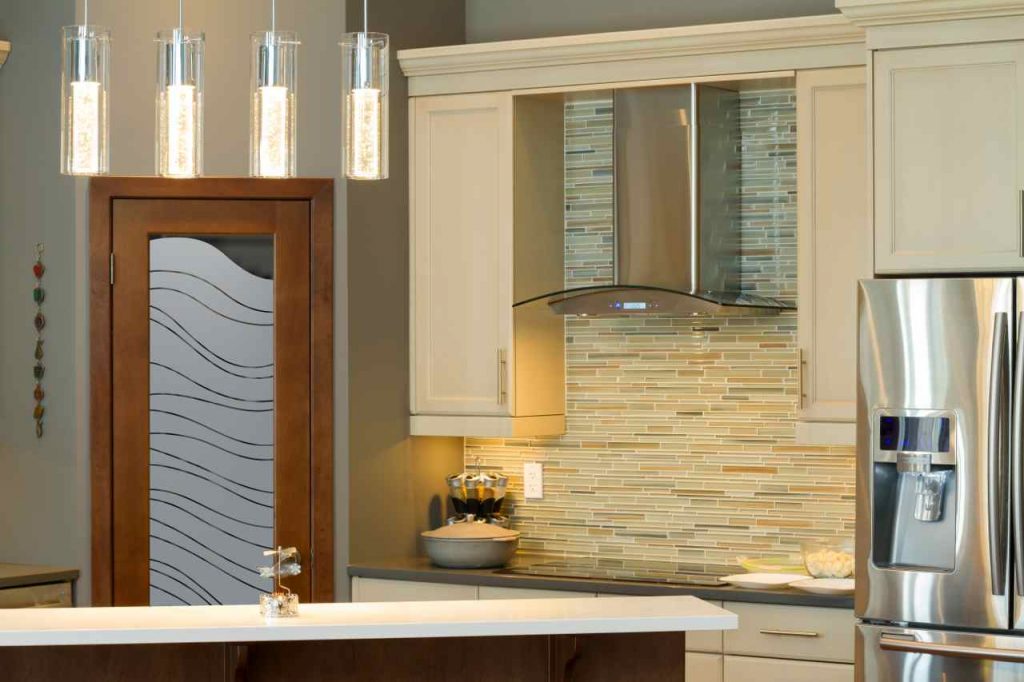 Douglas Fir is renowned for its exceptional strength properties and workability, making it a popular choice for pantry doors. Its warm, reddish-brown hue adds a touch of coziness to any kitchen.
Apart from its superior strength and resistance to splitting, Douglas Fir is also relatively lightweight, which makes it easier to work with during installation. Do bear in mind, however, that it might not be as hardy as some other woods, making it more prone to dents and scratches.
Overall, Douglas Fir is a strong, durable, and versatile wood that works well for various interior applications, including pantry doors.
Oak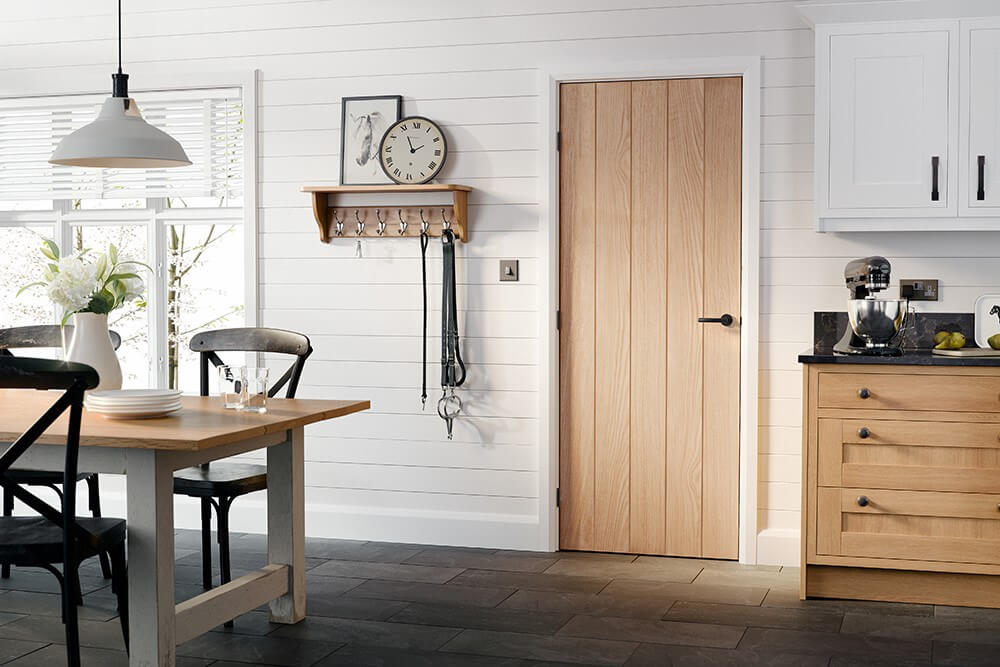 Oak wood is a superb option for a pantry door for several compelling reasons. Firstly, oak is well-known for its outstanding durability and long-lasting qualities. This wood variety possesses natural resistance to decay, moisture, and insect infestations. This makes it highly suitable for the often humid and frequently used environment of a kitchen pantry.
Moreover, oak features a visually appealing appearance with its prominent grain patterns and a color range from light to medium brown. Its coarse texture and attractive wood grain patterns add a touch of timeless charm to any setting.
To sum up, oak wood is a fantastic choice for pantry doors due to its exceptional performance, attractive appearance, and versatility in design and finishing options. Its resilience and timeless aesthetic make it a practical and stylish addition to any kitchen.
Mahogany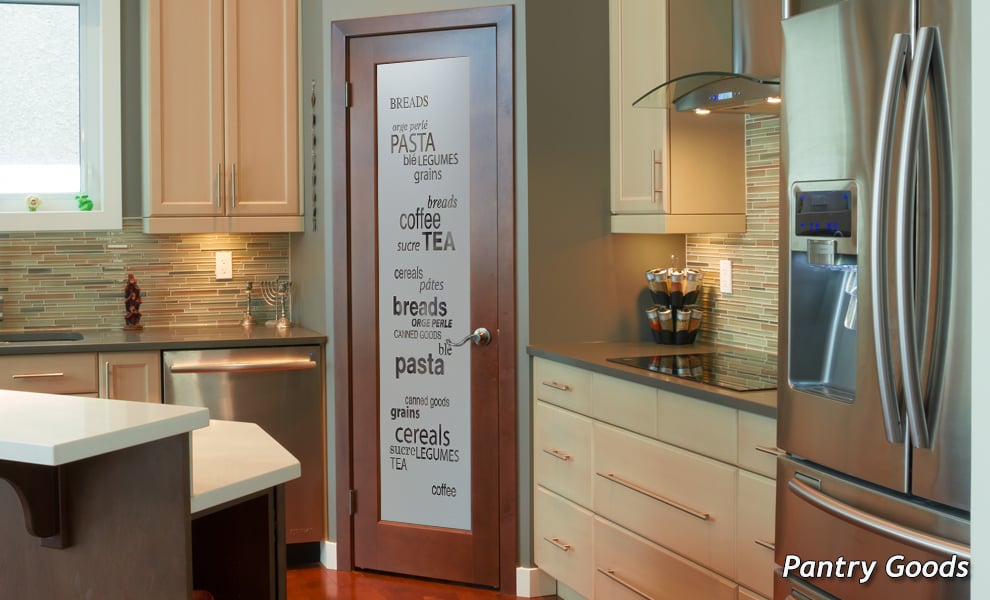 Mahogany wood is an excellent choice for a pantry door for lots of reasons. It's celebrated for its remarkable combination of beauty and durability. This wood boasts a rich, reddish-brown color and a lustrous, fine grain that imparts a sense of luxury and sophistication to any space, making it a standout feature in your kitchen.
Additionally, mahogany wood is prized for its ease of machining and finishing. It readily takes on stains and finishes, allowing you to customize the door's appearance to match your kitchen's unique style. Whether you prefer a classic, polished look or a more rustic, natural finish, mahogany can accommodate your design preferences with ease.
Knotty Alder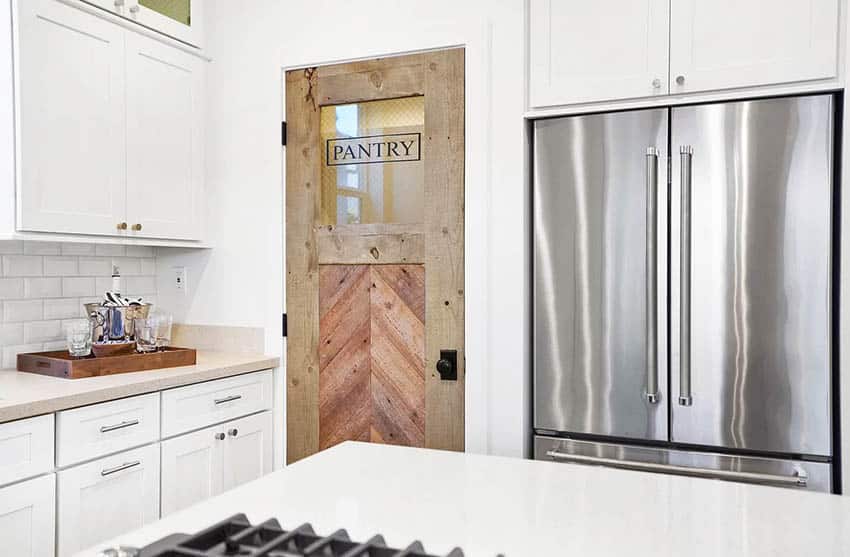 If rustic charm is what you're after, Knotty Alder is the perfect wood for your pantry door. Known for its knots and irregular grain patterns, Knotty Alder provides a unique character and warm tone to any kitchen. It is also soft and easy to work with, making it an excellent choice for furniture, cabinets, and other items.
When combined with beveled or frosted glass, Knotty Alder pantry doors can add an extra touch of elegance to your space. With its distinctive appearance and rustic appeal, Knotty Alder is a great option for homeowners wanting to add personality to their pantry door.
Cherry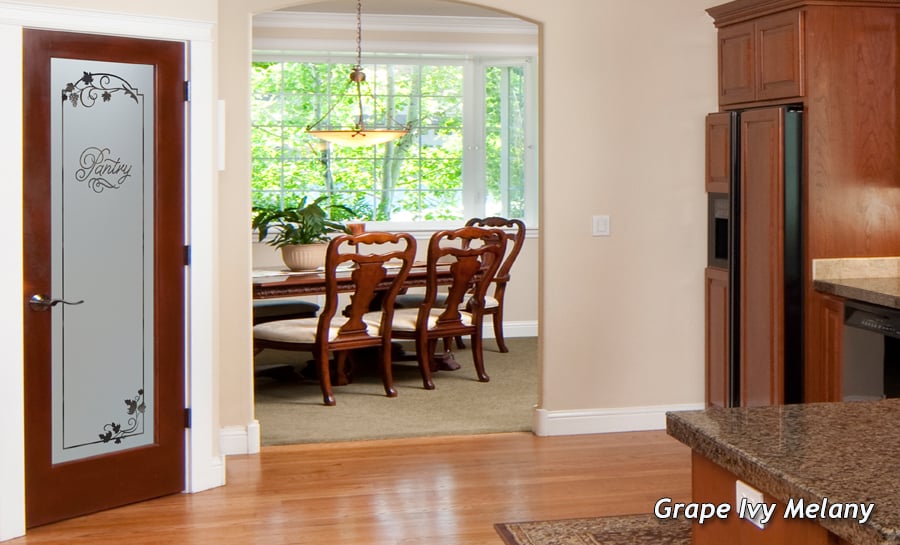 Cherry is a premium hardwood that offers a rich, reddish-brown color and a smooth, satiny texture. Its natural beauty, strength, and thick durability make it a sought-after choice for pantry doors.
However, due to its popularity and cost, Cherry may be harder to source and is prone to scratches and dents. Despite these drawbacks, Cherry's elegant appearance and ability to darken over time make it a timeless and sophisticated choice for any door and kitchen.
Customizing Your Wood Pantry Door Design
Having chosen your preferred wood for your pantry door, you can now delve into the diverse customization possibilities. Some options include:
Frosted glass
Contrasting colors
Farmhouse style
Matching wood to your kitchen cabinets
The possibilities are endless, just take note.
We'll now explore these options further to amplify the aesthetic appeal of your pantry door.
Frosted Glass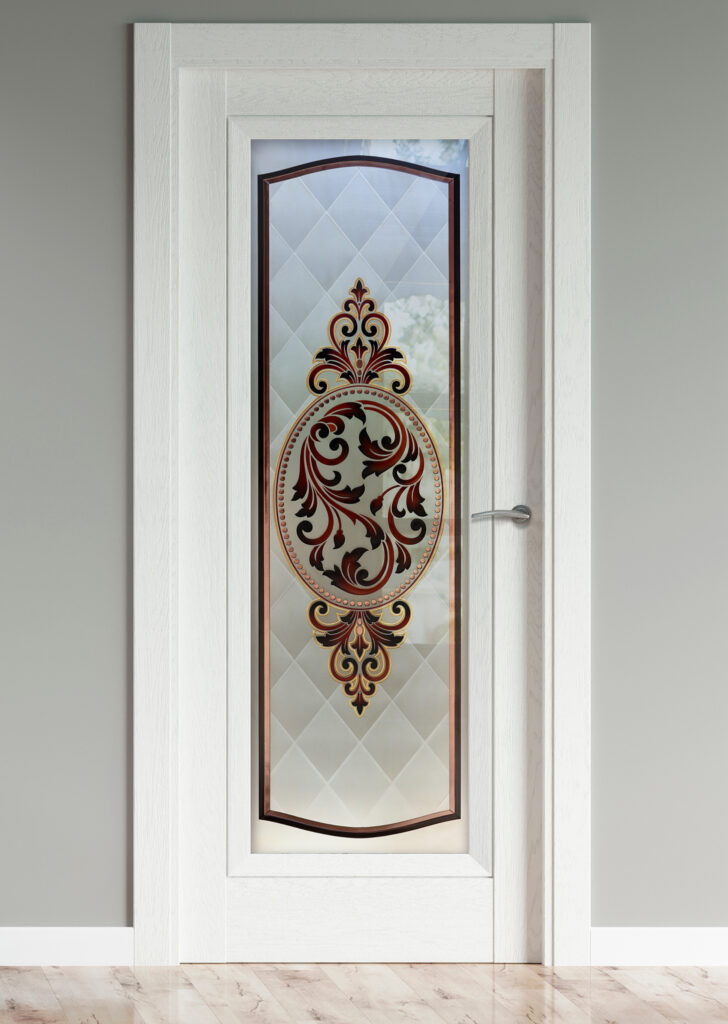 Frosted glass is an excellent addition to any pantry door, offering a touch of elegance and privacy. The opaque nature of frosted glass conceals pantry clutter while still allowing natural light to enter the space.
Here at Sans Soucie we off 3 different types of glass finishes (backgrounds), that also provide different levels of privacy. They include: clear (not private), gluechip (semi-private), and frosted (private). The most popular glass finishes for pantry doors are both the gluechip and frosted, because they offer the most amount of privacy, when wanting to hide pantry items and goods.
And, due to the visibility of pantry contents is being limited, you'll be ensuring a clean and organized appearance. With its combination of seclusion, natural illumination, and attractive appearance, frosted glass pantry doors (or any other glass finish), are both practical and visually beautiful.
Contrasting Colors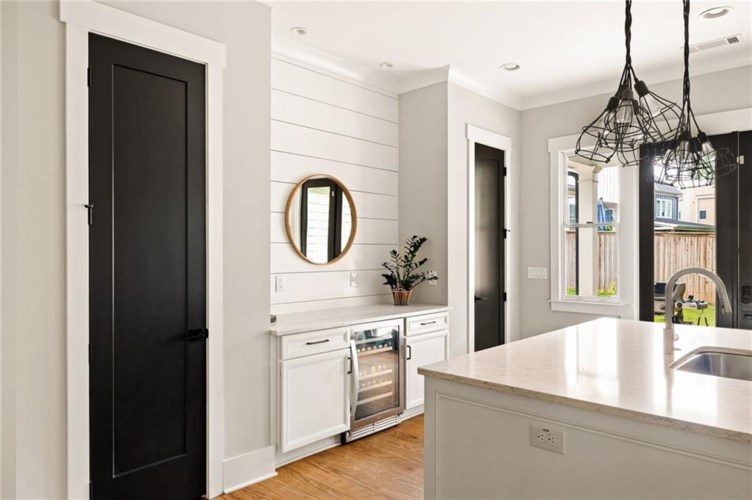 A bold statement can be made by incorporating contrasting colors in your pantry door design. Contrasting colors are those positioned opposite each other on the color wheel. This helps in creating a vivid visual contrast when combined. This eye-catching design element can enhance your kitchen's aesthetic and draw attention to your beautiful pantry door.
Don't be afraid to experiment with different color combinations to find the perfect contrasting look for your kitchen.
Farmhouse Style with Signage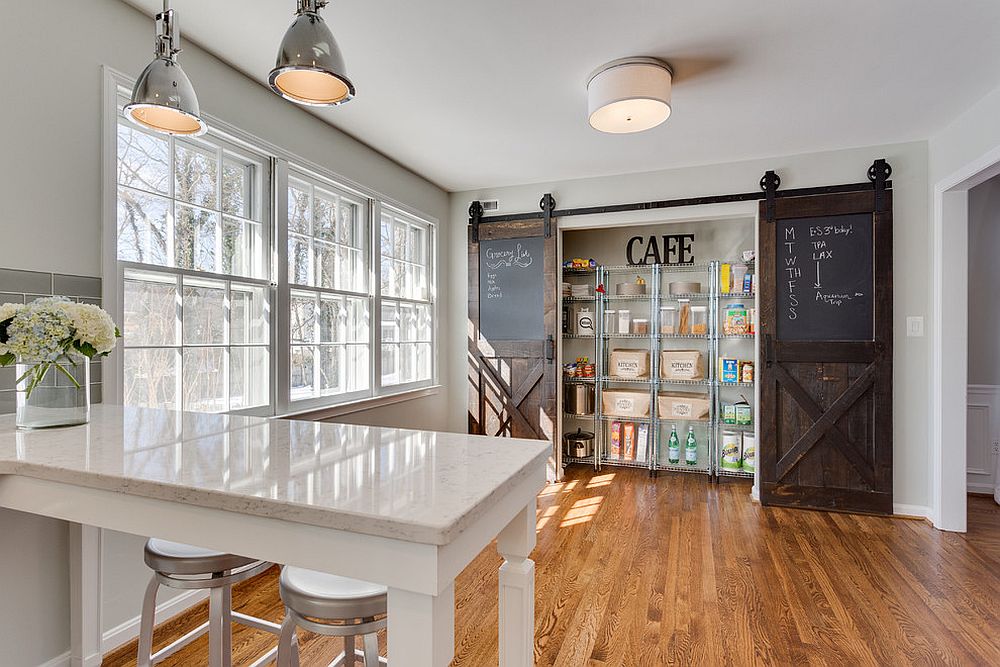 Farmhouse style with signage is a popular design trend that combines rustic elements with modern touches. This charming design often includes signs or other decorative elements crafted from wood, chalkboards, or other materials, adding a personalized touch to your pantry door. For more info on how to incorporate this trend into your pantry, explore various design resources and inspirations.
By incorporating farmhouse style with signage, you can create a warm and inviting atmosphere in your kitchen that feels both timeless and on-trend.
Matching Wood Species to Kitchen Cabinets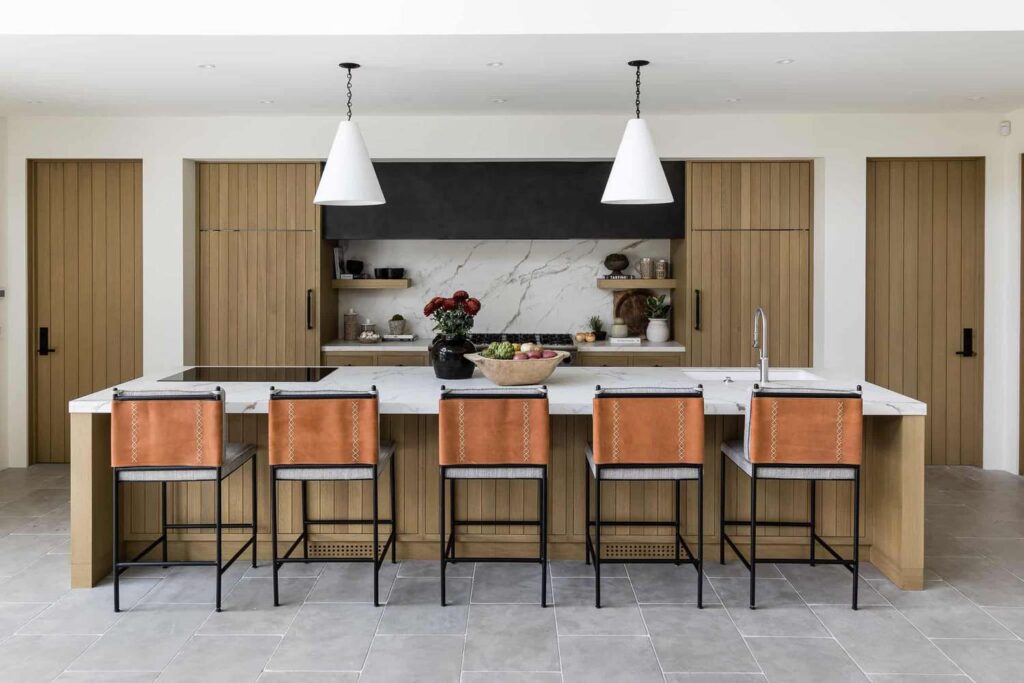 To achieve a unified and polished look in your kitchen, consider matching the wood of your pantry door to your kitchen cabinets. This design choice creates a cohesive aesthetic and ensures that your pantry door complements the overall design of your kitchen.
By carefully selecting a compatible wood, you can enhance the beauty and harmony of your room.
Interior Prehung Doors vs. Interior Slab Doors: Which Is Right for Your Pantry?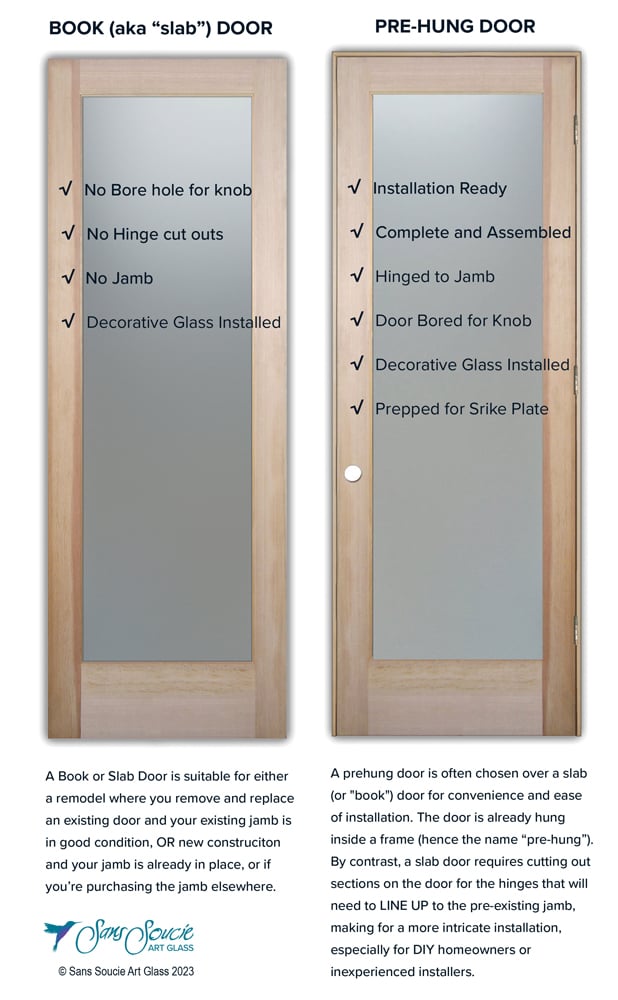 Armed with knowledge of the different wood species and customization options for your pantry door, we can now discuss the contrast between interior prehung doors and interior slab doors. Understanding these differences will help you determine the best option for your pantry.
We'll examine the benefits of each type of door, enabling you to make a well-informed decision.
Interior Prehung Doors
Interior Prehung doors come with a frame and are easier to install, making them a popular choice among homeowners. These doors offer ease of installation, as they are pre-mounted in a frame with accurately aligned hinges and pre-drilled hardware holes.
Although a prehung door may be more expensive than a slab door, their convenience and time-saving benefits make them an appealing option for many.
Interior Slab Doors
Interior slab doors, on the other hand, are just the door itself and require additional hardware, such as hinges and a latch. Even though they may be more cost-effective and customizable than prehung doors, the installation process is more complex.
If you're comfortable with a more involved installation process and desire greater customization potential, an interior slab door may be the right choice for you.
A Guide to Pantry Door Sizes and Installation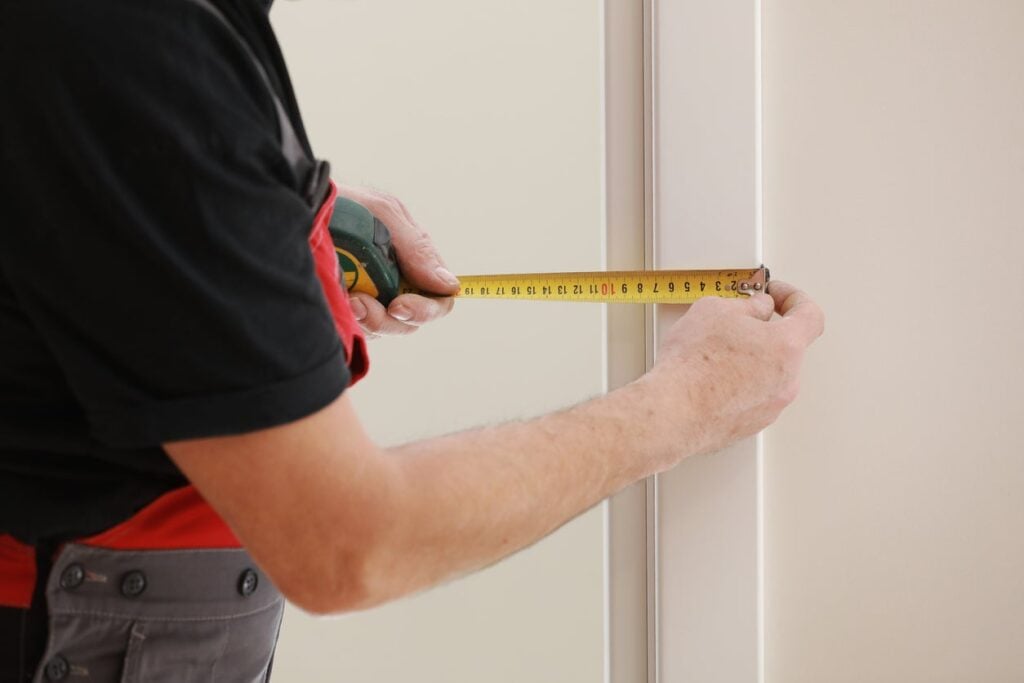 With your ideal pantry door selected and a decision made between a prehung or slab door, we can now move onto learning about accurate measurements and handy installation tips. Ensuring an accurate fit and seamless installation process is crucial for the functionality and aesthetics of your new pantry door.
We'll now discuss standard pantry door dimensions, techniques for measurement, and tips for installation.
Standard Pantry Door Sizes
Typical pantry door sizes range from 24" to 36" in width and 80" to 96" in height. While these are standard dimensions, custom sizes may also be available to suit your specific needs.
It's essential to measure your pantry opening accurately to ensure that you select the appropriate door size for a perfect fit.
Measuring Your Space
Measuring your space accurately is crucial for a proper fit and smooth installation. To measure the space for your pantry door, measure the width and height of the opening from the inside of the frame.
Be sure to take your measurements at least twice to ensure accuracy, because even small discrepancies can affect the installation process.
Installation Tips
When installing your pantry door, it's important to follow specific guidelines to guarantee your door is secure and functional. First, gather the necessary tools and hardware for the job and consult a professional if you're uncertain about the installation process.
Inspect your door for any damage prior to installation and make sure the door is level and the hinges are correctly aligned. Following these tips will help give you peace of mind of a successful pantry door installation.
Adding a Personal Touch: Paint and Finish Options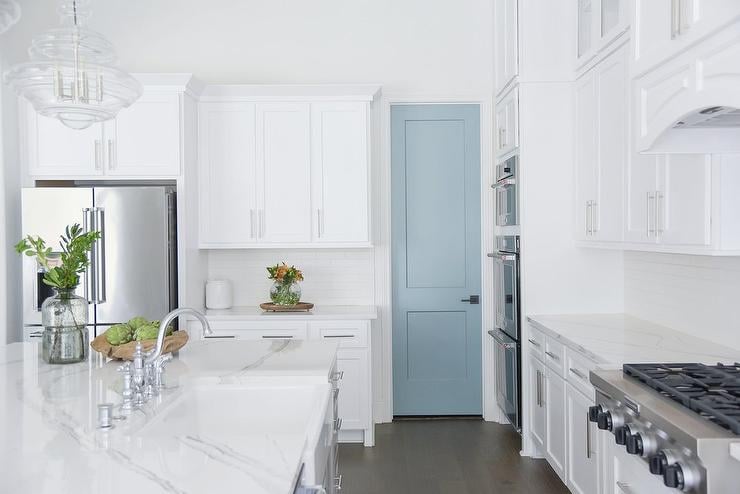 With your pantry door selected and installation knowledge gained, we can proceed to the final touches. With a variety of paint and finish options available, you can easily customize your wood pantry door to suit your kitchen's overall design.
We'll now investigate a handful of options, including primed doors, factory-finished doors, and a variety of color and finish recommendations.
Primed Doors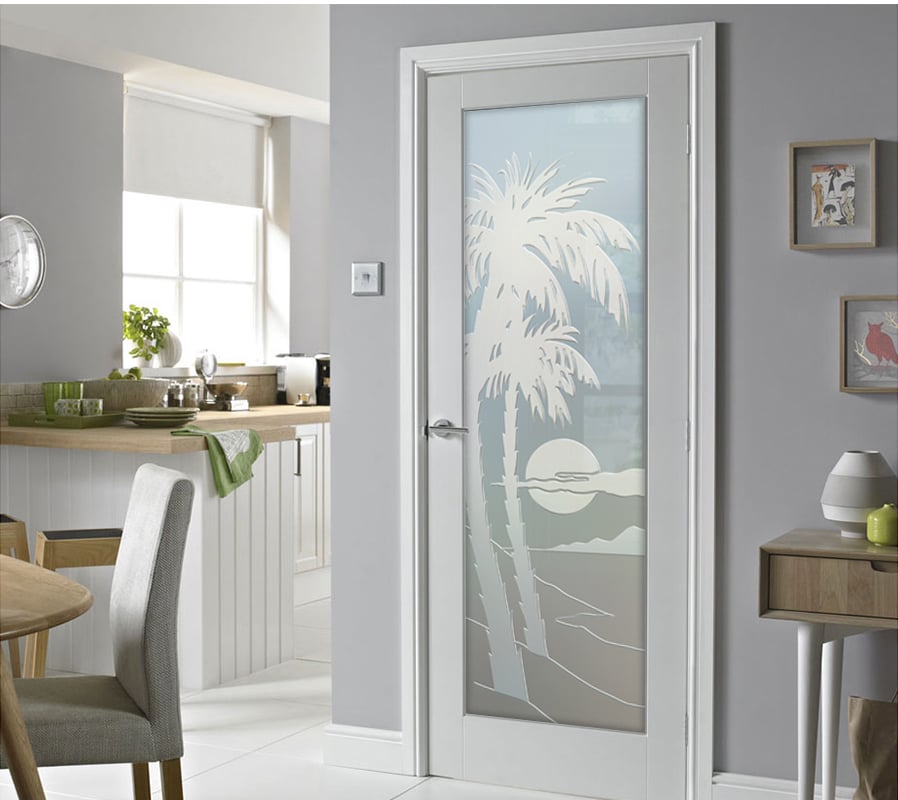 Primed doors offer a cost-effective alternative to factory-finished doors, as they come with a ready-to-paint surface and a smooth, even finish. This allows for easy customization, as you can select the perfect paint color to complement your kitchen design.
Keep in mind that a primed door may require additional maintenance and upkeep compared to factory-finished doors.
Factory-Finished Doors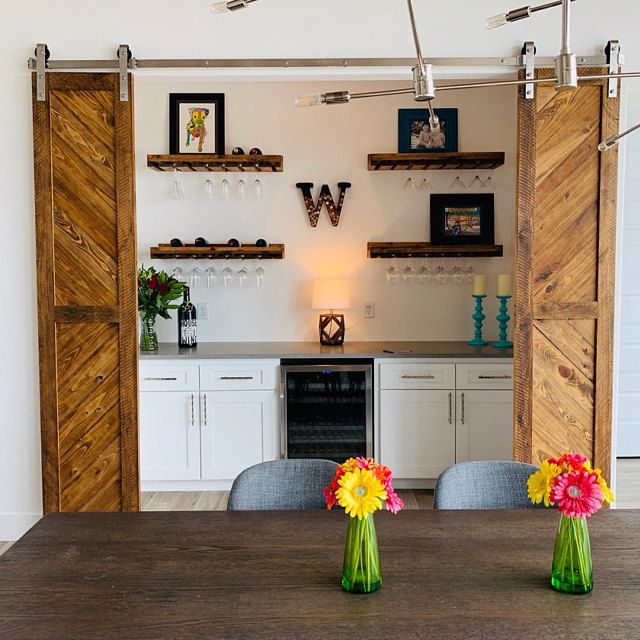 Factory-finished doors come with several advantages:
They come pre-painted or stained, saving you time and effort in the painting process.
They are more resilient and require less upkeep than primed doors.
They are a popular choice for many homeowners.
While factory-finished doors may be more expensive, their convenience and durability make them an excellent option.
Paint Color and Finish Suggestions
When selecting a paint color and finish for your pantry door, consider options that complement your kitchen's overall design. Some options to consider are:
Semi-gloss finish: This finish offers a subtle shine and is easy to maintain.
Satin finish: Similar to semi-gloss, satin finish also provides a subtle shine and is easy to clean.
Glossy finish: If you want a more pronounced shine, a glossy finish is a good choice.
Be sure to select a paint specifically designed for interior doors to ensure a high-quality finish.
With the right paint color and finish, you can enhance the beauty of your wood pantry door and create a stunning focal point in your kitchen.
The Benefits of Solid Core Wood Pantry Doors
Solid core wood pantry doors offer numerous benefits that make them an excellent choice for your kitchen. These doors are highly durable, thanks to their solid wood construction, and provide increased insulation and soundproofing.
With their superior performance and aesthetic appeal, solid pantry doors are a valuable addition to any home.
Narrow Pantry Doors: Creating Space in Small Kitchens
For those with limited kitchen space, narrow pantry doors can be a practical and stylish solution. These doors offer the same functionality as standard pantry doors, all while maximizing space in smaller kitchens.
Available in a range of materials and styles, narrow pantry doors can help create a more streamlined and organized kitchen without sacrificing style.
Shipping and Ordering Your Custom Wood Pantry Door
After finalizing all the design decisions for your custom wood pantry door, you can proceed to place your order and organize the shipping. The process involves selecting the design, material, and size desired, and then placing an order with the manufacturer.
The manufacturer will then ship the door to your address. This will allow you to enjoy your beautiful new pantry door in no time. Make sure you understand all shipping and ordering options available to ensure a smooth and efficient experience.
Summary
In conclusion, beautiful wood pantry doors can transform your kitchen, adding both function and stylishness to your space. By carefully considering the wood species, customization options, and installation process, you can create a stunning focal point that enhances your kitchen's aesthetic. With the right choices and attention to detail, your new pantry door will be a valuable addition to your home for years to come.
Frequently Asked Questions
What type of door is best for pantry?
Installing a barn door for your pantry is an easy and effective way to upgrade your kitchen style. Barn doors offer practicality and are great at keeping your pantry space free from clutter.
What is the standard door for a pantry?
The standard door for a pantry ranges from 24″ to 36″ widths and 80″ to 96″ heights, with many models being custom. It's important to ensure the size is neither too large or small as it can reduce energy efficiency.
Should a pantry door swing in or out?
For kitchen pantries, it is best to have the door swing out if possible as this will allow for more storage and shelving inside due to the typically small size.
What color should my pantry door be?
If you have painted walls, go for a slightly lighter or darker shade. If you prefer something bolder, match it to the smaller details in your room. Or if there's wallpaper, use this as your guide.
What can I use instead of a door on my pantry?
Consider using a pocket door, curtain, folding screen or room divider as an alternative to a traditional pantry door. These options are easy to DIY and offer a unique touch to your space.
About Sans Soucie Art Glass
Family owned and operated since 1976, Sans Soucie sets the industry standard for the highest quality design and execution of sandblast frosted, carved and hand painted glass both nation and worldwide. Choose from our vast collection of designs across every decor, or let us create a brand new one-of-a-kind designs per your specifications. Our frosted glass designs turn ordinary glass into art pieces that add a luxury element to your home, while creating the privacy you need. Truly art with a function, our etched glass designs diffuse light and reduce glare, while enhancing the look of your home with a unique, eye catching custom element. Not clip art or machine manufactured, each design is a uniquely handcrafted original work of art, custom designed for our distinguished clientele of homeowners and commercial developers.
Free shipping to most states, shipping both national and worldwide, all our glass is handmade and expertly packed in-house by our team of glass artisans and shipped from Palm Desert, California. Shop our most popular products like glass front doors, interior prehung doors, interior slab doors, pantry doors, interior glass doors, sliding glass barn doors, windows, shower doors, shower partitions and shower enclosures, frameless glass entry doors, decorative mirrors, glass signs, glass dining tables and glass coffee tables.
Copyright © 2023, Sans Soucie Art Glass. All rights reserved.