Barn Door Modern: A Guide to Styles & Designs for 2023
Are you looking to add a fresh touch of style and functionality to your home? Barn door modern designs are an increasingly popular choice for homeowners seeking a chic blend of aesthetic appeal and practicality. Especially, when looking for a unique way to incorporate interior frosted glass doors. With a wide range of designs and customizable options, these modern barn doors can transform any home while saving space and enhancing room flow.
Key Takeaways
Modern sliding barn doors offer a stylish, space-saving solution for any room.
Customize your modern sliding barn door with various hardware, finishes and materials to match your personal style.
Choose the perfect modern barn door by measuring accurately, matching it to your interior style & considering both functionality and aesthetics.
Modern Sliding Barn Doors: Aesthetic and Functionality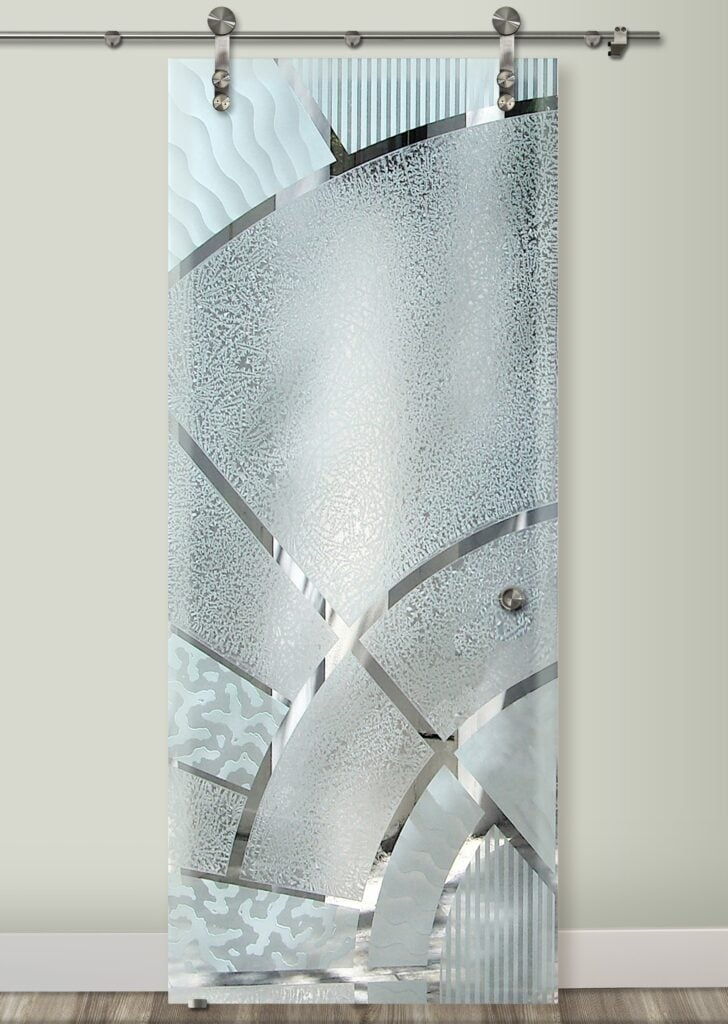 Modern sliding barn doors are making a statement in contemporary home design. These doors offer a fresh twist on the classic barn door look, combining modern design, style, and practicality to create an eye-catching focal point in any room.
Key features of sliding barn doors include:
Available in single, bypass, or double configurations
Space-saving design, as they do not swing open like traditional doors
Wide range of attractive designs and finishes, including solid wood and glass options
Whether you prefer a rustic or modern aesthetic, there's a sliding barn door style to suit every taste and preference.
However, aesthetics aren't the only advantage of modern sliding barn doors. They also offer the following benefits:
Utilize wall space effectively in smaller areas
Function as a space-saving solution
Sleek design
Smooth operation
All of these factors add to the pleasure of using them, catering to various personal preferences.
Space-Saving Solutions
One of the main reasons modern sliding barn doors are gaining popularity is their ability to save space in small or tight spaces. By sliding along the wall instead of swinging open, these doors can free up to 14 square feet of usable floor space. This makes them ideal for areas where a traditional door would occupy valuable floor space or obstruct the flow of movement.
Apart from their ability to slide and save space, modern barn doors enable you to express your personal style through their flexible design and customization options. Some of the possibilities include:
Choosing from an array of door materials and finishes
Selecting various hardware choices
Customizing the size and shape of the door
Adding decorative elements such as windows or panels
With these options, you can create a barn door that truly reflects your taste and complements your home's design.
Enhancing Room Flow
Modern sliding barn doors have several advantages, including:
Enhancing room flow and creating a seamless transition between different areas
Their sleek design and smooth operation allow them to glide effortlessly along the wall
Easy to open and close the door without interrupting the room's flow or blocking a doorway
Particularly beneficial in open-concept homes or spaces that are designed to encourage movement between different areas
Besides improving room flow, glass modern sliding barn doors also contribute to the aesthetic appeal of a space. By allowing more natural light into a room and providing privacy and separation when needed, these doors create a stunning look that can easily integrate with various interior styles. Whether you're looking to add a touch of modern minimalism or a pop of color and pattern, a sliding barn door can help you achieve the desired effect.
Popular Modern Barn Door Styles
As their popularity grows, modern barn door styles are evolving to cater to diverse tastes and preferences. Some of the most sought-after styles include:
Minimalist designs with clean lines
Glass panel doors that let in more natural light
Eye-catching chevron and arrow patterns that are sure to make a statement
These styles offer a fresh and contemporary alternative to traditional barn doors, giving homeowners even more options to customize their space to suit their unique style.
Minimalist and Clean Lines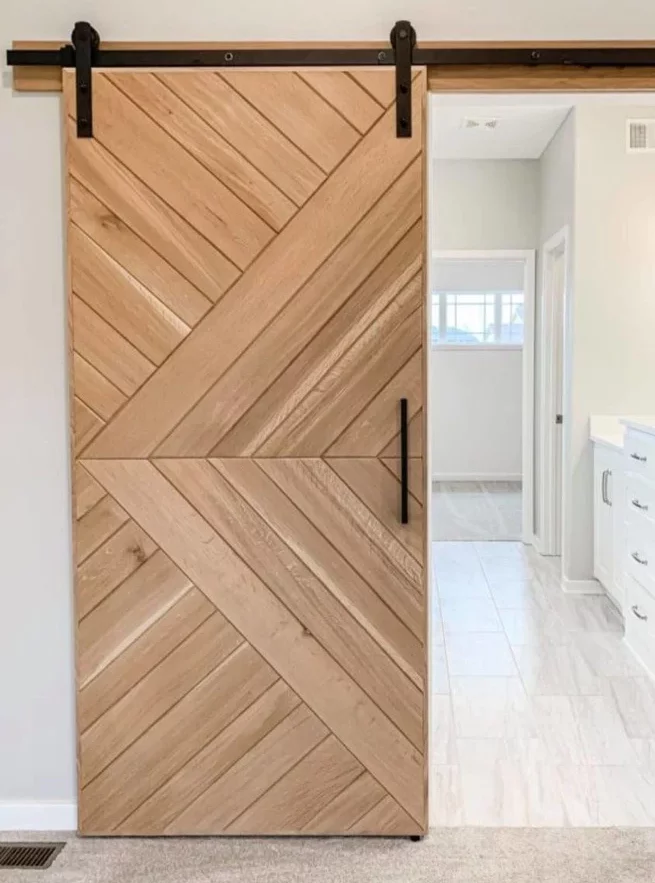 Minimalist and clean line barn doors have become increasingly popular among homeowners seeking a sleek and contemporary look. These doors emphasize simplicity and bold, clean lines, often featuring white or bold coloring and hidden hinges. The minimalist design of these doors allows them to blend seamlessly with various interior styles, from modern and industrial to mid-century and Scandinavian.
When choosing a minimalist and clean lines modern barn door, consider factors such as:
Size
Style
Functionality
Available materials and finishes
By selecting the right door that complements your area, you'll be able to create a stunning focal point that adds both style and practicality to your home.
Glass Panel Barn Doors
For homeowners seeking a more modern and open feel, glass panel barn doors have become a sought-after choice. These doors feature:
Glass panels that let in natural light, creating a more open and airy atmosphere within a space
Available as frosted glass doors in both framed and frameless options
Offer a variety of customization options to suit your personal lifestyle
You can choose between clear, frosted, gluechip, or tinted glass for your glass panel barn doors, depending on your desired level of privacy and light filtration. Moreover, you can customize the door's hardware and finishes to create a look that seamlessly integrates with your interior design.
Chevron and Arrow Door Designs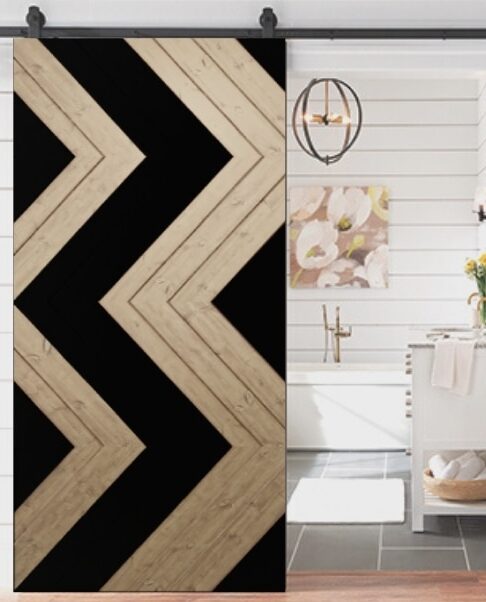 Chevron and arrow designs are currently making waves in the world of modern barn doors. These eye-catching patterns add a touch of visual interest and flair, making them an excellent choice for homeowners looking to make a statement.
Chevron doors provide a subtle yet stylish impression, while arrow doors infuse a space with a modern feel and are easy to install and maintain. Whether you're drawn to the bold geometry of chevron patterns or the sleek lines of arrow designs, these modern barn door styles offer a unique way to express your personal style and elevate the look of your home.
Customizing Your Modern Sliding Barn Door
Customization to match individual style and home decor is a key advantage of modern sliding glass barn doors. With a variety of hardware options, finishes, materials, and glass opacities to choose from, you can create a one-of-a-kind barn door that reflects your taste and complements your home's design.
From selecting the perfect door hardware and custom sizing options to choosing the ideal finish and material, the possibilities are endless when it comes to creating a personalized modern sliding barn door that meets your needs and preferences.
Barn Door Hardware Choices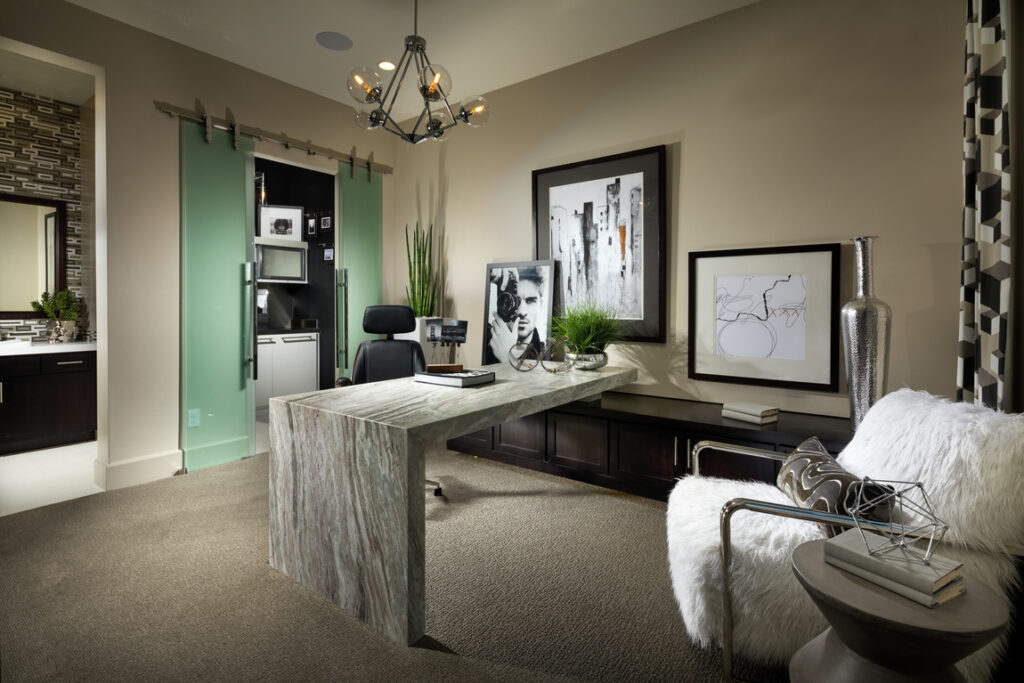 The right hardware can make all the difference when it comes to the look and functionality of your modern sliding barn door. With a range of hardware choices available, such as:
Barn door track systems
Hinges
Rollers
Handles
Face mount hangers with sleek lines
Stainless steel exterior hardware
You can find the perfect combination to match your door and interior style.
Barn door track systems, which include single, double, and bypass options, are essential in ensuring smooth operation and easy installation of your door. Additionally, various handle styles and finishes allow you to further customize the appearance of your door, ensuring it suits your personal taste and the overall aesthetic of your space.
Finishes and Materials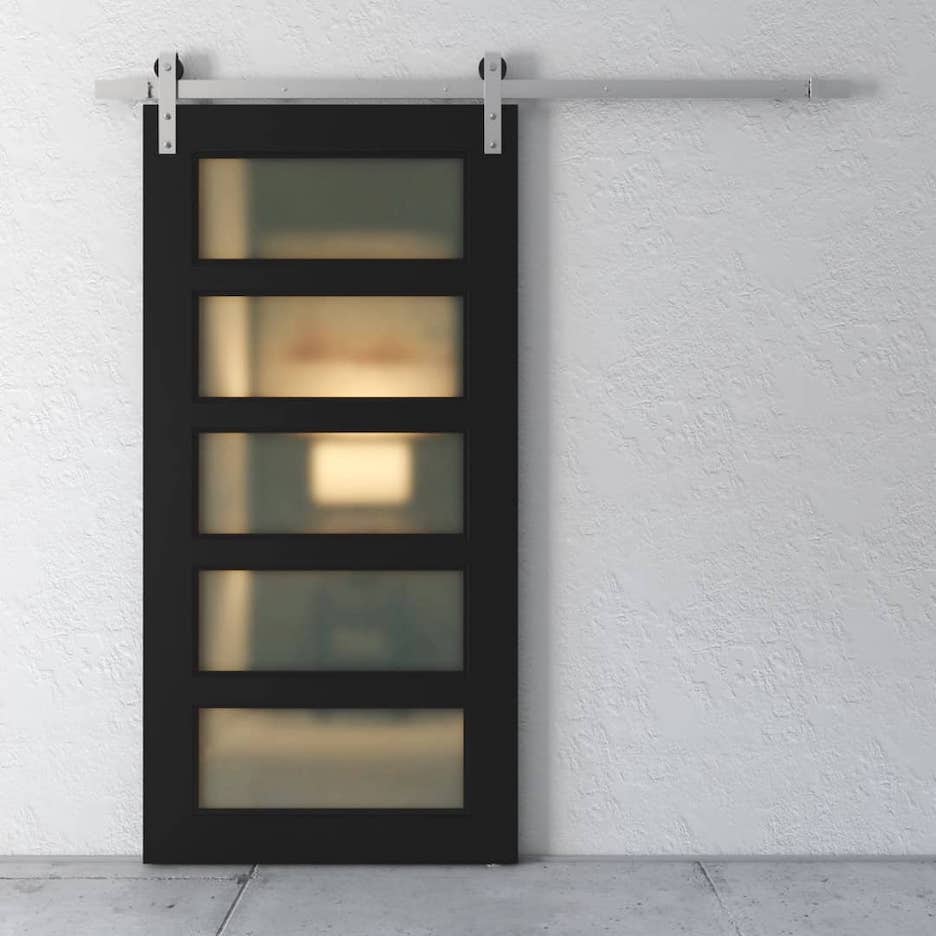 The finish and material of your modern sliding barn door can greatly influence its overall look and feel. With options ranging from:
Solid wood
Engineered wood
Metal
Glass
You can choose the perfect combination to complement your interior design and create a visually appealing focal point in your space.
For a more unique and personalized look, consider painted finishes, distressed finishes, or reclaimed materials that can add character and charm to your modern barn door. No matter your preference, there's a finish and material option out there to suit your style and enhance the beauty of your home.
Glass Opacity Options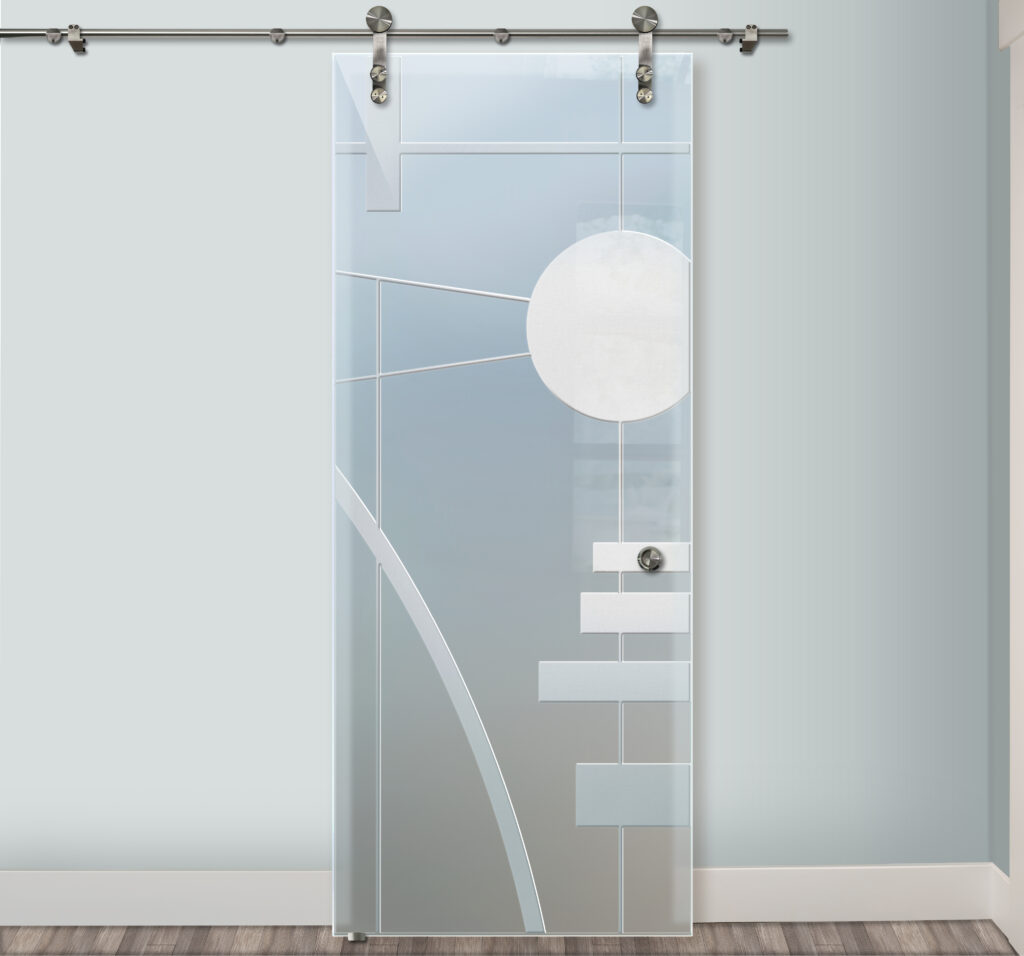 If you're opting for a glass panel barn door, it's essential to consider the glass opacity options for frosted glass doors. With these available options, you'll be able to find the perfect balance between privacy and natural light transmittance. With options ranging from transparent or clear glass to frosted or etched glass, and even opaque or gluechip glass, you can tailor your modern sliding barn door to meet your specific needs and preferences.
Whether you're looking to create an open and airy feel with clear glass or prefer the added privacy of frosted or etched glass, the choice of glass opacity can have a significant impact on the overall aesthetic and functionality of your modern sliding barn door.
Applications of Modern Barn Doors in Various Spaces
Modern barn doors, with their versatility, can be incorporated into various spaces within your home. They can be used in:
Pantries and kitchens
Home offices
Bedrooms
Closets
Bathrooms
Laundry rooms
These fully open doors can add both style and functionality to any area while maximizing space and enhancing room flow.
By selecting the appropriate style, finish, and material for each space, you can create a cohesive and chic look throughout your home. This will ensure that your modern barn doors not only serve a practical purpose, but also contribute to the overall vibe of your living space.
Pantry and Kitchen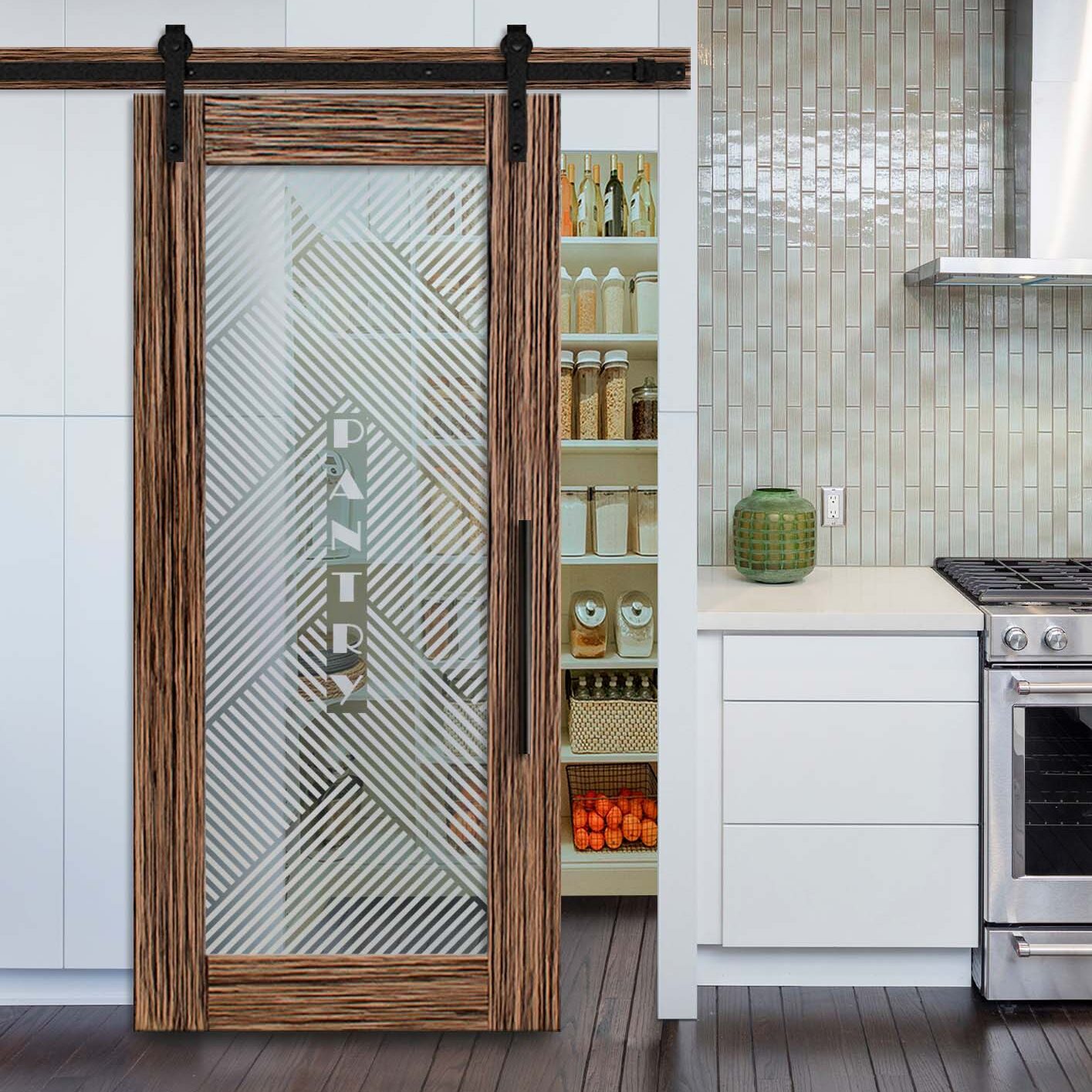 In pantry and kitchen spaces, modern barn doors can provide both a stylish and practical solution. These doors can help save space, add texture and visual interest, and even separate the pantry from the kitchen for a more organized look. As a result, modern barn doors can transform the appearance and functionality of your pantry and kitchen, making them more efficient and beautiful areas.
Furthermore, with various customization options available, you can create a modern barn door that perfectly complements your kitchen and pantry design, ensuring a seamless integration that enhances the overall look and feel of the space.
Home Office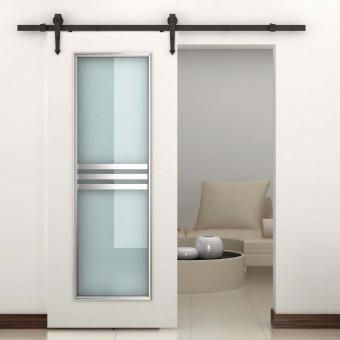 Modern barn doors can also be an excellent addition to home office spaces. They can serve as:
Entrances
Space-saving solutions
Closet doors
Room dividers
Adding a stylish and unique flair while improving functionality in smaller spaces, a modern glass door will allow more natural light to flow through your office and provide privacy when needed. This creates an inviting and productive atmosphere.
In addition to their practical benefits, modern barn doors also offer a wealth of customization options, allowing you to create a door that perfectly matches your home office's design and meets your individual needs and preferences.
Bedroom and Closet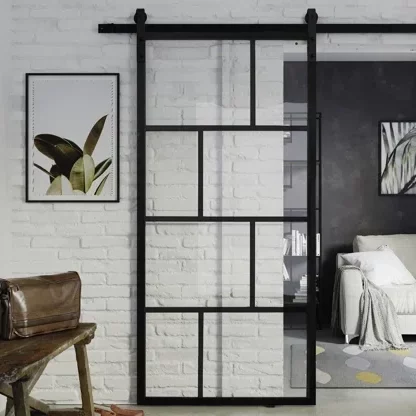 In bedrooms and closets, modern barn doors can serve as both stylish and functional elements. Whether used as a room entrance, closet door, or even as a partition, these doors can add noticeable appeal and practicality to your bedroom and closet spaces. With a variety of styles, finishes, and materials available, modern barn doors can be tailored to suit your bedroom and closet design, guaranteeing a cohesive and chic vibe.
Moreover, modern sliding barn doors can help maximize space in tight bedroom and closet areas, making them an ideal choice for homeowners looking to enhance the functionality and appearance of these spaces.
Tips for Choosing the Perfect Modern Barn Door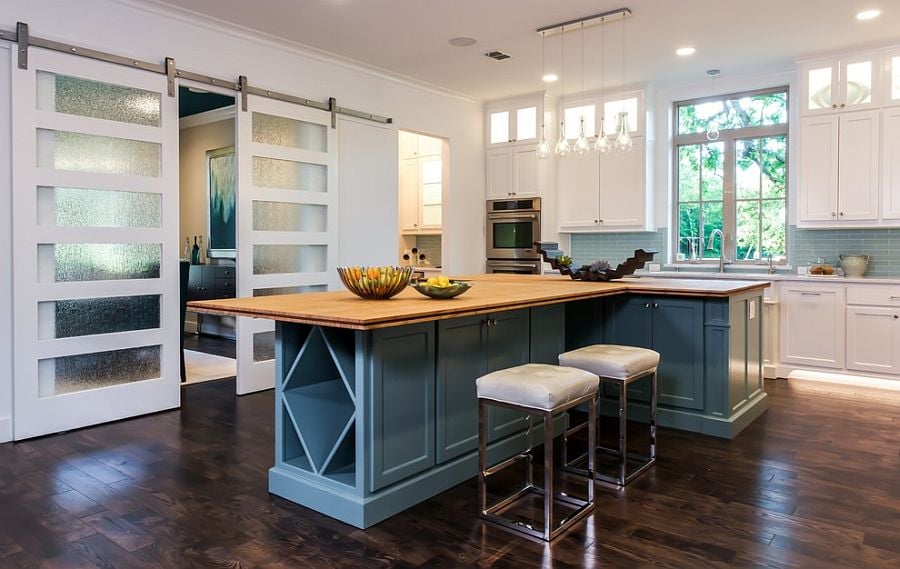 While choosing a flawless modern barn door may seem daunting, considering a few key factors can simplify the process. When choosing the perfect modern interior glass door, consider measuring your space accurately, matching the door to your interior style, and taking into account both purpose and aesthetics.
By carefully considering these factors, you can make certain that your modern sliding barn door serves its intended use, while also enhancing the overall look and feel of your home. With the right door in place, you'll be able to enjoy the many benefits of modern barn doors. These benefits include their unique door styles, space-saving capabilities, and improved room flow.
Measuring Your Space
When choosing the perfect sliding barn door, accurate measurements are crucial. To measure your space accurately, you'll need to:
Measure the width and height of the opening
Measure the depth of the wall
Consider the weight of the door and ensure that your chosen hardware can support it.
By taking accurate measurements, you can make certain that your modern sliding barn door fits perfectly in your space and operates smoothly. This will allow you to fully enjoy its style and functionality.
Matching Your Interior Style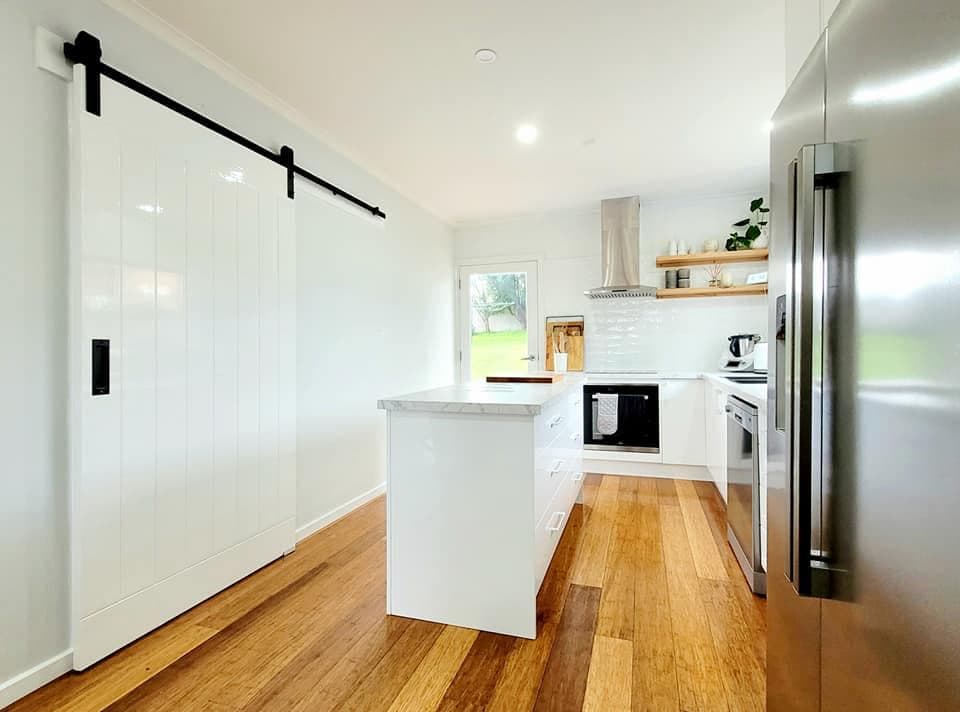 You should consider your home's existing interior style when choosing a modern barn door. By selecting a door that complements your home's design, you can create a cohesive and show-stopping look throughout the space. This may include considering the color, texture, and material of the door, as well as the hardware and other decorative elements.
By carefully matching your modern barn door to your interior style, you'll be able to create a seamless integration. This will enhance the overall ambience of your home while providing the practical benefits of a sliding barn door.
Considering Functionality and Aesthetics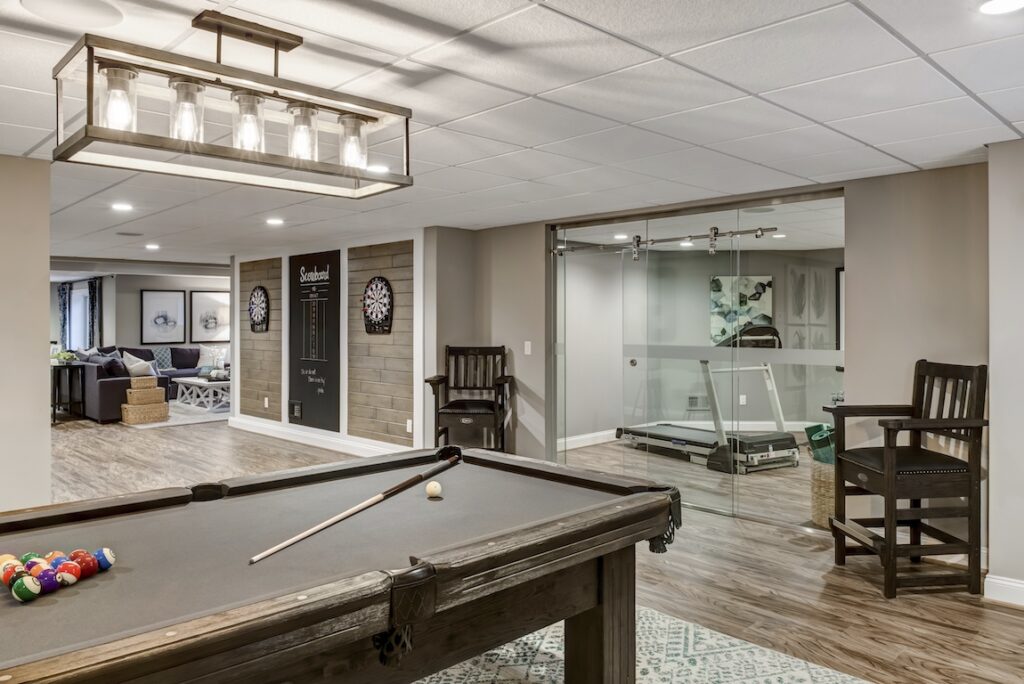 Balancing both functionality and aesthetics is important when selecting a modern barn door. Consider factors such as how easy it is to use, its durability, and how much noise it reduces to ensure the door is practical for your needs. Additionally, take into account the material, finish, and color of the door to make sure it adds to the look of the space and complements your home's design.
By keeping both functionality and aesthetics in mind, you can choose a modern sliding barn door that not only serves its purpose but also enhances every aspect of your home.
Summary
Modern barn doors offer a fresh and stylish solution for homeowners seeking to enhance their space's overall ambiance and functionality. With a wide range of styles, customization options, and versatile applications, these doors can transform any area of your home while saving space and improving room flow. By carefully considering factors such as accurate measurements, matching interior style, and balancing purpose and aesthetics, you can select the perfect modern barn door that reflects your taste and complements your lifestyle.
Frequently Asked Questions
Are barn doors still popular in 2023?
Barn doors are still popular in 2023, with many interior designers finding creative ways to make them a beautiful and characterful addition to the home. Sliding glass barn doors will be an attractive option for those looking to add depth to their home decor, with plenty of ideas available online.
Are barn doors out of trend?
Barn doors are not out of style! Home decor styles, including barn door styles, are constantly evolving – no longer are you limited to just the classic z barn door. In fact, a barn door is now more focused on the functionality of a sliding door, instead of a specific style.
What can I use instead of a barn door?
Sliding glass doors and bifold doors provide a modern, versatile alternative to traditional barn doors. Bookcase doors offer an additional sophisticated option for medium to large rooms.
Do barn doors add value to home?
Barn doors clearly add value to a home, helping them sell faster and for higher prices according to a recent Zillow study.
What are some popular modern barn door styles?
Minimalist designs, frosted glass doors and glass panel doors as well as chevron/arrow patterns are some popular modern barn door styles.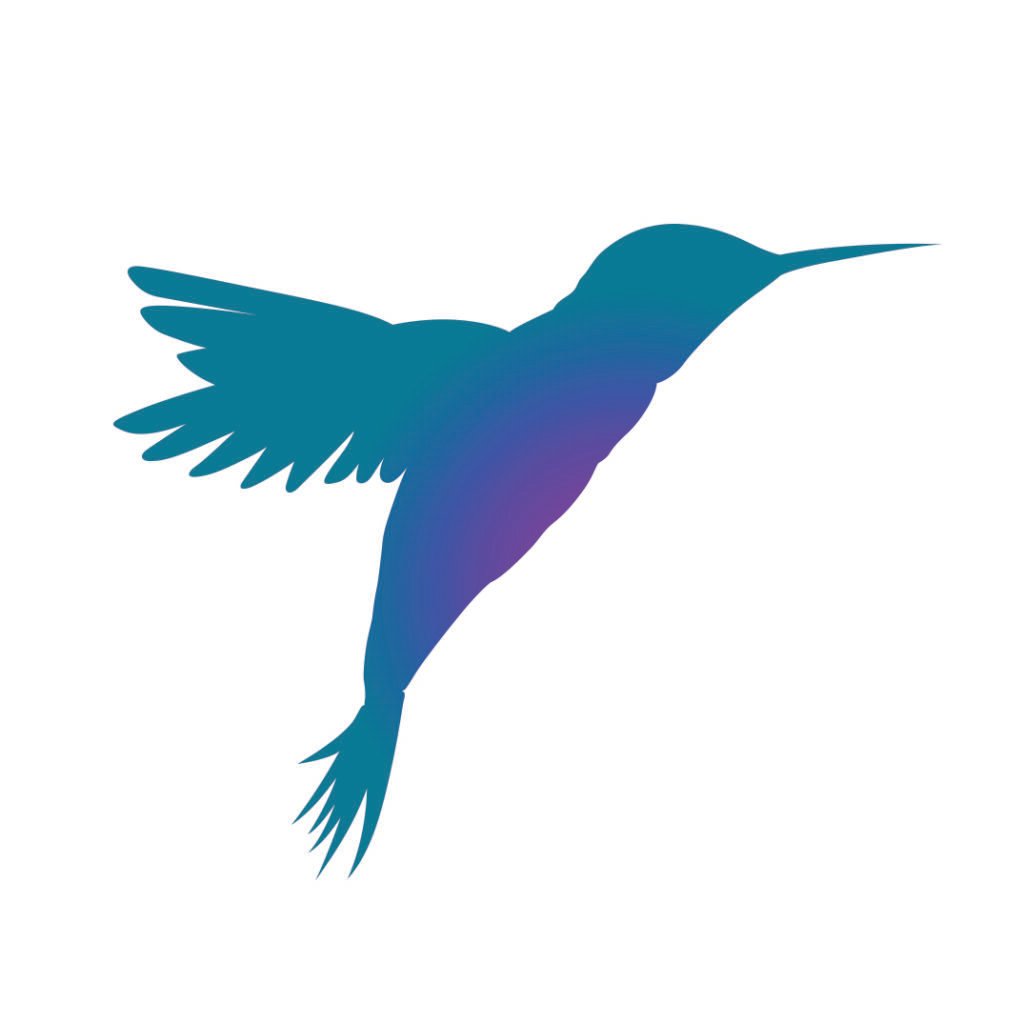 About Sans Soucie Art Glass
Family owned and operated since 1976, Sans Soucie sets the industry standard for the highest quality design and execution of sandblast frosted, carved and hand painted glass both nation and worldwide. Choose from our vast collection of designs across every decor, or let us create a brand new one-of-a-kind designs per your specifications. Our frosted glass designs turn ordinary glass into art pieces that add a luxury element to your home, while creating the privacy you need. Truly art with a function, our etched glass designs diffuse light and reduce glare, while enhancing the look of your home with a unique, eye catching custom element. Not clip art or machine manufactured, each design is a uniquely handcrafted original work of art, custom designed for our distinguished clientele of homeowners and commercial developers.
Free shipping to most states, shipping both national and worldwide, all our glass is handmade and expertly packed in-house by our team of glass artisans and shipped from Palm Desert, California. Shop our most popular products like slab and prehung front doors, interior doors, pantry doors, glass front doors, glass interior doors, sliding glass barn doors, windows, shower doors, shower panels and shower enclosures, decorative mirrors, signs and glass tables.
Copyright © 2023, Sans Soucie Art Glass. All rights reserved.