Find the Perfect Interior Double Doors for Your Home in 2023
A beautiful and functional home is all about the details, and one often overlooked detail is the choice of interior double doors. These doors provide not only an attractive addition to your living space, but also offer numerous benefits such as increased natural light, enhanced aesthetics, and improved functionality. In this guide, we will explore various types of interior double doors, glass options, frame materials, and other essential factors to help you find the perfect double doors for your home.
Key Takeaways
Interior double doors provide numerous advantages, including improved aesthetics and enhanced security.
Choose from four types of interior double doors: sliding, French, bi-fold or pocket.
Consider factors such as door frame material, panel design and installation when selecting the perfect interior double doors for your home in 2023.
Why Choose Interior Double Doors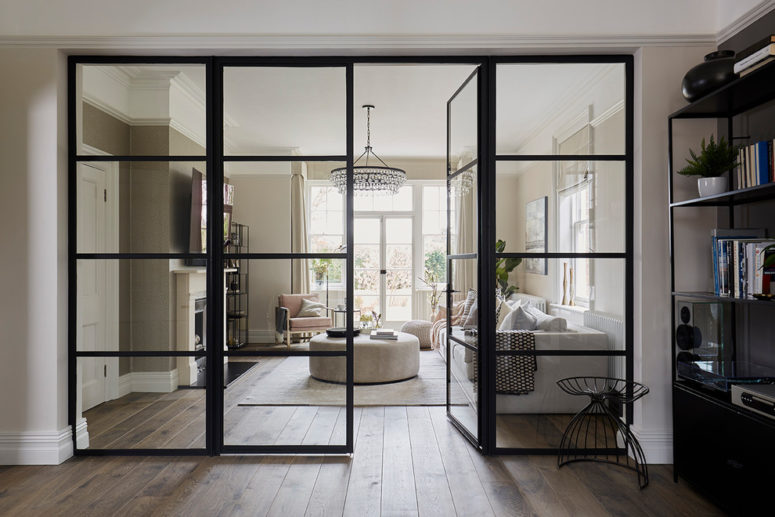 Interior double doors have become increasingly popular among homeowners due to their numerous advantages. They:
Improve aesthetics
Increase natural light
Provide convenient access between rooms
Enhance the security of your home
Thanks to their expert solid-core construction, double doors, such as RESO doors, make a great filter for noise, ensuring reliable performance and superior sound reduction.
No matter your preference, double doors can cater to your needs and greatly enhance the overall look and feel of your living space.
Types of Interior Double Doors
The selection of the right sort of wide interior double doors for your home can substantially influence the desired outcomes in terms of aesthetics, functionality, and space-saving capabilities.
This section provides information on four major types of interior double doors: sliding double doors, French double doors, bi-fold double doors, and pocket double doors.
Sliding Double Doors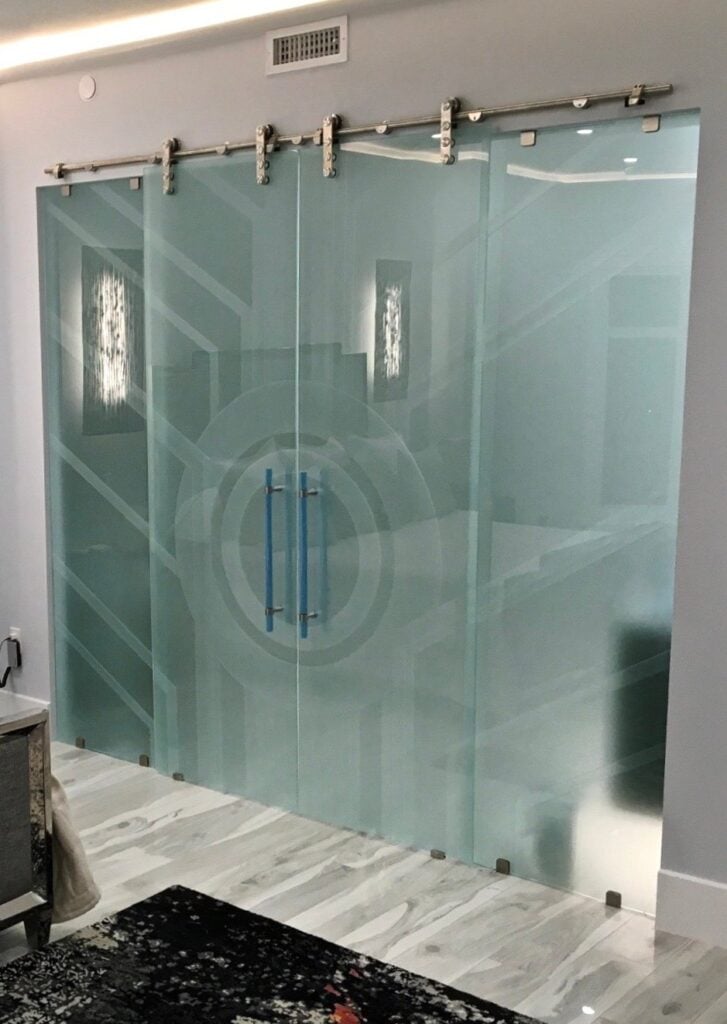 Sliding double doors are a practical and efficient solution for creating a smooth transition between rooms while conserving space. These doors offer the following benefits:
Enhanced spatial comfort
Dimensional flexibility
Silent and low-maintenance operation
Option to have a retractable or top hung screen for insect protection
Large opening for easy access
Allows natural light into the space
Creates an inviting atmosphere
When choosing sliding double doors, consider the following factors:
The size of the opening
The material of the frame
The type of glass used
The style of the door
Additionally, consider the cost, installation requirements, and maintenance needs to ensure the best possible choice for your home.
French Double Doors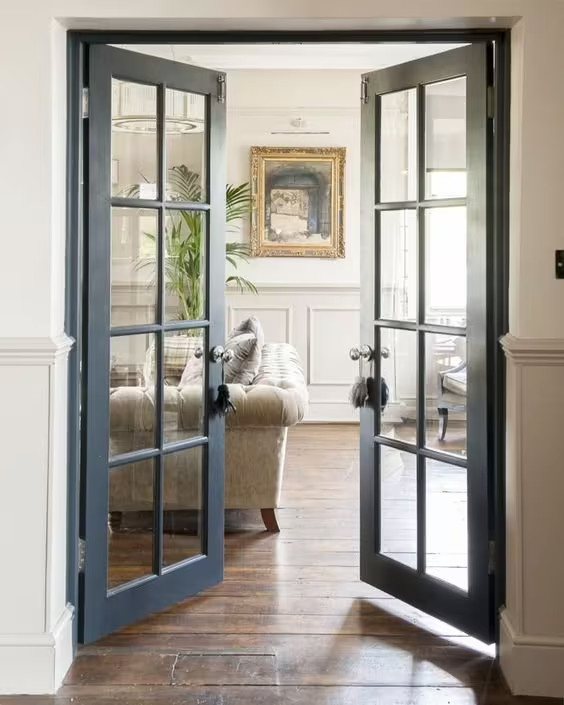 French double doors are an elegant and charming option for your interior door needs. They will sometimes feature:
Glass panels that extend for the majority of their length
Open inwards or outwards, akin to a pair of French doors
Generally composed of two door panels with small glass panels
Intricate door handles
Customizable design options
Reinforced safety glass
Three-point locking systems for enhanced security
The benefits of French double doors include:
Letting natural light pass through
Offering an aesthetically pleasing enhancement to your home
Various customizable design options, such as the type of glass, door handles, and other decorative elements, allowing them to be tailored to suit your home's unique style and character.
Bi-fold Double Doors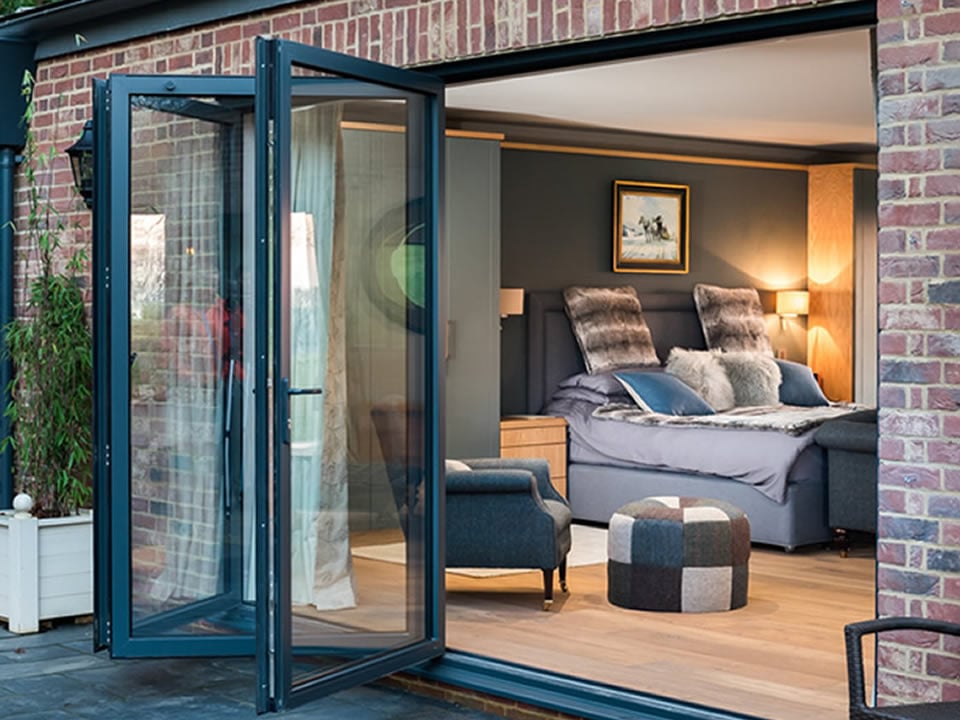 Bi-fold double doors are perfect for those seeking to maximize space in their home. These doors open by folding in on themselves, providing an effective space-saving solution and making them ideal for confined spaces where a regular swinging door may not be suitable. Bi-fold double doors present a broad range of design options and can be implemented in a variety of settings, such as:
Kitchens
Living rooms
Closets
Study rooms
Offices
Basements
The design of bi-fold double doors is a combination of classical and modern elements, making them versatile and adaptable to various interior styles. By offering a practical solution for space-saving and an attractive design, bi-fold double doors are an excellent choice for homeowners looking to optimize their living space.
Pocket Double Doors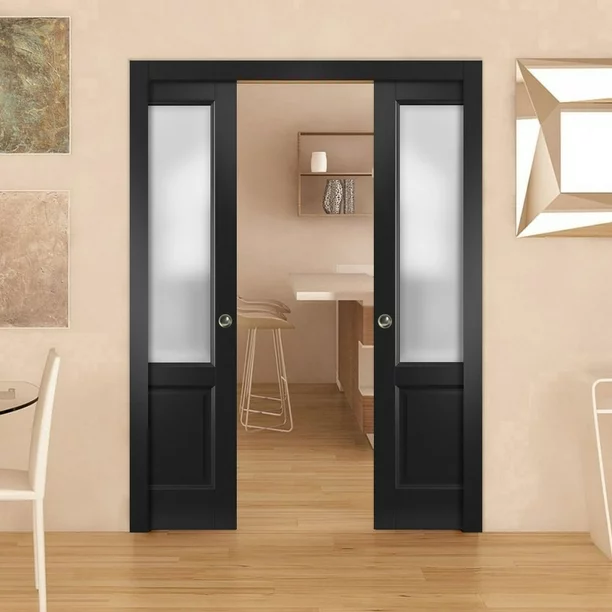 Pocket double doors are a unique and innovative option for interior doors that slide into a pocket in the wall when opened. This feature makes them an ideal choice for spaces with a limited area or for areas where a swinging door is not feasible. Pocket double doors offer a smooth transition between two rooms, as the door is concealed when open, providing a seamless and modern look.
Pocket double doors are available in styles such as sliding, French, and bi-fold, catering to various design preferences and functional requirements. However, it is important to note that the installation of pocket double doors necessitates exact measurements and meticulous installation.
Maintenance of pocket double doors entails frequent cleaning and lubrication of the tracks and hinges to ensure their smooth operation.
Glass Options for Your Double Doors
The type of glass incorporated into your interior double doors can notably influence the overall appearance and ambiance of the doors. Some suitable options for interior doors include:
Clear glass
Gluechip glass
Stained glass
Tempered glass
Polycarbonate glass
Each option offers various results in terms of aesthetics, privacy, and light transmission.
This section provides an in-depth look at various types of glass to assist you in selecting the ideal glass option for your double doors.
Clear Glass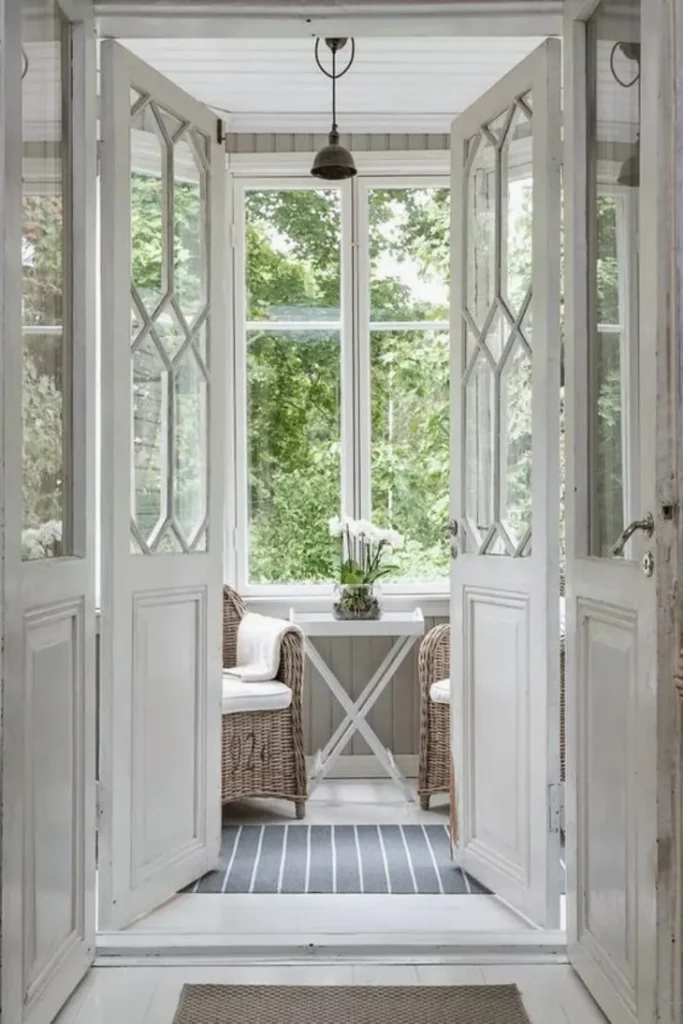 Clear glass is a popular choice for interior double doors due to its ability to facilitate optimal light transmission and provide a spacious atmosphere. Clear glass can be obtained in tempered, laminated, and annealed varieties, catering to different preferences and requirements.
Wood, metal, and composite frames are all suitable options for clear glass, allowing you to choose a frame material that complements your home's style and decor. To ensure a proper fit and long-lasting performance, clear glass should be installed by a qualified professional and requires regular upkeep.
Frosted Glass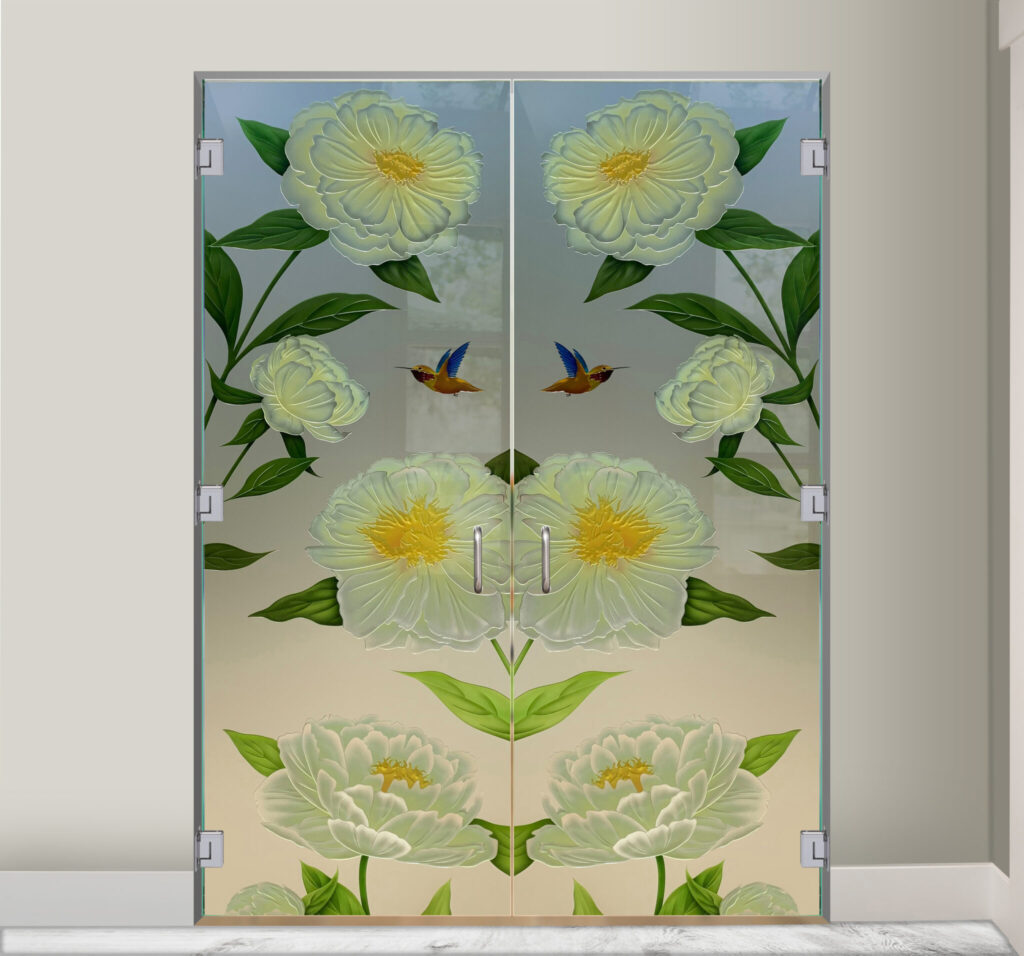 Frosted glass is an excellent option for those seeking a combination of privacy and natural light from their interior double doors. This type of glass is semi-transparent, obscuring the view of the interior while still allowing some light to permeate. Frosted glass can be found in an array of styles, such as etched, sandblasted, and textured glass, offering various design options to suit your lifestyle needs.
The installation of frosted glass is typically similar to that of regular glass, but it is important to ensure that the glass is properly sealed to avoid moisture infiltration into the home. Frosted glass provides a unique and practical solution for those who desire both privacy and natural light.
Gluechip Glass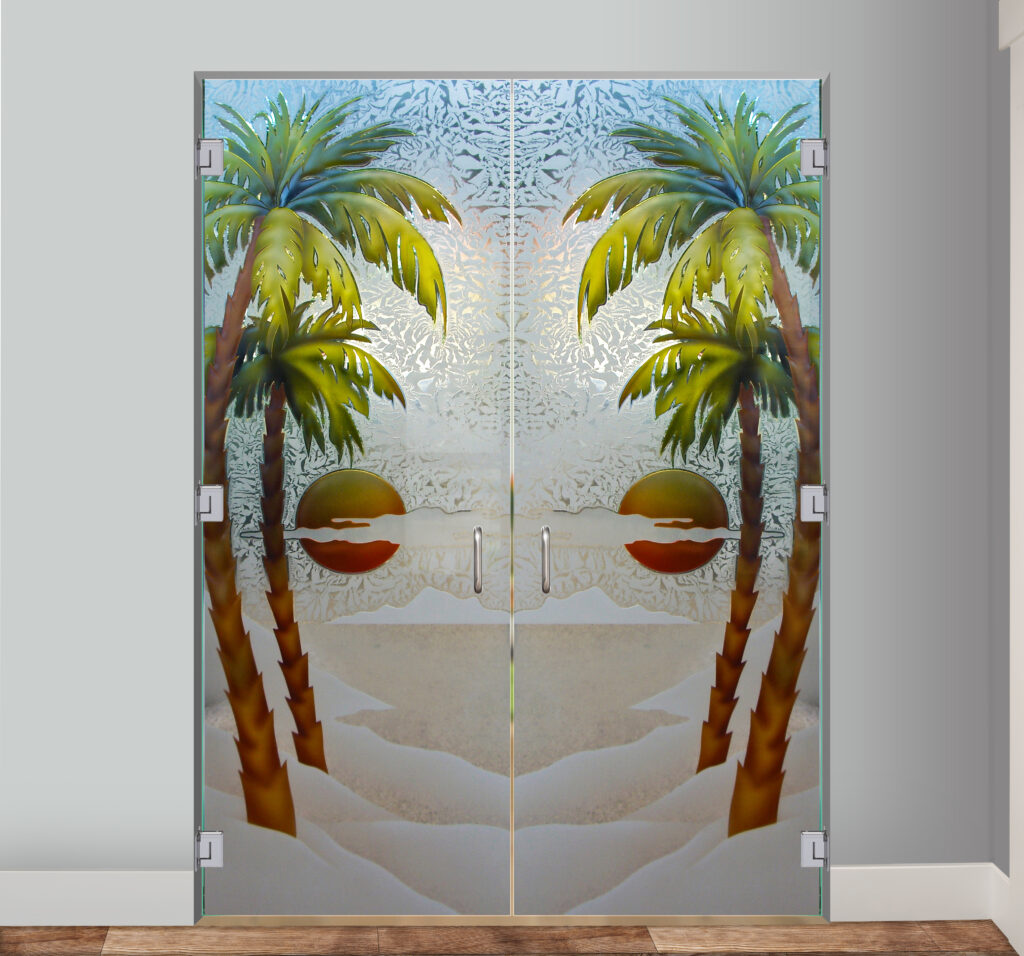 Gluechip glass is one of the unique options that we offer here at Sans Soucie. It's the perfect solutions for those seeking an in-between from clear and frosted glass. This glass finish provides a semi-private level for any space, while giving your interiors door design a truly customized look.
Our gluechip glass finish is a sparkling texture that looks like frost during the wintertime, or resembles a fern-like pattern. It's considered "semi-private", because objects behind it become blurred when 10-12" away from the glass. In addition, each design element is surrounded by an 1/8" clear pinstripe, which makes objects visible thru the clear pinstripes when right up against the glass.
Stained Glass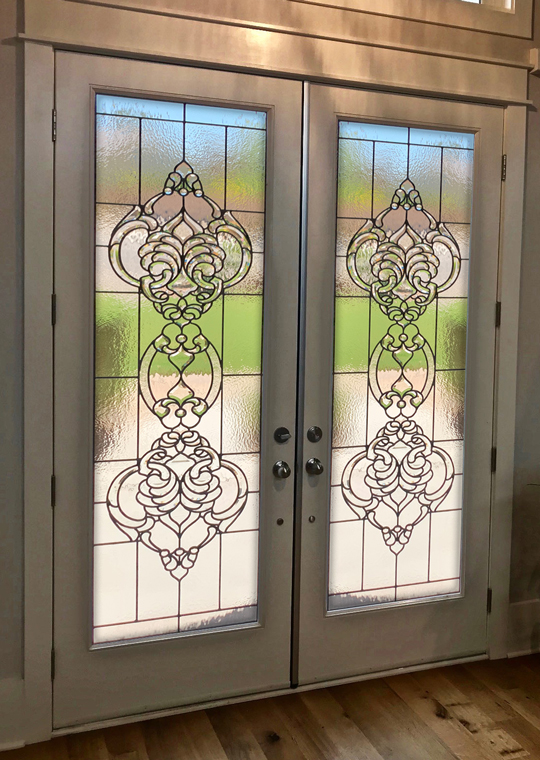 Stained glass provides a striking and unique addition to your interior double doors, imparting a distinct charm. It's hued and can be used to create an ornamental effect, adding color and character to your double interior doors. This type of glass is available in clear, frosted, and textured varieties, providing a range of options to suit your design preferences.
Stained glass frames can be constructed from wood, metal, or composite materials, allowing you to choose a frame that complements your home's style and decor. To guarantee a proper fit, measure the width and height of the opening for the double doors, then deduct 1/4 inch from each measurement.
Textured Glass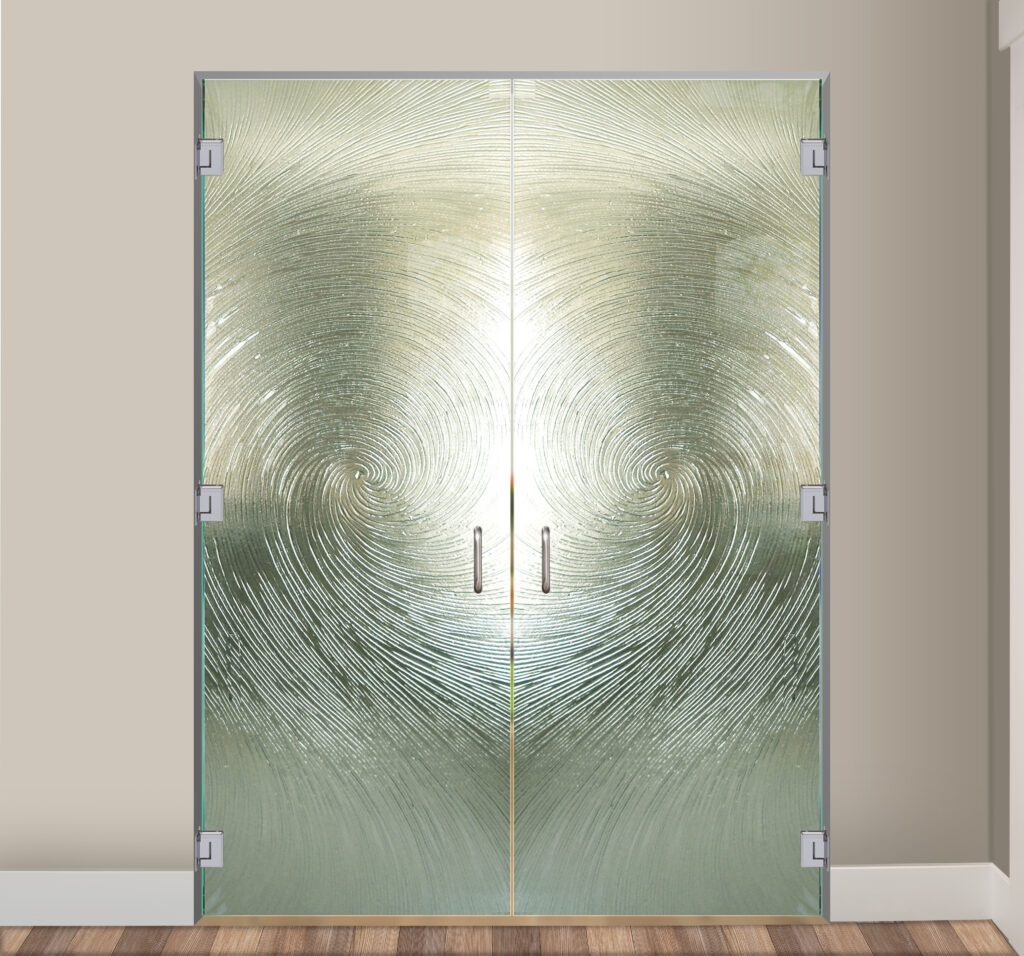 Textured glass, also referred to as obscured glass or patterned glass, is characterized by a textured surface, providing:
Privacy
Diffusing sunlight
Decorative designs
Controlling light levels
Textured glass can be found in a range of patterns and designs, including frosted, etched, stained, and beveled, allowing you to add visual interest and privacy to your interior double doors.
It can bring an individualized aesthetic to your double doors and offer privacy by obscuring the view from the outside. With various patterns and designs available, textured glass can be tailored to suit your home's unique style and character. This makes them an excellent choice for those seeking a distinctive and functional glass option for their interior doors.
Door Frame Materials to Consider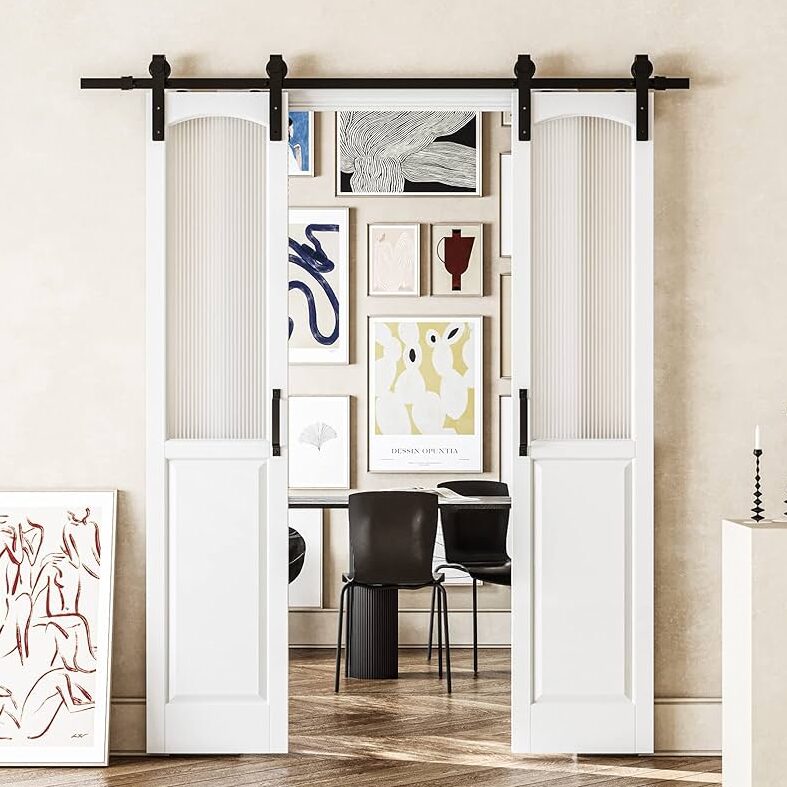 The selection of door frame material for your interior double doors significantly influences the overall appearance, vibe, durability, and maintenance needs of your doors. This section provides a comparison of the advantages and disadvantages of various door frame materials, including wood, metal, and composite, to assist you in finding the optimal choice for your home.
Wood is a popular choice for door frames due to its natural beauty and longevity. It is also
Wood Frames
Wood frames offer a timeless appeal and versatility, making them a sought-after choice for interior double doors. They provide:
Strength and durability
The ability to be stained or painted to complement any decor
Good insulation properties
A sustainable option, making them an environmentally friendly choice for your home.
However, wood frames can be pricier than other materials and require additional maintenance to ensure their endurance. Regular cleaning and sealing are necessary to safeguard wood frames from moisture and other environmental factors.
Despite these drawbacks, wood frames remain a classic and attractive option for interior doors.
Metal Frames
Metal frames, typically constructed from steel or aluminum, are frequently employed for industrial or minimalist designs due to their strength and contemporary aesthetic. Metal frames offer a high level of strength and durability, making them an ideal option for high-traffic areas. Furthermore, they are resistant to weathering, making them suitable for outdoor applications.
Metal frames provide a sleek aesthetic that can enhance the contemporary feel of any space. Additionally, they are available in a variety of finishes, giving you the option to customize the look of your door. Although metal frames can be susceptible to rust and corrosion, their durability and modern design make them a popular choice for interior double doors.
Composite Frames
Composite frames, constructed from a combination of materials such as wood and engineered wood, are developed to offer low-maintenance and eco-friendly advantages. They boast:
Superior moisture and decay resistance
Improved thermal properties
Heightened live load deflection and vibration performance
Environmentally friendly
Durable
Sustainable
Composite frames offer the opportunity to be stained or painted to coordinate with a range of grain species, as well as a universal wood grain design.
These qualities make composite frames an excellent choice for homeowners seeking a long-lasting and ecological option for their interior double doors.
How to Measure Your Space for Interior Double Doors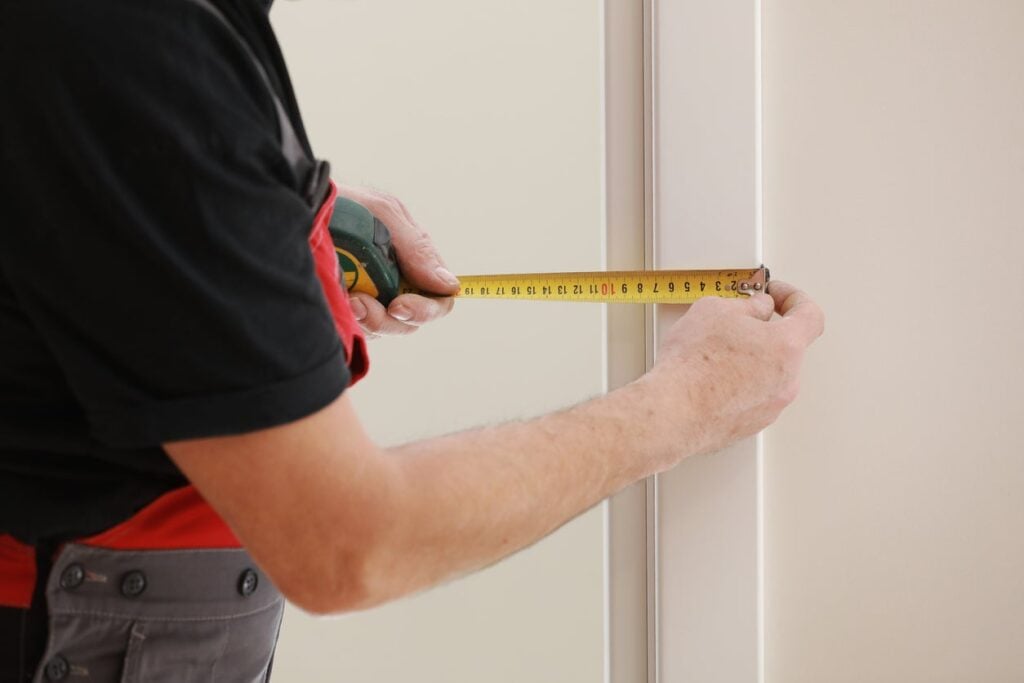 Correct measurement of your space is vital to guarantee a proper fit for your new interior doors. Here's how to measure:
Determine the width of the door opening by measuring from one vertical edge to the other.
Measure the height from the floor to the top of the opening.
To increase the height measurement by 1 inch, simply add 1 inch.
To increase the width measurement by 7/8 inch, add 7/8 inch to the width measurement and divide the total width by 2.
Taking accurate measurements is essential for the proper installation of your new interior double doors, making sure that they fit seamlessly into your space and operate smoothly. By following these simple steps, you can avoid any potential issues with installation and enjoy the benefits of your new double doors for years to come.
Tips for Choosing the Right Panel Design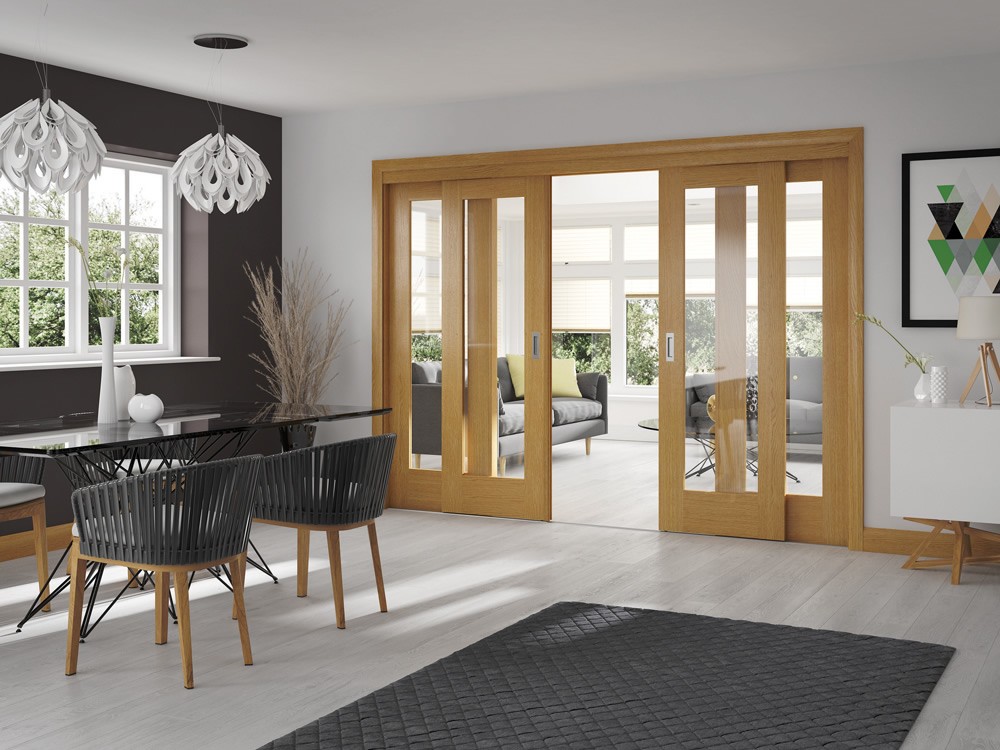 Selecting the perfect panel design for your interior double doors is an important step in achieving the desired aesthetic, privacy, and light transmission for your space. When choosing a panel design, consider the overall vibe of your home and the style of the interior doors you are considering. It is recommended to choose a panel design that complements the existing look of your home.
In addition to the style, consider the desired level of privacy in the space. If more privacy is desired, opt for panel designs with more opaque glass or solid panels. And finally, consider how much natural light you would like to welcome into the area. If you desire more illumination, opt for panel designs with more transparent glass or fewer panels.
By taking these factors into account, you can select the perfect panel for your interior doors.
Shopping for Interior Double Doors: Navigating Discounts and Stock Availability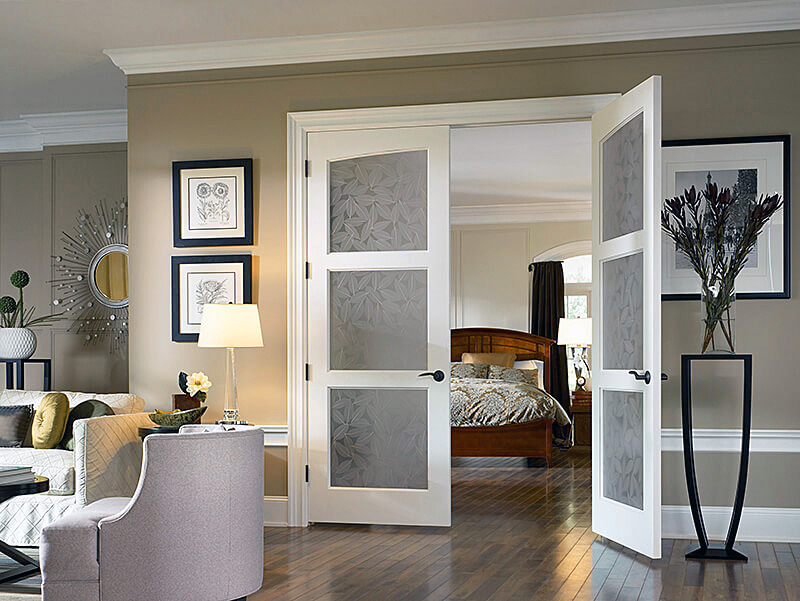 It is significant while shopping for interior double doors, to consider discounts and stock availability to secure the best deals. Various discounts may be available when purchasing interior doors, such as:
Free shipping at Home Depot
Discounted prices at Discount Doors and More
Clearance sales at Nick's Building
Discounted double door units at Door Clearance Center
Discounted interior doors at United Porte
Stock availability when purchasing interior doors may vary by store and door type. It is advisable to check with the store to find out what is in stock and what is available for order.
By researching discounts and stock availability, you can find the perfect doors for your home at the best possible price.
Customizing Your Interior Double Doors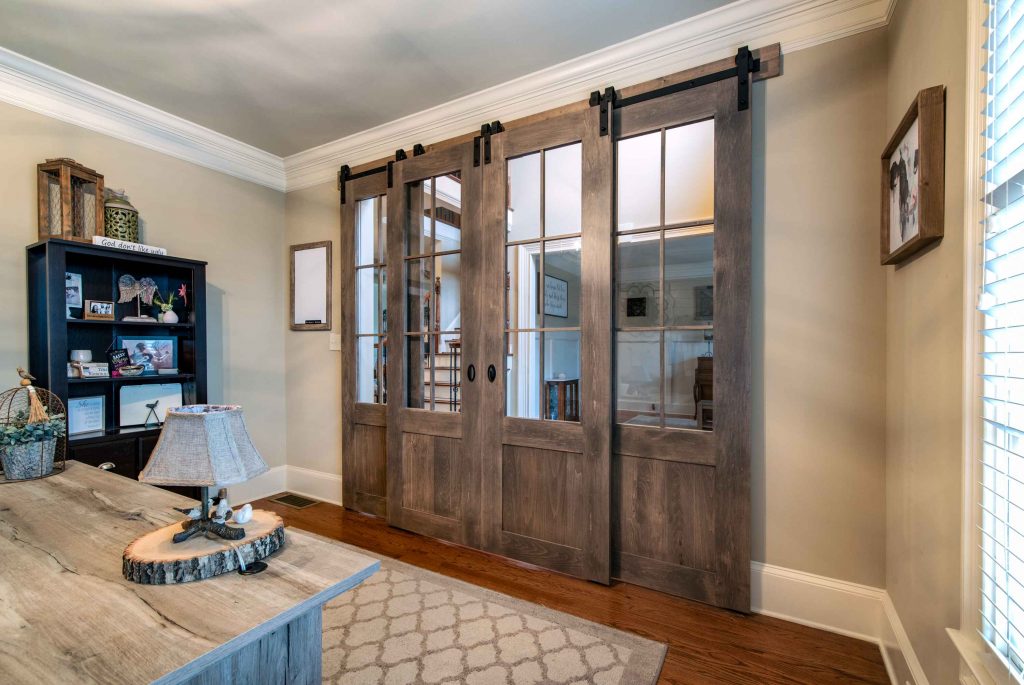 Customization options for interior double doors enable you to design doors that are ideal for your home. Hardware components such as handles, locks, and hinges can be selected to suit your lifestyle preferences and complement the look of your doors. Finishing options, such as paint, stain, and varnish, can also be chosen to match your home's decor and personal taste.
In addition to hardware and finishes, glass designs for your interior doors can be customized to suit your unique style. Some options include:
Clear glass
Frosted glass
Gluechip glass
Stained glass
Textured glass
These options offer various levels of privacy and light transmission to match your home's needs. By taking advantage of these customization options, you can create the perfect double doors that reflect your personal taste and enhance the overall ambience and feel of your home.
Here at Sans Soucie we make customizing your dream interior doors easy! With our online customization process, we take you step by step to help you create your door. We call this from concept to design.
Installation and Maintenance of Interior Double Doors
Correct installation and regular maintenance are key to preserving the functionality and aesthetics of your new interior double doors over the years. Here are some steps to follow:
Gather the necessary tools: a drill, screwdriver, level, and measuring tape.
Read and follow the manufacturer's instructions and guidelines for installation.
When attaching the door to the hinges and affixing the hinges to the door frame, ensure you use screws that are rated for the material of the door frame.
By following these steps, you can ensure a proper installation and maintain the quality of your interior double doors.
Regular inspection of the door, at least once annually, is recommended to ensure optimal operation and longevity. During inspections, check for signs of deterioration, such as loose screws, fractures in the frame, or spaces between the door and frame.
Regular cleaning and lubrication of hinges and locks are also essential for maintaining the smooth operation of your door. If it's damaged, it should be promptly repaired or replaced to maintain the integrity of your space.
Summary
Finding the perfect interior double doors for your room is a rewarding process that combines functionality, aesthetics, and personal style. By considering factors such as door type, glass options, frame materials, panel design, and customization options, you can create the ideal double doors that not only enhance your home's beauty but also improve its overall functionality. With proper installation and maintenance, your new interior doors will remain a stunning and practical addition to your home for years to come.
Frequently Asked Questions
What are interior double doors called?
Interior double doors are commonly referred to as French doors, which are usually a set of double doors with glass panes from top to bottom. They can be used to connect living areas while allowing light to pass through.
What is a French double door?
French double doors originated in the Renaissance architectural era, where they were seen as a way to bring more aesthetic charm to homes. Today, they are often recognized for their timeless beauty and functionality, with glass stretching the length of the frame.
What size is a double interior door?
Double interior doors typically come in 60″, 64″, and 72″ measurements, not including any optional sidelight panels.
What are the main benefits of installing interior double doors?
Installing interior double doors provides increased natural light, convenience, energy efficiency, and enhanced security, creating an aesthetically pleasing home.
What are the different types of interior double doors available?
There are four main types of interior double doors available, including sliding, French, bi-fold, and pocket doors.
About Sans Soucie Art Glass
Family owned and operated since 1976, Sans Soucie sets the industry standard for the highest quality design and execution of sandblast frosted, carved and hand painted glass both nation and worldwide. Choose from our vast collection of designs across every decor, or let us create a brand new one-of-a-kind designs per your specifications. Our frosted glass designs turn ordinary glass into art pieces that add a luxury element to your home, while creating the privacy you need. Truly art with a function, our etched glass designs diffuse light and reduce glare, while enhancing the look of your home with a unique, eye catching custom element. Not clip art or machine manufactured, each design is a uniquely handcrafted original work of art, custom designed for our distinguished clientele of homeowners and commercial developers.
Free shipping to most states, shipping both national and worldwide, all our glass is handmade and expertly packed in-house by our team of glass artisans and shipped from Palm Desert, California. Shop our most popular products like slab and prehung front doors, interior doors, pantry doors, glass front doors, glass interior doors, sliding glass barn doors, windows, shower doors, shower panels and shower enclosures, decorative mirrors, signs and glass tables.
Copyright © 2023, Sans Soucie Art Glass. All rights reserved.