Stylish & Modern Glass Barn Doors for Your Home
Are you looking to breathe new life into your home with a modern and stylish touch? Glass barn doors with glass offer a unique and attractive solution that not only enhances the aesthetic appeal, but also provides practical benefits such as natural light and space-saving capabilities. In this blog post, we will explore the various types of barn doors with glass, customization options, and practical applications to help you find the perfect fit for your home. Get ready to transform your space into a dreamy haven with these stunning barn doors with glass!
Key Takeaways
Glass barn doors offer stylish design options, increased natural light, and space-saving benefits.
Customize your door with a range of panel configurations, frame styles & finishes, and hardware options for an individualized look.
Glass barn doors are ideal solutions for bathrooms, kitchens & pantries. Hinges/locks and tracking systems must be considered when installing.
The Beauty of Glass Barn Doors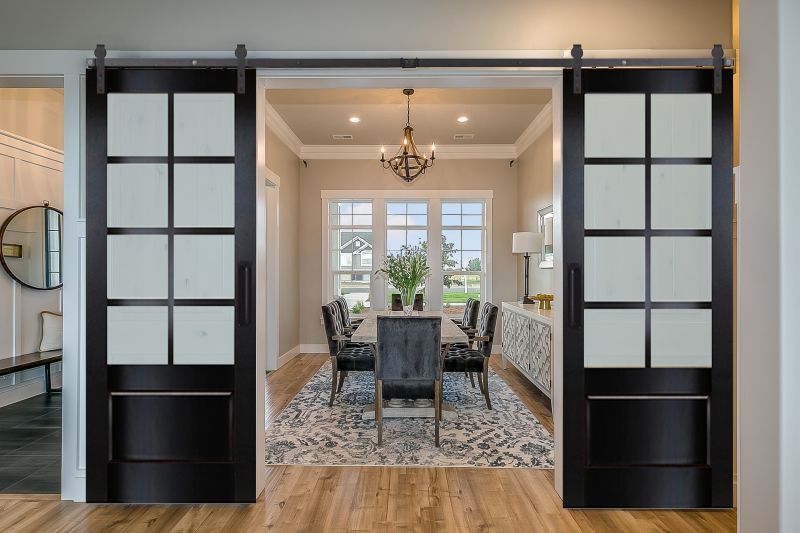 Sliding glass barn doors are the epitome of style and functionality. They bring an air of sophistication to any room while also providing enhanced natural light and versatile design options. Some benefits of glass barn doors include:
Space-saving capabilities
Straightforward maintenance
Increased natural light
Versatile design options
With these advantages, it's no wonder that glass barn doors have become a popular choice for those looking to elevate their home's interior design.
Barn doors come in two main options: frosted and clear. Frosted glass barn doors offer a balance of privacy and natural light, making them an excellent choice for bathrooms and bedrooms. On the other hand, clear glass barn doors create a sense of openness and spaciousness, perfect for living areas and kitchens.
Here at Sans Soucie we offer a third glass option called gluechip. This glass finish is the perfect in between solution to that of clear or frosted glass. In regards to privacy levels clear glass is considered "not private", gluechip is "semi-private", and frosted glass is considered "private". So, no matter your preference, there is a glass barn door to suit your lifestyle and needs.
Frosted Glass Barn Doors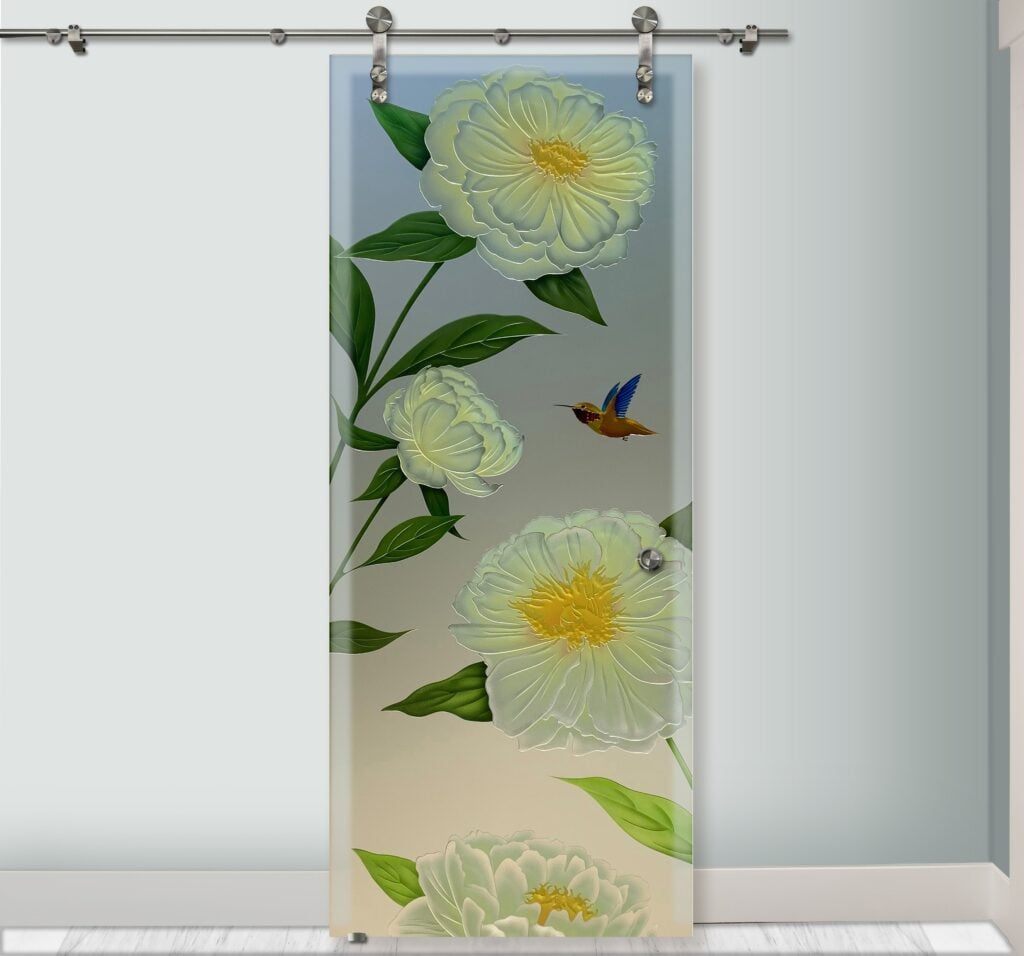 Frosted glass barn doors perfectly blend style and function. They offer privacy and permit natural light to filter through, making them ideal for spaces like bathrooms and bedrooms. The frosted glass finish creates an aesthetically pleasing look that adds a modern and elegant touch to any home.
Clear Glass Barn Doors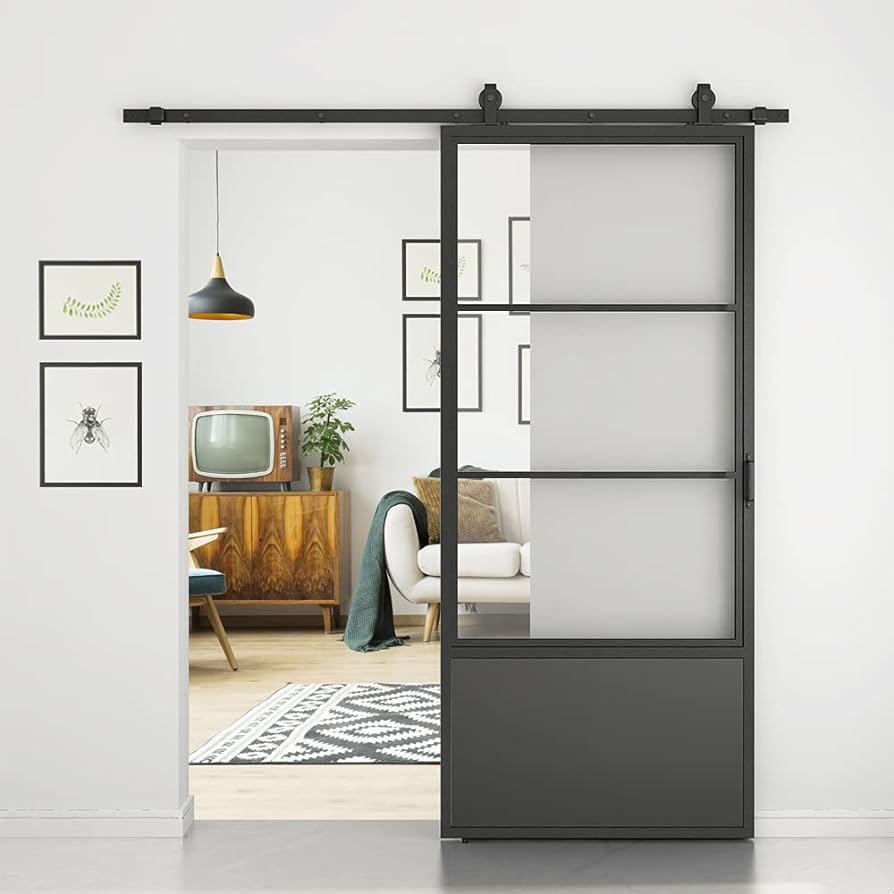 Clear glass barn doors present a contemporary, chic solution for individuals seeking an open and airy ambiance in their living spaces. These doors are constructed from glass panels that slide along a track, providing easy access to the room. The transparent nature of clear glass barn doors will allow a lot more light to enter the room, brightening up each space and making it appear much larger.
Gluechip Glass Barn Doors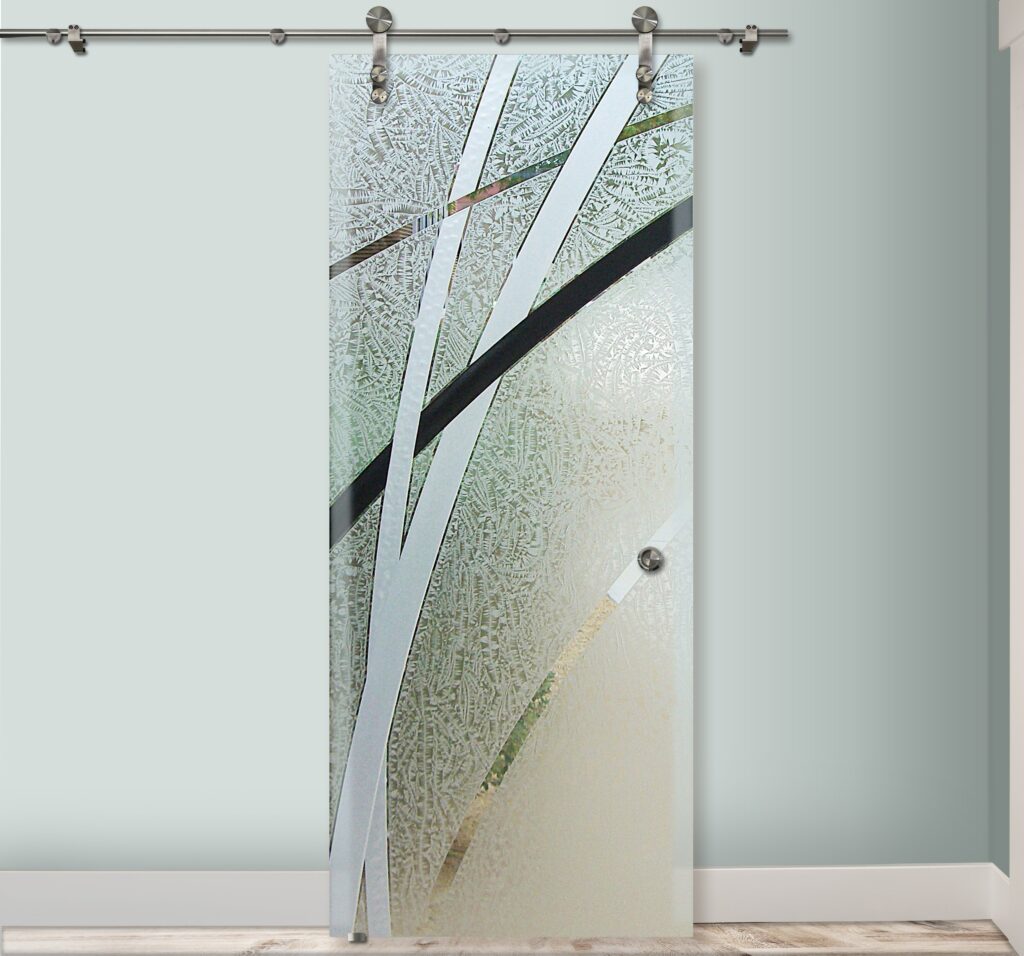 Gluechip glass barn doors are an option for those wanting something truly custom and unique! This finish has a sparkling texture that resembles what frost looks like during winter time, or a fern-like pattern. And because it's considered a semi-private finish, it's perfect for just about every room with your home.
Types of Sliding Glass Barn Doors
There are several types of sliding glass barn doors to choose from, each offering unique design elements and functionality. In this section, we will explore wall slide, suspended, and frameless barn doors, giving you a better understanding of the various options and how they can enhance your home's design.
Wall Slide Glass Barn Doors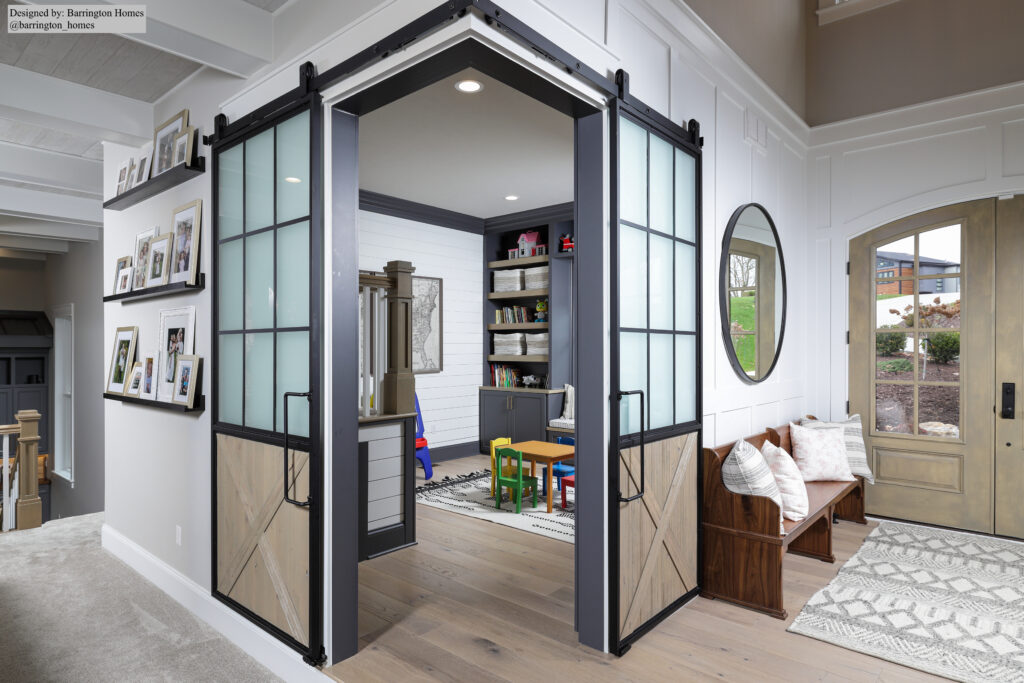 Wall slide glass barn doors are an efficient space-saving solution for more confined areas. These sliding doors, often referred to as sliding barn door systems, are fixed to a track mounted on the wall, allowing them to open and close without occupying additional space. This practical design is perfect for smaller rooms, where every inch of space is valuable.
During the installation process, you need to take into account the type of hinges, locks and the tracking system for mounting the door on the wall. Proper installation ensures smooth operation and stability, making your wall slide glass barn doors a reliable and stylish choice for your home.
Suspended Glass Barn Doors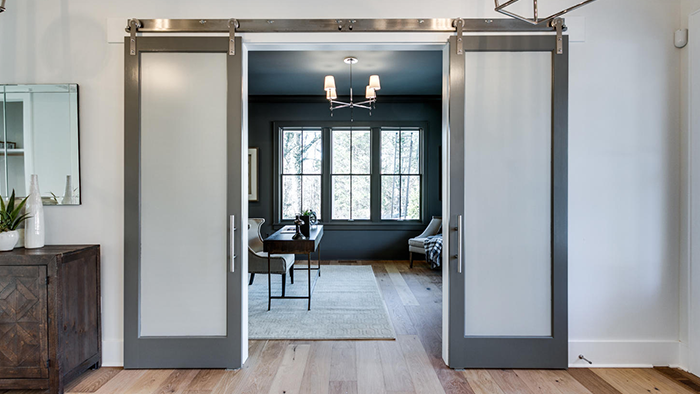 Suspended glass barn doors are a modern design style that hangs from a ceiling-mounted track, creating a sleek and contemporary look in any room. These doors offer the illusion of an open floor plan and space-saving design, making them a popular choice for homeowners seeking a minimalist aesthetic.
The installation of suspended barn doors requires careful consideration of the following factors:
Type of hinges
Locks
Tracking system
Frame styles and finishes
Ensuring compatibility and proper installation is essential for the smooth performance and security of your suspended glass barn door.
Frameless Glass Barn Doors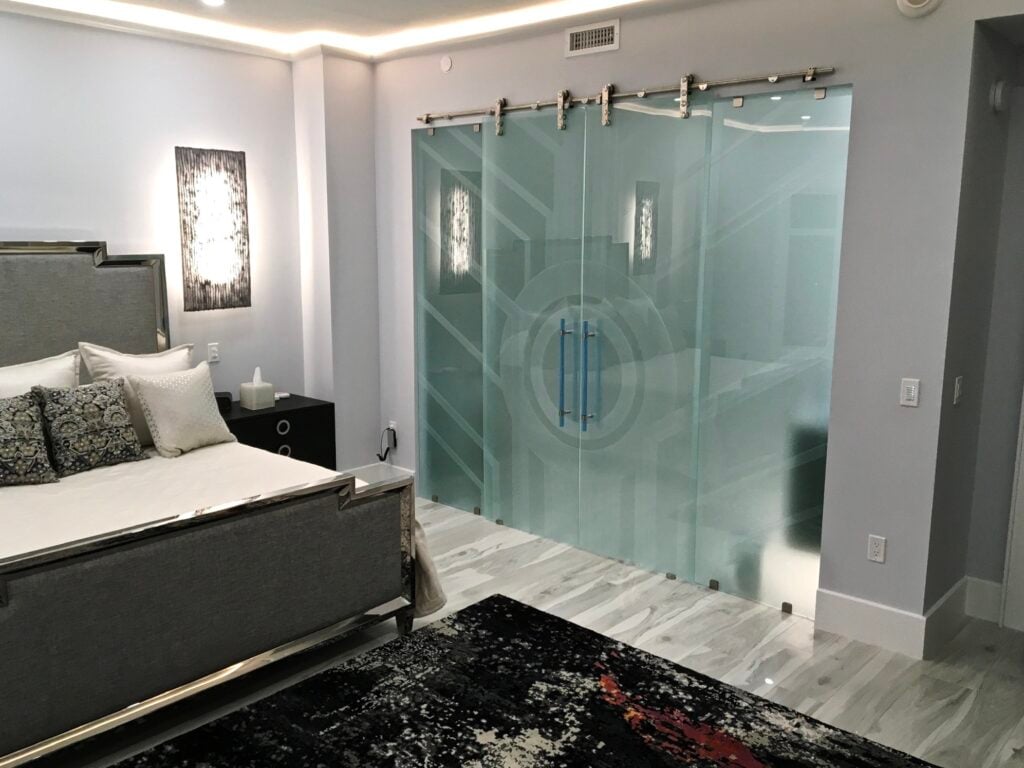 Frameless glass barn doors provide a sleek and minimalistic vibe with no visible hardware, making them an ideal choice for contemporary spaces. These doors are available in both wall slide and suspended varieties, allowing you to choose the option that best suits your space and style preferences.
Practical uses for frameless glass doors include bathrooms, kitchens, and pantries, providing a polished and stylish touch while allowing for more natural light and enhanced visibility. With their clean and unobtrusive design, frameless barn doors are a perfect addition to any modern home.
Customizing Your Glass Barn Door
One of the many benefits of glass barn doors is the ability to customize them to match your unique lifestyle. With options ranging from panel configurations and frame styles to finishes and handle options, you can create a personalized design that perfectly complements your home's decor and needs.
Panel Configurations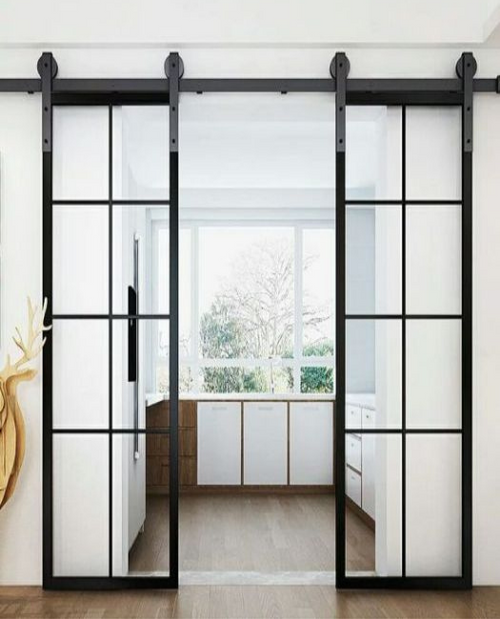 Choosing the right panel configuration for your glass barn door can greatly impact its appearance and functionality. Single panel configurations involve one panel, making them ideal for smaller spaces and a modern, minimalist aesthetic. On the other hand, multiple panel configurations involve two or more panels, adding a more grand and visually appealing touch to larger spaces. Exploring various panel configurations helps you discover the ideal blend of style and practicality that meets the needs of your home.
Frame Styles and Finishes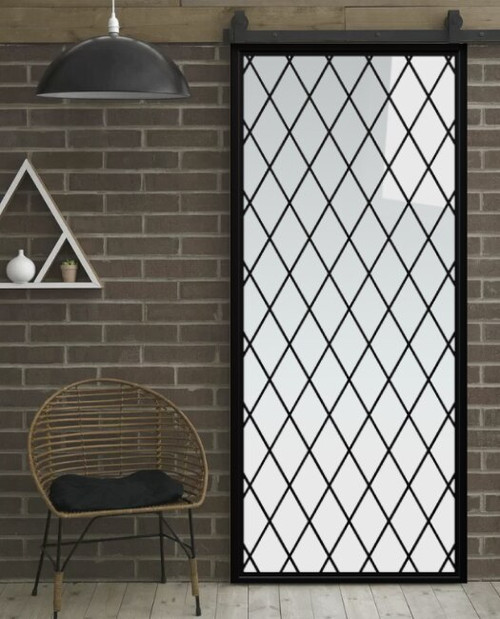 Selecting the right frame style and finish for your glass barn door can dramatically transform its appearance and overall aesthetic. Glass barn doors are available with steel, aluminum, or stainless steel frames, all of which can be finished in industrial bronze, oil-rubbed bronze, or forged. Additionally, beveled clear glass and wood frames are also available for a more traditional design. Researching a variety of frame styles and finishes allows you to design a show stopping and cohesive look that complements your home's decor.
Handle Options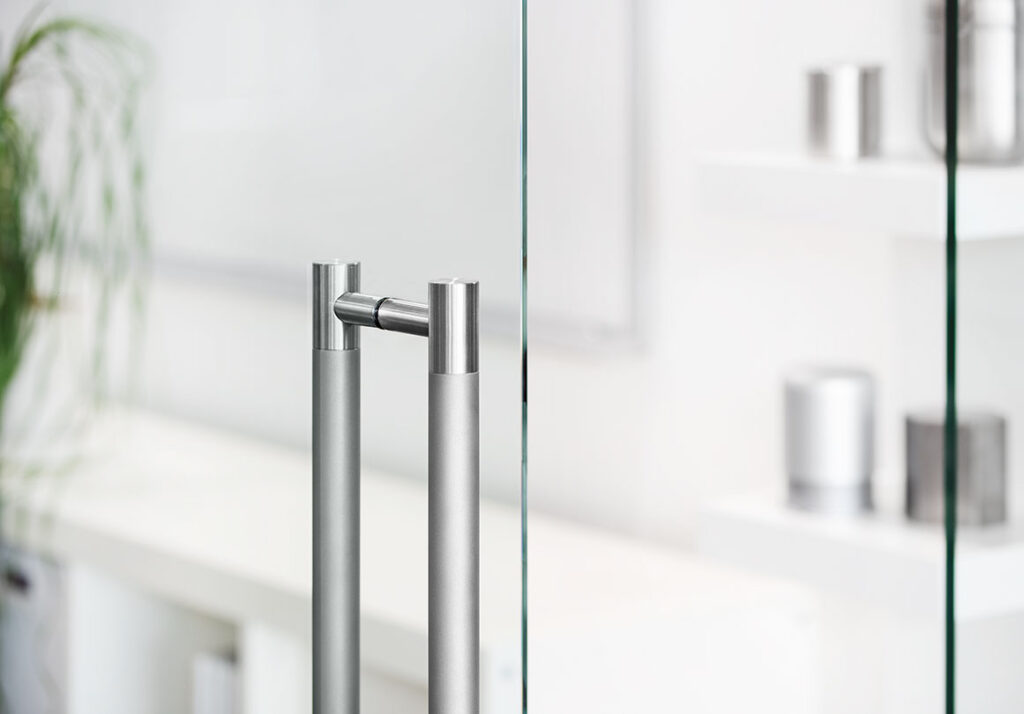 The perfect handle can add the finishing touch to your glass barn door, enhancing its functionality and look. Handles are available in an array of styles, ranging from simple pulls to more intricate designs. When selecting a handle, it is important to consider the door's weight, security requirements, and visual appeal.
Also, verify the handle's compatibility with the door's tracking system. This helps to ensure that it can be securely mounted for easy access and peace of mind when using your sliding barn door.
Practical Applications of Glass Barn Doors
Glass barn doors offer a multitude of practical applications in various areas of the home. From room dividers and bathroom entrances to kitchen or pantry doors, these interior doors provide an attractive and functional solution for any space. In the following sections, we will explore what these practical applications actually look like.
Bathroom Glass Barn Doors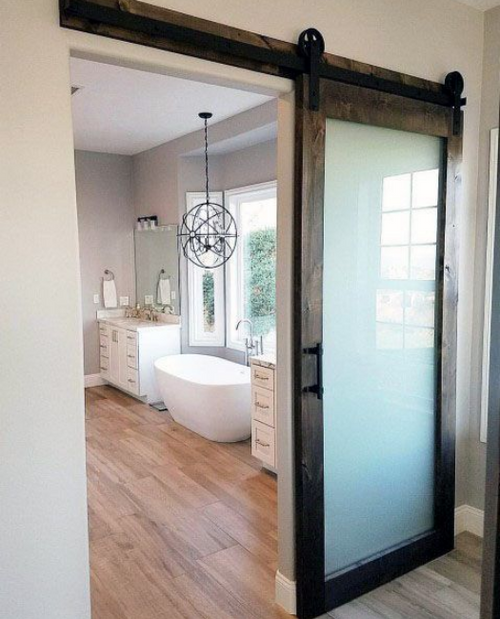 Bathroom glass barn doors are a chic and useful solution for privacy and light. Some benefits of these doors include:
Frosted glass provides the perfect balance between privacy and natural light
Enhances the aesthetic appeal of your bathroom
Offers practical benefits such as space-saving capabilities and easy access
When considering a glass barn door for your bathroom, be sure to:
Select the appropriate hardware, such as hinges and locks, to ensure stability and privacy.
Choose a design that complements your bathroom decor and creates a spa-like atmosphere.
Hire a professional for proper installation to guarantee the door functions smoothly and securely.
With the right design and installation, a bathroom glass barn door can transform your space into a relaxing and oasis-like sanctuary.
Kitchen and Pantry Glass Barn Doors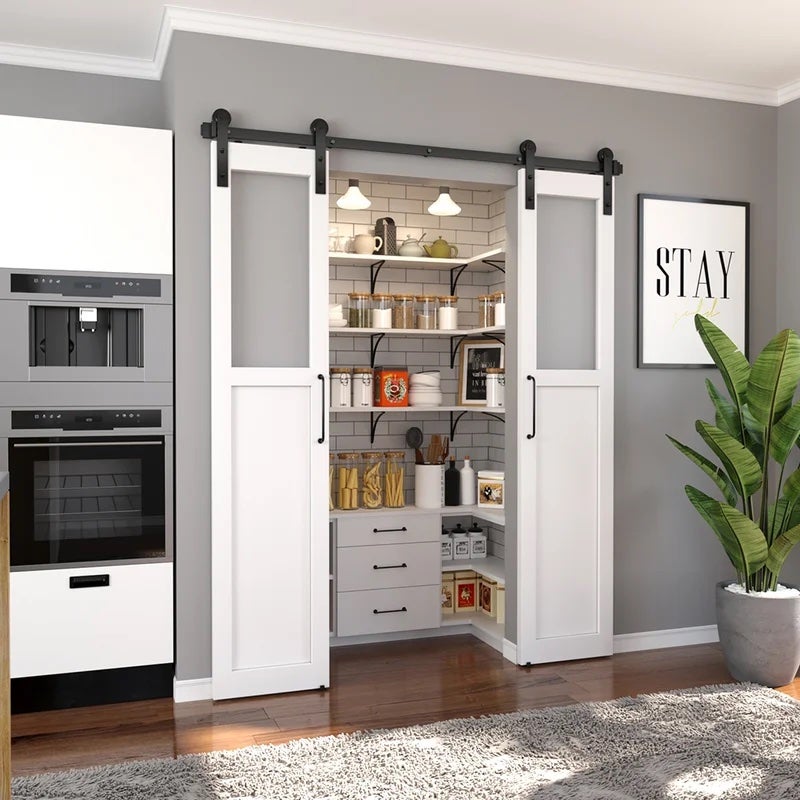 Kitchen and pantry glass barn doors offer a modern and space-saving alternative to traditional swinging doors. With options for frosted, gluechip, and transparent glass, these doors can provide the desired level of privacy while still allowing soft light to be ushered into your area. The sliding functionality of these doors makes them an ideal choice for homeowners looking to maximize space and create a seamless transition between rooms.
In addition to their practical benefits, kitchen and pantry glass doors add a unique and stylish touch to your home's design. With various customization options, you can create a sliding barn door that perfectly complements your kitchen or pantry's aesthetic and meets your specific needs.
Hardware and Installation Considerations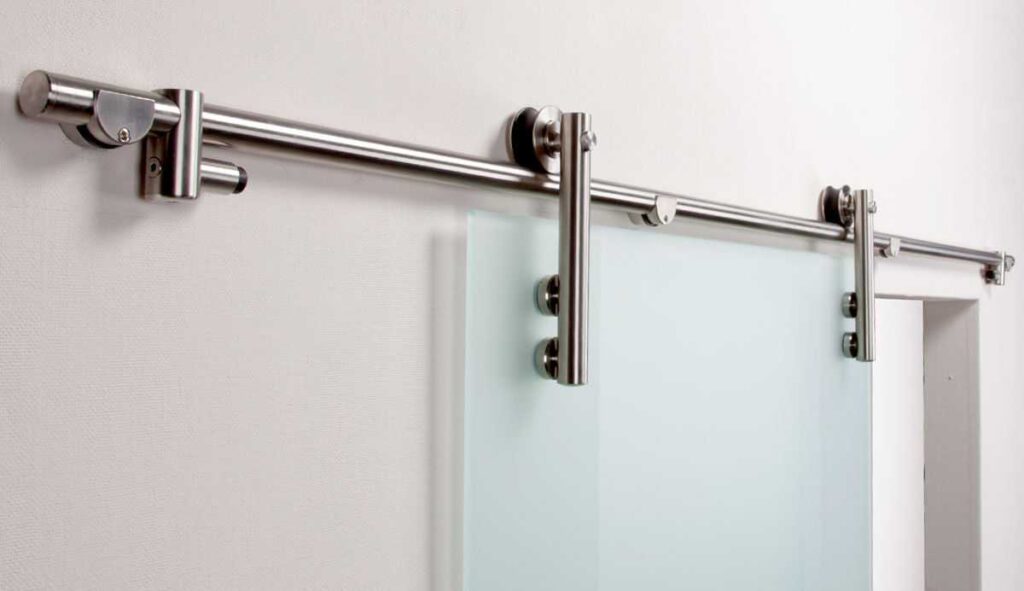 Proper hardware and installation are crucial factors in the success of your glass barn door project. In this section, we will discuss the importance of selecting the appropriate hinges and locks, as well as the tracking systems required for effectiveness and security.
Hinges and Locks
The right hinges and locks are essential for guaranteeing the stability and privacy of your glass barn door. Without the appropriate hinges and locks, the door may not be able to support the weight of the glass or provide the necessary security. The selection of hinges and locks requires considering factors such as the door's weight, the area's security requirements, and the door's visual appeal.
In addition to their practical functions, hinges and locks can also enhance the aesthetic of your glass barn door. By choosing hardware that complements your door's style and design, you can create a cohesive and visually appealing look.
Tracking Systems
Selecting the right tracking system for your glass barn door is crucial for its performance and overall appearance. Tracking systems include components such as:
Tracks
Mounting brackets
End blinds
Pair hangers
Flush pulls
Bow handles
Bumper shoes
Guide roller strips
End stops
Stay rollers
Each component serves a specific purpose, and it is important to choose a tracking system that suits your door style and installation preferences.
In the selection of a tracking system, decide between a wall-mounted or ceiling-mounted track, alongside the type of handles and other hardware that will enhance your door's design. By carefully considering your tracking system options, you can have the peace of mind of a successful and visually appealing installation.
Summary
In conclusion, glass barn doors offer an elegant and modern solution for homeowners seeking to elevate their home's design while also enjoying the practical benefits of natural light and space-saving capabilities. With various types, customization options, and practical applications, there is a glass barn door to suit every lifestyle and need. We hope this blog post has provided you with valuable insights and guidance on selecting the perfect door for your home. It's time to transform your space and enjoy the beauty, functionality, and sophistication of a stunning glass barn door!
Frequently Asked Questions
Are barn doors still in fashion?
Barn doors are certainly still in fashion and are becoming increasingly popular, with more modern designs available to help them fit into any home decor style. They are a great functional piece of artwork that not only looks great but can help save space in your home.
What is a French barn door?
The French Barn Door is a modern door featuring flush glazing, narrow aluminum stiles and rails, and 3/8″ thick tempered safety glass in either clear or cloud options.
What is the difference between barn door and sliding door?
Barn doors feature a distinctive rustic design, with large wood panels that slide along a track; whereas, other types of sliding doors may have more traditional or contemporary designs.
Are sliding barn doors cheaper than regular doors?
Sliding barn doors can be more expensive initially, but may be more cost-effective in the long run or even cheaper than regular doors.
What is the difference between frosted and clear glass barn doors?
Frosted glass barn doors offer privacy and a softer light, making them great for personal spaces. While clear glass barn doors provide an open and airy feel, perfect for communal areas.
About Sans Soucie Art Glass
Family owned and operated since 1976, Sans Soucie sets the industry standard for the highest quality design and execution of sandblast frosted, carved and hand painted glass both nation and worldwide. Choose from our vast collection of designs across every decor, or let us create a brand new one-of-a-kind designs per your specifications. Our frosted glass designs turn ordinary glass into art pieces that add a luxury element to your home, while creating the privacy you need. Truly art with a function, our etched glass designs diffuse light and reduce glare, while enhancing the look of your home with a unique, eye catching custom element. Not clip art or machine manufactured, each design is a uniquely handcrafted original work of art, custom designed for our distinguished clientele of homeowners and commercial developers.
Free shipping to most states, shipping both national and worldwide, all our glass is handmade and expertly packed in-house by our team of glass artisans and shipped from Palm Desert, California. Shop our most popular products like slab and prehung front doors, interior doors, pantry doors, glass front doors, glass interior doors, sliding glass barn doors, windows, shower doors, shower panels and shower enclosures, decorative mirrors, signs and glass tables.
Copyright © 2023, Sans Soucie Art Glass. All rights reserved.