Stylish and Functional Pantry Cabinet Doors for 2023
A well-designed pantry can be the heart of your kitchen, providing efficient storage and organization. Choosing the right pantry cabinet doors style not only enhances the aesthetics of your kitchen, but also ensures optimal functionality. In this blog post, we will explore various pantry cabinet doors styles, customization options, and techniques to maximize storage space, all while maintaining a visually appealing and cohesive design. Let's dive in and discover the perfect pantry doors for your kitchen!
Short Summary
Choose from a variety of pantry cabinet door styles to customize your kitchen.
Maximize storage space with tall cabinet doors and achieve a seamless look with full-height options.
Combine functionality and aesthetics in pantry design, including knobs/pulls for easy access.
Choose the Right Pantry Cabinet Door Style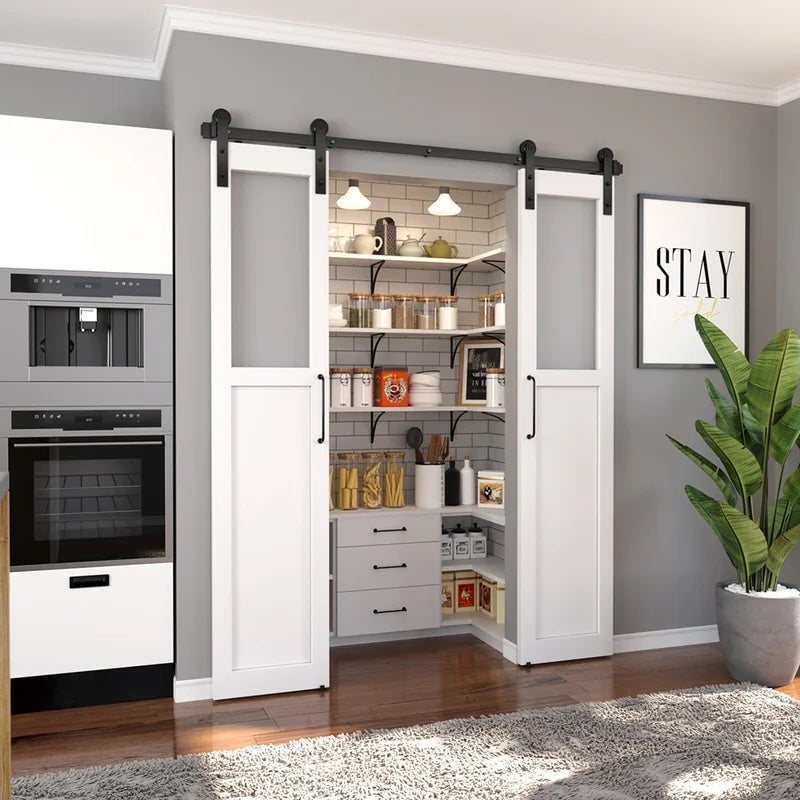 From charming barn doors to sleek pocket doors, there is a pantry door style to suit every kitchen design and functionality need. Among the favorite pantry door ideas, a barn door is a popular choice for homeowners who appreciate their simple installation and rustic touch. They are perfect for confined pantry areas or kitchens with a cottage or farmhouse aesthetic. On the other hand, pocket doors offer an unpretentious and basic design, which are ideal for limited spaces. Additionally, regular pantry doors provide a classic and timeless option for those seeking a more traditional look.
For an old world-chic style, consider French doors or opt for untreated or slightly treated pine or oak doors. These options help to create a French country or hygge kitchen vibe. Vintage or historic doors can be sourced from local architectural or construction salvage shops. These types of doors can add a unique character to your kitchen.
At the end of the day there is a style to fit every taste. There's also a pantry door design out there to suit every lifestyle!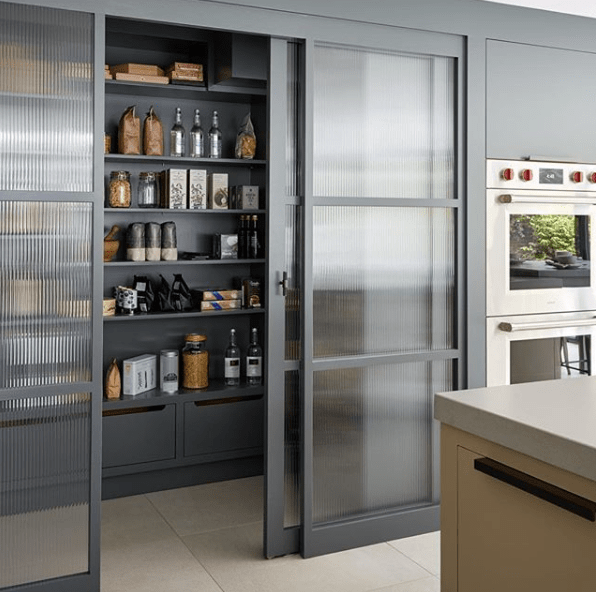 To create a cohesive and stylish look within your space, personalize your pantry door with unique hardware, trim, or paint colors. For instance, glass hardware can enhance the overall cabinet style and provide a singular touch to your pantry door. Replacing existing hardware or adding an oversized version of cabinet hardware on the pantry door, can also ensure that it contributes to the unified look of the kitchen.
For an effortless DIY approach, consider incorporating some elaborate trim to enhance a mundane pantry door. You may also opt for a door with a window or one that matches the accent kitchen color for a seamless design.
Maximize Storage Space with Tall Pantry Cabinet Doors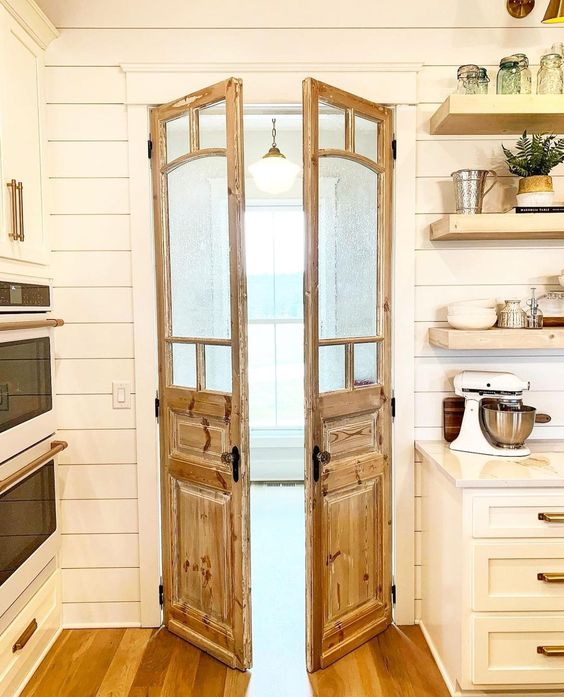 Tall pantry cabinet doors offer a practical solution for maximizing storage area and making the most of your kitchen's vertical space. Elegant and fashionable, tall and slender pantry doors with glass panes can display wallpaper or hued shelving within the pantry. This will bring an element of style to your kitchen. With these cabinet features, you can efficiently utilize your all areas of your kitchen. 
To further optimize storage, consider installing additional cabinetry or shelving above the pantry door. This space is ideal for storing less frequently used items, such as dinnerware for special occasions or specialized kitchen tools.
Full-Height Doors for a Seamless Look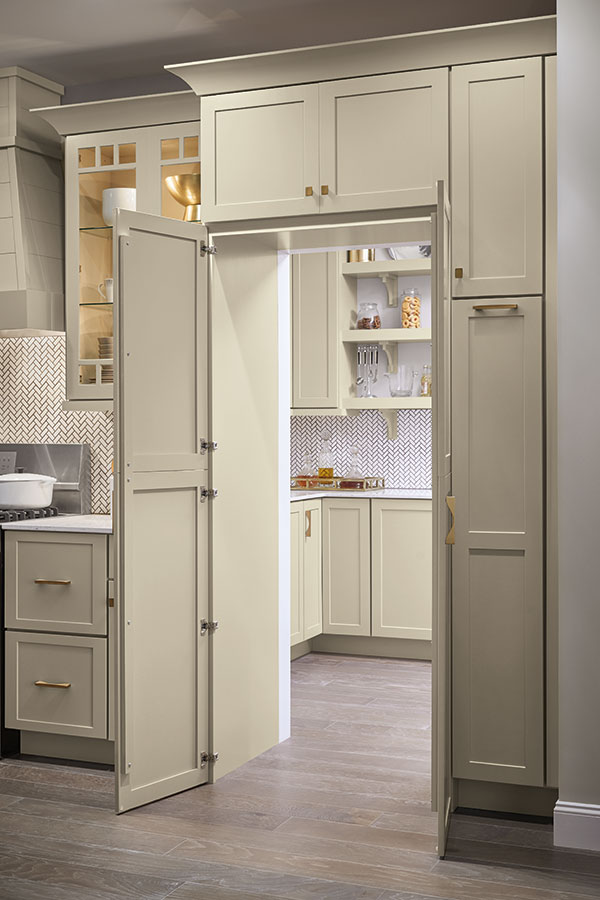 Full-height pantry doors provide a seamless look in your kitchen, creating the illusion of a larger space. The Pantry Walk Through Cabinet, for example, features full-height doors that disguise the doorway and act as a cohesive element. This gives the impression of a bigger kitchen.
To ensure that your pantry door is aesthetically consistent with the rest of your kitchen, select a finish that matches the flooring or cabinetry.
Wood Grain Options for a Natural Touch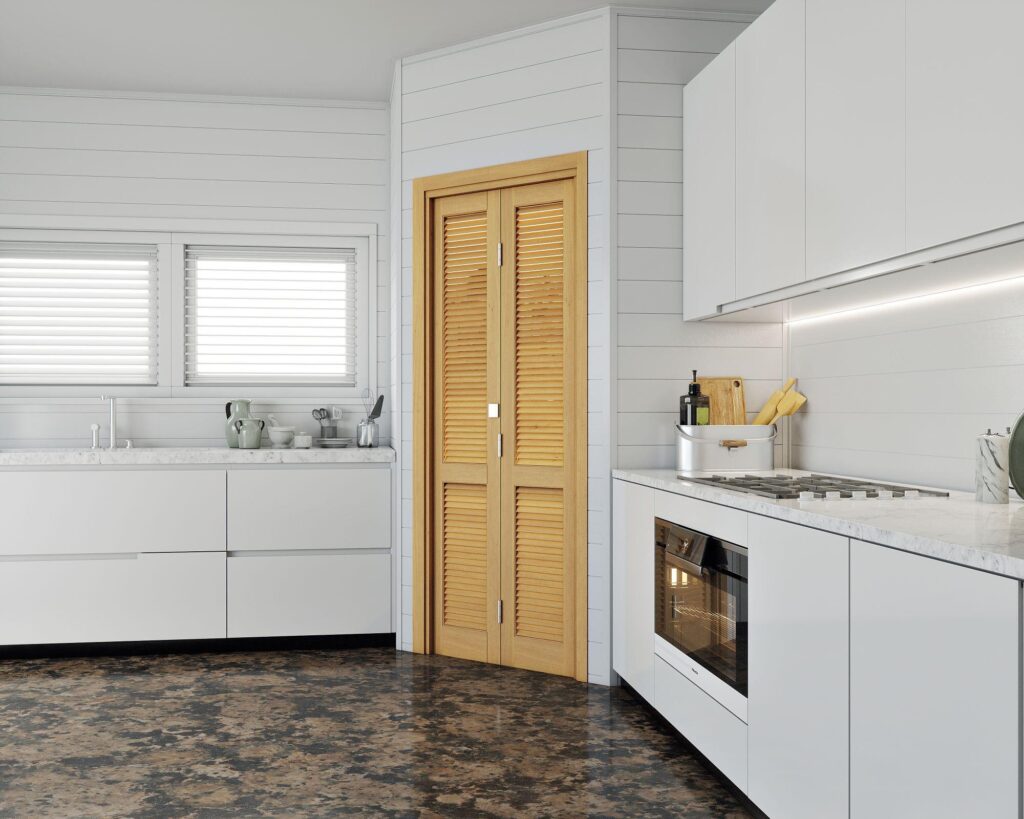 Wooden pantry doors, such as oak or pine, can add a natural touch and warmth to your kitchen. Wood is a suitable option for pantry doors due to its durability and timelessness. This makes them a popular choice among homeowners. Continuous grain wood, with an uninterrupted pattern running through it, can further enhance the visual appeal of your pantry door. Check out our Wood Species Guide for Slab and prehung doors.
For a retro look, consider incorporating an oak pantry door into your kitchen design.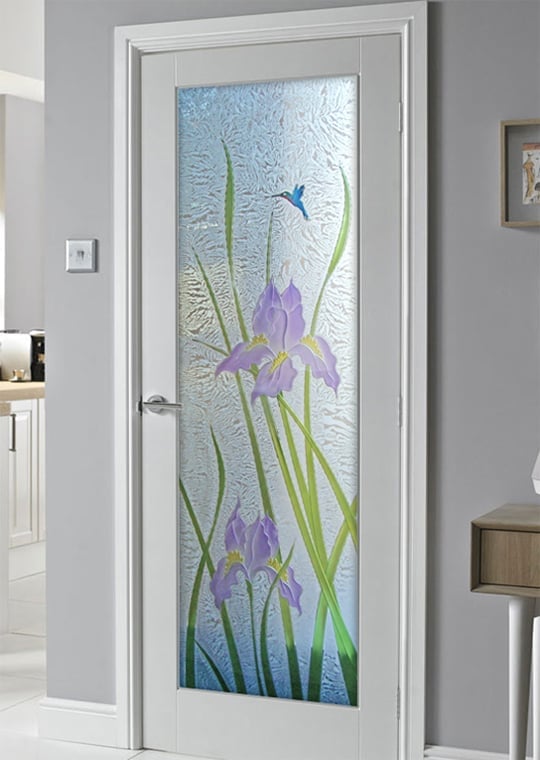 Frosted glass pantry doors offer a stylish and contemporary look while providing privacy. These glass doors allow you to observe the interior of the pantry without displaying all of its contents. This makes them a popular choice for modern kitchens.
Frosted glass, a type of glass used to create a minimalist aesthetic, can be utilized in pantry doors to obscure the contents while still adding an element of individuality and charm. With a plethora of designs to choose from or whatever you're looking to create, this is a great option where you don't have to sacrifice style for privacy.
Create Your Own Space with Standalone Pantries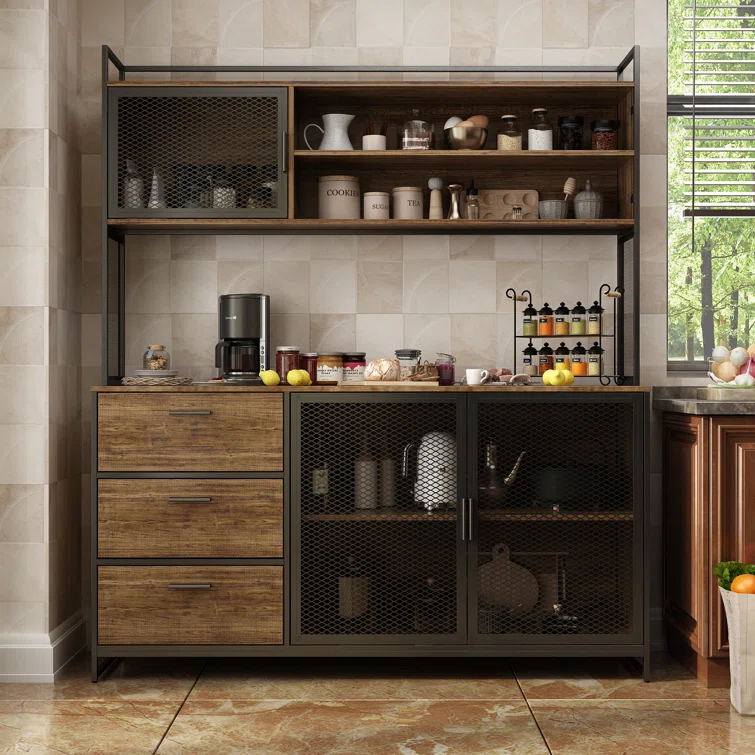 Standalone pantries offer flexibility in creating a pantry space that suits your needs and style preferences, even in kitchens without built-in pantry options. These decorative and spacious additions to your kitchen can be constructed or acquired, providing a fashionable storage solution.
An alternative to a traditional recessed and/or built-in pantry, is floor-to-ceiling kitchen cabinetry, which can be customized to match the rest of your kitchen design. This option allows you to create a pantry space tailored to your specific needs and style preferences.
Organization Product Specifications for a Well-Organized Pantry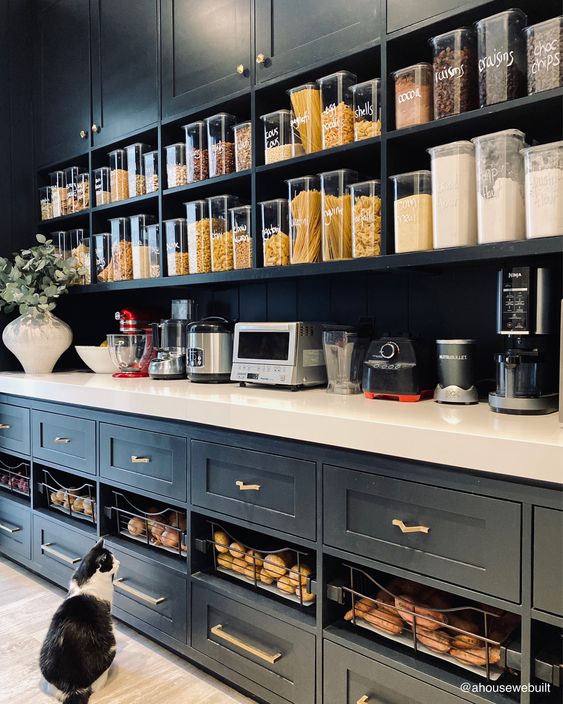 A well-organized pantry not only looks tidy, but also guarantees easy access to your kitchen essentials. Organization product specifications, such as bag organizers, baskets for paper products, glass jars for dry storage, and see-through containers for root vegetables, can help you maintain a clutter-free pantry.
Make the most of your pantry door by installing narrow shelving on its interior, providing additional storage space for bottles, jars, cans, cleaning supplies, or extra dishes. This clever use of space can further enhance the functionality and organization of your pantry.
Combining Functionality and Aesthetics in Pantry Cabinet Designs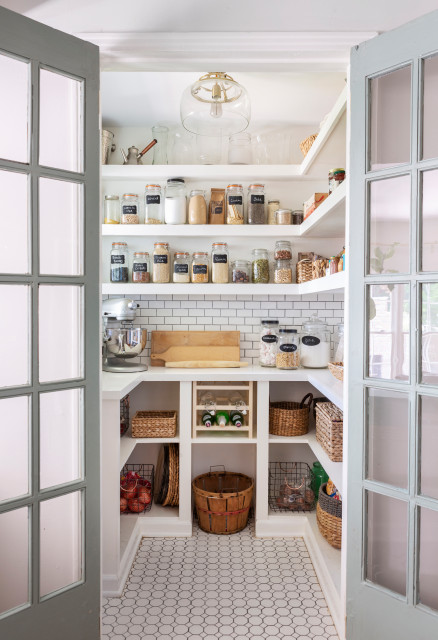 Creating a practical and visually appealing pantry requires striking a balance between functionality and aesthetics. One way to achieve this is by organizing the pantry with clever storage solutions, such as labeled containers and adjustable shelves. Incorporating decorative elements, such as stylish cabinet doors or unique hardware, adds a touch of aesthetics to the pantry design. You can have style while maintaining its practicality.
Equilibrating the layout and design of your pantry to optimize space utilization, while preserving a beautiful look can result in a functionally attractive pantry cabinet design. For smaller kitchens, implementing cabinets for staples and introducing walk-in storage can optimize performance without compromising on look and style.
Door Knob and Pull Options for Easy Access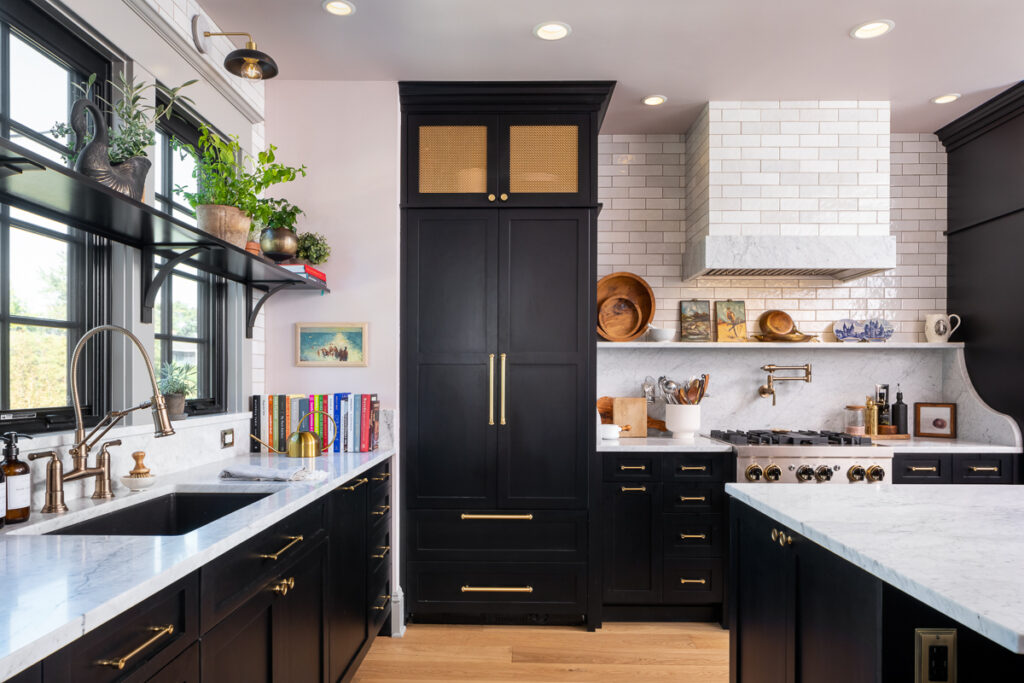 Various door knob and pull options, such as traditional round knobs, lever handles, and decorative knobs, can facilitate easy access to your pantry. In addition they can add a touch of chicness and personality to your kitchen. Pull options, including traditional bar pulls, cup pulls, and decorative pulls, offer additional choices for enhancing the accessibility and overall vibe of your pantry door.
For a more unconventional approach, consider incorporating a cutout in lieu of a door knob or handle, introducing a geometric design to your pantry door.
Summary
In conclusion, selecting the perfect pantry cabinet door style is essential for creating an elegant kitchen while still maintaining it's functionality. From barn doors to frosted glass options, there is a pantry door style for every lifestyle. By personalizing your pantry door, maximizing storage space, and combining performance with flair, you can create a pantry that is both practical and visually stunning. Embrace your creativity and transform your kitchen into a space that is uniquely yours!
Frequently Asked Questions
What kind of door is best for pantry?
Barn doors are an ideal choice for a pantry, as they create a rustic look and can be easily opened and moved out of the way.
And because they come in a variety of styles and colors from Modern to Rustic and everything in between, they are a great option!
Barn doors are also a great way to save space, as they can be easily opened.
Can I just buy cabinet doors?
Yes, you can buy just cabinet doors to reface your kitchen. This is a great way to give your kitchen a facelift at a fraction of the cost of a full kitchen remodel.
This is a great option for those who want to update their kitchen without breaking the bank.
What is a standard pantry door?
A standard pantry door usually ranges from 24" to 36" in width and 80" to 96" in height, with custom sizes available. Single and double doors are available depending on the wall opening size.
What size is a small pantry door?
Pantry doors typically range from 24" to 36" in width and 80" to 96" in height, with many models available in custom sizes.
The most common door size is 24" width and 80" height.
What are some popular pantry door styles?
Barn, pocket and glass doors are all popular choices when it comes to pantry door styles.
About Sans Soucie Art Glass
Family owned and operated since 1976, Sans Soucie sets the industry standard for the highest quality design and execution of sandblast frosted, carved and hand painted glass both nation and worldwide. Choose from our vast collection of designs across every decor, or let us create a brand new one-of-a-kind designs per your specifications. Our frosted glass designs turn ordinary glass into art pieces that add a luxury element to your home, while creating the privacy you need. Truly art with a function, our etched glass designs diffuse light and reduce glare, while enhancing the look of your home with a unique, eye catching custom element. Not clip art or machine manufactured, each design is a uniquely handcrafted original work of art, custom designed for our distinguished clientele of homeowners and commercial developers.
Free shipping to most states, shipping both national and worldwide, all our glass is handmade and expertly packed in-house by our team of glass artisans and shipped from Palm Desert, California. Shop our most popular products like slab and prehung front doors, interior doors, pantry doors, glass front doors, glass interior doors, sliding glass barn doors, windows, shower doors, shower panels and shower enclosures, decorative mirrors, signs and glass tables.
Copyright © 2023, Sans Soucie Art Glass. All rights reserved.