Are Glass Cabinet Doors Expensive? Designs For Every Budget!
When it comes to Glass Cabinet Doors, the price can vary depending on a multitude of factors. From the the type of glass, size of the doors, and any additional features or customization. Here at Sans Soucie we offer Hand Sandblast Frosted Glass Effects and Beveled Leaded options. Ultimately, the cost of glass cabinet doors will depend on your individual budget and design preferences. So, don't let cost deter you from adding a touch of elegance and sophistication to your space. Here you'll be able to see your options and compare which Glass Cabinet Doors showcase your style without breaking the bank!
Sandblast Frosted Glass Effect Options
At Sans Soucie, we have 4 unique ways to execute our exquisite 1D Frosted Glass Effect, each providing a distinctive look and level of privacy: 1D Positive, 1D Negative, 1D Pinstripe, and 1D Private. However, in this conversation we'll only be focusing on our 1D Positive and Negative. Even though we now call this effect "1D", it's also referred to as "solid frost". This is what most people envision when thinking of frosted or etched glass. So whether you're looking for a touch of elegance or complete privacy, we have the perfect 1D variation to suit your needs and style.
1D Positive Effect
Introducing our stunning 1D Positive Effect! With this effect, we sandblast etch the design elements onto the top surface of smooth, clear glass, resulting in solid white shapes that are simply breathtaking. This effect provides a semi-private look, as the clear glass background area will vary depending on the design. But don't take our word for it – check out some sample photos below to see the mesmerizing beauty of our 1D Positive Effect for yourself!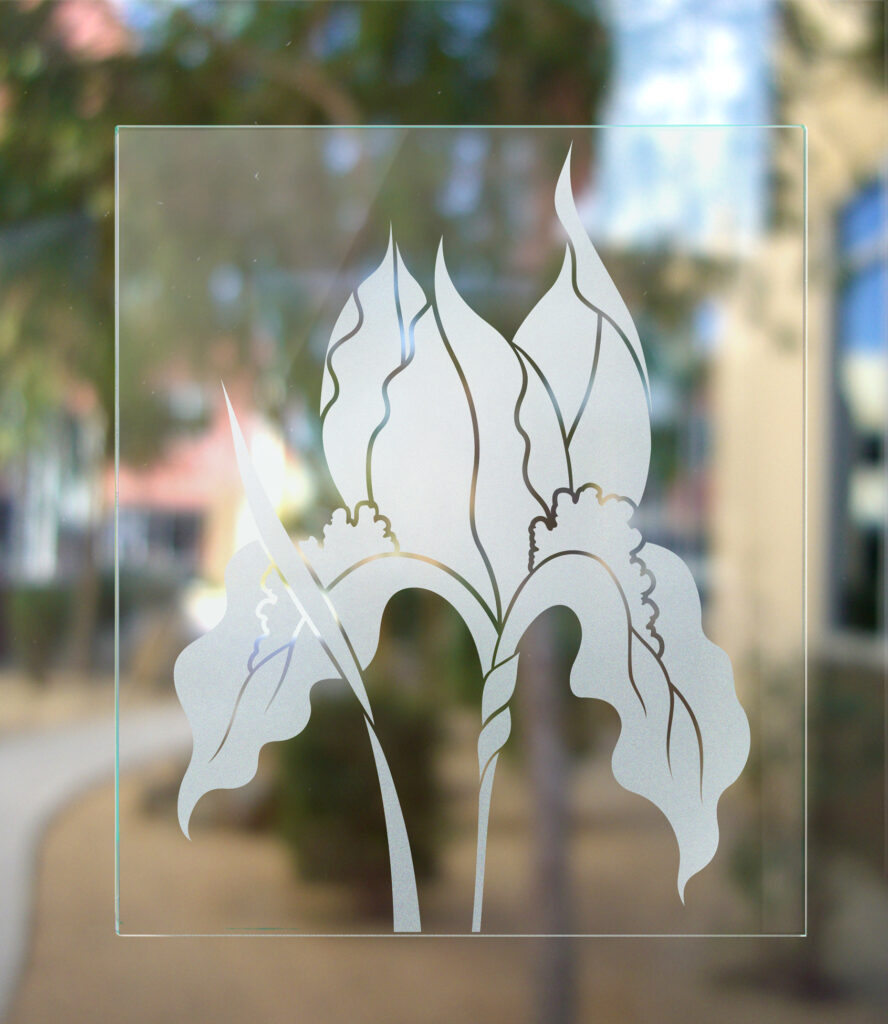 1D Negative Effect
Moving on to our fabulous 1D Negative Effect – the complete opposite or reverse of our 1D Positive! With this effect your Glass Cabinet Doors will have a higher privacy level. This is a result of the design elements being left clear and crisp, while the background is frosted. This gives your Glass a unique and stunning look that is sure to impress.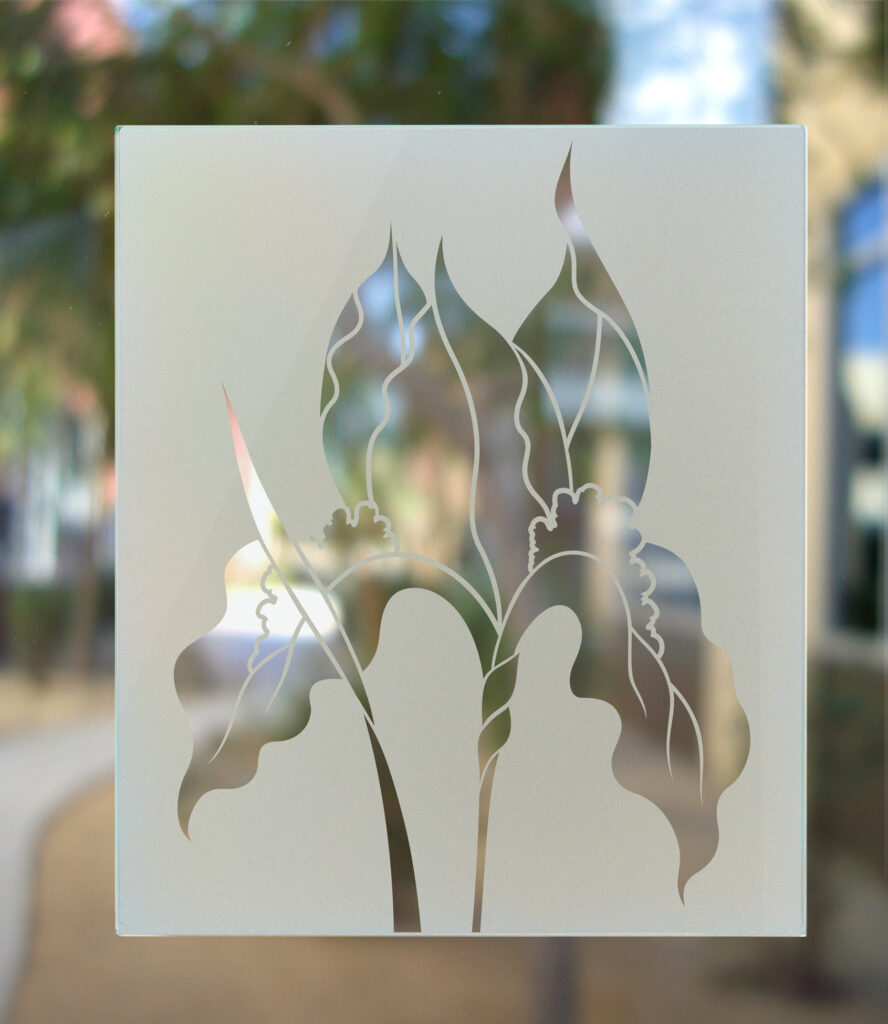 Beveled Glass Options
Beveled Glass is a popular choice for your Glass Cabinet Doors! These stained and leaded glass pieces have a unique angled cut that creates a prism-like effect, adding depth and dimension to the glass. This style of glass is versatile and can be incorporated into both traditional and contemporary designs. When used for exterior applications such as windows and doors, leaded or stained glass panels are typically sealed between two layers of glass. This provides added protection against the elements and easy maintenance. With a range of colors and textures available, beveled glass offers endless design possibilities that can fit your budget! (note: prices shown are as of March 2023 and are subject to change without notice).
BEVELED LEADED
(Example Size of 15 x 36)
About Sans Soucie Art Glass
Family owned and operated since 1976, Sans Soucie sets the industry standard for the highest quality design and execution of sandblast frosted, carved and hand painted glass both nation and worldwide. Choose from our vast collection of designs across every decor, or let us create a brand new one-of-a-kind designs per your specifications. Our frosted glass designs turn ordinary glass into art pieces that add a luxury element to your home, while creating the privacy you need. Truly art with a function, our etched glass designs diffuse light and reduce glare, while enhancing the look of your home with a unique, eye catching custom element. Not clip art or machine manufactured, each design is a uniquely handcrafted original work of art, custom designed for our distinguished clientele of homeowners and commercial developers.
Free shipping to most states, shipping both national and worldwide, all our frosted glass is handmade and expertly packed in-house by our team of glass artisans and shipped from Palm Desert, California. Shop our most popular products like slab and prehung front doors, interior doors, pantry doors, glass front doors, glass interior doors, sliding glass barn doors, windows, shower doors, shower panels and shower enclosures, decorative mirrors, signs and glass tables.
Copyright © 2023, Sans Soucie Art Glass. All rights reserved.