At Sans Soucie, all our Glass is custom made to order, and made by hand, thru the art of sandblast etching and carving. As you browse and make your way to a Product, you'll see an approximate Delivery Time Frame in the upper right-hand corner of the page.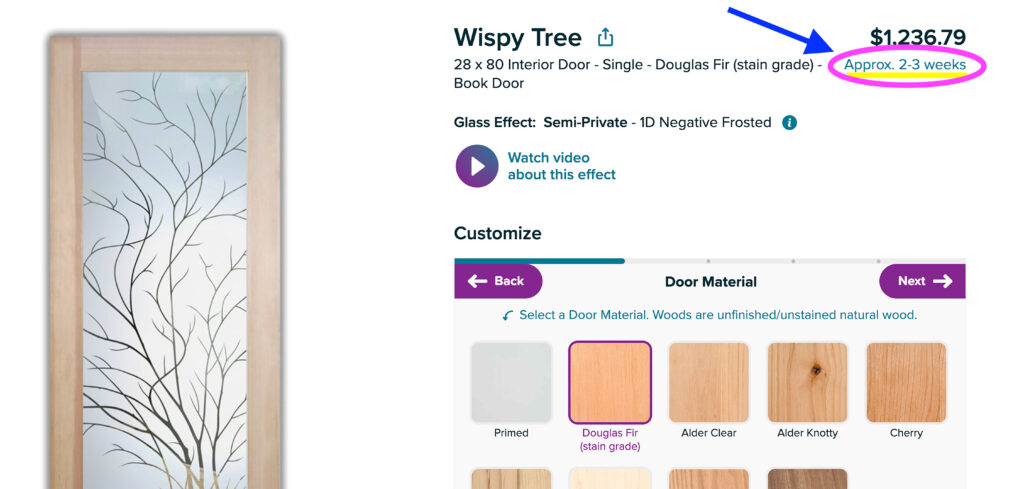 Please bear in mind the number of weeks listed is only an estimate, and NOT a guarantee. For the most part, our creation process runs on schedule, and you can expect your order within the estimated time frame, give or take a few days.
However, given the nature of some of the processes involved in creating our glass, such as gluechipping and painting, occasional delays can occur, due to things like humidity levels that can affect the timeline of the processes.
Watch a Video Explaining our Lead Times
Factors that Impact Lead Times
#1 – Glass Effect
Our Lead Times are based primarily, on the Glass Effect. You'll see the Lead time change, as you click between the different effect options. Here's a chart showing the approximate lead time for each Effect.
• 1D and 3D Solid, have the shortest lead times, of approx. 3-4 weeks.
• 2D, 3D Enhanced, and Painted Glass are longer, at 6-8
• Followed by our Stained and Leaded Glass, which is the most labor intensive, of all the glass we create.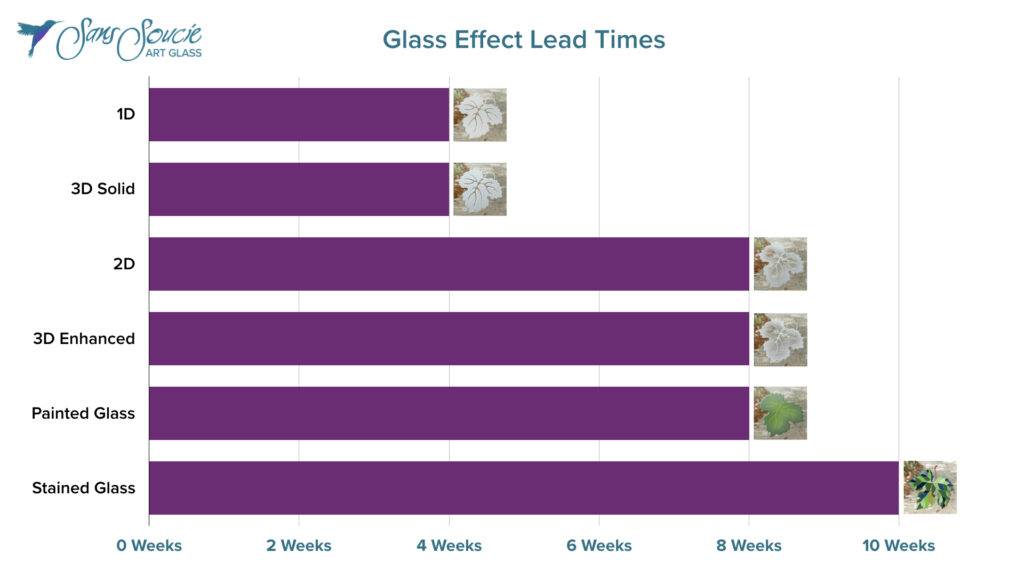 #2 – If Slab or Prehung Door – Door Material and Sizes
If purchasing a Slab or Prehung Door, just like we don't manufacture glass itself,
but buy the glass and apply our art, we don't manufacture doors. We purchase the doors from a quality, reputable vendor, install our glass into the door, then carefully pack it, and ship it to you.
So, it's the door vendor that sets the timeline for all our doors, based on what they stock, vs. what's custom, made-to-order.
Lead times for doors are based on the door material, and the size.
• Primed and Doug Fir, have the shortest lead times, of 3-4 weeks
• Our 2 Fiberglass options are 4-6
• And our Specialty Woods are considerably longer, at 6-8 weeks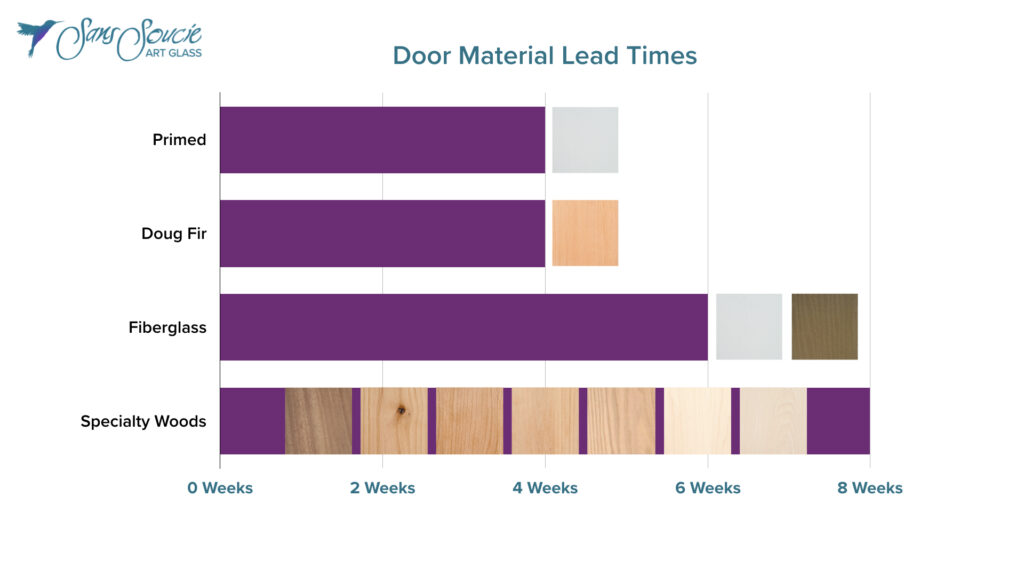 As far as SIZE, our door suppliers "stock" the most common widths and heights. More unique or less common sizes are custom made to order. Again, as you build your door and make your selections, you'll see time line change.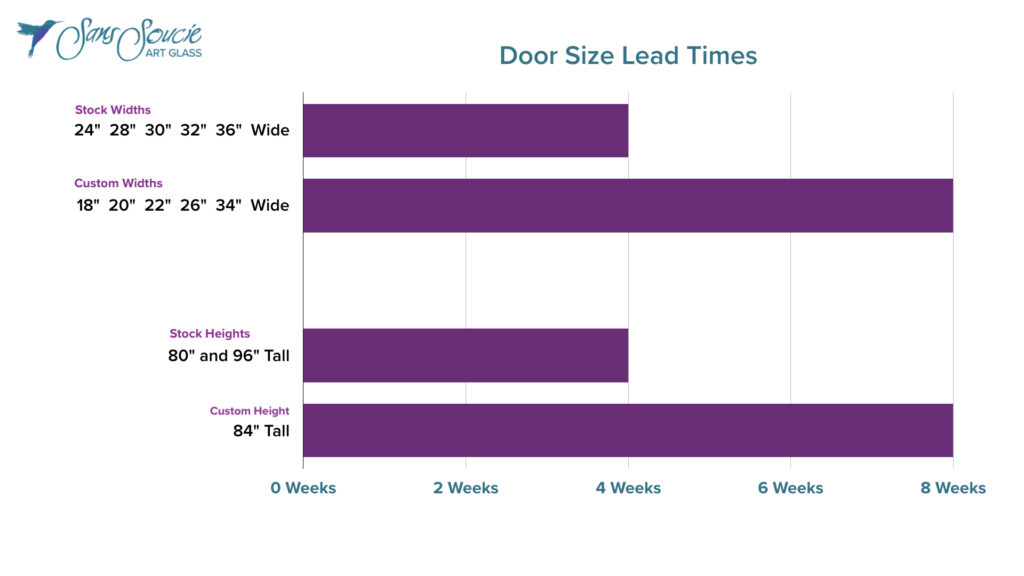 #3 – Shipping
The last thing that effects lead time, is Shipping. All orders ship fully insured, via Freight, Curbside Delivery. Depending on your location and proximity to our Studio in Palm Desert, California, transit time is between 1 to 5 business days. When your order ships, you'll receive an email with a tracking number, an automated phone call from us, about what to expect at delivery, as well as another call from the freight company, to set up a Delivery appointment.
Here are Transit Time maps from two of the main freight companies we use for our shipments.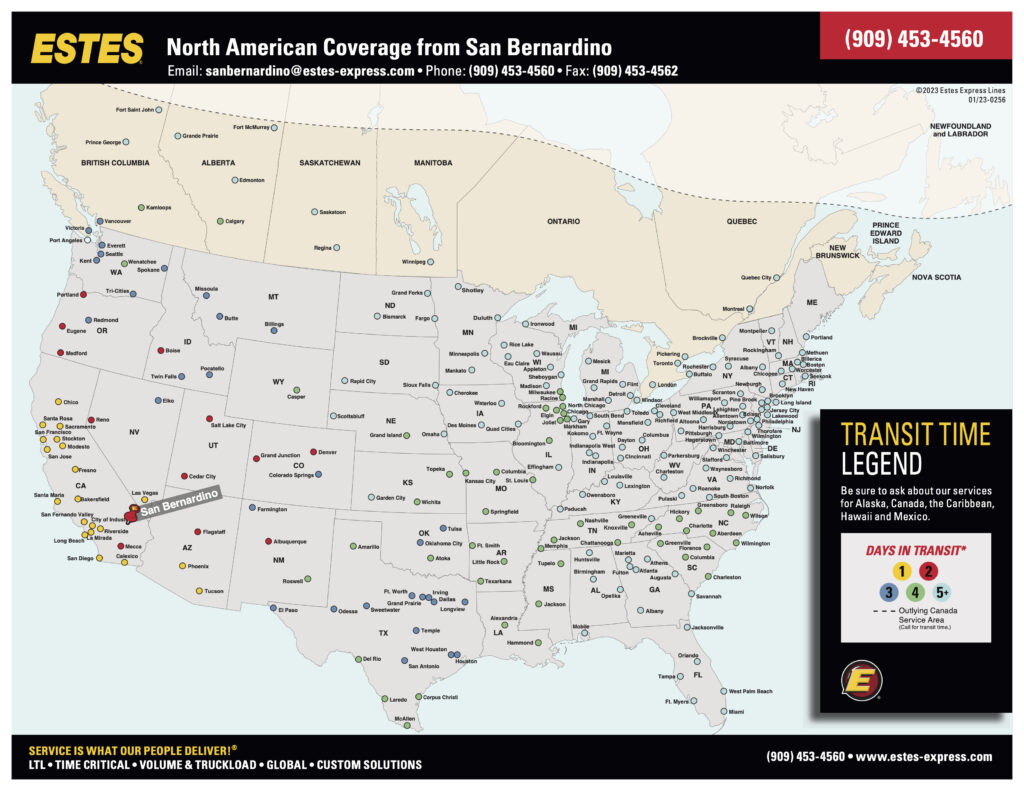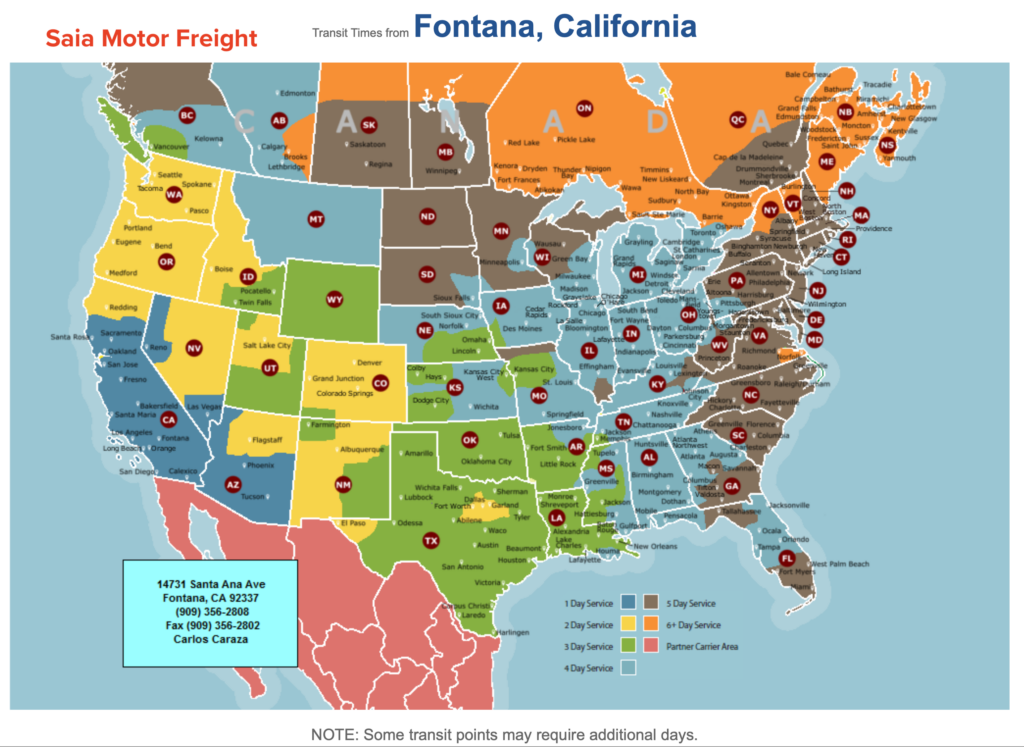 So, while there's a variety of factors that come into play when determining our lead times, rest assured we want you to receive your order as quick as possible, and we'll do all we can to ensure a timely, successful delivery of your order.
About Sans Soucie Art Glass
Family owned and operated since 1976, Sans Soucie sets the industry standard for the highest quality design and execution of sandblast frosted, carved and hand painted glass both nation and worldwide. Choose from our vast collection of designs across every decor, or let us create a brand new one-of-a-kind designs per your specifications.  Our frosted glass designs turn ordinary glass into art pieces that add a luxury element to your home, while creating the privacy you need. Truly art with a function, our etched glass designs diffuse light and reduce glare, while enhancing the look of your home with a unique, eye catching custom element. Not clip art or machine manufactured, each design is a uniquely handcrafted original work of art, custom designed for our distinguished clientele of homeowners and commercial developers.
Free shipping to most states, shipping both national and worldwide, all our glass is handmade and expertly packed in-house by our team of glass artisans and shipped from Palm Desert, California. Shop our most popular products like slab and prehung front doors, interior doors, pantry doors, glass front doors, glass interior doors, sliding glass barn doors, windows, shower doors, shower panels and shower enclosures, decorative mirrors, signs and glass tables.
Copyright © 2023, Sans Soucie Art Glass. All rights reserved.