Create the Illusion of Space With Decorative Mirrors
The next time you look in the mirror, ask yourself this question: "Am I taking this unique design element for granted?" For most of us, the answer is a resounding "yes"! While interior mirrors are commonly considered an integral element of bathrooms and wardrobes for their utilitarian functionality, it's common to overlook the more unique, aesthetic functions of home mirrors in an interior dwelling.
The simple truth is this: interior decorative mirrors can create an illusion of space inside of a house or apartment that adds a priceless touch of light, air and openness. If you have been looking for a solution to reinvigorate your home's interior, a decorative mirror might be your perfect solution!
Matching Mirror Size To Your Interior Space
Before you can begin installing the perfect decorative mirror for your home, you'll need to make sure that you have the right size. In order to achieve the best possible benefits of your mirror, you will need to make sure that your mirror is the correct height to adequately create the illusion of space in your dwelling.
Of course, you may also decide that a more artistic design for your mirror is better suited to your home environment. If so, you can find a variety of unique mirror sizes and shapes at Sans Soucie to match your needs.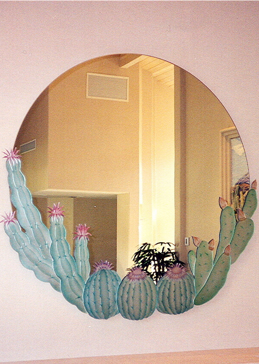 Placing Decorative Glass Mirrors Behind Light
If your goal is to lighten your space, placing a decorative glass mirror behind your interior lighting is an excellent strategy. Not only does this simple method create a unique and stunning reflection of your interior lighting, but it also helps to amplify the impact of the light itself.
If you're in the process of brightening up a home that has traditionally been shrouded in shadows, this is a great strategy to keep in your toolkit!
Orienting Your Mirrors Across From A Window
In similar fashion to placing your mirror behind a light source, you can also position your mirror directly across from a window to achieve a similar effect! The ambient light traveling through your window will be amplified by your mirror, further brightening your space. Depending on what your outdoor environment looks like, this could also be an excellent tool for adding a poetic touch of natural beauty to your home as well.
Nature lovers can also choose from one of several of our nature-inspired mirror designs as well.
However you decide to position your mirror, the most important thing to remember is this: you need to be happy with your decisions! If you've decided that you would like a unique, custom design for your home, we would be happy to help! Our team can help you discover the perfect decorative mirrors that will add timeless beauty for years to come.