5 Ways to Repurpose Your Old Door
Stumped on what to do with old doors when you get your new glass doors? Whether you're replacing an entryway door or renovating an entire part of your house, chances are you'll have some leftover building materials, including doors.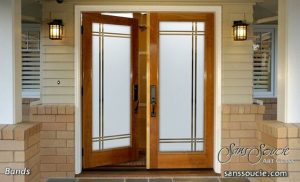 Instead of tossing it into a landfill or sticking it in your garage to collect dust, why not find another function for it? You'd be surprised just how many functions a door has when it comes to furniture, organization and interior design. If you don't believe me, just do a quick search on Pinterest.
Strap on your DIY gloves and learn about five ways to repurpose your old door.
Headboards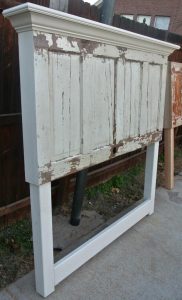 Want a custom and unique headboard? Old doors are perfect because they can be reshaped into any length that best fits your room and bed. In addition to the door, you'll need building pieces similar to the door to help stabilize it as a headboard.
Also, be sure to double check measurements before you cut the door and other materials for your headboard.
Wall Display/Organizer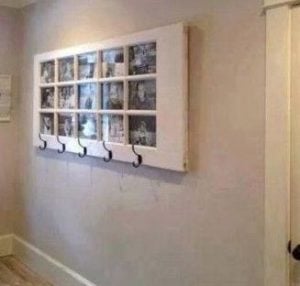 This is one of the easier solutions of what to do with old doors. A wall display/organizer works great with old interior glass doors as you can creatively display photos and posters in a living room or bedroom. Consider screwing string lights to the back of the door to create an illuminated photo display.
You can also punch out the glass and replace it with chalkboards or cork boards and hang the door frame in a hallway, kitchen or in an office. From there you can pin notes, calendars, etc. to help you organize daily schedules.
Garden Bench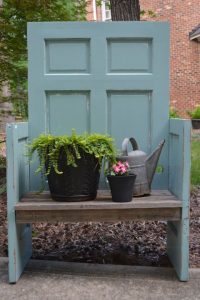 If your door has more wear and tear, then create something for the outdoors! The chipped paint can give your garden and patio area a vintage look. The best door for a garden bench is one with four panels, with two of the panels longer than the other two. Lots of cutting is involved, but what you end up with is comfy, unique and affordable outdoor seating.
Doors can also make great outdoor tables — something to consider if you don't like cutting wood!
Entryway Furniture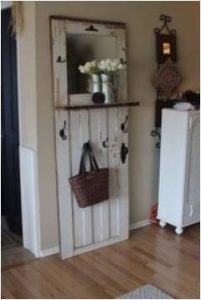 This option can vary from an entryway table to entryway coat rack, bench or cubby — sometimes all three! It's a great statement piece that organizes all the things you need when walking out the door. In this case, the door serves as a base, where you can add hooks and other building materials to create the entryway furniture piece you desire!
Donate
If you're still stumped, consider donating your door(s) to a Building Materials Reuse Center (BMRC). These centers help give your unwanted building materials another chance before being placed in a landfill. Also, consider Habitat for Humanity's ReStores where your donated items are resold to the public for the fraction of the price. Plan on calling ahead to see if they accept your building materials before making the donation.
All in all, keep these five projects in mind before trashing your old door!