6 Design Trends You'll Want to Try in 2018
With a new year comes personal goals, beginnings, and projects to start and complete—such as home improvement projects. Home/interior design projects are a great challenge to set that will help keep you busy, focused, and when completed, can help your home feel more inviting.
So, as you embark on your home projects, it's important to note the interior design trends in 2018. Below we discuss six design trends that you'll definitely want to try and incorporate into your interior projects this year.
Patterned Flooring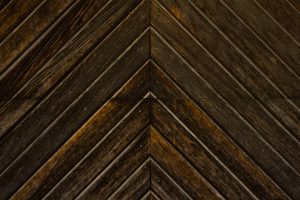 From herringbone to brick and basket weave patterns, there are various patterned flooring options to choose from, not to mention floor types. Patterned flooring can also introduce intricate details into a room and can continue to be trendy in the future. As interior designer Maren Baker explains, "Patterned floors are going to continue to be a strong trend in 2018, and herringbone is a great way to incorporate the trend while still being timeless. I love using contrasting grout to emphasize the lines and make it more modern."
When looking to install or refinish your floor, be sure to research your flooring contractor options. Get various bids from contractors before deciding on one. You'll also want to take into consideration the floor type—hardwood, ceramic tile, marble, etc.—and the maintenance of each type.
Statement Doors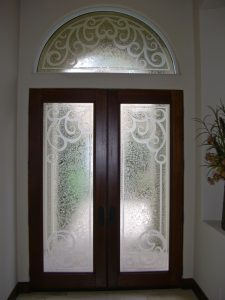 This is one interior design trend you don't want to overlook as there are many added benefits of installing a statement door into your home. This includes increasing brightness, decreasing energy bills and adding details/colors to a room. Whether it's an entry door, bathroom glass door(s) or a wine cellar door, these doors can establish the tone of a room. For instance, by increasing the natural lighting in a room from a Frosted Glass statement door, it can positively affect the overall mood in your home and become more cozy and inviting to guests.
First impressions count and here at Sans Soucie, we want to help you make a statement. View our custom designs or learn how to create your own art glass that you can proudly display within your home.
Two-Tone Cabinets
Colorful kitchens are in and what better way to incorporate color than painting your cabinets in a two-tone style?! Two-toned cabinets can also give your kitchen contrast and make it the focal point of the room.
When painting the cabinets, be sure to invest in acrylic alkyds and acrylic urethanes that will help you achieve a professional-looking job. Just be sure to use a primer that is compatible with the paint you choose to use. Prep the area by cleaning, priming and sanding the cabinets you plan to paint. Also, invest in helpful painting tools, such as quality brushes, rollers and even sprayers to get an even finish. Though this is a time-consuming process, it can be a major upgrade to your kitchen.
If paint isn't your style, you can also get a two-tone effect by using different materials on the top and bottom cabinets.
Wallpaper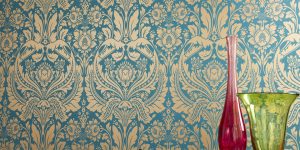 Although wallpaper seems to come and go as a trend, in 2018, it is seen as a statement art piece. Now, wallpaper is used to set the overall tone for the room. Whether you install it on one wall or on all four, look for patterns that best emulate your personal style and bring out the intricate details you want in the room. As such, by your wallpaper wall(s), try incorporating different textured furniture and furnishings.
Trendy wallpaper designs/themes in 2018 include: rose gold (pink), botanical, metallic, and emerald green shades.
Metallic Details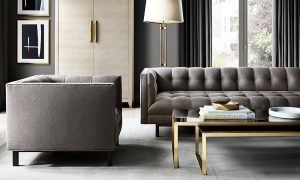 Similar to a statement door, metallic pieces are great because they can brighten a room thanks to its reflectivity. Try incorporating metallic into wallpaper (accent walls), furniture, fabrics and other furnishings in various rooms. The key is to find creative ways to add in the metallic detail. From entryway mirrors, statement lamps and end tables to bed frames and accents on ceilings—there are many ways to incorporate metallic.
Also, consider mixing and matching different metallic tones. LuxDeco explains, "Cool metallic tones (such as silver, nickel, and steel) bring a slick, modern aesthetic whilst warmer tones (gold, rose gold, bronze and brass among others) are inviting, flattering and subtly glamorous. A mixture of the two offers unique looks – modern with a touch of glamour, minimalism with an inviting appeal and rawness refined."
Patterned Plants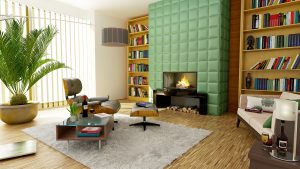 Plants, or more specifically, patterned plants, are the hot trend in 2018. Plants are a great way to add color, beauty, and life to a room. You can use larger plants as a nice side piece to your furniture or place in the corners of your living space. Consider placing medium sized plants on a bench or window ledge to make a statement in your home. And, if you don't want the added maintenance with live plants, consider high-quality faux plants.
As you embark on your 2018 home projects, keep these interior design trends in mind.