How a Door is Made at Sans Soucie
At Sans Soucie, we offer a level of quality, skill, precision, and expertise when it comes etched, carved and leaded art glass. Having been in the glass industry for over 40 years, we are known by thousands of homeowners, designers, builders, and developers for the quality of our work, our large range in price and our outstanding level of customer service and satisfaction.
What is our process like when creating custom glass doors? What steps are taken from concept all the way to completion? Read below to learn how glass doors are made at Sans Soucie.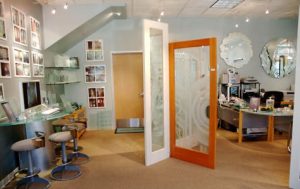 The first step when creating glass doors for clients is what we call the collaborative and quote stage. It's here where we meet with the clients and reference existing design elements or new photos along with a detailed description of the artwork. The designs are a collaborative effort, combining our creativity, skill, and expertise with your tastes, preferences, and imagination.
Our principal artist and designer, Chauncey W. Gannett, takes inspiration from a wide range of design tastes and styles. He loves natural and abstract elements as well as art with geometric and contemporary influence. What are some of our most popular designs? Some of our most popular options at Sans Soucie are Sun Odyssey, Dreamy Waves, Palm Sunset, and Bamboo Forest.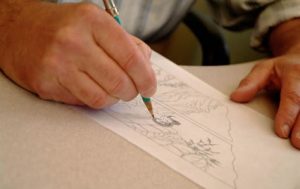 Usually, clients will come to us with a basic design style in mind. They also look at our vast array of design archives within that style and although the design may begin there, changes are made to suit your tasks and meet your specifications, creating a custom design for your individual glass doors. Other times, we "start from scratch" and create one-of-a-kind, original design. Bottom line, we base the design on your decor and architecture of your home or business.
Once we have the glass sizes and the basic design concept/style, we will provide you with a quote. The quote will vary depending on these main factors: type of art glass, depth of the sandblasting, design complexity, type of sandblast effect, background effect, and delivery and installation requirements.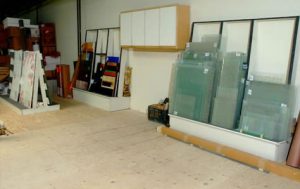 After the design and quote are created, an order is placed after client confirmation and submitting a 50% deposit. Next, the design is drawn out. This line drawing is submitted to the client for approval. At the same time, we order all the needed materials for the glass doors. At Sans Soucie, we offer eight different kinds of wood, two fiberglass frames and all the hardware needed for glass products. We also offer frameless "all glass doors."
Once we have design approval from the line drawing, we move next to the fabrication process. Once we receive the glass and door from our vendor, Sans Soucie etching and/or carving takes place by laying out the drawing on the glass. This etching and/or carving is achieved via sandblasting by hand—we do not use any acid etching or any kind of machine/laser etching. These leaded glass pieces are also custom cut and fabricated by hand. If the design features color, it will be applied after carving, using special glass paints via air-brushing. This glass is then put in the door.
Once the custom glass door is created, it is then packaged and shipped while the client received an email with tracking and delivery information. We will personally deliver and install your art glass piece within a 250-mile radius from our location in Palm Desert, California.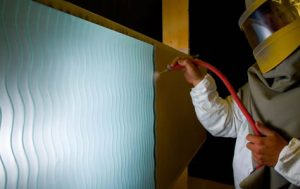 On average, the complete turn-around from date of deposit is eight weeks, depending on the project.
How can you get started today? Clients can either order directly online through our door and glass designer and/or can get a quote for a custom or specialty item not available online. Through a collaborative effort, we can design and create the one-of-a-kind statement door(s) you want in your home and/or business.
Click here to learn more about our glass doors and our business.