Choosing the Best Door for Your Home
Looking to add more design and decor into your home? A great place to start is to rethink your interior doors. Replacing your entry doors, pantry doors, shower doors and/or any interior doors with glass doors is a simple way to add intricate design to a room and make a statement for new guests. Plus, it can help bring in natural lighting to otherwise dark rooms.
Below are five things to keep in mind when choosing the best interior door for your home.
Type of door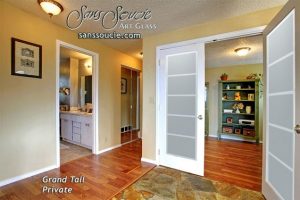 When looking to revamp your interior doors, you'll first need to decide on the style of your door you want to install. Consider the overall style of your home and install doors that match it. For instance, if your interior design has a French country style, then French doors will be the perfect touch for a door that separates the living room from the dining room or another room in the house. Or if your house has a more modern design/decor, consider a sliding panel or barn doors to help give a more industrial, modern look.
From folding doors to Dutch doors, there are various styles that you can choose from. Just remember that you can mix and match with some doors in your home, but in order to maintain overall flow, try to keep some elements of your interior doors the same.
Energy Efficient
Especially with your entryway door, it's important to consider doors with insulating materials that can positively affect your energy bills. Whether that means tighter-fitting frames, double-panel insulation glass or energy-efficient cores, invest indoors that can help keep in the heat in your home. Take a look at your doors and look for areas around the door that leak out air so you can make adjustments with your new door installations.
Glass Privacy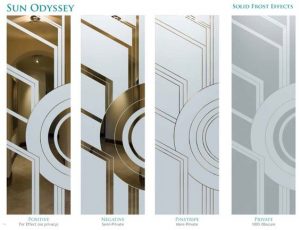 Did you know you can control the privacy of your interior glass doors? At Sans Soucie, we offer different levels of privacy with our doors, including semi-private, private, and not private. For instance, semi-private can allow you to incorporate intricate designs while hiding the clutter behind the door, such as in a pantry or laundry room. What's more is that through art inspired glass, our glass doors at Sans Soucie create privacy without sacrificing light.
Glass Design
Glass interior doors not only help bring in additional natural lighting to a room but are a great way to incorporate style and color to a room. Sans Soucie has many decor styles to choose from including art deco, Mediterranean, modern, beach coastal, rustic, traditional and nautical—to name a few.
Furthermore, at Sans Soucie, we have multiple effects to choose from when creating your glass design, including 1D, 2D, 3D, and 3D painted.
Door swing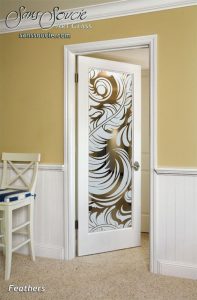 Lastly, it's important to consider the door swing before installing your new custom doors. Remember that whatever side the handle is on (left or right) will determine how the door will open towards you. If it's on the right, then the door will swing open on the right and if it's on the left, it will swing open on the left.
Also, a good rule of thumb is not to install a door that opens into a hall or corridor
Lastly, did you know that at Sans Soucie we create custom and specialty glass doors? We are known among thousands of homeowners, designers, builders, and developers for creating the highest quality etched, carved and leaded art glass available in the industry. With over 40 years experience, we are also known for our broad-range design versatility and outstanding level of customer service and satisfaction.