Gorgeous Glass Front Doors!
Glass Doors YOU Customize & Buy Online!
ENTRY OR INTERIOR
Quality, custom etched glass designs. Shown here are 2D Etched & 3D Carved. Designs in any decor style! Available any size, Entry or Interior. 8 woods, 2 fiberglass. Designs are sandblasted in various price ranges & privacy levels! Choose from our vast collection, or let us create something new according to YOUR specifications. ALL designs are available in ALL effects!
Select any Door below to Get Started!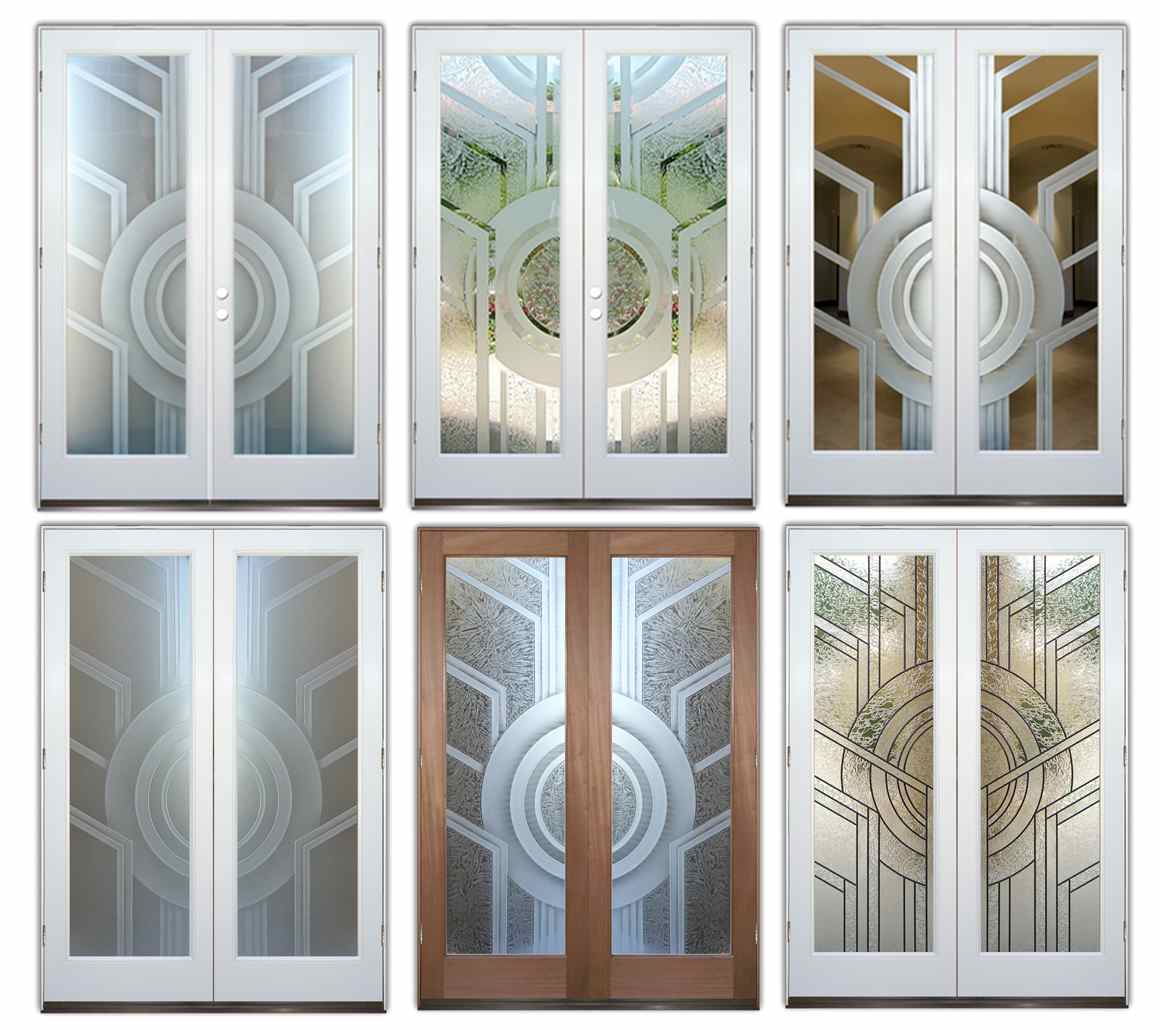 Grand Entries that Make a Statement.
First impressions count! Whether it's front entry or interior glass doors, the first focal point of an entry into a home, business or office are the doors. Frosted decorative glass by Sans Soucie add a unique, custom element and a level of luxury that provides privacy, without sacrificing light!
DESIGN
From simple frosted glass effects to our 3D sculpture carving, painted and stained glass .. and everything in between, Sans Soucie designs are sandblasted different ways, resulting in different effects, and different price levels. The "same design, done different" – there's no limit to design. With 38 years of creating custom glass in a vast array of glass products, there's something for every decor, regardless of style. Choose from our large collection of design archives or let us create a new design to your specifications. Price will vary by design complexity and type of effect. Learn more about our effects.
HOW MUCH, HOW LONG
Solid Frost effects and Doug Fir doors have the quickest turn-around – 3 weeks to your door step. Specialty Glass effects (2D, 3D and Stained Glass), and our Specialty Woods (all woods except Douglas fir), will require approx. 8 weeks. Everything is custom made to order and ship worldwide.
PRIVACY
From a little to a lot, get the privacy you need without sacrificing sunlight. Glass can be 100% obscure private, semi-private or not at all – just choose what you need.
GLASS SPECS
All glass will be tempered, exterior doors will have dual pane glass (or a single 1/2″ thick pane for fiberglass doors) and come in various thicknesses and types depending on interior or exterior use, and the sandblast etched effect.
WOOD TYPES
Selling both the glass inserts as well as doors with glass, Sans Soucie offers 8 woods as a slab door or prehung in the jamb – any size is available, so if you don't see your size, contact us for a custom quote.
CUSTOMIZE JUST THE WAY YOU WANT IT!
Inside our fun, easy to use online Glass and Door Designer you'll get instant pricing on everything as YOU customize! When finished designing, simply place your order online! We're here to answer any questions so please call (877) 331-3397 to speak to a knowledgeable rep! Sans Soucie ships worldwide at reasonable prices from Palm Desert, California, with delivery from 3-8 weeks depending on door material and glass effect.
Glass front doors with etched and frosted designs by Sans Soucie will provide the privacy you need, through gorgeous works of art captured in glass. All glass is hand sandblast etched and can be executed in a variety of ways, resulting in not only a different look, but a different price. The doors below only demonstrate a few extravagant works that the Sans Soucie Art Glass team can execute. Prices here include a prehung pair of dual pane, tempered glass front doors in our smooth surface fiberglass door (as shown, with Doors, Jambs, threshold, door sweep). Door is white primed, Plastpro Fiberglass door). Customize your door in our online Glass and Door Designer where you will see instant pricing and can place your order right online! Available any size, in 8 woods, 2 fiberglass or as glass insert only, our glass and doors ship from our Studio in Palm Desert, California, worldwide for $99 to most states.