Contemporary Frosted Glass Doors Create Obscurity thru Art!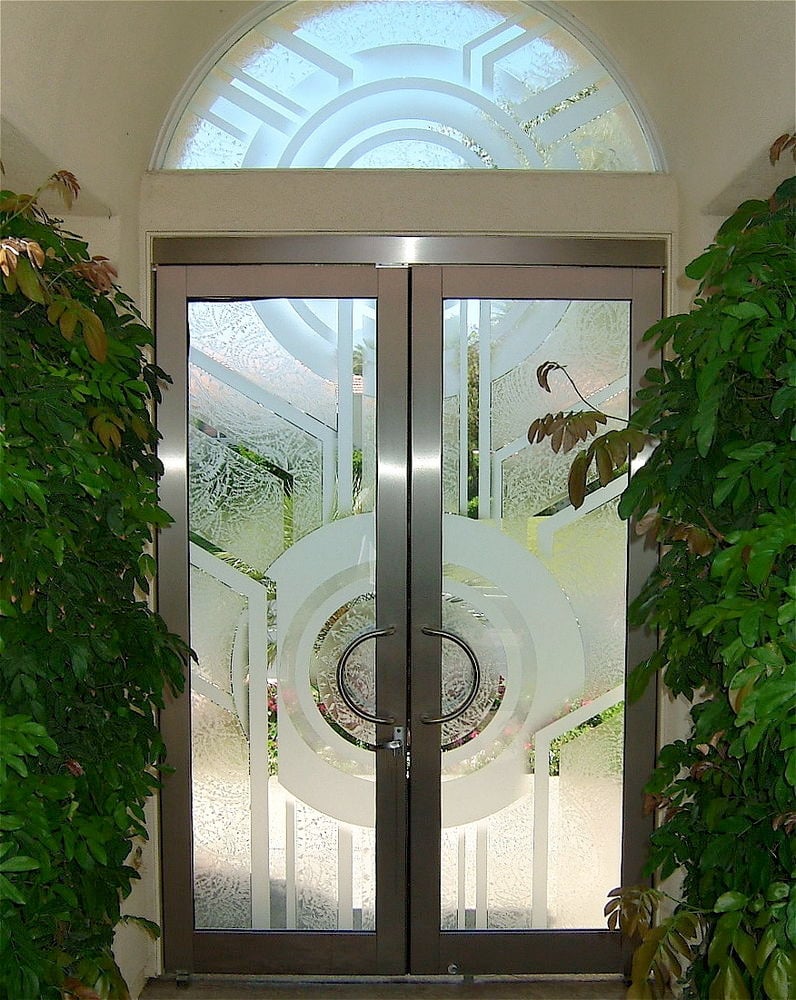 This gorgeous contemporary glass entry consists of two door glass inserts and a radius top transom window of sandblasted etched / frosted carved glass. The contemporary design by Sans Soucie is titled Sun Odyssey and can be executed for less or more privacy. In this case, a minimal amount of privacy was needed in the glass, so there are clear bands and segments creating a beautiful contrast with the etching, carving and gluechipping. The glass has been etched and 3D carved, so there is a relief texture to the artwork in the glass. We've included some examples of the various ways this design has been executed, on clear and bronze glass, and for different levels of privacy. The glass is tempered and for these exterior doors and window, the glass is insulated, dual pane units that are 3/4″ thick overall. The carved edges in the sandblast carving picks up surrounding light creating a bright, illuminated effect.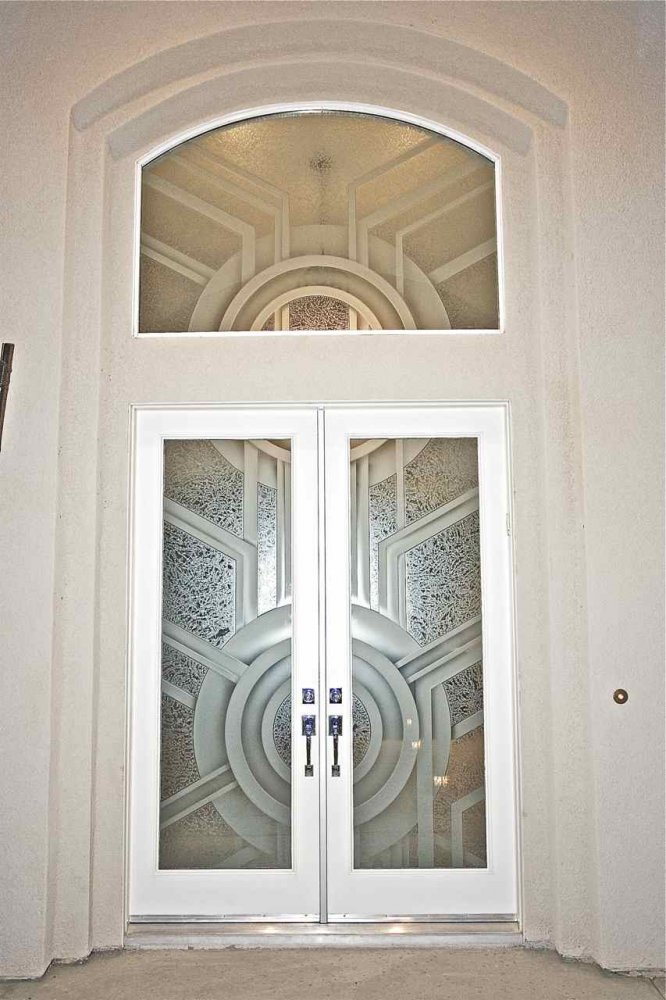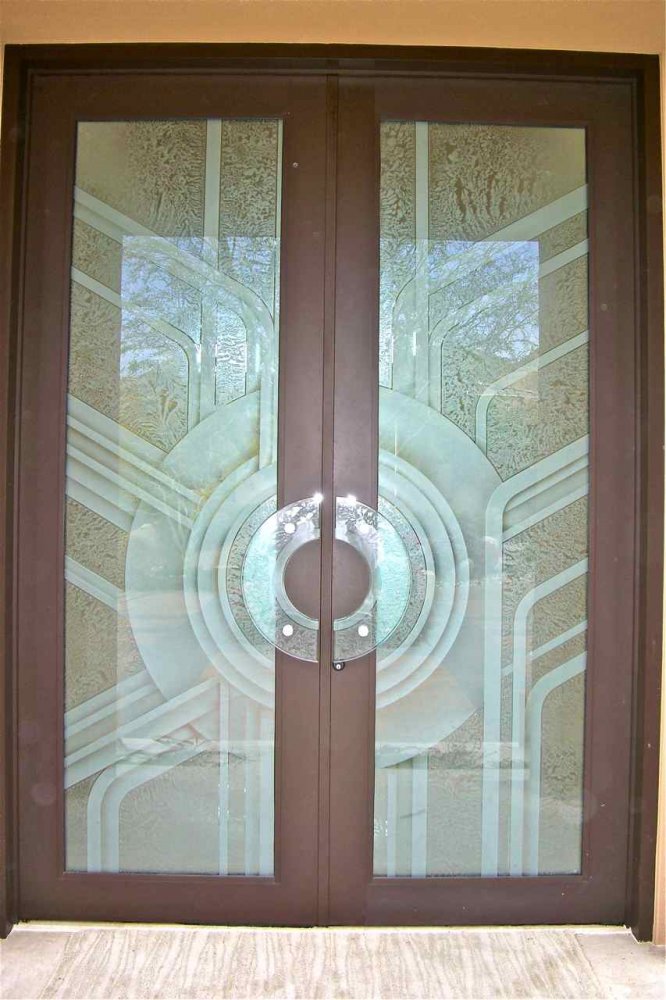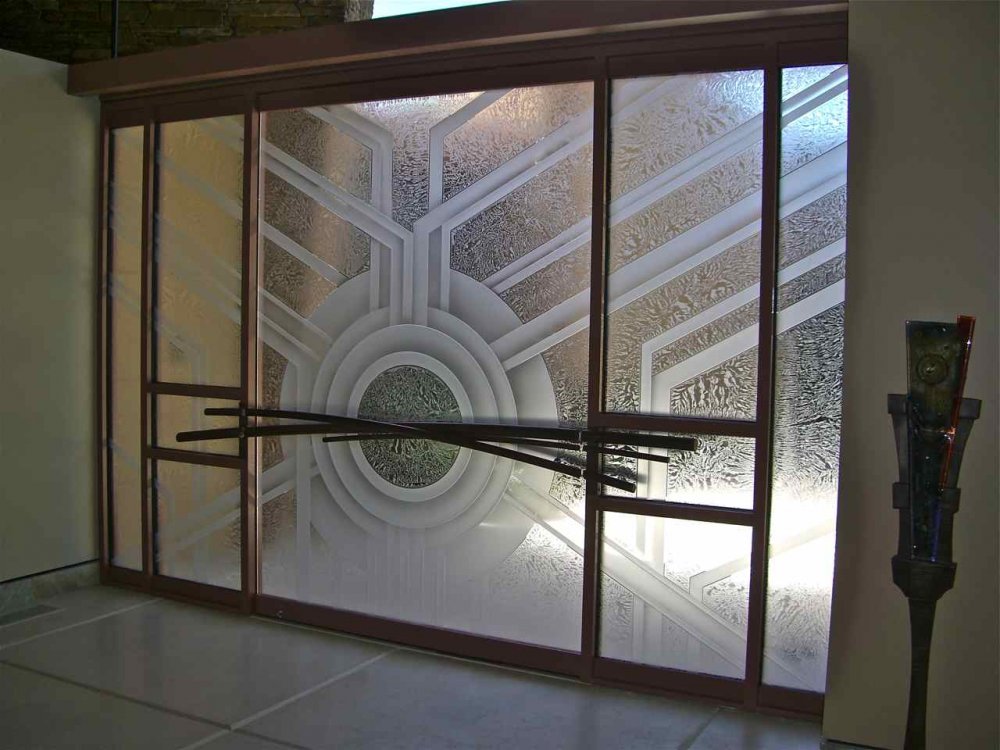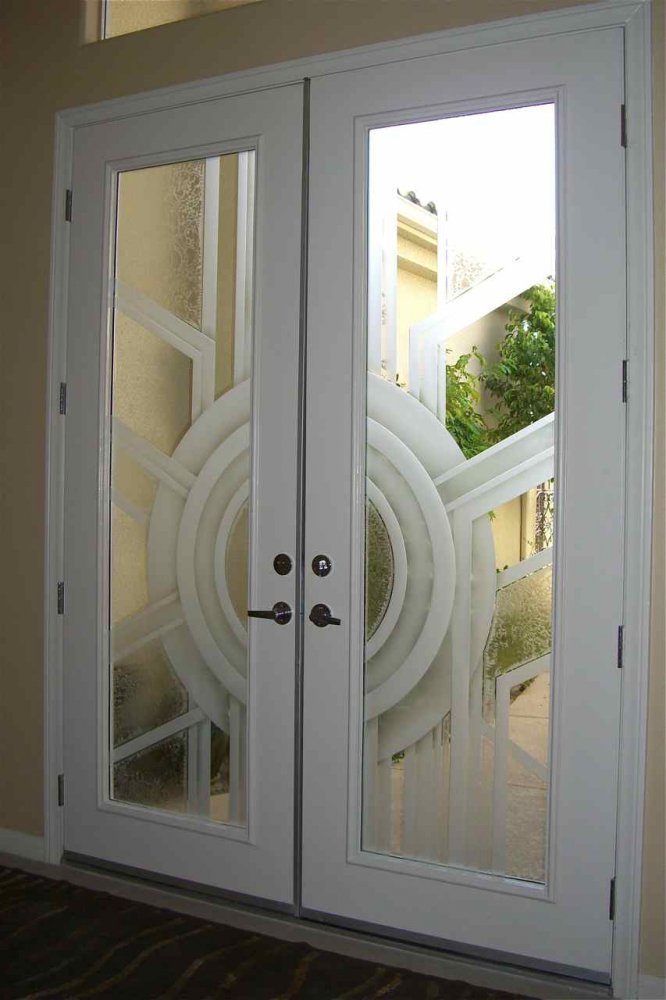 Etched and Carved Door Glass and Windows being our most popular products, located in Palm Desert, California, Sans Soucie has been setting the industry standard for custom designed sandblast etched glass since 1976. Visit our Door Glass Gallery to see many more examples in a wide array of design styles. We pack and ship all our glass and doors in-house, nation and worldwide. Sans Soucie Glass Doors can be purchased pre-installed in quality wood frame doors. Glass is custom designed in any size or quantity, to suit any decor.
With our brand new line of Solid Frosted Door Glass Designs, Sans Soucie Art Glass comes in a broad price range. Our higher-end door glass is Dimensional and 3D Carved, requires a much higher level of skill to create and will on average range in price from $700 to $1500. Our new line of Solid Frosted or Solid Etched Door Glass starts as low as $315 and average at $400. Our Solid Frosted / Etched Glass Doors are available in negative sandblast and our new privacy glass line.
Sans Soucie also creates custom etched glass windows, shower dividers and enclosures, custom glass signs, partitions, gate glass, backsplashes, bar tops & glass vanities, custom glass shelves, glass dining tables, glass coffee tables, cabinet glass, decorative mirrors, fireplace screens, glass wall art and custom glass sculptures.