Etched Glass Door: Carved Squares by Sans Soucie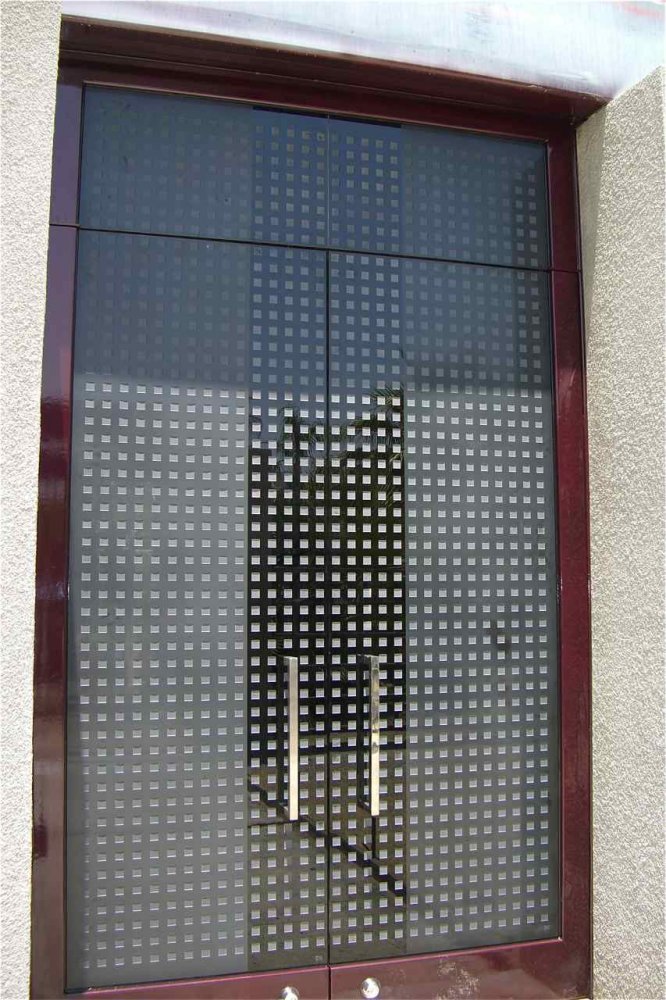 This unique pair of entry doors feature an etched carved glass Squares Pattern by Sans Soucie Art Glass.  Unique, because these doors are technically both framed, and frameless doors!  The "L" Shape frames are of metal construction.  The glass is 1/2″ thick grey tempered glass that is sandblast etched and 3D carved in a pattern consisting of 1″ squares, set equally 1″ apart on alls ides.   The center section, where the two doors meet, are "frameless" and meet glass to glass.    Split into "thirds", the background area running down the center is clear glass, with the outer thirds of the design  lightly sandblasted for contrast.   The grey glass appears "dark" in the day time, when viewed from the outside, and a much lighter shade of grey with the natural light coming thru, when viewed from the inside.   At night, the opposite is true.  Indoor lighting from inside the home or building, will illuminate the glass from the INSIDE, which of course will create an entirely different "evening effect" .. the glass will be illuminated and appear lighter, with all the carved square edges having that sculpted, 3D effect from the deep carving.
Sans Soucie creates an unlimited array of Geometric Design Door Glass!  Choose from an existing design, or Request a Quote on a custom design!  There's no limit to design or privacy level that can be created.
As of 2010, Sans Soucie not only creates and ships the custom etched glass doors, decorative windows, etched & carved glass shower doors and showers, custom carved & painted glass signs, etched glass panels/partitions, etc. … but are also selling their door glass pre-installed in wholesale priced door frames by T.M. Cobb.  Visit our Door Frames Gallery to see our selection of wood types and a price list!