Incredible Works of Art Captured in Glass by Sans Soucie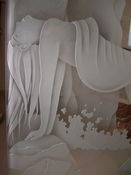 Ecstasy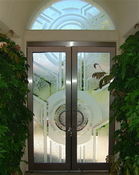 Sun Odyssey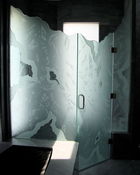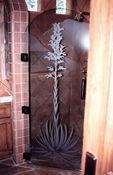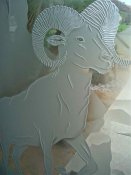 Sans Soucie Art Glass of Palm Desert, California has been industry leader in the art of sandblasted, etched and carved architectural art glass since 1976. Sans Soucie turns architectural glass products into exquisite "Works of Art Captured in Glass", through unlimited design styles. with their etched and 3D sculpture carved creations. Products such as all glass frameless doors and entry systems, door glass inserts, tub, entry and interior window glass, frameless shower enclosures, free standing shower dividers, glass panels and partitions, custom glass signage, glass wall art pieces, glass dining tables, living room glass coffee & cocktail tables, glass bar tops, glass bathroom vanity, vanities, curtain walls, ceiling glass, glass sculptures, custom vanity mirrors and mirror art pieces and more.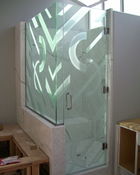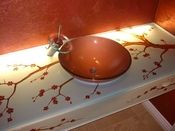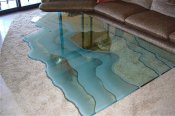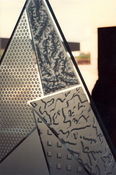 On windows and doors where privacy can be a factor, designs are individually custom executed to provide the privacy level needed, without sacrificing sunlight. From abstract to contemporary, landscapes to custom logos, Sans Soucie Art Glass creates unlimited textures, patterns and effects. Color can also be added to any 3-dimensionally carved glass. Selling both retail and wholesale to the trade, our comprehensive online catalog at sanssoucie.com not only features hundreds of examples, but also Pricing Information, a list of Commercial Commissions and Client Testimonials.
Sans Soucie creates both custom multi-stage etched 3D carved glass as well as solid frosted glass products such as unique etched glass designs for Glass Pantry Doors. Visit their new Interactive Pantry Door Designer!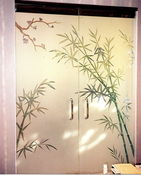 Inside Sans Soucie's Online Galleries, you can view hundreds of pieces, by Type of Piece or Type of Design. Take a virtual tour of our showroom and read the bio of our principal artist, Chauncey W. Gannett. There's even a page with Pricing Examples. Read about some of our Commercial Commissions and even Request a Quote. For further details, and to request a custom quote, Contact Us.