Glass Pantry Doors with Etched Glass Wrought Iron Motifs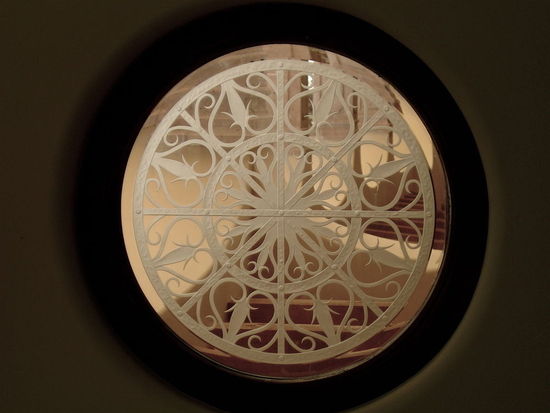 In homes where Forge Iron, Wrought Iron Doors and other ironwork elements are part of the architectural and design theme of the home, an etched glass interpretation of those designs is the perfect companion for things like window glass and pantry door glass!  Sans Soucie Art Glass can create any conceivable design, so the same structure and elements in the wrought iron design on your existing doors can be interpreted in the glass etching and carving.  You can slo choose from a huge array of Sans Soucie design archives!  A very popular place for this glass design is on kitchen pantry doors.  For pantry door glass, the glass background is frosted solid for obscurity and the design elements are clear glass.
If you're looking for a new decorative glass kitchen pantry door, where you can design your own custom, etched glass pantry door by "mixing and matching" from dozens of decorative borders, design elements and font styles, LIVE!  On screen!
Visit our brand new interactive "Pantry Door Designer" web tool where you can customize your own Etched Glass Door design!
Visit our Pantry Door Gallery to see a sampling of different design combinations that we've put together!
Also, inside our  Online Galleries, you can view hundreds of pieces, by Type of Piece or Type of Design.  Take a virtual tour of our showroom and read the bio of our principal artist, Chauncey W. Gannett.  There's even a page with Pricing Examples.  Read about some of our Commercial Commissions and even Request a Quote.  For further details, and to request a custom quote, Contact Us.
Check out these two beautiful designs, that coordinate perfectly in a Tuscan or Mediterranean themed decor.