Etched Glass Windows: Bob's Big Boy by Sans Soucie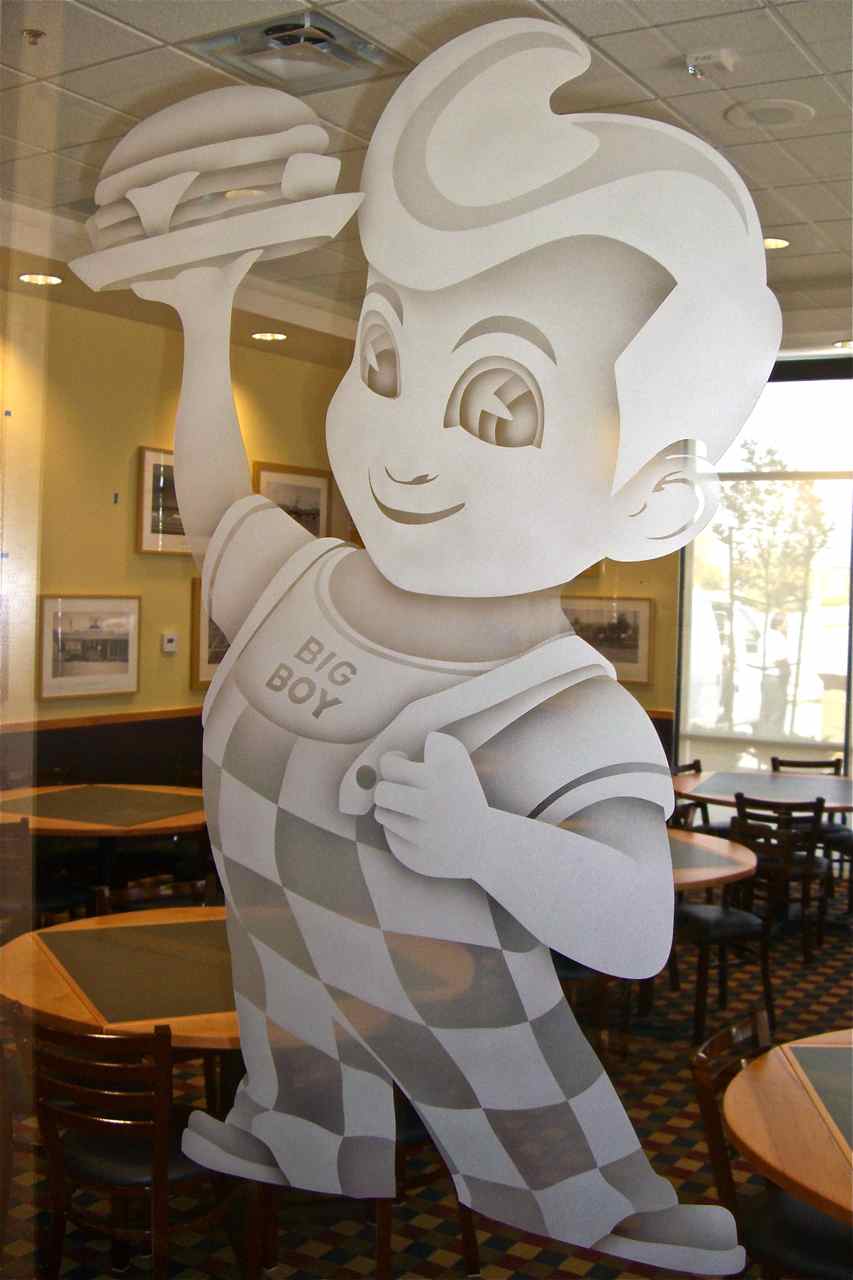 Sans Soucie Art Glass recently finished four etched glass windows / decorative door glass panels for the new Bob's Big Boy in Moreno Valley, California. The sandblasted, frosted glass consist of four panels that are 38″ wide x 110″ tall. The two center door glass panels feature the well known "Big Boy" of the famous Bob's Big Boy logo brand, with the adjacent panels featuring a "checkerboard band" that coordinate with Bob's attire of checkerboard pattern overalls. "Big Boy" is 40″ tall and is a multi-stage sandblast that is dimensionally etched on the glass surface (not just a plain white, "solid frost").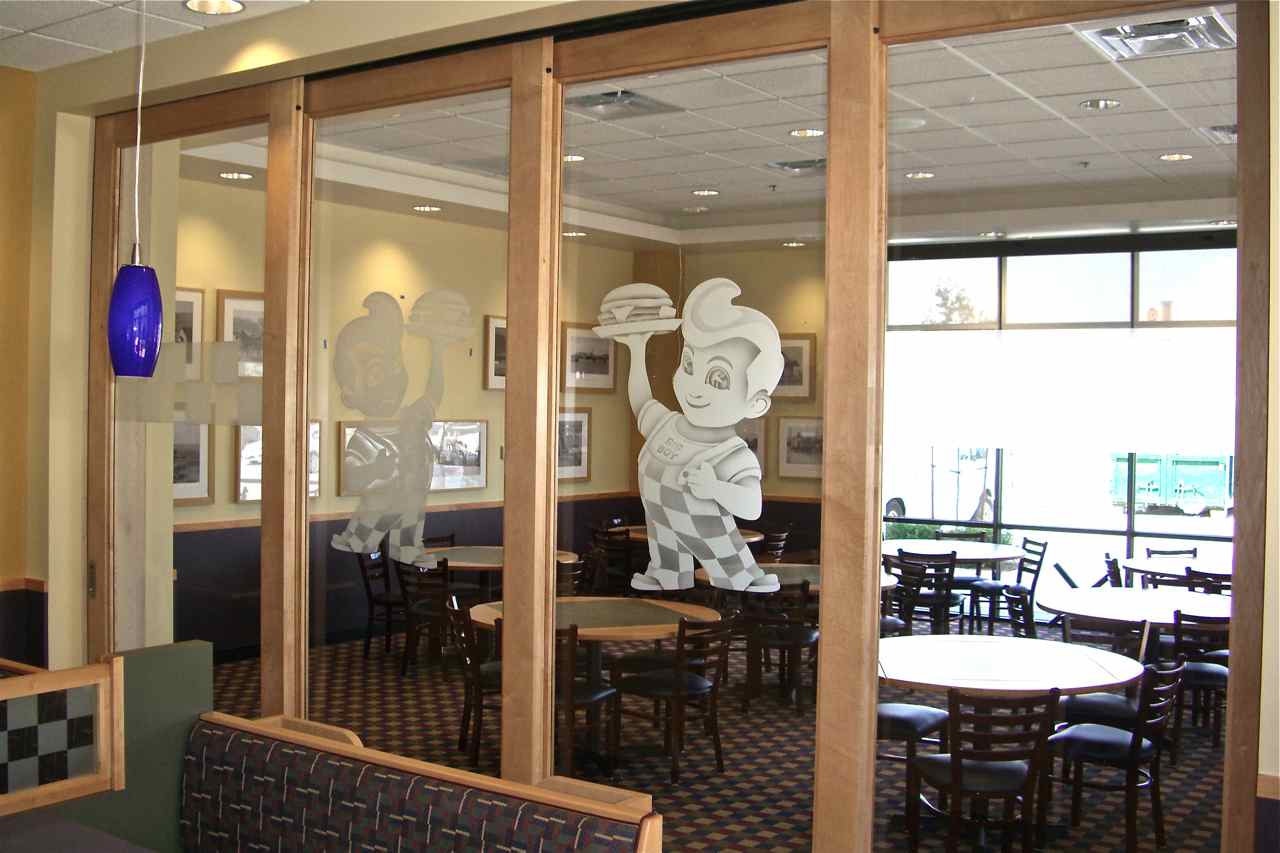 Founded in 1936 by Bob Wian, the Marriott Corporation purchased the chain in 1967. In 1987, the chain was purchased frm Marriott by large franchise operators, Elias Brothers. Currently the chain is owned by investor Robert Ligett, Jr. who has renamed the company "Big Boy Restaurants International". There are more than 455 Big Boy restaurants throughout the U.S. and Canada.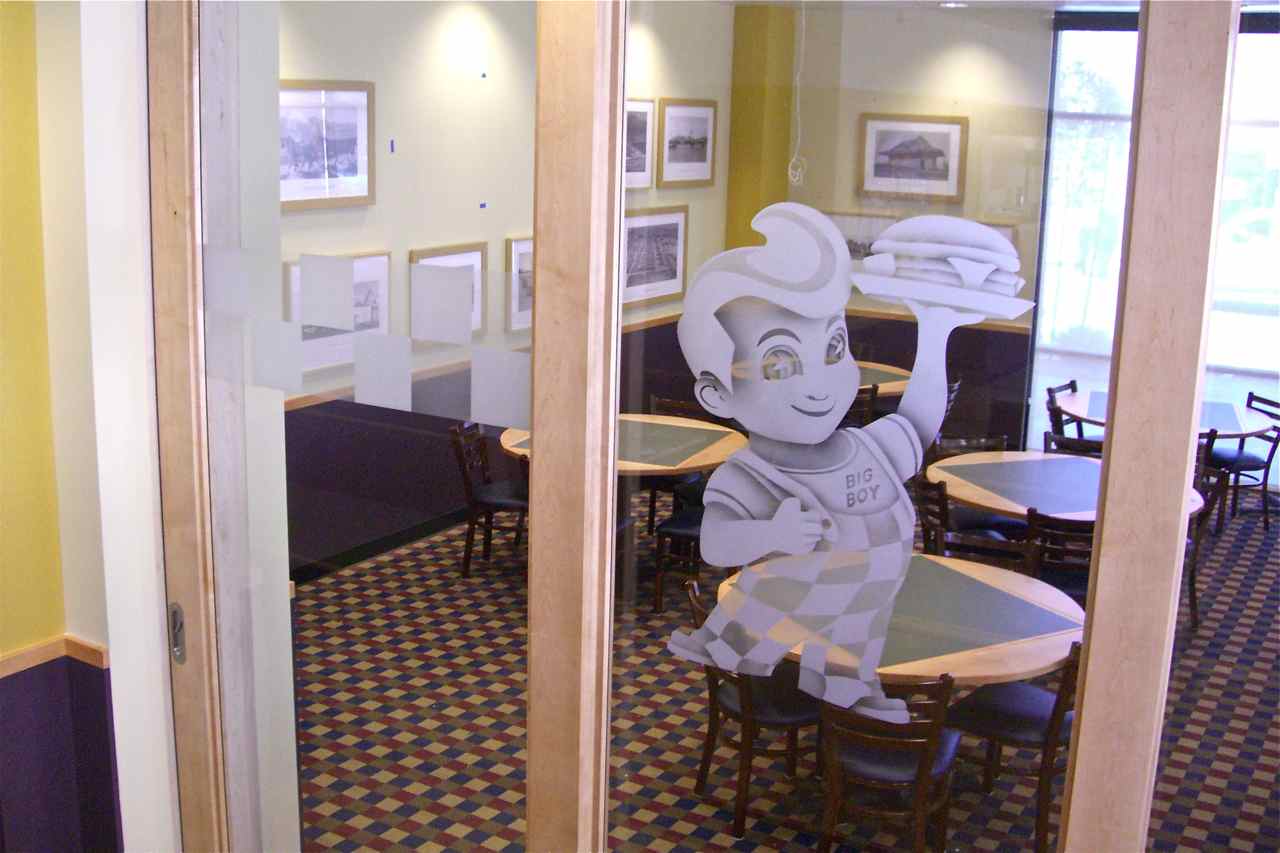 Information on Wikipedia.com says "The chain is best known for its trademark chubby boy in red- and white-checked overalls holding a Big Boy sandwich (double-decker cheeseburger). The inspiration for Big Boy's name, as well as the model for its mascot, was Richard Woodruff (1936–1986), of Glendale, California. When he was six years old, he walked into the diner Bob's Pantry as Bob Wian was attempting to name his new hamburger. Wian said, "Hello, Big Boy" to Woodruff, and the name stuck. Warner Bros. animation artist Ben Washam sketched Richard's caricature, which became the character seen on the company logo. This character would also eventually be featured in The Adventures of Big Boy comic book, produced as a promotional giveaway for children visiting the restaurant. Since 1997, the comic book has been produced by Craig Yoe's Yoe Studio. Another longtime promotion was the Big Boy Kids Club, offering coupons and premiums to members, who joined by sending in an application from the comic book."