Decorative Glass Windows, Etched or Frosted for Privacy
A decorative glass window is the perfection solution for areas in your home where privacy is needed, but so is light! Take a look at the windows featured in this blog that demonstrate different designs, and even different sandblast methods, that demonstrate how that can be achieved.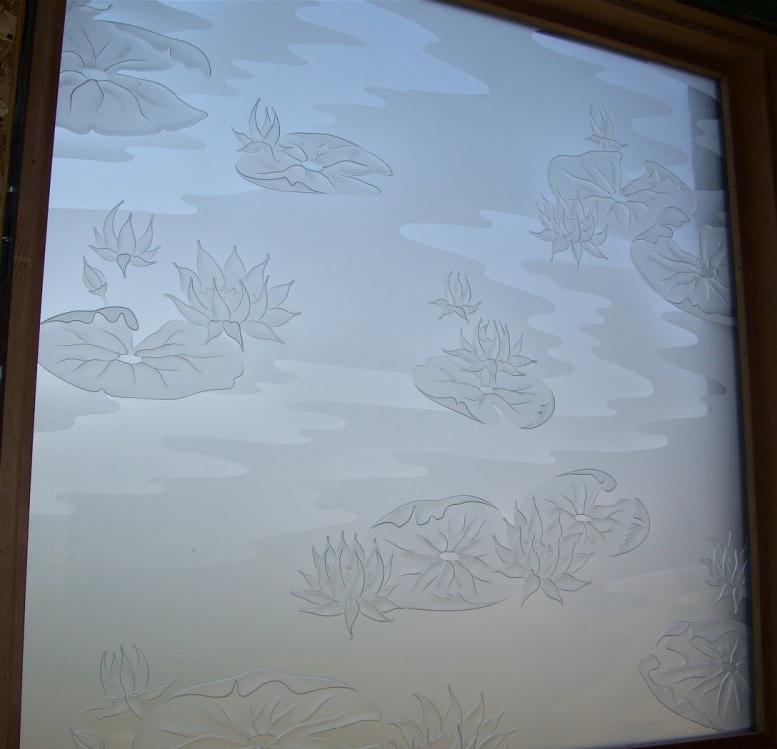 At Sans Soucie Art Glass Studios, we incorporate a number of different techniques to create the looks and textures that we want. What's also wonderful about our custom glass designs, is that any design can be executed a whole host of ways. For instance, where the highest level or privacy is needed, we'll implement a solid frosted background, whereas if only partial privacy is needed, we'll apply a "lightly misted" background, which means that we have just lightly sandblasted the background and some visibility or level of clear glass remains, creating just the right amount of obscurity.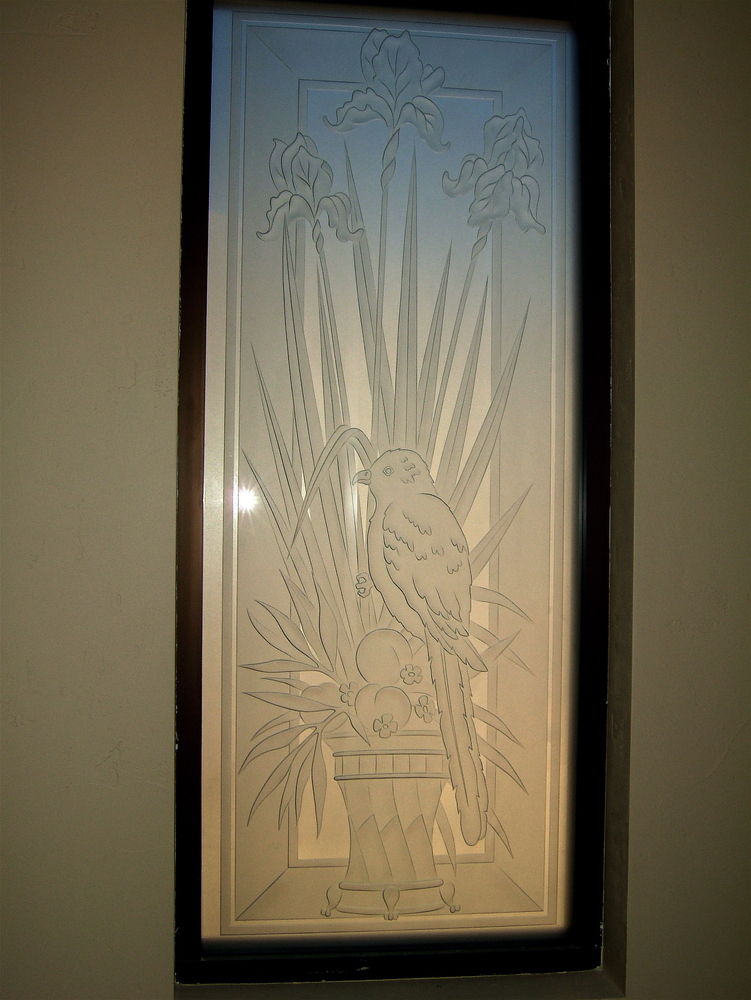 And then again in some instances, we'll combine the two! An example of implementing both a solid frosted or solid etched background along with a lightly misted background, is seen on the beautiful "Lilly Pad & Lotus" Tub Window. The gorgeous lilly pads and lotus flowers have been 3-dimensionally sculpture carved (solid) into the glass, which of course makes those areas completely solid white. Since the glass was carved, the edges will pick up light and illuminate brighter than the other carved areas. They're floating in "water" that flows throughout the design that is both solid frosted and misted. There's enough contrast in the two shades of white frosted glass to see a difference.
The "Iris Perch" entry window demonstrates glass that has been sandblasted too 100% density. The design elements which include iris flowers, leaves, a flower pot and beautiful bird, have all been sculpture carved and the background is solid frosted.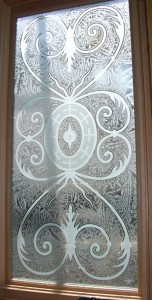 Another background option where privacy is needed, is a gluechipped texture background. Gluechip is a beautiful texture that sparkles with all the different chipped glass formations and creates a beautiful contrast. This is seen on the carved glass wrought iron theme, that has been sculpture carved along with some areas that are misted and the background is gluechipped. This entry window really sparkles and coordinates perfectly with the various wrought iron gates and pieces that are in the surrounding area of the window.
Living in the beautiful Coachella Valley, which is completely surrounded mountain ranges, desert and mountain scenes are a very popular and beautiful design for tub and entry windows. They of course "fit" the area and always will, and will never go out of style! We're showing two different technique styles in the photos featured. The narrow window Tub Window Gallery of our web site.
Be sure to visit our Tub Windows Gallery, and our Entry & Interior Windows Gallery to see many more examples!