Video of Sans Soucie Glass at Bank of America Tower, New York
Check out the video about our largest project to date:  Etched Glass Ceiling & Wall Glass at The Bank of America Tower at One Bryant Park in New York City!
Iconic architecture and bold technologies were the brainchild of global building firm DURST Organization and its architects, COOK+FOX, when creating the BANK OF AMERICA TOWER at ONE BRYANT PARK.
And at Sans Soucie, with our reputation of creating high-end custom works in glass for luxury estates and a variety of commercial projects, the opportunity to answer when New York came calling was a welcome challenge.
Our largest project to date, David Shuldiner, Inc., commissioned us to create glass in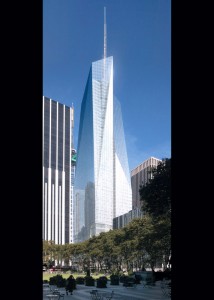 three locations: suspended over the main desk, as an accent in the elevator lobby, and as the ceiling in the secondary lobby. The design was applied to Starphire® clear glass, with one surface sandcarved approximately 1/16" deep with a detailed, complex texture, simulating a "tree bark effect." The background area of the glass was acid etched. In total, there are 359 pieces of glass, adding up to 4065 square feet of carved glass.
We are proud to state that in a global market where custom works of glass fall in the hands of few, we at Sans Soucie are honored to have been part of a project as monumental as the Bank of America Tower.