The U.S. Presidential Seal Etched & Carved in Glass by Sans Soucie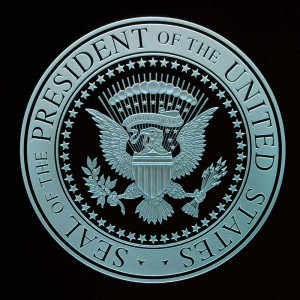 Sans Soucie Art Glass Studios, Inc, was selected to create a carved glass representation of the United States presidential seal for the new aircraft carrier, The USS George H.W. Bush (CVN 77).
The seal is hand-carved in three dimensions on a 1/2" thick 28" wide x 46" tall piece of Starphire® clear glass.
This impressive design is finished with the signature of 41st president, George H.W. Bush just beneath it and illuminated by LED edge lighting to give it an authoritative presence.
The piece is now on display in the entrance of the Tribute Room, where photographs and biographical information about George H.W. Bush are arrayed to honor the namesake of the ship.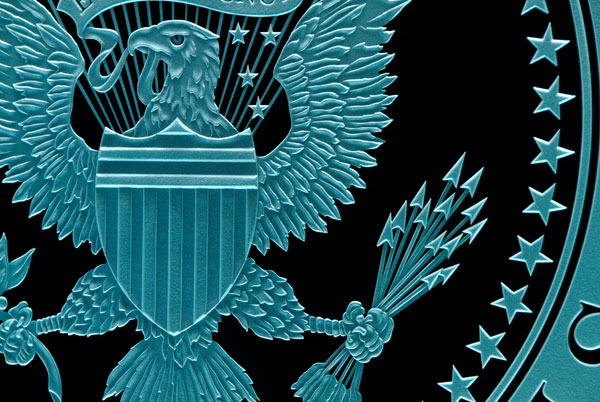 Named after the nation's 41st president, The USS George H.W. Bush (CVN 77) is the 10th and final Nimitz-class aircraft carrier. This revolutionary ship with its numerous improvements and modernizations will pave the way to a new class of carriers. We are honored to be a part of this significant piece of our nation's Naval fleet.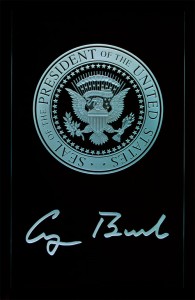 Visit our Featured Project page to see a full video and more photos of the glass as well as the ship and Chauncey & LeeAnn Gannett of Sans Soucie attending the commissioning ceremony of the ship in January 2009.
To find out more about Sans Soucie and our many types of custom carved and etched glass, visit www.sanssoucie.com.
To learn more about The USS George H.W. Bush, visit The Northrop Grumman web site feature.