Etched Glass Wall Art Portraying the History of Palm Desert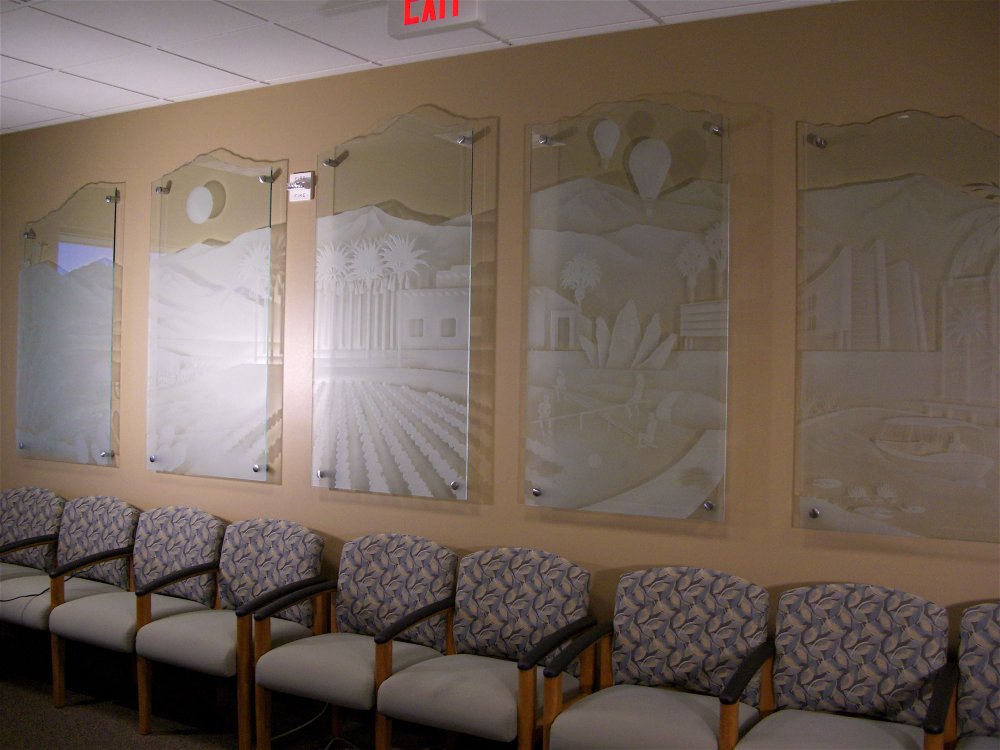 Sans Soucie Art Glass Studios created a beautiful set of etched glass decorative wall art pieces, with a custom design that portrays the history of Palm Desert, California.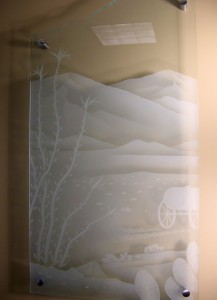 Commissioned by JD Thompson Interior Design of San Diego, California, for the Kaiser Permanente, Palm Desert Medical Offices, the story flows across 5 glass panels, continuing from one to the next.  Each panel is 30″ wide x 60″ tall, and is 3/8″ thick glass that is etched and 3-dimensionally sculpture carved on the front surface of the glass.
With the desert's majestic mountain ranges as the backdrop on each panel, Chauncey W. Gannett of Sans Soucie Art Glass designed a beautiful "landscape" scene that begins by depicting the story from Palm Desert's farm land beginnings to the beautiful resort destination that it is today.
The first panel begins by showing "open desert" with an ocotillo in the foreground and the first cart of a horse drawn carriage.  The next shows the carriage and team of horses, carting in potable water for the original settlers, the Cahuilla indian farmers.  Leading into the next panel are rows of crops in the ground, representing the "Old MacDonald Ranch", the original name of the Palm Desert area.
The center panel features rows of crops with gorgeous date palms and an adobe home, all of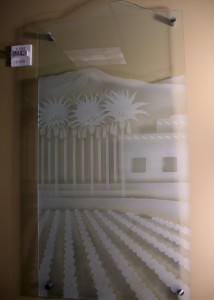 which are beautifully sculpture carved into the glass.  As we move into the fourth panel, the landscape changes and we see the 5 stone "Agave" City of Palm Desert monument sign by artist Michael Waiting, that marks the entrance into Palm Desert, with children in a local public park, playing on teeter-totter and hot air balloons, high in the sky, a popular sight-seeing desert cities activity.
In the forefront of the fifth and final panel, surrounded by the sprawling oasis and gorgeous fairways at JW Marriott's Desert Springs Hotel we see a gondola motoring along a lake, with a carving of hotel's atrium terrace hotel in the background.  Also in the background, is a rendering of the desert's first university, the California State University San Bernardino, Palm Desert Campus.
Glass Wall Art Gallery to see more works of art in glass like these!