Etched Glass for your Pantry Door: From Classic to More Custom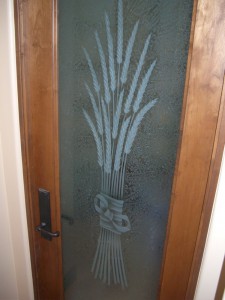 Etched glass pantry door inserts are a very popular item seen in many homes.  Having an etched glass pantry door, rather than a plain solid door, will add a wonderful custom element and "open feel" to any kitchen.
At Sans Soucie Art Glass, we create a wide variety of designs, with a very broad price range.  From the classic, very simple panel where the glass is solid frosted for obscurity, leaving a border of clear pinstripes and the word "Pantry" … to a more detailed, decorative design, such as a multi-stage carved and gluechipped design, such as our "Bundled Wheat Pantry".  As with all our glass, there are limitless design possibilities.
The frosted glass pantry door designs range in price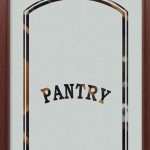 between $245 to $345, depending on the size of the glass and how many elements are featured (a border, the word "Pantry" and perhaps a whimsical "chef" or veggies).  These designs are what's called a negative, "single stage sandblast".  There are many various types of borders and type styles to choose, all of which can be seen in our Pantry Glass Production Designs Gallery our web site.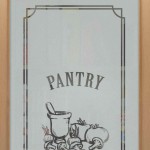 The more custom glass designs, (that are dimensionally CARVED and feature gluechipped backgrounds), will range in price from about $600 to $1400, again depending upon the size of the glass, the complexity of the design and whether we surface etch or sculpture carve it into the glass.  (For more info., see our blog about "Etched vs. Carved Glass" and the page on our web site showing the differences).
Naturally, the goal with pantry door glass is to obscure the view into the pantry, which means the majority of the glass surface will need to have some sort of coverage, whether it's a solid sandblast, a gluechip surface or carving and shading.  Leaving some clear areas is fine, so long as they're narrow, or small.  These areas will appear "dark" the majority of the time, when the pantry light is turned off.   When the lights are flipped on, the glass will of course beautifully illuminate and all the details will be even more visible.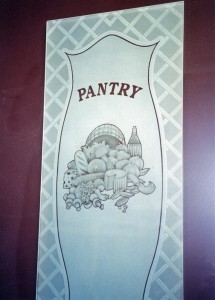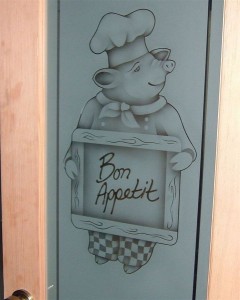 Visit our Custom Pantry Door Glass and our Production Pantry Door Glass to see dozens of examples and a wide variety of designs.    For sample pricing, visit our Pricing Page and scroll down to "Door Glass – Pantry".